Click here to enlarge image
Compiled by Ryan Cliche

Line testers, cable length meter
The MLT650 handheld portable modem line tester lets local service providers and network installers qualify "plain old telephone service" (POTS) lines for modem use. Dial any dial-up modem on the tester, and it will negotiate the fastest rate up to the 56-kbits/sec V.90 standard, as well as identify bandwidth problems on the talk path. It measures 7.5x4x2.7 inches, weighs 1.5 pounds, and carries a one-year warranty. This unit operates on rechargeable internal batteries with a three-hour operation time, and comes with an adapter/charger.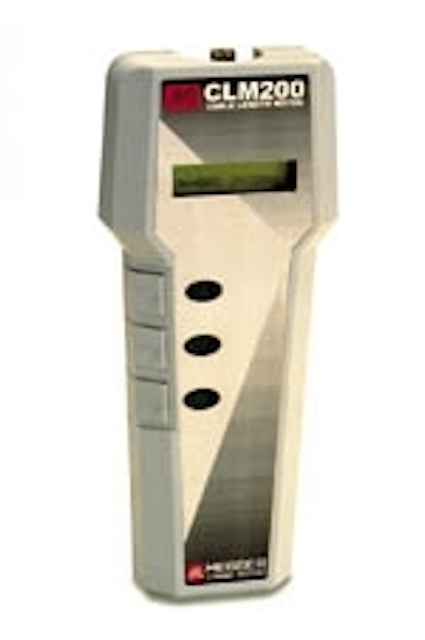 Click here to enlarge image
The CLM200, meanwhile, is a handheld unit that measures the length of telecommunication, data communications, radio frequency (RF), small signal, and power cables on drums, on cut lengths, or in installed sections. According to company claims, it measures up to 6,000 feet and will detect and give distance to fault for opens and shorts. Pre-programmed characteristics of standard cables, cable impedance, and velocity factors can be selected to measure different cable constructions and types. The 8x3x1.5-inch meter comes with male and female BNC connectors, and an alligator clip adapter for standard cables.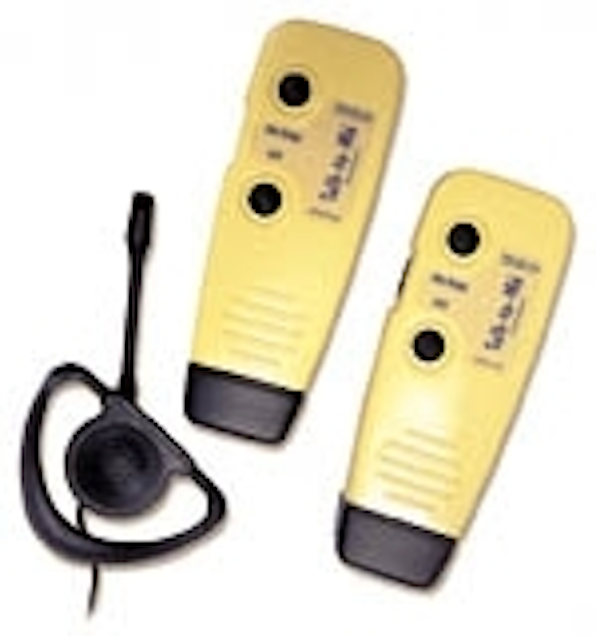 Click here to enlarge image
Also, the Talk-To-Me Communications System offers point-to-point, full-duplex communications on pairs of conductors, including telephone, coaxial, Romex, speaker, and signal wires. This system features connect and ring, and the battery provides up to 75 hours of use. According to company claims, the system can communicate up to 5,000 feet depending on wire quality and type. Each set includes two units with headsets and batteries, and works with any analog test set.
JENSEN TOOLS INC.
PHOENIX, AZ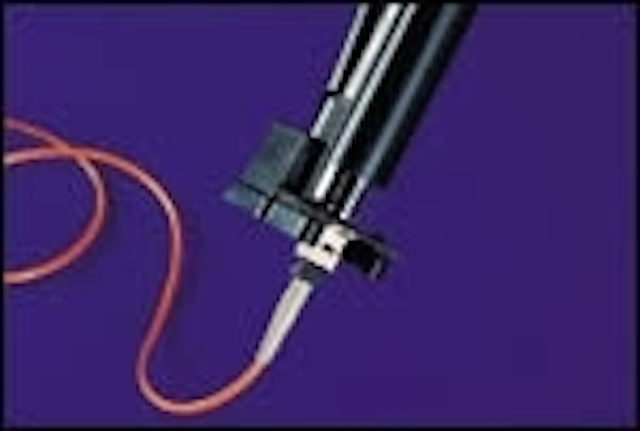 Click here to enlarge image
Microscope with stage
The V100 microscope magnifies 100x and lets you view both directly and at an angle for the inspection of MT-RJ small- form-factor connectors. A built-in light source provides illumination to help check for dirt or damage. This unit inspects the connector finish during polishing, installed connectors, and bare fiber before splicing. Its compatible V279 stage may be used with or without pins.
FOTEC
MEDFORD, MA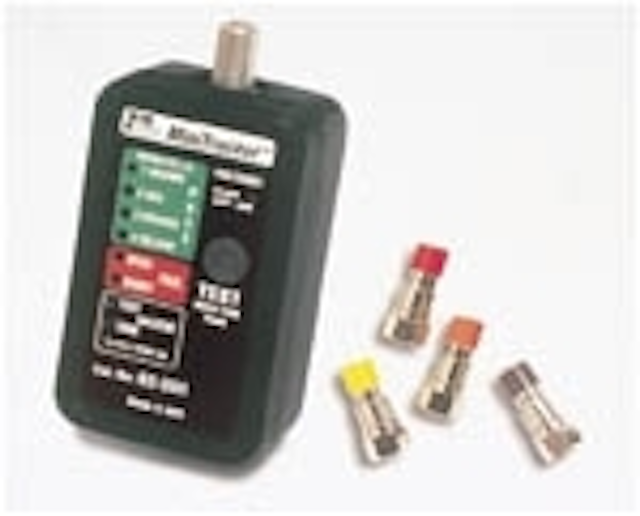 Click here to enlarge image
Coax, DSL testers
MiniTracker is a coaxial cable testing unit designed for cable TV, CCTV, broadcast, satellite TV, and home automation system applications. The tester is made up of a main unit and four remote F-type terminators. By connecting the main unit and one of the terminators to a coaxial cable, you can send a tone signal to identify or "map" different end points and runs within a building. Each terminator is color-coded and has a unique resistor value. You can detect shorts, shield opens, and center conductor breaks in multiple or single runs of coaxial cable.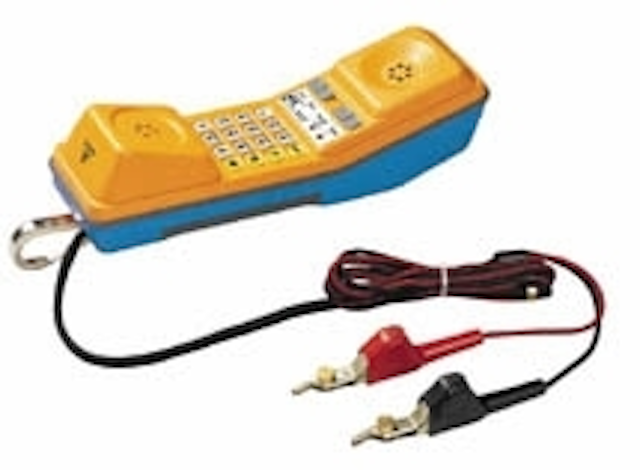 Click here to enlarge image
Designed for safe voice testing in digital subscriber line (DSL) environments, the Model 630 Craft TestSet offers the protection of filters incorporated into the "talk" mode circuit that make it electrically transparent to the digital circuit, averting change in electrical characteristics. A detection technology issues an audible and visible warning alarm when in close proximity to a digital circuit. Other features include three pre-programmed, one-touch "speed-dial" numbers, and memory dialing with ten locations (23 digits per location). Also, a recessed keypad prevents damage and accidental button contact. The tester is made from moisture-resistant, fiberglass-reinforced acrylonitrile-butadiene-styrene (ABS), and has a non-slip rubber shoulder pad.
IDEAL INDUSTRIES INC.
SYCAMORE, IL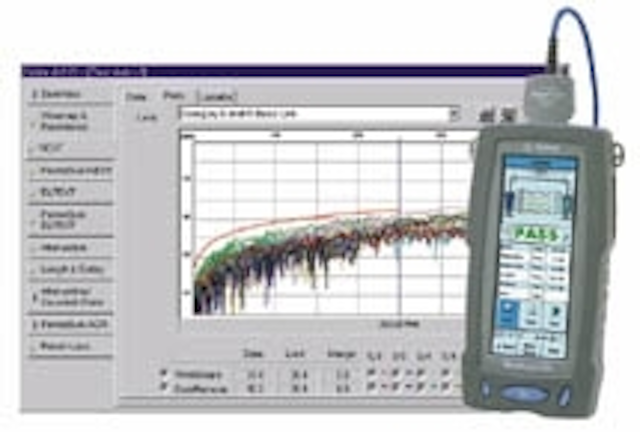 Click here to enlarge image
Cat 6, 3G test software
Software version 2.1 for the WireScope 350 Category 6 cable analyzer is designed to automate the process of cable labeling and introduce auto-cancellation technology for the certification of Category 6 channels. The auto-cancellation feature determines the compensation parameters for a variety of modular plugs used in the channels, and can remove the contribution of the mated connection at the channel adapter from the measurements. Labels for patch panels, outlets, and cables can be printed as the testing progresses in the field. Built-in software wizards provide guidance to the standards-based cable identifier structure.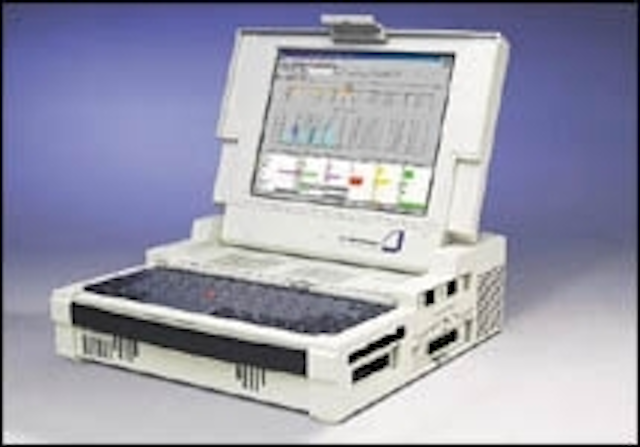 Click here to enlarge image
Meanwhile, the 3G UMTS W-CDMA test software is designed to help network managers, engineers, and technicians test and deploy UMTS W-code-division multiple access (CDMA) radio access networks. Monitoring capabilities let you analyze equipment response during simulation test and system integration. The software supports Asynchronous Transfer Mode (ATM) interfaces from 1.5 to 155 Mbits/sec to create an ATM transport network foundation upon which higher protocol layers can be developed. It incorporates capabilities for ATM, ATM adaptation layer (AAL)-2, and AAL-5 testing for traffic generation profiles, statistics, and counterviews.
AGILENT TECHNOLOGIES INC.
MARLBOROUGH, MA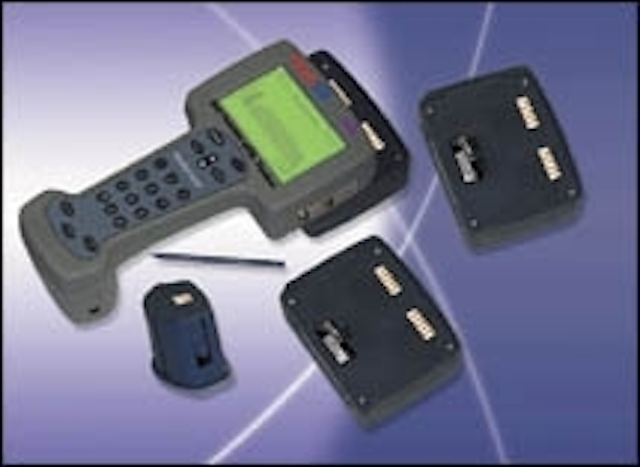 Click here to enlarge image
ADSL handheld; transmission software
Capable of qualifying the copper loops for digital subscriber line (xDSL), "plain old telephone" (POTS), T-1 (1.554 Mbits/sec), E-1 (2.048 Mbits/sec), and ISDN services, the Model 500 Gazelle features stackable modules to let you customize the product. The base unit has built-in DMM and butt-set capability. Built for handheld field use, the tester has a 320x200-pixel display with backlight, and a touchscreen interface with menus. A rechargeable, field-replaceable NiMH battery provides up to six hours of operation. Access for input/output and remote control via a PC is available through the RS-232 port.
The AutoPartner software, meanwhile, lets you test up to four copper pairs by putting the company's remote tester at the far end and testing the physical wire and its transmission qualities-without outside help. With a single stroke on its compatible touchscreen, you can get level, frequency, noise, impulse noise, return loss, and longitudinal balance tests completed-or, combine a series of tests. The touchscreen can command the remote tester to open, close, or short the pair to ground or terminate. One technician can control the timing and extent of the loop testing.
AMERITEC CORP.
COVINA, CA