Three buildings, one mega network
A Massachusetts firm required cabling a Network Operations Center-a "war room" of Hollywood proportion
Dec 1st, 2001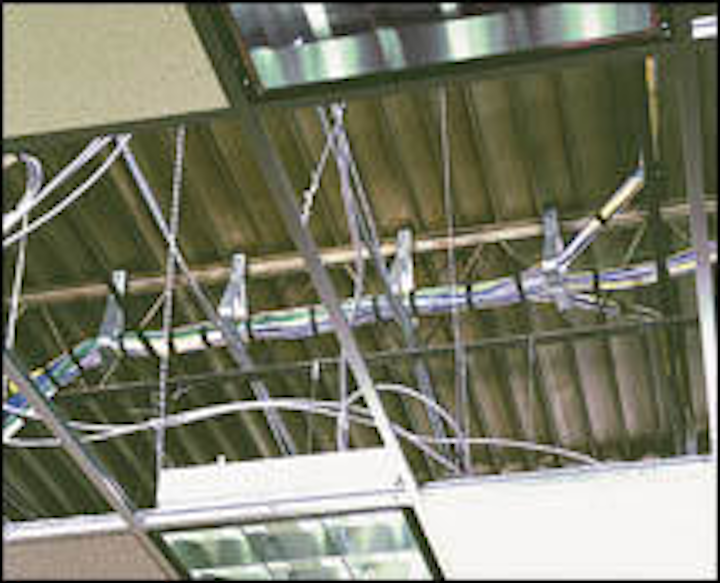 A Massachusetts firm required cabling a Network Operations Center-a "war room" of Hollywood proportion.
Founded in 1996 and located in Burlington, MA, iBasis is a voice services provider to many of the world's largest carriers and enterprises. Its Voice-over-IP (VoIP) infrastructure spans more than 80 countries, making it the largest international Cisco Powered Network for Internet telephony. It's also one of those companies that exemplify the entrepreneurial spirit of the 1990s-fresh thinking and first-round financing one minute, an IPO and global operation yielding millions in revenue the next.
iBasis' success has been based on an extension of a notion that was just gaining credence when the company was formed-offer traditional carriers low-cost international service, using the Internet to transmit their voice traffic. In other words, iBasis planned to take ordinary international phone and fax calls made by the customers of large global carriers, and use specialized equipment to convert those calls into digital packets that can be compressed and routed over the public Internet-in much the same way that e-mail is sent. Once the packetized phone call reached its destination country, the call would be re-assembled and routed onto a local phone network in that country for completion.
To differentiate itself from other emerging IP telephony providers, iBasis deployed proprietary network monitoring technologies called Assured Quality Routing (AQR) that ensured call quality, which was virtually indistinguishable from that of traditional phone networks. Very soon thereafter, iBasis became the first company to establish Service Level Agreements (SLAs) that guaranteed VoIP service quality.
Designing a "war room"
To realize its business plan, iBasis had to establish a global edge network of service facilities, commonly referred to as "points of presence," in major telecommunications hubs and key service destinations all over the world. The network also required a Network Operations Center (NOC)-a massive room that was to have the impressive appearance of a "war room" on a Hollywood set. A place just off the company's main lobby that would also serve as a showcase, demonstrating the company's capacity to oversee moment-to-moment traffic information from all over the world.
It was from this NOC that engineers would monitor the millions of minutes of voice communications traffic being carried over the company's global Internet telephony infrastructure. The NOC also included extensive support systems to run the back office software to manage billing and network provisioning. Simultaneously, internal connectivity was required to allow the scores of engineers and technicians who administer the network on a 24/7 basis to have conventional phone service and Internet access.
From the start, time-to-market considerations were paramount. So, the company began to build an infrastructure for its operations almost as soon as first-round funding was secured.
A no-template floor plan
iBasis located its Burlington headquarters on a large business campus. Mindful of its own considerable networking needs, the company chose to occupy new construction that could accommodate its network-centric needs. Datacom installation took place even as the buildings were under construction, and it was completed, literally, within weeks of its inception.
The buildout of the internal data backbone presented uncharted challenges. First, the precise needs of the organization could not be known at the earliest stages of the services rollout. In addition, the building architects responsible for the overall floor plan were not familiar with the networking requirements of what was, essentially, a new kind of business.
Cabling and mechanical support systems for the data and telecommunications equipment were designed and built by Mariel Technologies (www.marieltech.com) of Portsmouth, NH. The network's overall design as well as the specifications for network elements was done entirely in-house by iBasis.
"They wanted it done right, and they wanted it done immediately," recalls Bob Merola, a principal with Mariel Technologies, and the project leader for the job. "We had worked with one of the executives when they were employed at another firm, and we were called in along with a couple of other firms. Everyone was required to submit a bid. But, it was a case of going with what they knew. Because we had a history with a current employee, it gave them the confidence that we would do the best job. So getting the job was the easy part."
Long cable runs
"Even considering all the different work we've done in this regional area," Merola says, "I still consider the iBasis project a rather unusual system. The routers themselves are all in one building, and the interfaces are in another. It's not like a lot of systems where, essentially, everything's in one data center with a few closets running off of that. It's highly distributed. And that necessitated long cable runs across campus-in this case, multimode fiber had to be trenched and buried in conduit."
But the real challenge, Merola says, "was the fact that we came in after the architectural planning was essentially complete. There were no raised floors, or drop ceilings, or mezzanines dedicated to housing equipment. We had to work around the limitations of the floor space, and the fact that plumbing and HVAC were already in place and took up most of the available crawl space."
The installation itself proceeded in three phases, each encompassing an individual building. The first phase involved the main lobby building for iBasis, which housed executive staff, engineering, operations, and the Network Operations Center where banks of computer monitors provide continuous updates on the service quality and operational status of the company's global VoIP network.
"That Network Operations Center was really difficult," recounts Merola. Located on the ground floor and glassed-in, it had a core functional role where engineers were to monitor the network and an aesthetic role to, occasionally, impress important customers and visitors. The only place to run cable to all the monitors was through the ceiling which, unfortunately, was already occupied with plumbing, electrical, etc.
With all the conduit already covering the ceiling, it was difficult to find places to secure the data cable. One suggestion was to suspend the cables from the other pipes; a better approach was to separately secure the cabling to stay in place regardless of what was done to the other systems.
"CPI [Chatsworth Products, Inc.] had just developed their RapidTrak system for cable management," Merola notes, "which provided exactly the features we needed to make this work. Because the product was brand new, this installation provided a beta test for the equipment. In fact, CPI sent two of their engineers out to help us, and we got a plan in place in a matter of hours. There were other cable tray systems out there, but you have to screw the things together. We didn't have time for that, and the new CPI stuff snapped together, which saved us, in this case, over a day's work."
Remote intelligence
The next phase of the iBase installation involved a nearby building that had a single computer room functioning as the remote closet for internal operations. The closet was very small-a room with no windows and that would ordinarily only be visited by technicians. There were no real provisions for cable-one of the CPI rack systems was already in place before Merola's cabling team was brought in.
"This cabling job was relatively easy," notes Merola. "One rack system was occupied by a Nortel Meridian PBX, and the other by a Cisco router. These handled all of the data and telephone traffic going into the Network Operations Center. Again, the cabling challenge was the same since there was only space available above the ceiling."
The RapidTrak cable support system was used to keep everything neat and organized. A multi-tiered assembly was used so the cabling system could evolve, providing managed scalability. "We used the whole system of j-hooks, and their newly patented Tri-Hooks to segregate and more efficiently manage voice, data, video, security and other low-voltage signaling cables," explains Merola. "With the interlocking design, everything just snapped together-bing, bing, bing."
12 strands of fiber
The third data installation proved to be even more of a challenge. This facility housed more engineers, finance and IS operations. The computer room in this building was a data center with several rack systems filled with Cisco routers and storage arrays. It served to support the scientific computing and engineering modeling done in this building, as well as the network support and administration for the whole company. It is also connected to the Network Operations Center via multimode fiber, and a fiber drop onto the public network.
In all, there were 12 strands of optical-fiber lines providing high-bandwidth capacity. Complicating the picture was a large laboratory for running network simulations; it was filled with all manner of network elements, switches, routers, and optical crossconnects.
"iBasis grew rapidly in a relatively short period of time," says Merola. "We had to estimate the final capacity needs and then try to build a little over that, but we still ended up coming back to add lines after the initial installation, which, incidentally took all of five days."
During the course of the installation, Mariel Technologies encountered some typical problems, including underestimating the communications needs of the final count of occupants in the building. "By now, we were automatically using the usual RapidTrak system, which allowed us to quickly configure a cable management and segregation scheme," relates Merola. "Fortunately, we had a little more space to work with this time."
Tweaking to perfection
The main body of work consumed a little more than a month. iBasis had planned for a lot of capacity, so the network remained adequate as the company grew. Merola says, however, his firm made many follow-up visits to make small changes so that the installation was just right.
"When you consider that the data wiring costs run, on average, about $1,000 per person plus $2-5,000 for computers, and another $3-4,000 for furniture, you've got an investment of between $7-9,000 per person to provide a 'stall' or workstation," observers Merola. "Because of the unique iBasis business model, with about 30% of the workforce being in engineering, the networking needs were tremendous."
Or, as a company spokesperson summarized the IS mantra, "iBasis must maintain an efficient network where optimizing data transfer is always the priority. Speed cannot be compromised at iBasis."
---
Bill Treadway, RCDD/LAN specialist, is Major Accounts Manager at Chatsworth Products, Inc. (CPI). You can contact him at: btreadway@chatsworth.com.