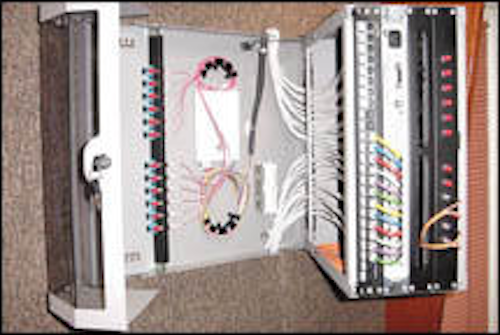 Better brackets and improved cable routing are getting enclosures out of the telecom room.
More room for equipment, and more security. Designs that will still give installers the access they need, and bring flexible communication cabling to workers' desktops.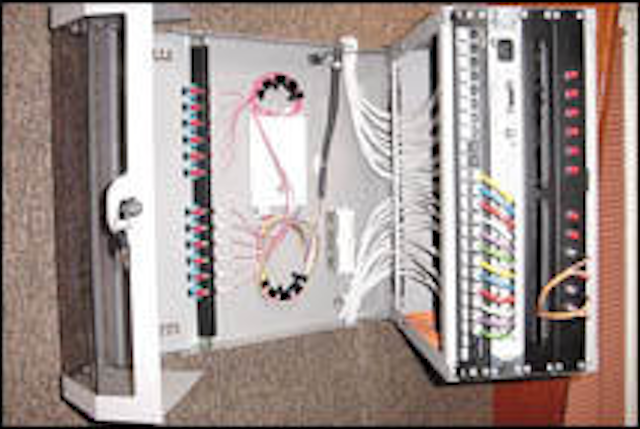 The Comflex (r) from Connect Inc. is oriented for copper -migrating-to-fiber cable. The Elegant Line (below) offers extra security features and the ability to stack more equipment as a network grows.
Click here to enlarge image
These are some of the hottest trends driving development of today's enclosures. In addition, designers and contractors are seeking added value from the enclosures they install, and manufacturers say they are responding by offering better brackets and improved routing for optical fiber and copper cables. Increasingly, enclosure solutions are out to meet demands for moving network equipment closer to the user.

"When we make a rack or a cabinet enclosure, I find that our designs are driven by guys dealing with bigger data centers, and we have to deal with their needs," says Frank Kubat, president of Damac, Inc. (www.damac.com).
"I'd say they are asking for the added-value items," agrees Mike Bullock, applications manager for Martin International Enclosures. "In this business, things move so fast with regards to cooling, power and cable management."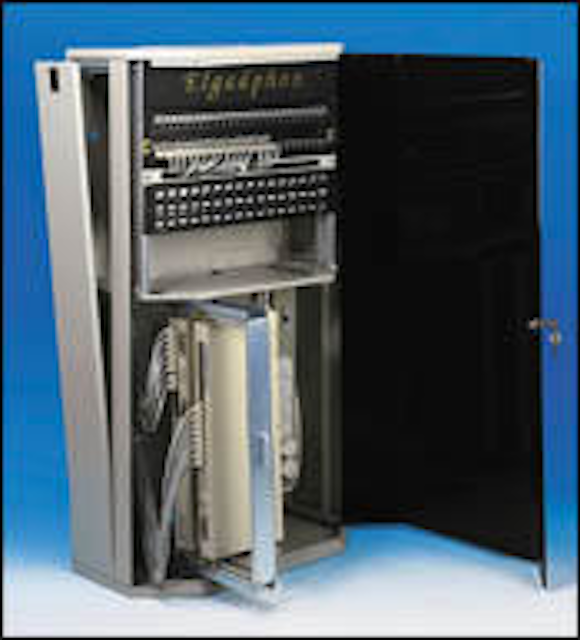 Click here to enlarge image
Not surprisingly, as cabling designers and installers seek out the latest designs, they are also seeking the best bargain. But it's a strategy that can backfire, says CommScope applications engineer Steven Elmore. Too often, he says, customers get what they pay for.
"You always come across enclosures that aren't designed properly," says Elmore. "It's no different than anything else in the industry. You find some are designed poorly; their sides won't go down. Or they may be designed well but manufactured poorly."
Installers and makers agree that when companies search for ways to cut costs in the current economy, they should be careful not to simply go for the most affordable enclosure. They also warn that the models that were sufficient last year are quickly becoming obsolete. "These modules are constantly changing," says Bob Carvalho, president of RI Home Automation.
The economy is playing a strong role in the way enclosures are selling, and being made. Manufacturers say the economic downturn has encouraged buyers to seek out the best deal. They say price, above all other factors, is of utmost importance.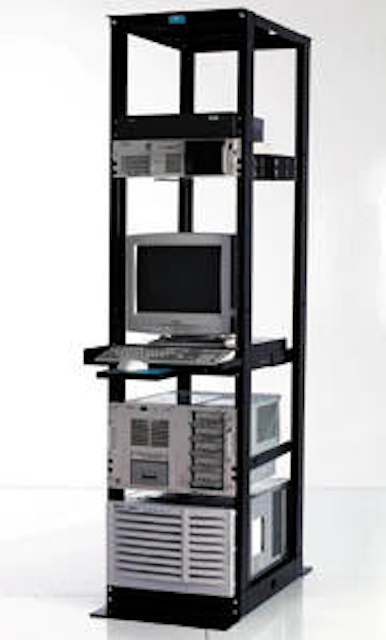 Chatsworth Products Inc.'s QuadraRack 4-Post Frame is designed to support more weight than many steel cabinets, and offers a cost-effective solution for supporting rack-mount network equipment such as hubs, concentrators, routers and switches.
Click here to enlarge image
"I think you need to deal out more features for less dollars. That is the key trend we seeing," says Blair Haas, president of Bud Industries Inc. (www.budind.com). "More and more competitors are coming in, and this is [already] a competitive business."

Several manufacturers say their most affordable enclosures are selling faster than their pricey designs. Dennis VanLith, product manager for Chatsworth Products Inc. (www.chatsworth.com), for example, says the company is selling a lot of "stripped down" models of the more expensive enclosures. A popular enclosure from Chatsworth Products now runs $550, compared to a more expensive model that costs $1,500.

But Elmore warns that buyers need to beware that although there are many enclosures on the market, not all of them will suit their needs. Enclosures differ greatly when it comes to storage abilities, cabling access and ruggedness.

"If mine doesn't have the fans to carry out the heat, maybe I ought to be looking at a different type of enclosure," says Elmore.

Others agree that abilities outweigh costs. That is the approach Peter Sack takes when his company chooses an enclosure. Sack's company, Veritas Geophysical Services, needs enclosures that can provide ample protection for delicate equipment.
"Price is not as important," says Sack. "The cost of the mounts are insignificant when compared to the cost of the actual equipment we are putting in them. That equipment costs about three quarters of a million dollars."
Adds Mike Mallia, president of AFCO Systems (www.afcosystems.com), "A cheaper product is a recipe for disaster. If you look at the problems associated with data centers with networks going down, 50% are attributed to infrastructure engineering."
Gotta look good
Manufacturers still say that aesthetics is important because more and more, users want to place the enclosures in public areas where they need to blend in with furniture or have a pleasing appearance.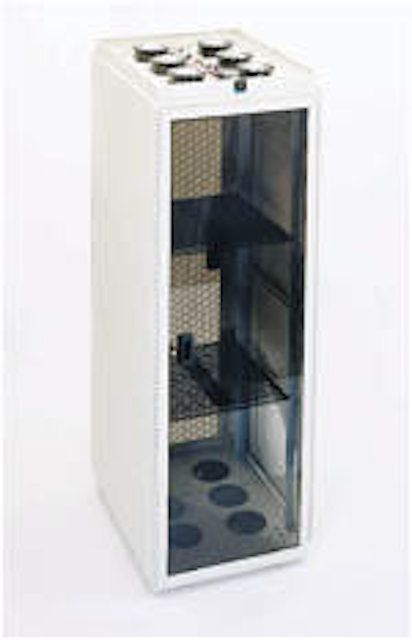 AFCO Systems' Kool-IT lets information systems managers remotely monitor their operations for continuous availability, without concern for heat-related problems or power disruption.
Click here to enlarge image
"Aesthetics are important in the particular market we work in," admits Keith Southard, senior product marketing manager for Allied Telesyn Inc. (www.alliedtelesyn.com). The company is an integrator that uses Connect Inc. (www.elgad phon.com) enclosures, typically deployed in classrooms and offices.

Mallia says that enclosures have reached the point where they are not simple cabinets, but integral parts of a company's operation. One enclosure is not the same as another.

"Years ago, these were just industrial shelving," says Mallia. "It's a completely different environment today."

Now, enclosure manufacturers are striving to make innovations in the areas of security, cable access and ruggedness. Designers and installers say they are looking for more equipment racks that can handle everything from switches to servers.
"It's the wave of future," says Dennis VanLith, product manager for Chatsworth Products Inc. "There are more and more equipment racks mounted every day. You need to be able to put them in a secure location, but also be able to get access to them."
Many manufacturers say security is becoming one of the best differentiators between enclosure models. In hopes of easing ahead of its competition, AFCO Systems is now integrating an enclosure control system that can actually read a person's fingerprint. The unit can either give or deny access to the enclosure. "It can record it when they close it up, provide data on who they were, and verify who the person is," says Mallia.
How many ways can you get there?
Cabling access also remains an important way for manufacturers to differentiate their products. Manufacturers say strategically-placed access points are the solution. They are striving to stay on top of the constant demand for more cable access to enclosures.
Enclosures that allow the most and the easiest access for copper or optical fiber cables are the most valuable on the market, manufacturers say. These enclosures can make room for bundles of cables, and still leave more room for equipment.
"We want to put high-speed-capable fiber in these, so we need the access points," says Tom Mitchell, executive vice president of Holocom Net works, Inc. (www.holocomnetworks.com). "So, when the client uses them, he won't have to deconstruct the entire network."
"When you are coming into a cabinet, there is so much variety," agrees Reuven Koter, vice president of sales for Connect Inc. "You can come from the top, the bottom, the side, drawers, the middle. We have options."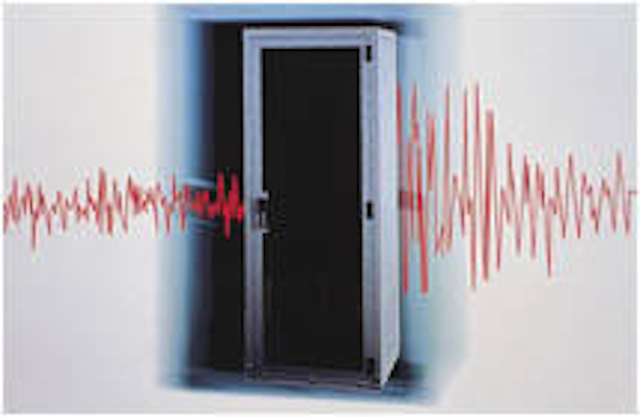 Equipto Electronics' heavy-duty enclosures feature modular, seismic-hardened electronic cabinets that have been tested through Zone 4-the most severe test for earthquake resistance.
Click here to enlarge image
But increased accessibility can lead to new challenges. Cable abilities are speeding up, and the presence of so many high-speed cables presents the potential problem of overheating. To fight the problem, manufacturers are trying to outdo one another with cooling techniques. Some manufacturers say they are veering away from designs that sport solid doors, and are instead using wire mesh walls that allow for air flow.
Mallia says his company's cabinets, for example, include a barometer system that can be adjusted to regulate how much air flows into a cabinet. The enclosures feature six variable-speed fans that sense temperature changes in the cabinet. The fans become active if temperatures rise.
"We do have a baffle system that can draw air from the room, where you get 70% air from the room and interject that with cool air, and get 75°," says Mallia.
That was what led Denis Murnane, vice president of Bear Stearns & Co. (www.bearstearns.com), to choose AFCO's enclosure. "We had problems with equipment in the racks overheating," says Murnane.
"They (AFCO) installed a fan assembly on top of the cabinet, and built baffles into the bottom where you can control the rate of air flow into the cabinet and have variable speed fans," says Murnane. "The cabinets are also monitored for temperature so when the cabinet reaches a certain degree point, the variable speed fans will pull air into the cabinet. It cools the cabinet down."
Manufacturers are also striving to make seismic quality improvements, and are responding to demands for providing protection for delicate components. Many current designs ensure that cabinet racks remain stable, and that their mounting systems function properly in unstable settings.
"We see seismic as being more and more important," says Kubat. "With 24/7 facilities, more and more the requirement is that the data center cannot go down. Hurricanes, tornadoes-anything that goes boom outside the building-cannot disrupt the cabinet. That will no longer cut it."
Veritas Geophysical Services installs enclosures on survey ships that take part in its oil explorations. Project engineer Peter Sack says the Equipto Electronics (www.equiptoelect.com) line of enclosures was available in a heavy-duty configuration, sporting heavy-gauge steel-exactly what the company was looking for.
Veritas places high-end computers and data acquisition equipment in its enclosures, and "on a ship, they go through probably a constant variable rate of 2 G loads in all directions," says Sack. "The ship is rocking and rolling all the time.
"They are the most rugged ones we can find," Sack continues. "They allow us to hold probably three quarters of a million dollars worth of equipment in place, and are operational on a boat."
---
Brian Milligan is senior associate editor for Cabling Installation & Maintenance.