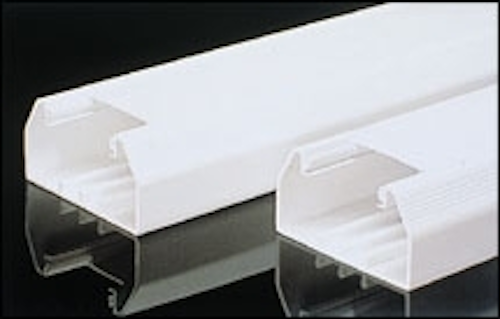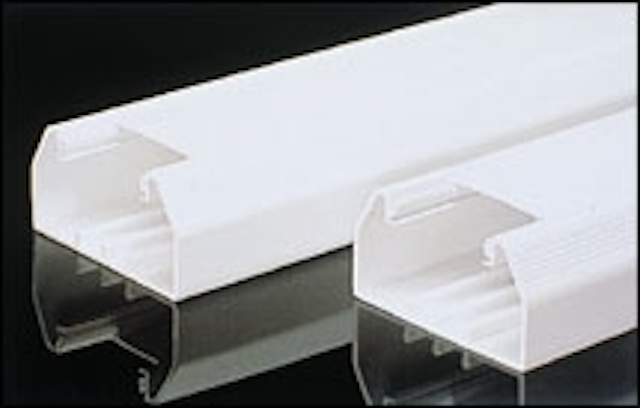 Click here to enlarge image
Raceway system
Panduit's TG-70 is a non-metallic raceway designed to accommodate up to 74 two-outlet workstations utilizing any combination of the company's Category 5, 5E, 6, or fiber-optic connectors. This system features 40-millimeter (1.6-inch) bend radius control fittings for protection of high-performance cabling. Designed for compatibility with the manufacturer's network cabling system, the raceway provides an integrated horizontal cable management solution for Category 5, 5E, 6-UPT, screened twisted-pair (ScTP), coaxial, fiber-optic, or power cabling. In addition, the system accommodates power and communication cables, snap-on faceplates, and National Electrical Manufacturers Association (NEMA) standard screw-on faceplates.
PANDUIT CORP.
TINLEY PARK, IL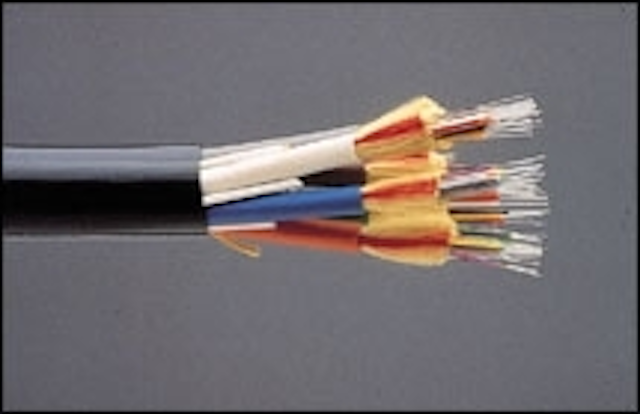 Click here to enlarge image
Fiber-optic cable
The double-jacketed GX-Series Subgrouping fiber-optic cable is designed not to degrade even with continuous long-term exposure to fuels, oils, liquids, cleaning agents, and acids. Consisting of an inner cable jacket of polyvinyl chloride (PVC) and an outer fluoropolymer cable jacket to provide chemical resistance, the cable is available as UL-listed optical-fiber nonconductive riser (OFNR) indoor/outdoor or optical-fiber nonconductive plenum (OFNP) indoor/outdoor cable. The fiber count for the cable can range from 2 to 144 optical fibers within a single cable jacket. The GX-Series can also mix multimode and singlemode optical fibers within a single cable.
OPTICAL CABLE CORP.
ROANOKE, VA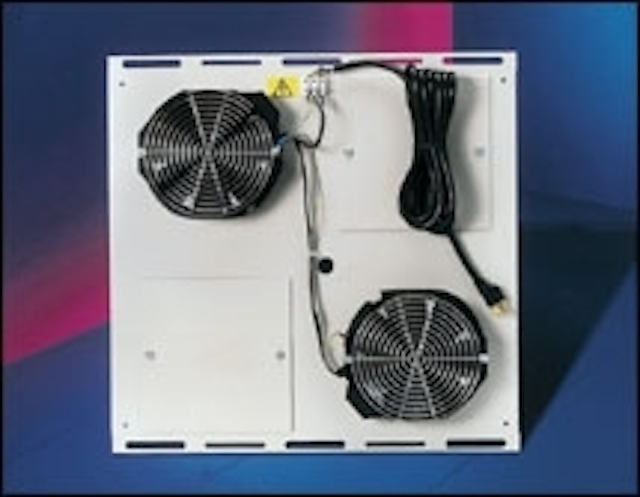 Click here to enlarge image
Server fan assembly
Rittal's PS server fan assembly lets you position the fan to target hot spots within an enclosure and take advantage of front-to-rear airflow. The 220-cubic feet per minute high-static pressure fans feature a shallow-depth chassis that maximizes enclosure space while exhausting hot air out the rear of the enclosure at a high rate. A tight seal between the fan assembly and the door ensures that the hot air is exhausted outside and does not escape through gaps and return back inside the enclosure. Design features include: 6-inch fans that develop 0.75 inches of static pressure and provide air flow, shallow depth for maximum space, height adjustability, and fast installation with no required cutouts when used with the line's vented door.
RITTAL CORP.
SPRINGFIELD, OH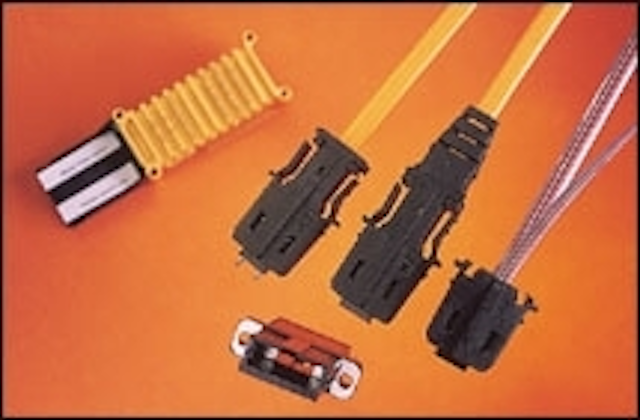 Click here to enlarge image
Connector assemblies
Intended for telephony central office and local loop systems and data communications, Molex's SMC cable assemblies use a Nippon Telegraph & Telephone Corp. (NTT)-compatible MT ferrule and alignment pin system that connects 4 to 24 fibers in a minimum footprint, using bare ribbon fiber or a jacketed cable. This connector line is available in both multimode and singlemode styles. On singlemode assemblies, an 8° angle polishing process controls back reflection. Several body styles with a squeeze-type latching mechanism facilitate mating and unmating. Assemblies are also available with break-outs for mating to individual connectors.
MOLEX INC.
LISLE, IL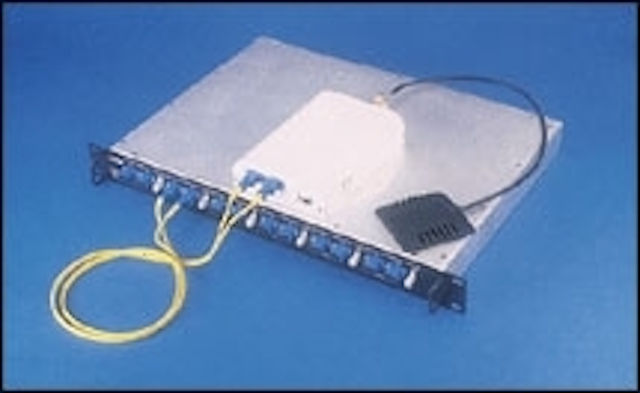 Click here to enlarge image
Antenna system
Andrew Corp.'s InCell fiber-optic distributed antenna system is designed to improve and extend radio frequency (RF) coverage in buildings and hard-to-penetrate indoor areas. The system supports cellular and PCS communication services, the ability to be upgraded to accommodate third-generation (3G) services, and the capacity to be a dual band system. Singlemode optical-fiber cable distributes RF signals between a central RF hub and remote antenna units. A central distribution unit interfaces with up to six remote antenna units placed throughout the building to provide RF coverage. Antenna units install on walls or above and below ceiling tiles to optimize the RF coverage throughout the indoor space, and can be omni-directional, dipole, or directional according to coverage needs.
ANDREW CORP.
ORLAND PARK, IL
Wire and cable catalog
Coleman Cable's Electronic, Coaxial, and Voice & Data Cables displays its line of wire and cable products that are used for data/communications. The catalog covers the company's line of voice and data cables, coaxial cables, security, fire alarm, and sound cables. This 36-page reference contains product features, part numbers, industry approvals, and index of industry definitions.
COLEMAN CABLE
WAUKEGAN, IL
Training catalog
Light Brigade's Fiber-Optic Supplies, Tools, and Test Equipment for the Installer catalog contains a selection of the items that a fiber technician would need to install, maintain, and test a fiber-optic system. New products include how-to kits-tools and training videos that help complete various fiber-optic tasks: Optical Loss Testing & Troubleshooting, Mechanical Splicing & Emergency Restoration, Fiber-Optic Cable Preparation, Termination, and Fiber Acceptance Testing.
LIGHT BRIGADE
KENT, WA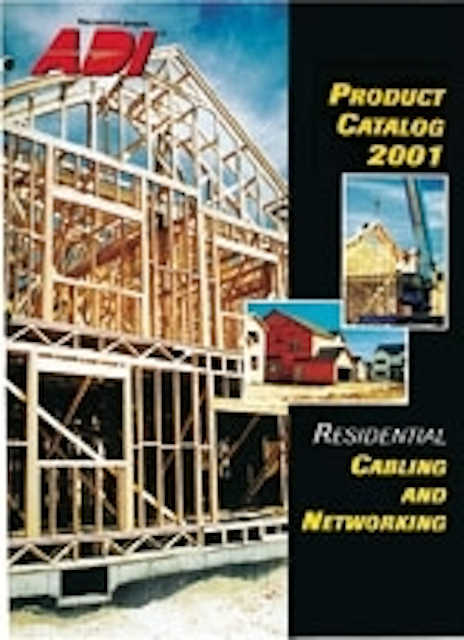 Click here to enlarge image
Residential cabling catalog
ADI's free Residential Structured Cabling and Networking Product Catalog contains more than 80 pages of products, product specifications, and technical white papers from more than 20 of the industry's top manufacturers. Material is a joint effort between the company and its family of manufacturers.
ADI
MELVILLE, NY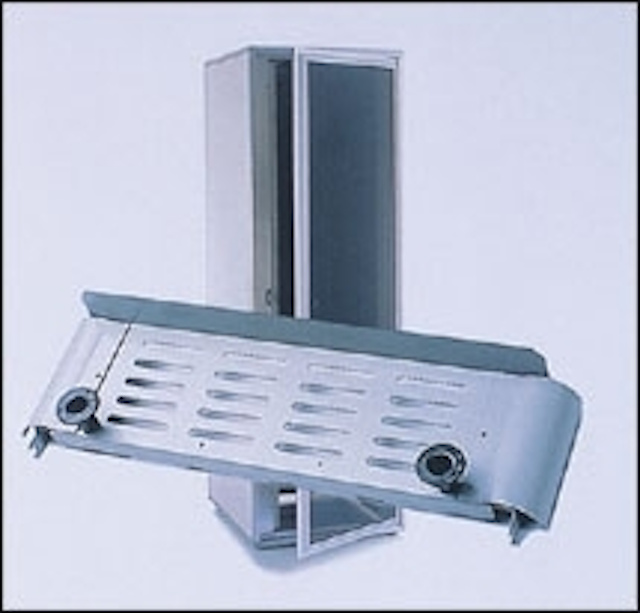 Click here to enlarge image
Inter-cabinet tray
Chatsworth Products Inc. has introduced an inter-cabinet horizontal cable tray as a new accessory for its MegaFrame cabinet system. The 6-inch-deep tray manages cables inside a MegaFrame cabinet or between cabinets without the need for an overhead runway. Features of this light weight, high-strength aluminum tray include radius drops and cable-distribution spools to ensure secure cable management and compliance with bend-radius requirements. Both 19- and 23-inch-wide options can be mounted side-to-side to form a 12-inch deep tray. They are available in gray, white, or black powder-coated finish.
CHATSWORTH PRODUCTS
WESTLAKE VILLAGE, CA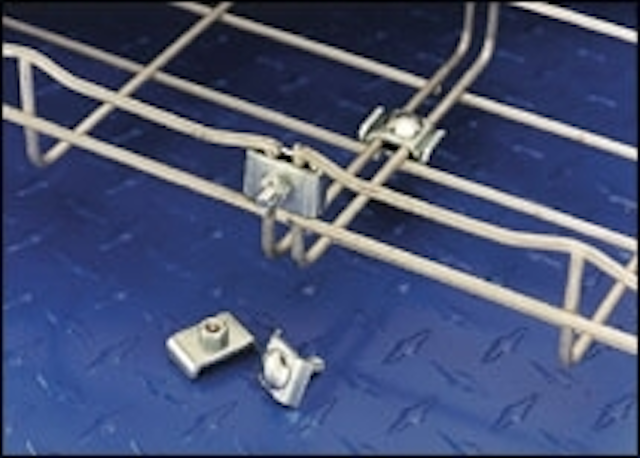 Click here to enlarge image
Splice washer kit
The Splice Washer Kit (SWK B) introduced by Cablofil combines the nut/ bolt/clamp assembly. Made up of the EZ BN 1/4, CE 25, and the CE 30, the kit will splice any two sections of EZ Tray, a wire mesh cable-tray system constructed of welded steel wire. It eliminates having to manually connect parts when working with bolting turns, bends, and tees.
For proper installation, the correct number of SWK B sets must be used for each tray width: for 2-inch widths, use two sets; 4- to 8-inch widths, use three sets; and 12- to 24-inch widths, use four sets.
CABLOFIL
ST. LOUIS, MO
Aerial drop duct
Dura-Line's Aerial Drop Duct is a high-tensile strength HDPE duct with "figure-8" construction. It incorporates a galvanized support strand for easy one-step aerial placement of fiber-optic cable, copper cable, or coaxial-cable applications. The device's small size, lightweight, and self-supporting design are intended for applications such as pole-to-house, building-to-building, and road or water crossings. Features include Dura-Line's patented SILICORE super-slick permanent lining, HDPE materials, and blended carbon black and antioxidants for UV and thermal protection. The duct is available in 1/2- and 3/4-inch duct diameters and fits the standard 1/8-inch attachment hardware.
DURA-LINE CORP.
KNOXVILLE, TN
Connectivity solutions
Panduit Corp. has released a 200-page network connectivity-systems solutions catalog for the enterprise and service provider markets. The catalog features the latest products for connecting, routing, managing, and identifying network infrastructure. The publication details more than 1,700 part numbers, including Giga-channel Mini-jack TX-6 modular jacks, a new connectivity solution that meets proposed Cat 6 specifications; the PAN-WAY T-45 nonmetallic surface raceway, a multichannel two-piece design for power and low-voltage and fiber applications; and the Netframe rack system, a completely modular cable-management system with 6-inch-deep channels and flexible D-rings; and Fast-snap surface-mount outlet boxes, designed to speed and simplify raceway installations.
PANDUIT CORP.
TINLEY PARK, IL


---
By the Book
Technical information from company catalogs?
Yes. If you are willing to accept some company bias, you can get sound technical information-and you can get it free-from cabling-company catalogs. Two good examples of this fact crossed my desk recently.
The current catalog from the Siemon Co. (Watertown, CT) contains almost 70 pages of technical information in the reference section at the back of the volume. Almost half of this section is devoted to a summary of the latest standards documents, including the open-office (TSB-75), field-testing (TSB-67), and centralized network administration (TSB-72) bulletins, as well as the basic premises wiring standards, TIA/EIA-568 and TIA/EIA-569 for commercial building wiring and pathways. An application guide diagrams various horizontal channel configurations, such as that for UTP Token Ring, cross-referenced to the manufacturer's applicable parts.
About 20 different voice and data applications are covered. A section on installation practices gives detailed, step-by-step instructions for basic cabling procedures-again, using Siemon components in the color photos and diagrams. The final part of the reference section is a 5-page glossary, listing of acronyms and abbreviations, and metric conversion table. For more information, visit: www.siemon.com.
The Siemon Co. also publishes a magazine, Cabling for the Future, that includes very competent technical articles along with the expected new-product announcements, application notes, and case studies.
Ortronics (New London, CT) also ends its catalog with a 30-page reference section. Following descriptions of eight typical cabling applications, the section summarizes a number of standards, including the TIA/EIA-606 administrative and labeling standard, and the international 11801 cabling standard. Special attention is paid to testing parameters for UTP cable and to various pinouts for modular plugs and jacks. A glossary and list of acronyms concludes the section. For more information, visit: www.ortronics.com.
Company catalogs offer several advantages over other kinds of technical literature. They tend to be better and more fully illustrated than other publications, and their focus is very specifically on installation issues. Best of all, they are free.
-Arlyn Powell