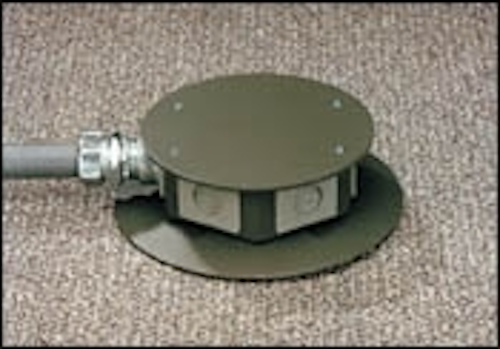 Compiled by Ryan Cliche
Click here to enlarge image
Furniture-feed poke-thru
Wiremold's Walker RC9FF furniture-feed poke-thru system with a hexagonal head provides up to six power and communication connections in one unit. The system accepts communication grommets and threaded drop-in hubs to support flexible conduit connections. This system is designed for new and retrofit construction applications in commercial office buildings, financial institutions, schools, government institutions, and similar buildings. Its low-profile design lets you relocate modular furniture without removing housings.
WIREMOLD CO.
www.wiremold.com
Networking cabinet, open rack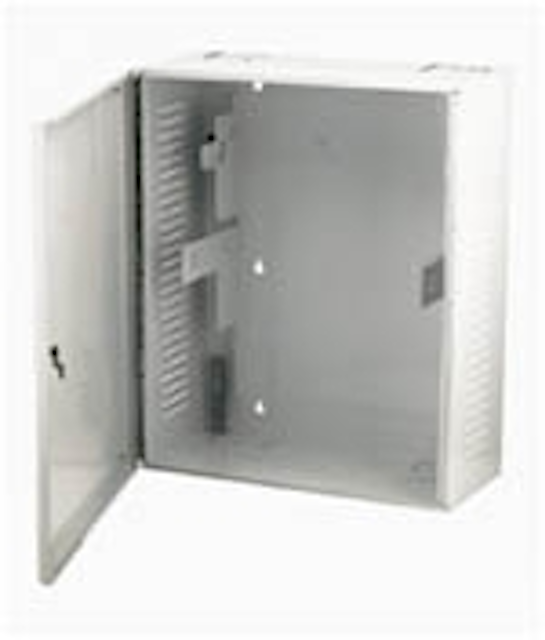 Click here to enlarge image
Bud Industries' Mega Network cabinet features stationary 5U (8.75-inch) rack-mounting brackets for hubs, routers, and fiber optics, and a 2U (3.50-inch) swing-down rack-mounting bracket for patch panels. This cabinet accepts conduit and surface raceway, and supports copper/ fiber interfaces. Other design features include: ventilated sides, an internal grounding bar, reversible key-locking front door, and is wall-mountable on sixteen-inch centers. Each cabinet measures 31x25.5x12 inches and is available in an off-white finish.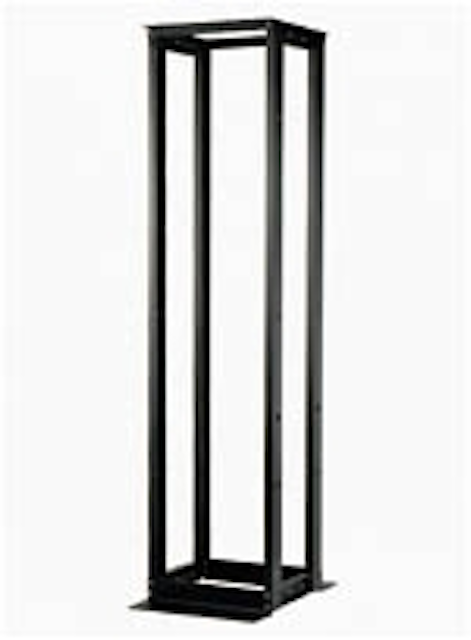 Click here to enlarge image
Available in two models, each with an overall height of 84 inches and width of 20.25 inches, Bud Industries' Double Rack's depths are adjustable from 15 inches to 21 inches and 22 inches to 35 inches, depending on the model selected. A four-post construction with dual mounting surfaces, along with adjustable depths, provides a variety of equipment mounting possibilities. Adjustable depth extenders provide wiring ladder and cableway mounting capability. Its panel space is 19x77 inches, with 12 to 24 tapped Electronic Industries Alliance universal spacing mounting holes. Floor mounting holes are provided for sturdiness and security.
BUD INDUSTRIES INC.
www.budind.com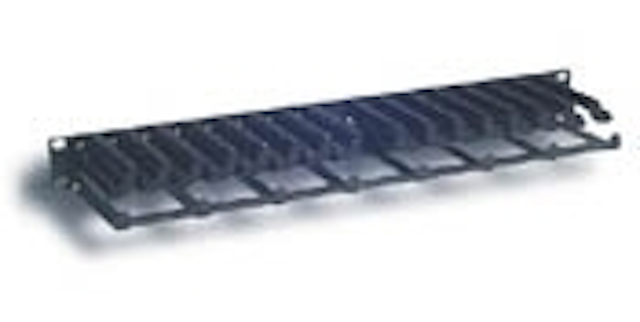 Click here to enlarge image
Cable management panel
Molex Premise Network's CableRoute, constructed with "fins" and "no-slip" tabs, secures fiber and copper cable traffic in a straight end-to-end, top-to-bottom fashion while maintaining the 11/4-inch bend radius specified by the Commercial Building Telecommunications Cabling (TIA/EIA-568-A) standard. The 16 adjustable polycarbonate Lexan fins maintain flexibility for left or right cable routing and can be added or removed for cable density. There is 1/2-inch clearance between the bottom of the fins and the bottom of the panel for horizontal cable routes. This 14-gauge cold-rolled steel panel has a gray powder coat finish.
MOLEX PREMISE NETWORKS
www.molexpn.com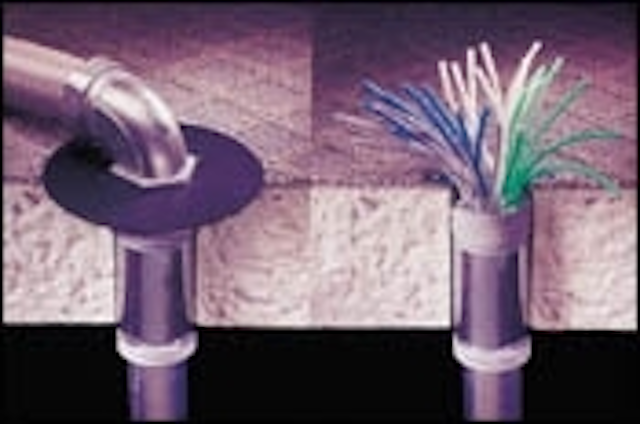 Click here to enlarge image
Fire-rated poke-thru, wall box system
Able to support 36 low-voltage cables with a .21-inch diameter in one location, Hubbell Wiring Device-Kellems' fire-rated poke-thru is designed to address the additional capacity requirements for larger voice/data services in commercial building upgrades. The two-inch single-service units are Underwriters Laboratories Inc.-listed for floors with a one- to two-hour fire rating and include a fire barrier to provide enhanced protection in a three-inch cored hole. Two internal spurs prevent the fitting from pulling out of the cored hole.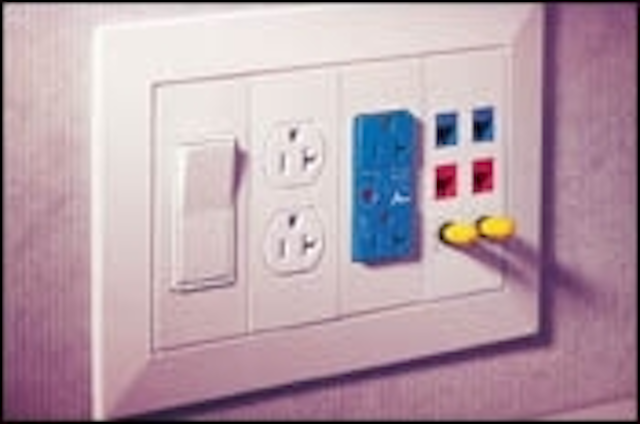 Click here to enlarge image
Hubbell Wiring Device-Kellems' Multi-Connect 16-gauge, pre-galvanized boxes are available in one, two, four, and six gangs to provide capacity and flexibility. An adjustable stud-mounting bracket allows for 1/2-, 5/8-, one-, or 11/4-inch wallboard installation and an adjustable polyvinyl chloride (PVC) device-mounting platform are designed for a flush appearance. Combination knockouts will support 1/2-, 3/4-, and one-inch cable fill requirements. Snap-in or screw-type faceplates are offered to meet power and low-voltage requirements.
HUBBELL INC.
www.hubbell-wiring.com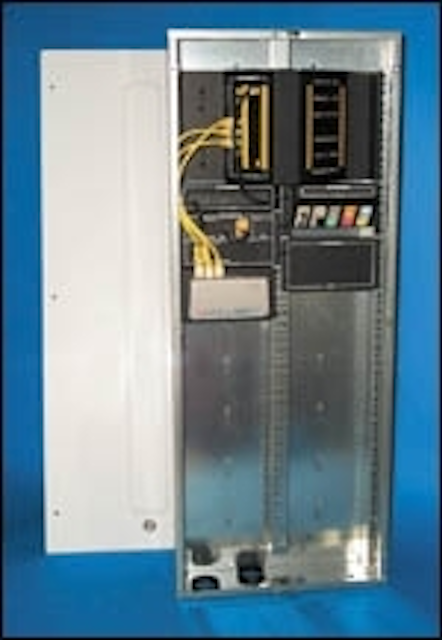 Click here to enlarge image
Modular enclosure
Ortronics' 36-inch modular enclosure for the company's InHouse residential/small commercial structured cabling system offers 36 inches of rail space and is modular in design. The 18-gauge galvanized steel base has a rust-resistant finish. A knockout in the enclosure lets you mount an AC receptacle inside, while the sides and base accept Velcro straps or plastic ties for organizing and managing cables. Multiple cable entry/ exit holes at the top and bottom feature snap bushings to protect cables from abrasion and wear.
ORTRONICS INC.
www.ortronics.com
Click here to enlarge image
Versatile adapter
Leviton Voice & Data's Spectro-Link QuickPort MT-RJ adapter connects the line's connectors and workstation patch cords in all of the company's wall plates, surface-mount housings, patch panels, patch blocks, modular furniture faceplates, and the Multimedia Outlet System (MOS) line. A shutter on the front of the adapter protects against dust and contamination before installation and offers eye protection at the workstation. The adapter comes in four colors to match the line's faceplate, wall plate, and surface mount housing, and to provide color-coding for port identification. Also, a dust cap is provided on the rear of the adapter.
LEVITON VOICE & DATA DIV.
www.levitonvoicedata.com
Adjustable ladder bracket
Capable of being repositioned by removing or loosening only one bolt, Panduit's adjustable ladder rack bracket can be installed to either a 11/2x3/8- or 2x3/8-inch ladder rack rail. The "L" mounting bracket can be adjusted to nine incremental positions from 4 to 12 inches above the side rail. To locate cable routing below the ladder rack, the bracket can also be deployed in a downward position from the ladder rack. Threaded inserts eliminate the need to use nuts and bolts.
PANDUIT CORP.
www.panduit.com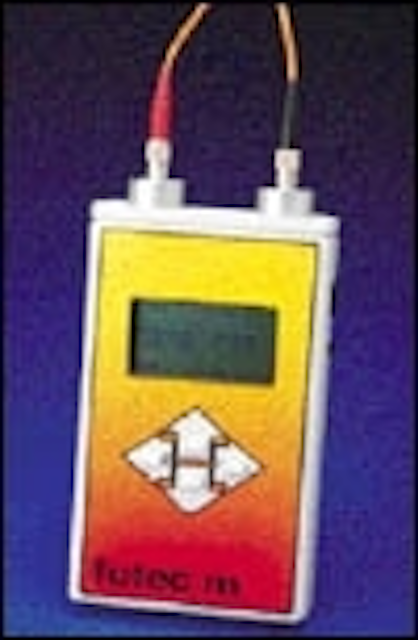 Click here to enlarge image
Power meter
Fotec's DM3000 is a dual-channel, fiber-optic power meter that offers customization and data logging in a portable, handheld package. Its two detectors measure the loss of two fibers for link testing or simultaneously monitoring reference and measurement power. Using the menu-based operating system and soft keys, you can program the instrument for calibration wavelengths, measurement resolution, detectors in-use, and custom wavelength calibration. Internal memory is provided for data storage in a cable/fiber database for up to 500 measurements. This power meter includes a data-logging feature with a real time clock where you can program the unit to sample and store data on preset intervals.
FOTEC INC.
www.fotec.com
Click here to enlarge image
Repair kit
Jackmoon's duct repair kit is designed for conduits containing fiber-optic cable. The kit is watertight and stronger than the original duct itself, according to company claims. The kits come with heavy-walled split conduit, hose clamps, cable ties, and a sealing system for retrofitting without removing cable from the service. Each kit handles a variety of fiber-optic duct dimensions.
JACKMOON USA INC.
www.jackmoon.com
Safety video
The 31-minute video Codes, Standards, and Safety Practices, is part of The Training Dept.'s Skill Builder series. A trainer and a former CEDIA Installer of the Year share information on codes and regulations for low-voltage residential homes, including the National Electrical Code, Uniform Building Code, and Telecommunications Industry Association/Electronic Industries Alliance standards. The video also addresses safety and OSHA regulations. Specific coverage areas include tool selection, protective gear, extension cords, ladder regulations, and fire safety.
THE TRAINING DEPT.
www.trainingdept.com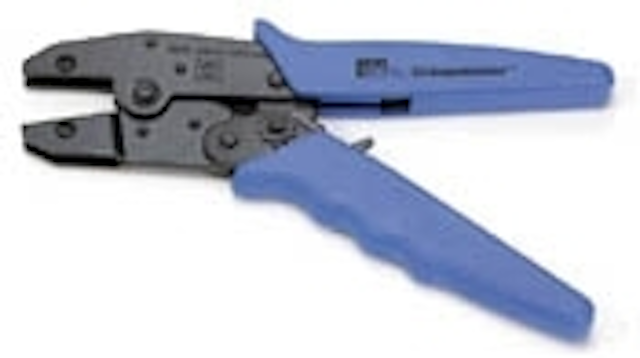 Click here to enlarge image
Crimp tool
Ideal offers 21 different interchangeable modular-plug die sets for the Crimpmaster, including dies for coaxial, fiber-optic, and AWG connectors. Dies can be changed with a screwdriver. To assist in identification, some dies are color-coded to gauge specifications. Ergonomically designed for safety and comfort, the crimp tool has cushion-grip handles and an emergency ratchet release.
IDEAL INDUSTRIES INC.
www.idealindustries.com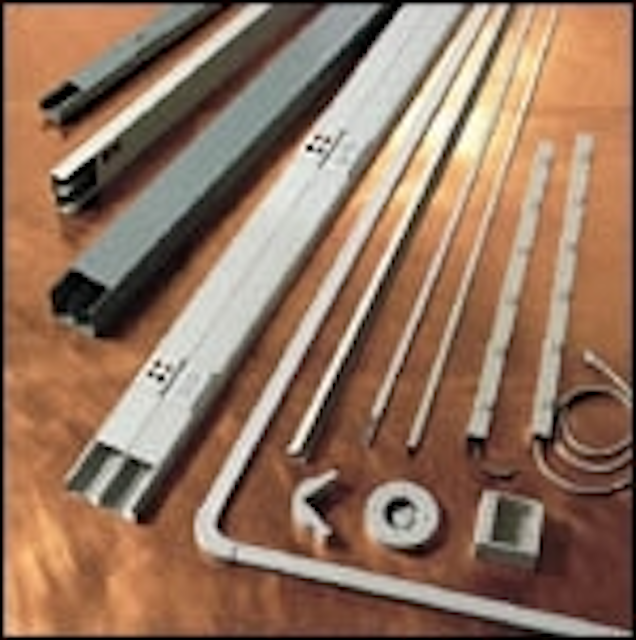 Click here to enlarge image
Raceway, power poles
Made of flame-resistant PVC, Thomas & Betts' nonmetallic surface raceway is available in two-piece and one-piece hinged configurations. The two-piece design features a separate base and cover, while the one-piece version incorporates a co-extended PVC hinge that allows repeated opening and closing. A one-cover option offers a seamless appearance, while a two-cover version enables access to both compartments for multiple installers. Each component is the width of a single-gang faceplate, which makes the system interchangeable with standard faceplates.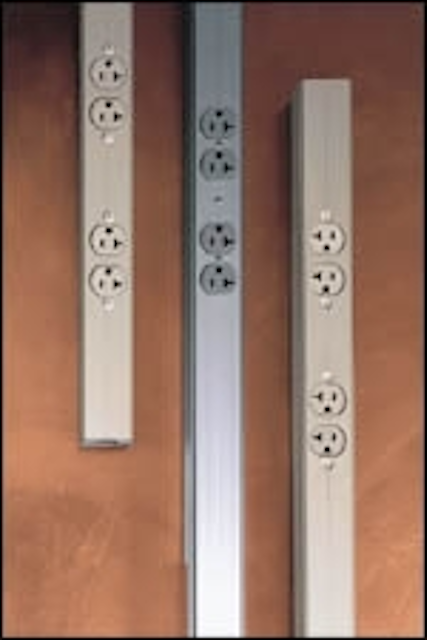 Click here to enlarge image
Thomas & Betts' isolated ground pole configurations are available in 4-wire and 6-wire versions. The 4-wire version features two 20A isolated ground orange duplex receptacles. A 6-wire version includes one orange duplex and one standard duplex receptacle, each with a separate, dedicated circuit. To enable power and communication feeds to modular furniture, the company's blank vertical drop poles divide into two channels. The Underwriters Laboratories Inc.-listed vertical drop pole also features positive mechanical grounding.
THOMAS & BETTS CORP.
www.TNB.com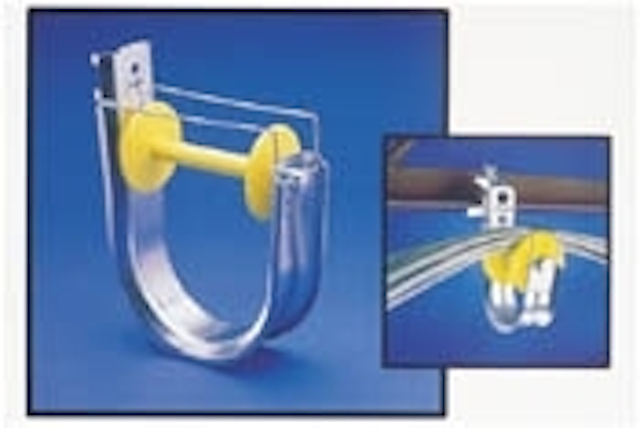 Click here to enlarge image
Cable-pulling equipment
Compliant with the Telecommunications Industry Association standard that requires minimizing the pull force on a cable, Erico's CableCat CAT64PLR pulley maintains proper bend radius. The pulley comes in a kit that includes a J-hook (4-inch diameter), pin, wheel, and retainer. This system comes ready to nail or screw directly to the structure, or it can be assembled to any other of the company's fasteners for attachment to beams, decking, drop wires, and rods. After removing the pulley and pin assembly, the J-hook can be left as a cable support. The pulley accommodates up to 40 four-pair cables.
ERICO INC.
www.erico.com
Category 5 cable tester
Jensen's LanRover tests for opens, shorts, reversals, miss-wires, and split pairs. When a connection from the main unit to the remote is sensed, testing begins automatically. The LED for each pair will indicate "on" for a good pair, "off" for an open pair, or flashing for a bad pair. Indicators appear on both the main unit and the remote. A press of the button will induce a tone on all pairs, and subsequent presses will cause a tone on one pair, advancing to the next pair in turn.
JENSEN TOOLS INC.
www.jensentools.com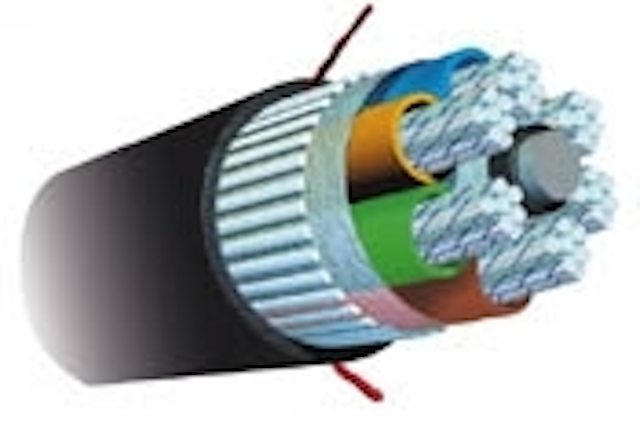 Click here to enlarge image
Fiber-optic cables
Pirelli's OptiLink cables are available with up to 432 optical fibers. Each of a maximum of six buffer tubes is packaged with up to six bundles of 12 fibers. These buffer tubes are stranded around a central strength member for high packing density with a small outer diameter. Available in unarmored, single-armor/single-jacket, and single-armor/double-jacket designs, the cables can accommodate standard singlemode, non-zero dispersion-shifted (NZDS) fiber, and metropolitan-optimized NZDS fibers.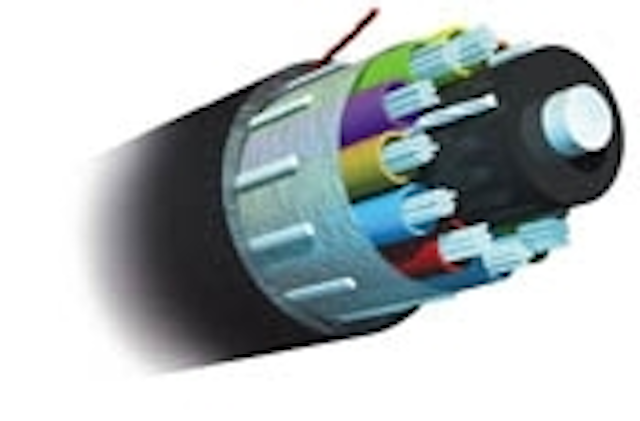 Click here to enlarge image
Available in unarmored and single-armor/double-jacket designs, Pirelli's FlexLink loose tube cables are composed of 26 buffer tubes in a dual-layer design, with 12 fibers per buffer tube. The buffer tubes are stranded around a central strength member and provide high-packing density with a small outer diameter. These cables can accommodate standard singlemode, non-zero dispersion-shifted (NZDS) fiber, and metropolitan-optimized NZDS fibers. Also, the stranded loose tube fiber-optic cables feature flexible buffer tubes and dry water-blocking technology.
PIRELLI CABLES AND SYSTEMS
www.pirelli.com
null
By the Book
Troubleshooting, ATM covered by professional texts
Network Monitoring and Analysis: A Protocol Approach to Troubleshooting, by Ed Wilson, is a more-than-commonly useful addition to the series of professional handbooks published by Prentice Hall (www.phptr.com). Written by a networking specialist working for Full Service Networking (www.fullservice.net), the book, which focuses on a Windows NT network environment, begins with a look at the OSI model and then moves on to the specifics of Ethernet networking. TCP/IP and SPX/IPX protocols are covered, as are the mechanics of server message blocks. The second section deals with various network traffic patterns, while the third looks at several types of network monitors. A final section deals with troubleshooting issues and problems. The volume also includes appendices, glossary, index, and a CD-ROM.
ATM Technology and Services Delivery, by M. R. Karim of Lucent Technologies, (www.lucent.com) covers the fundamentals of ATM technology, followed by chapters on call control procedures, switching systems, traffic management, and network management. Discussions of delivery of ATM services include circuit emulation, LAN emulation, IP over ATM, multi-protocol over ATM, switched multimedia services, and wireless ATM. Appendices, glossary, and index conclude the volume.
Also received from Prentice Hall:
IP Routing Protocols: RIP, OSPF, BGP, PNNI & Cisco Routing Protocols, by Uyless Black
A Practical Guide to SNMP v3 and Network Management, by David Zeltserman
More information can be found at the Prentice Hall Web site, which offers more than just book-ordering information. You'll find author interviews, book reviews, and a monthly e-mail newsletter.
-Arlyn S. Powell, Jr.


---
New Product CORRECTION
In the New Products section of our May 2001 issue of Cabling Installation & Maintenance, we announced a connectivity tester (p. 131) as a product by Jensen Tools instead of Fluke Networks. Here is how the section should have appeared:
Connectivity tester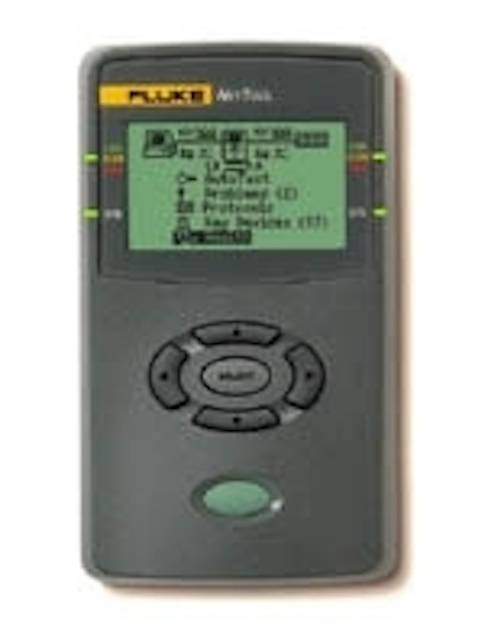 Click here to enlarge image
The NetTool connectivity tester by Fluke Networks identifies a jack as Ethernet, phone, token ring, or inactive, and checks link pulse for speed, polarity, duplex, level information, and receive-pair. It resolves PC network configuration issues such as Internet protocol (IP) address, default getaway, and e-mail and Web servers, while showing key network resources used by that PC such as servers, routers, and printers. In addition, the tester simultaneously monitors network health for full-duplex connections, with individual counts for both the desktop and the network conversations. A Problem Log lists problems detected on the PC and network such as addressing issues, e-mail, and Web problems.
FLUKE NETWORKS
www.flukenetworks.com