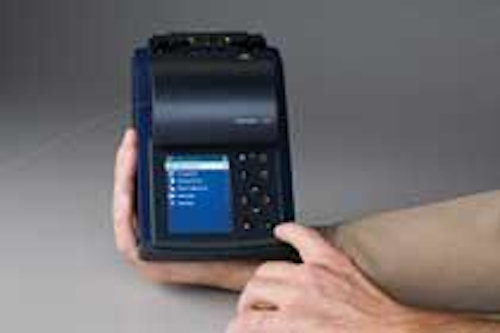 Handheld single-fiber, multi-fiber tools
Click here to enlarge image
OptiSplice One single-fiber fusion splicer (below) features an intuitive user interface, dual cameras, a fast heat-shrink oven and high-capacity Li-Ion battery in a reduced package, while the OptiSplice Ribbon 1- to 12-fiber fusion splicer (right) is designed to provide improved speed and performance when compared to previous generation multi-fiber splicers. These devices are suited for installations with tight working conditions, and both units are available with modular accessories for use inFTTx and various LAN applications. A splice area cover serves as a wind protector while rubber bumpers offer protection in harsh environments. High-intensity LEDs provide splicearea illumination when used in low-light installations, and canalso illuminate the interior of a splice closure or other piece of hardware. Factory and user-defined programs are available for common and specialty fiber types, and a USB interfacepermits data output and software upgrades.
CORNING CABLE SYSTEMS
www.corningcablesystems.com
www.cable-install.com
V-groove mechanical, portable fusion splicers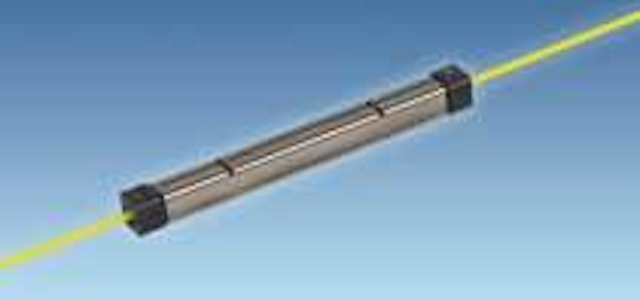 Click here to enlarge image
SpliceConnect is a mechanical splice featuring V-groove technology designed to maintain physical contact between thefibers. An assembly tool is used to ensure fibers are matedcorrectly, resulting in <0.1 dB insertion loss (typical forsinglemode). Splice-Connect secures both fiber and coating independently with a U-shaped sleeve, enhancing the strength against fiber twist. Offering 250-and 900-µm fiber capabilities, this mechanical splice is suited for restoration projects, premise installations, and FTTx applications.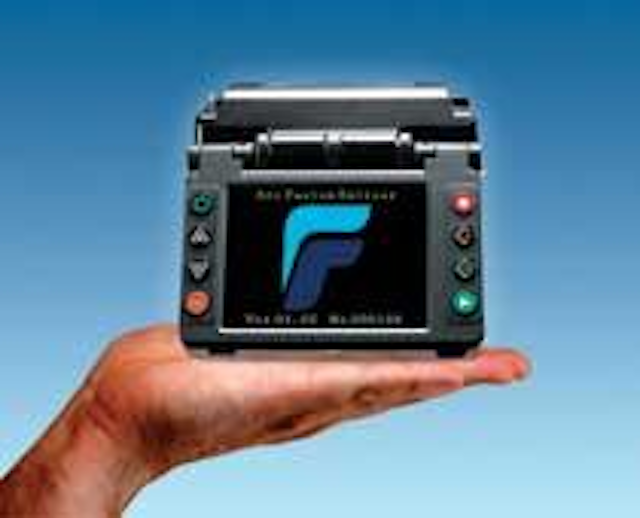 Click here to enlarge image
SpliceMate, according to company claims, is the world's smallest portable fusion splicer. It features Fujikura's Profile Alignment System (PAS) technology, providing a dual-camera inspection system designed to ensure reliable splice results by detecting splice or cleave defects. Suitable for use in all environments, SpliceMate includes automated arc calibration that compensates for environmental conditions and electrode age, eliminating the need for routine arc calibration. The splicer is equipped with a dual-direction 3.5-inch monitor, while an optional workstation is available.
AFL TELECOMMUNICATIONS
www.afltele.com
Fusion field termination kit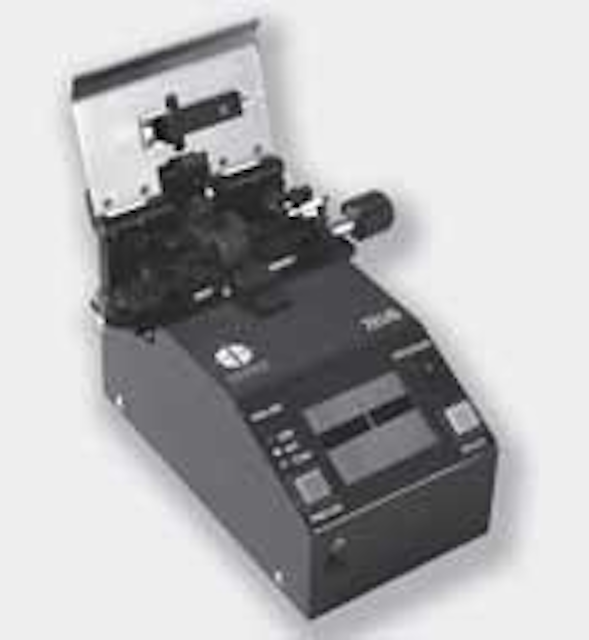 Click here to enlarge image
The Zeus fusion field termination kit features the company's "crocodile alberino" fusion ferruleassembly (available in both PC and APC versions), which provides a factory-polished endfaceresulting in low insertion loss and back reflection, as well as splice protection. The fusion splice is performed and protected within the ferruleassembly, eliminating the need for splice housing, trays, holders, protectors, and fiber management. The Zeus fusion splicer offers precision V-groove alignment, pre-splice fiber cleaning, and pre-programmed parameters for both multimode and singlemode fibers. Ferrule assembly closing directly onto the fusion splice eliminates the need for special tools. Up to 100 splices are possible without having torecharge the battery. Other parts of the field termination kit include the "crocodile alberino" 2.5-mm closing tool and 1.25-mm crimping tool, two connector assemblingpliers, holders for fiber-to-fiber splicing,and a precision fiber cleaver.
DIAMOND USA
www.diamond-fo.com
Fiber-to-the-premises fusion kit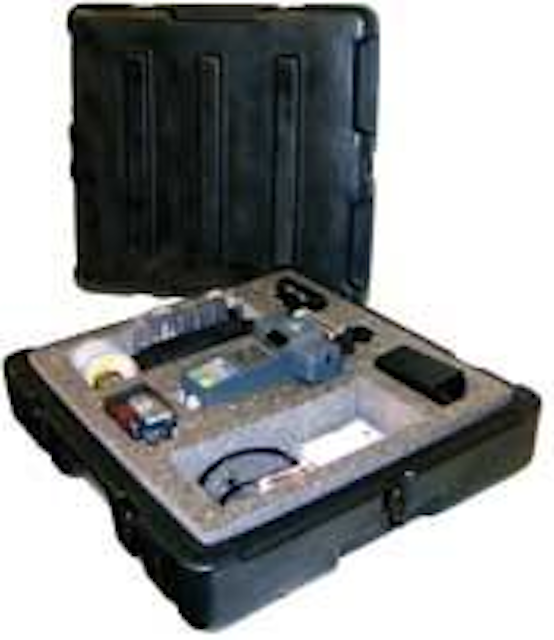 Click here to enlarge image
This portable fusion splicing kit is designed to fuse 900-µm tight-buffered as well as 250-µm acrylate-coated fiber in FTTx installations. Specially designed fiber holders let you cleave and insert the fibers into the splicer using the same holder, increasing the accuracy and placement of fibers while offering protection. The splicer includes a color LCD monitor and CCD camera, designed to produce a clear, magnified image of both fiber ends simultaneously.An estimated loss readout (typically .05 dB for multimode and .10 dB for singlemode) is shown after a splice occurs. The spliceralso features a button-activated fixed V-groove alignment system, and sensitive arc testing features designed to assure near-perfect core and cladding glass alignment. Also included in the kit are all necessary fiber preparation tools, 6V DC battery and AC adapter to power theheated buffer stripper, tworechargeable batteries with charger and AC adapter, 900- and 250-µm fiber holders, 6-inchruler, and small parts box. All contents are housed in a hard shell case with removable lid.
KITCO FIBER OPTICS
www.kitcofo.com
Optical enhancements tohandheld fusion splicer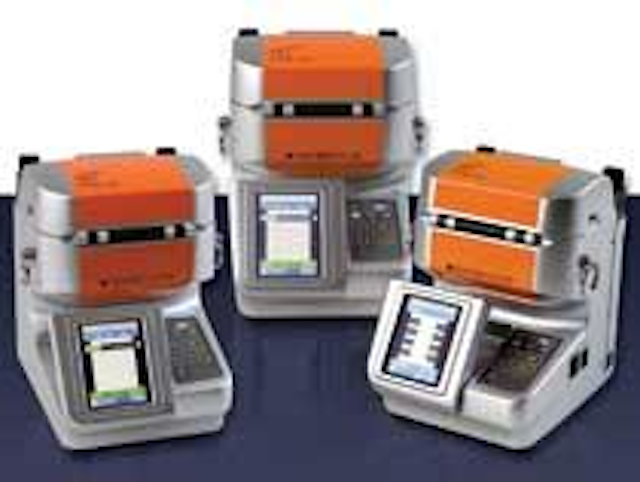 Click here to enlarge image
The Type-25e TomCat handheld fusion splicer now features improved optical technology, offering a choice of an economical one-camera system or an industry-standard dual-camera splice loss estimation system. Combined with a quicker splice protection sleeveheater, TomCat is designed to produce a typical splice time of less than 11 seconds for singlemode or multi-mode fiber. The unit features an internal battery charger and AC adapter, while improved battery technology lets technicians perform 40 splices on a single charge. Alsoincluded are front-to-back position monitors that letyou observe the fiber during the splicing process,automatic arc test function, and an improved fiberholder system to increase splice repeatability.
SUMITOMO ELECTRIC LIGHTWAVE
www.sumitomoelectric.com