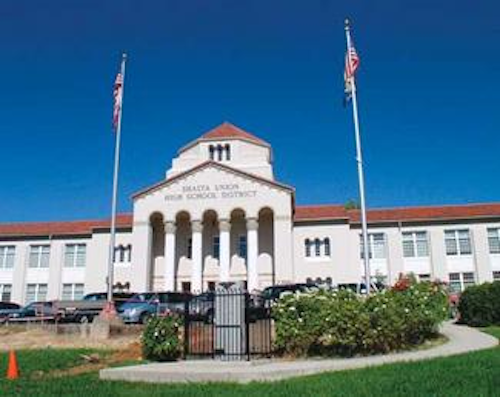 A northern California provider/installer of video surveillance systems via networked cameras recently completed an installation at the Shasta Union High School District that school officials claim has nearly eliminatedundetected school vandalism and theft.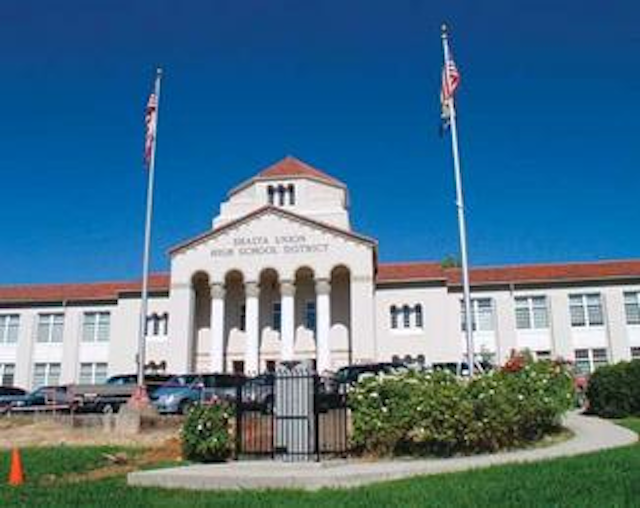 A recent IP video surveillance installation at Shasta Union High School District in California has reduced vandalism and theft by 98% while saving the district thousands of dollars.
Click here to enlarge image
Ojo Technology (www.ojotech.com), combining its networked installation technology with security management software from Denmark-based Milestone Systems (www.milestonesystems.com), performed its installation on four high schools within the district. The previous security system had failed to meet the complex needs of buildings that were geographically dispersed, but according to school officials, the Ojo installation of specifically targeted network cameras helped put an end to unchecked vandalism, theft, and property damage.
"We have experienced a 98%reduction in school vandalism and theft, combined with anefficient way to accurately identifyresponsible parties associated with student conflicts," says Mike Vincelli, IT director for Shasta Union School District.
Bob Bisetti, account executive for Ojo Technology, notes that the district's IT department "is not your typical run-of-the-mill high school IT department…with four schools in the district and fiber links to each school, fiber backbones to each school and each local network link Category 6-connected to smart switches."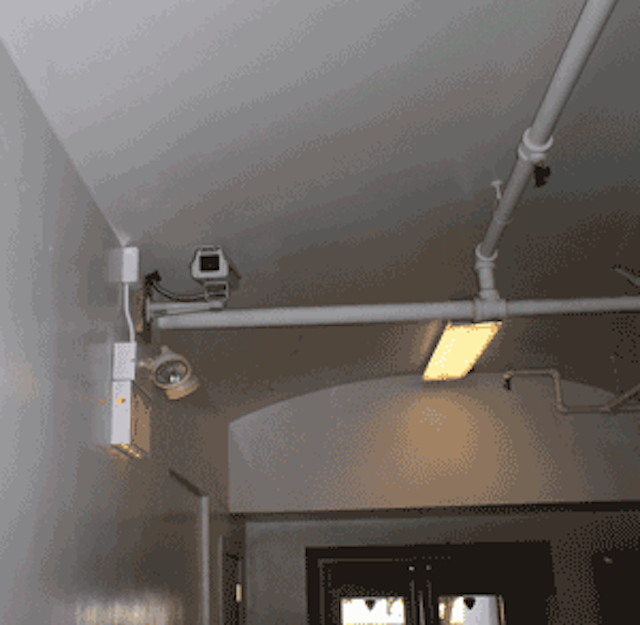 Axis 211 cameras were chosen for the indoor hallways and cafeterias, where the light is relatively unchanged.
Click here to enlarge image
In addressing the district's complex security needs, Bisetti says "The biggest obstacles with this project are the same that we experience with all educational institutions," namely a limited budget and limited knowledge of IP video security [IPVS] technology (i.e., what camera works best in what application).
"We started with a Technology Phase-In plan, and the school district bought and installed the IPVS technology as they could afford to do so, starting with the most problematic locations at each of the schools and working from a location 'need list' into the location 'want list',"Bisetti explains.
As the IPTV technology came online, and Vincelli introduced school staff to the system, additional camera sites were requested to quell other trouble areas on the campuses.
"After our initial walk-through during the first-phase planning stage, Mike got the concept of why different camera makes and models are used at different locations/viewing situations," saysBisetti. "He certainly was very quick to understand why one camera does not fit all applications, especially when the budget is the number one concern."
As with any data network, carefully planning the infrastructure is essential when seeking to incorporate IP video surveillance with normal data traffic. In addition, the correct choice of digital cameras and lenses for each location helps ensure that the client will see exactly what they intend to see, day or night, and regardless of weather conditions.
"In this case, we sug-gested Axis 211 cameras for the indoor hallways and cafeterias, where the light is relativelyunchanged," says Bisetti. "We used a combination of Sony Z20-N fixed cameras, SNC-3CS cameras with an assortment of Rainbow wide-angle lenses, and the Sony RZ30-N PTZ cameras for outdoor locations where sunlight and temperature are constantly changing."
In the northern California summer, it is not unusual to see temperatures over 100 degrees while wintertime can bring the thermometer into the 30s during the day and teens at night. Heaters and fans in the camera housings and domes become a must for outdoor devices.
Ojo currently uses three IPVS management software products for its surveillance installations, including Milestone Systems' ProfessionalSeries, which was chosen because of such features as open architecture, a broadvariety of camera makes and model compatibility, ease of use, and a 50% credit from the current software license toward the purchase of an upgraded license.
The Milestone solution provides monitoring of activity in main gathering areas, with access to all installed locations—centrally or remotely—for live viewing or fast search-and-find of recorded video.
Bisetti says that Vincelli and his team "absolutely planned correctly for all segments of this major enterprise expansion, utilizing managed Ethernet switches and proper fire-walling of their network segments. A district-wide video archiving system was also implemented."
Not only has the installation significantly reduced incidences of vandalism and theft, it has reportedly saved the school district tens of thousands of dollars annually.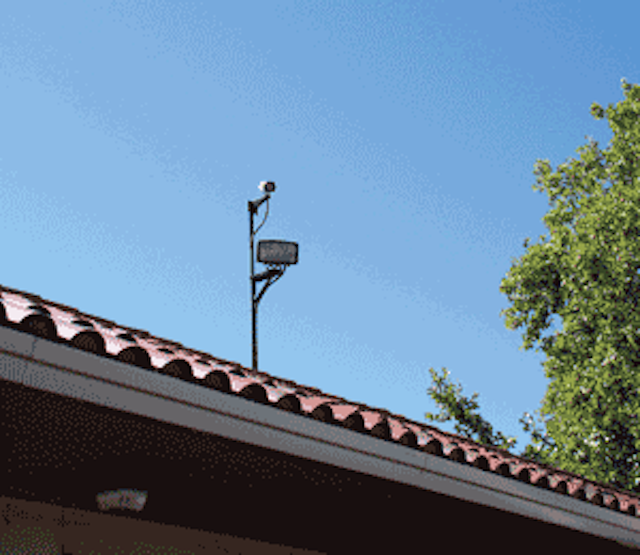 The outdoor installation involved a variety of camera styles with wide-angle lenses, as well as consideration for extreme temperature fluctuations between summer and winter.
Click here to enlarge image
"The administration, teachers, and school board are delighted by the results that this project has brought and, believe it or not, the students say that they feel much safer at the school since the program began," concludes Bisetti.
---

Short runs…
TINLEY PARK, IL—NeoPhonetics (www.neophonetics.com), which designs custom VoIP systems for the enterprise, has launched a Network Assessment Tool that lets a company considering a data VoIP solution to determine whether their cabling, switching and routers, and network bandwidth are VoIP-compatible. "The need for this tool became apparent through numerous conversations with out customers," says Chad Agate, CEO of NewPhonetics. "Instead of verbally administrating the Network Assessment Tool, both current and potential customers can now simply go to our web site and answer the questions in just three minutes. In the way that doctors screen to determine if more tests are necessary, this tool can be used to determine if a business' network is clearly ready for VoIP or if further evaluation is needed."
LEXINGTON, KY—ACUTA (www.acuta.org), a non-profit association that supports higher education communications technology professionals, has named Dr. Walt Magnussen, telecommunications director at Texas A&M University, as its new president. Other newly-elected officers are: Corinne Hoch, Columbia University, president-elect; Riny Ledgerwood, San Diego State University, second term as secretary/treasurer; Randal Hayes, University of Northern Iowa, re-elected director at large; Sandy Roberts, Wellesley College, director at large.
TUKWILA, WA—The Light Brigade (www.lightbrigade.com) is offering a three-day fiber-optic training course, "Fiber Characterization: PMD, CD, and ORL," during several dates in 2008 in Seattle. The course provides classroom instruction on the theories and principles of fiber characterization, as well as hands-on instruction on splicing, connector inspection and cleaning, span testing, and documentation.
IRVINE, CA—Solarflare Communications (www.solarflare.com), developer of 10-Gbit Ethernet silicon and reference designs, is collaborating with Accton Technology Corp. (www.accton.com) to develop solutions for network equipment manufacturers that address enterprise/data center 10-GbE deployment over existing infrastructures of UTP copper cabling. Accton is initially building 10-Gbit server network interface cards (NICs) based on Solarflare technology.
LONDON—Structured cabling integrator Bailey Teswaine (baileyteswaine.co.uk) is offering intelligent infrastructure management (IIM) technology as a managed service. IIM involves deployment of intelligent patch panels in new builds for the enterprise, through which infrastructure management can be passed to a central location for database storage and then used for security, management and compliance. As a managed service integrator, Bailey Teswaine bears the cost of installing the intelligent patch panels in which it is installing structured cabling. According to the company's technical director, Rajesh Sinha, Bailey Teswaine has been running a pilot of IIM for the last several Januarys and is now offering it as a commercial service.
SUNNYVALE, CA—MoSys Inc. (www.mosys.com), developer of high-density embedded memory and mixed-signal intellectual property (IP) solutions, has introduced a Gigabit Ethernet Physical Layer (PHY) on copper semiconductor IP. The product is targeted at LAN, WAN, and SAN markets. The company says its IP will enable development of advanced, highly integrated systems-on-chip for applications that include wireless networks, VoIP, Power over Ethernet, backbone, and LAN on Motherboard (LoM) solutions. The Gigabit PHY IP supports 10/100/1000Base-T Ethernet over Category 5 twisted pair cables, and 10/100Base-T Ethernet over Category 3, 4, and 5 cables.