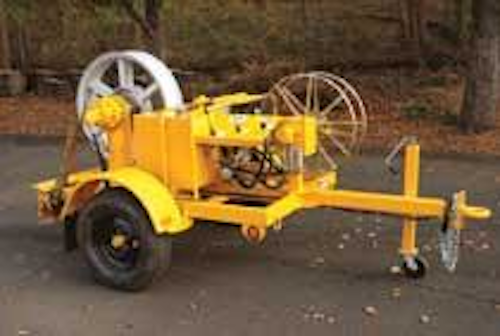 Puller provides controlled force over longer distances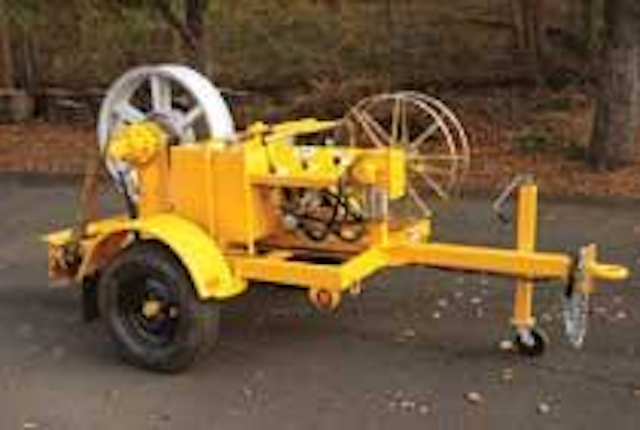 Click here to enlarge image
Stationed on a trailer body, the SidewinderF.O. Cable Puller has been designed to exceed the requirements of underground telecommunication cable installation. It employs a single, 32-inch diameter capstan to provide a controlled force when reeling pulling rope or tape. The single capstan allows the winch to be placed at the mid-point of a section to assist in the pull, thus enabling longer pulls to be achieved. The Sidewinder has a rope take-up drum, driven independently via a hydraulic motor. The take-up drum has a detachable side designed to allow the rope on the drum to be removed in atidy coil. The drum can be declutched from the drive to allow the rope to be pulled out manually when threading. The winch is powered by a 13 hp gasoline engine that drives a fixed displacement hydraulic pump, which in turn drives the low-speed, high-torque hydraulic motor. The motor drives the capstan through an epicyclical gearbox; pulling tension is displayed on a dial gauge for simplified monitoring.Tension is adjustable from 0 to1,100 lbs. The winch will stop pulling atthe selected tension without stopping the engine, thereby protecting thecable. Sidewinder is built on a robust steel chassis, and its trailer equipment complies with Department of Transportation standards.
GENERAL MACHINE PRODUCTS COMPANY
www.GMPtools.com
Fish tape addresses difficult bends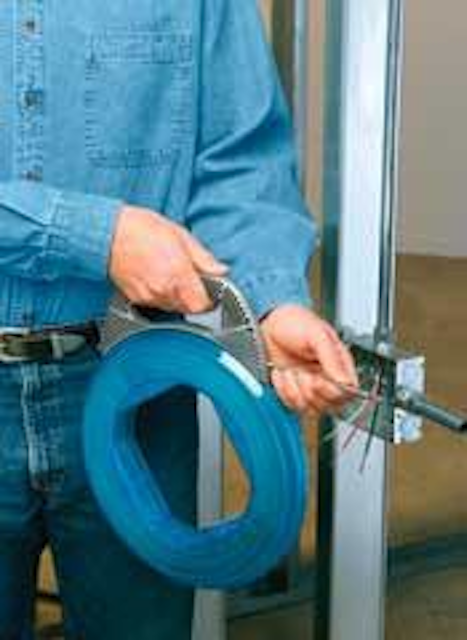 Click here to enlarge image
Zoom fish tape features a braided stainless steel core and polyamide resin jacket. Built for conduit runs with difficultcable placement, such as multiple bends, elbows, andjunction boxes, Zoom fish tape is designed for omni-directional pushing; it can work through multiple bends andchanges in plane without hanging up or deforming within the conduit. "We worked closely the cable makers, testing and revising the design until Zoom had the optimum mix of pushing and pulling characteristics needed," says Don Hawkins, manufacturing engineer on the Zoom development team. Bruce Konen, senior design engineer, notes that the stainless steel and polyamide construction assures long, rust-free service: "We found a lot of the toughest cable installation was done in wet environments. Underground conduit frequently fills with moisture and even interiorconduit saturated with wire-pulling lubricants can rust atypical fish tape. The Zoom tape slides through theseproblems and never fails. Even put away wet, the tape retains itsfull performance for next use." Zoom fish tapes are beingoffered in 50- and 100-foot lengths.
IDEAL INDUSTRIES INC.
www.idealindustries.com
Automatic cable payout system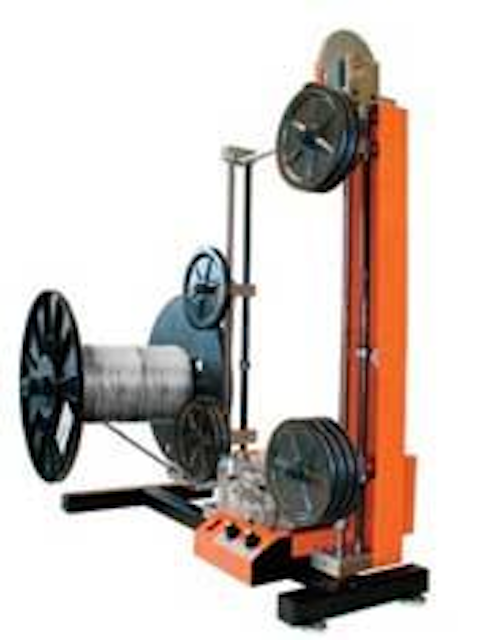 Click here to enlarge image
Model APF100 Auto Prefeeder & Wire Payout System isdesigned for wire/cable sizes .030" to .312" OD (depending upon material condition). The device can be used with any of the company's wire and tubing cutters or the CS800 Wire Cut & Strip machine. The APF100 is built to prevent material overruns when used with intermittent feed machines. Maximum drive speed is 100 inches per second. Free-standing and weighing 55 lbs., the APF100 will accommodate reels up to 18" in diameter and 12" in width.
THE ERASER COMPANY
www.eraser.com