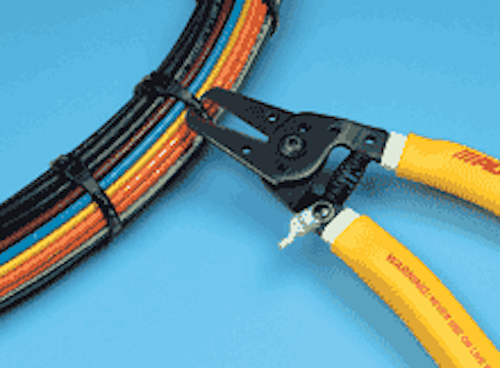 Cable tie remover
Click here to enlarge image
A new line of hand tools has been designed to safely remove cable ties and plastic strapping. Smooth safety guards provide protection to cables, sliding behind the tie or strapping to prevent sharp blades from contacting bundled items. An ergonomic cushion grip is designed to maximize natural hand contraction, and handles feature an auto-return spring.
ACT FASTENING SOLUTIONS
www.actfs.com
Conduit, cable guides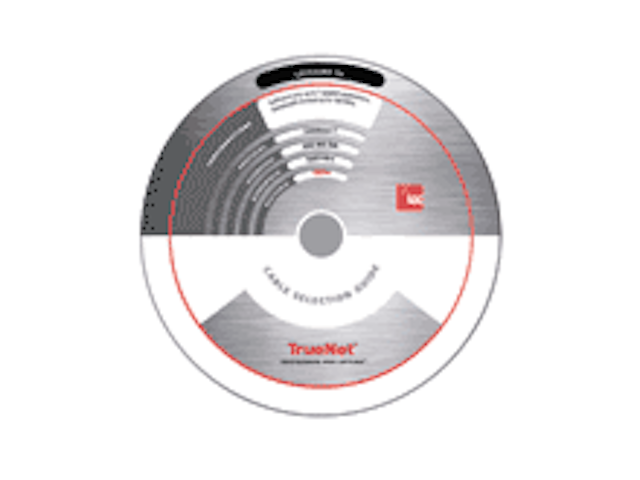 Click here to enlarge image
The online AirES (Air Enhanced System) conduit capacity calculator helps determine how much cable a job will require based on conduit size. You input a conduit size and the calculator will determine the amount of the company's AirES cables will be needed. AirES copper cable technology incorporates air into the cable design resulting in a conductor andinsulation diameter that can be reduced by up to 32%, maximizing tray, conduit, and cabinet space for better air flow and reduced cooling costs in the data center.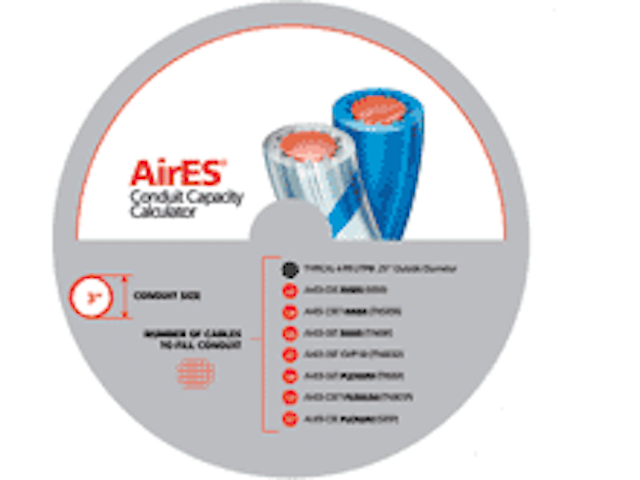 Click here to enlarge image
The online Cable Selection Guide helps determine which of the company's TrueNet cabling solutions for mission-critical applications will best suit your network design. Choose among seven True-Net copper andfiber cable optionsto see considerations, protocol, standards, bandwidth, and distance.
ADC
www.adc.com
Cable support system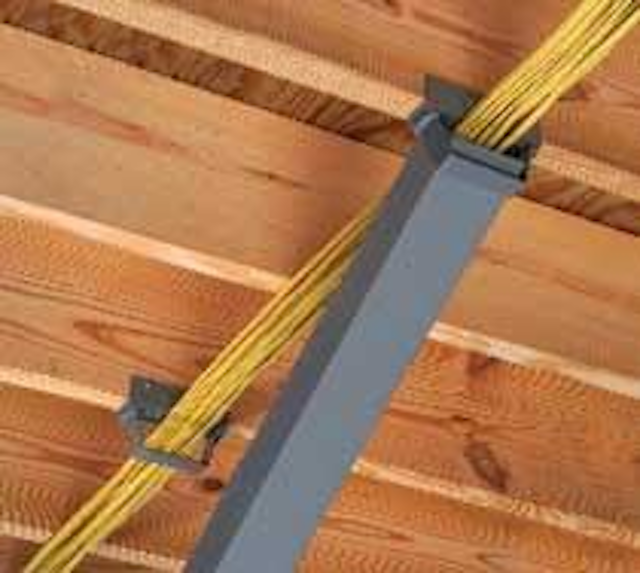 Click here to enlarge image
CableWay is a UL-listed cable runway support system for low-voltage or powercable. Rated for a maximum load of6 pounds/linear foot, CableWay's components include support brackets that attach to a wall or ceiling without structural damage. Slide-on 5-foot trough sections cover and protect cable, letting you add more sections as needed and join them with coupling, 90° angle, or T-shaped trough bracket. Push-on end caps are also included.
ARLINGTON INDUSTRIES
www.aifittings.com
Audio decoder via Cat 5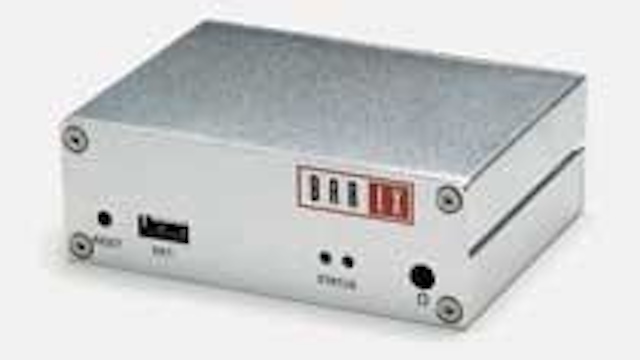 Click here to enlarge image
Exstreamer IP-based audio decoders are designed for educational installations ranging from classroom recording to live paging and campus security. Programmable school bell/signal systems, for example, can run over Category 5cabling. The device is controlled by a standard web browser and with the optional IR remove control. Withserial and Ethernet control APIs, the Exstreamer can also be managed from typical automations systems. In addition to paging and security, the Exstreamer can be used as a multi-room distributed audio system, real-time audiobridging over IP, and in-storeaudio distribution.
BARIX TECHNOLOGY INC.
www.barix.com
Industrial Ethernet components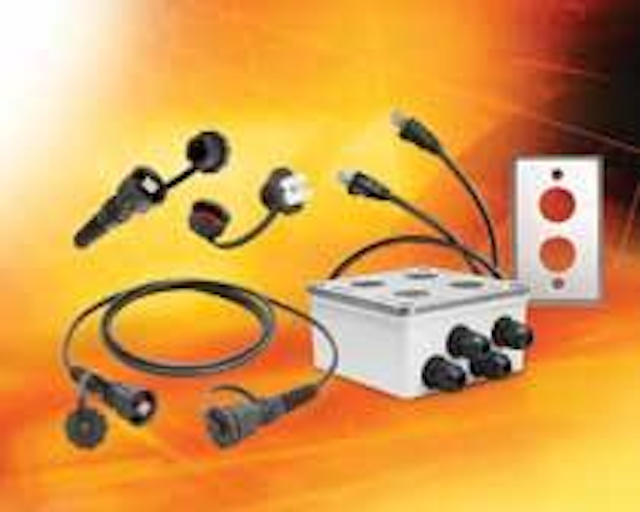 Click here to enlarge image
DataTuff Industrial Ethernet connectivity components include cord sets, jacks, plug kits, tools, and accessories. These IP67-rated components are designed for use on the factory floor and processareas in unprotected and outdoor environments. They are resistant to the ingress of dust, moisture, water, oil, and chemical exposure. Non-sealed, IP20-rated cord sets are designed for inside enclosures. Many of the DataTuff Industrial Ethernet cables feature the company's patented Bonded-Pair technology, a construction that affixes the conductor insulation of the cable pairs along their longitudinal axis to ensure that no gaps develop between conductor pairs.
BELDEN
www.belden.com
Feed-through, protector panels
These Category 6 feed-through patch panels eliminate punchdowns, and protect ports on network switches from the wear and tear of constant changes. Panelsfeature RJ-45 ports on both sides, and are available in shielded and unshielded as well as and 24- and 48-port models that fit in 19-inch racks.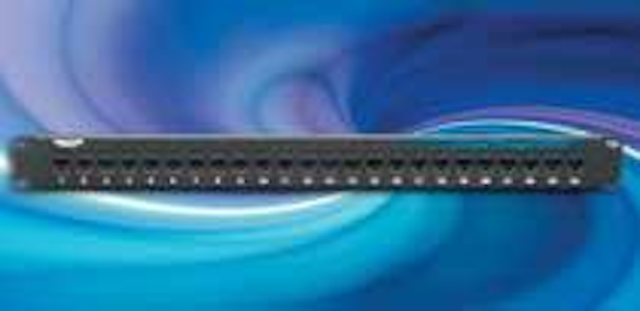 Click here to enlarge image
In addition, Category 6 protectorpanels feature built-in, all-wire protection on each port to protect equipment anddata lines from power surges and electrostatic discharge. Panels are available in 12-, 24-, and 48-port models, and feature 110-to-RJ-45 ports; each port is individually protected, and a fail-safe designdestroys the port rather than the equipment. Each panel has a self-resetting, 2,000-watt circuit.
BLACK BOX
www.blackbox.com
Chemical-resistant labels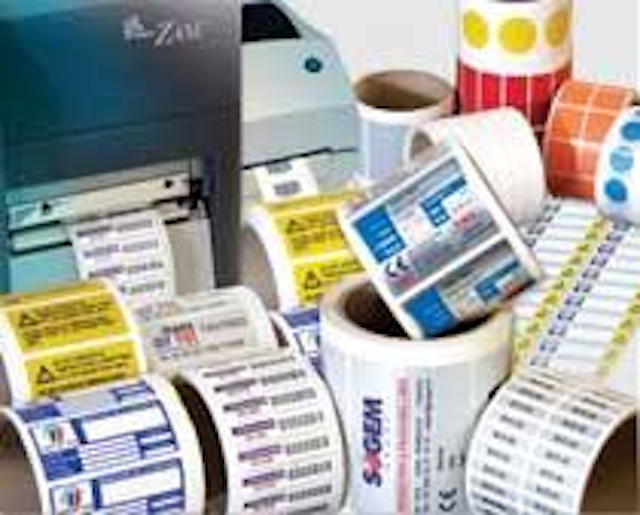 Click here to enlarge image
CIL 8200SC Metalised polyester range of chemical-resistant labels let you add data using a thermal transfer printer. When used in combination with the company's thermal transfer ribbons, the labels resist a range of chemicals and solvents, including MEK and acetone. They are suitable for batch ID labels ranging from aircraft components to industrial installations.
CILS INTERNATIONAL
www.cils-international.com
WLAN port adapter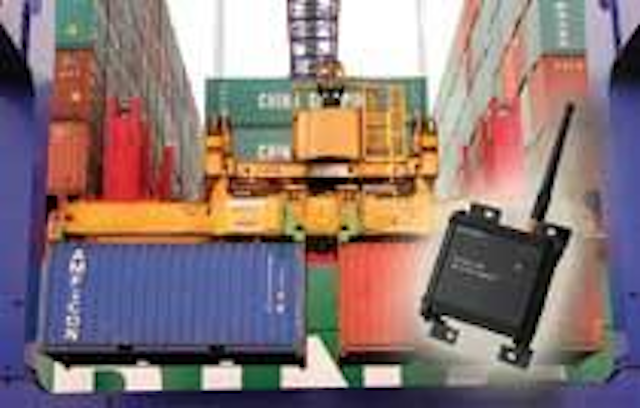 Click here to enlarge image
These WLAN serial port adapters enable cable replacement in industrial applications, such as programming, configuration, service, diagnostics, and data acquisition. A robust housing makes them suitable for harsh industrialenvironments when existing devices are to be connected into a LAN infrastructure or where it's too difficult to installcable. Housing options include a dust/water/heat-resistant metallic (IP65-rated), and a lighter, IP20-rated plastic for lessdemanding environments.
CONNECTBLUE
www.connectblue.com
Dome security camera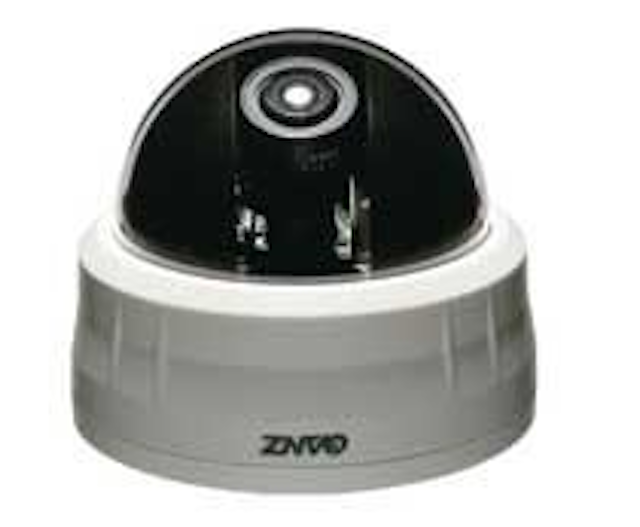 Click here to enlarge image
WDR (wide dynamic range) indoor/outdoor vandal resistant mini-dome cameras feature Pixim Inc.'s (www.pixim.com/cameras) Orca chipset with Digital Pixel System technology that allows individual pixelsampling to determine optimum exposure in all areas of the image. The technology isdesigned to provide a balanced exposure of both bright and dark areas withinthe same scene, making the WDR cameras suitable for backlight problem areas. The dome's digital day/night and frame integration modes are designed to provide enhanced low-light performance. Also featured is a proprietary pan/tilt/rotation (3-axis) gimbal mechanism for mounting the dome on any horizontal or vertical surface.
CBC AMERICA/GANZ
www.cbcamerica.com
Outdoor WAP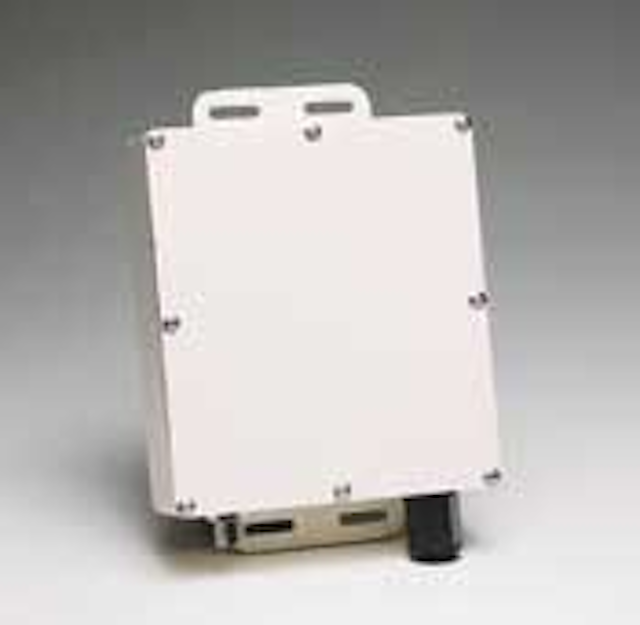 Click here to enlarge image
Combining access point with amplifier, the SAP36g-OD outdoor wireless access point (WAP) features a small footprint and strong metal casing suited for ceiling-,wall-, or pole-mount installations. Power over Ethernet-capable, the WAP is compatible with the IEEE 802.11g standard, ensuring that all 802.11b and 11g equipment is compatible for fast wireless transmission.Modes include AP, client, bridge, and WDS+AP. Other features include wireless client isolation, WPA and WPA2security, transmit power control, connection quality monitoring, MACaddress access control, and 802.1x/RADIUS.
ECHOTECH WIRELESS
www.echotechwireless.com
Fiber test kit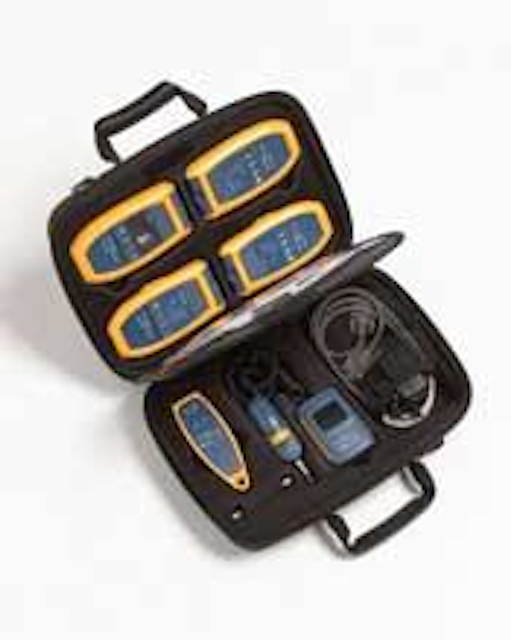 Click here to enlarge image
Three fiber-optic test and inspection kits let installers and network managers perform cleaning and loss testing, and offer video inspection of fiber end-faces using a 200x microscope (FiberInspector Mini) that aligns the inspection probe witheither fiber ports or patch cord connectors to ease fiber inspection. The video camera in FiberInspector Mini blocks harmful laser light transmitted by thefiber, showing the end-face on a palm-sized video screen. The microscope works for multimode and singlemode end-faces, ports, and patch cords. In addition to FiberInspector Mini, the kits include a fiber-optic solvent pen, cleaning cards and cleaning cube, and two sizes of swabs for cleaning inside fiber ports.
FLUKE NETWORKS
www.flukenetworks.com
AV over Category 5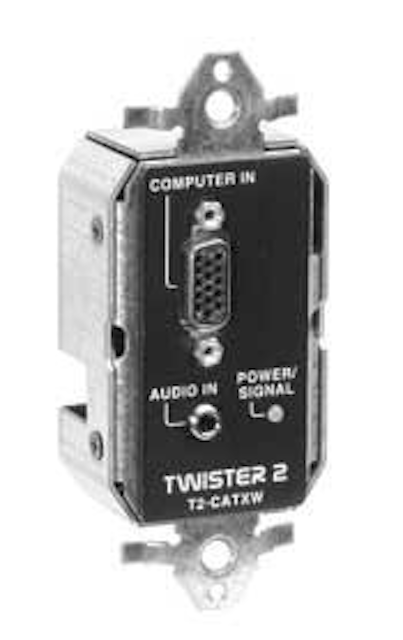 Click here to enlarge image
With the Twister 2 CAT-5 system, high-resolution video and stereo audio can be sent long distances on Category 5cable with an optional skew compensation feature. This RS-232 Data/IR device is designed for applications requiring transport of RS-232 data and/or IR control data. Versions include a one-gang decora or brick style.
FSR
www.fsrinc.com
3-in-1 OTDR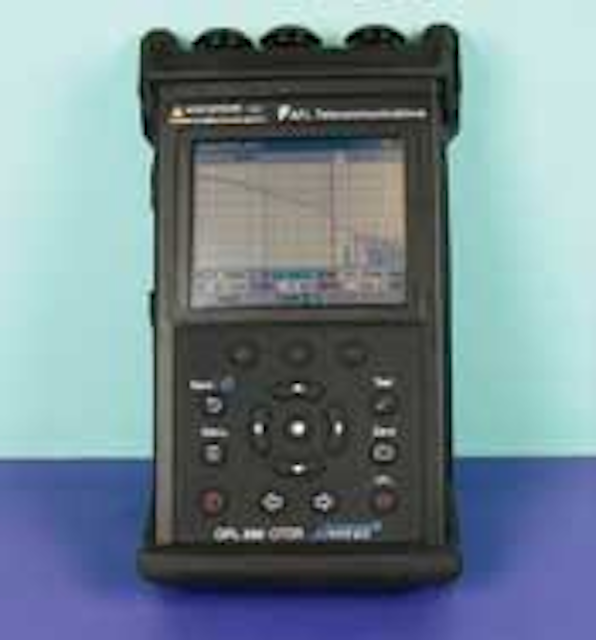 Click here to enlarge image
The OFL 250 handheld OTDR for testing and monitoring FTTx installations combines an optical power meter, laser source, and visual fault locator in an under 2-pound package. It provides automaticand manual setups, precision event analysis, and multiple wavelength testing. With a dynamic range of26 dB, the OFL 250 is capable of locating ends of up to 48 miles at 1310 nm, and 80 miles at 1550 nm on standard singlemode fiber.
FUJIKURA EUROPE LTD.
www.fujikura.co.uk
VGA boost over Cat 5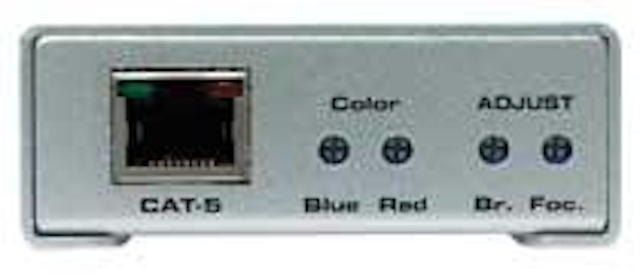 Click here to enlarge image
The 2xVGA Extender lets you extend VGA audio at up to 1,000 feet from the security video source. With a single Category 5 cable carrying its video signal, the 2xVGA receiver unit has two VGAvideo outputs for connecting more than one monitor at remote locations. Connect the sender unit to a VGA video source with the supplied mating cable, then run the Category 5 cable to the receiver unit at the remote location. The 2xVGA supports resolutions up to 1080p, 2K, and 1920 x 1200.
GEFEN
www.gefen.com
3-phase UPS

Click here to enlarge image
The UPS RP36000/3 is designed to dissipate less than half as much heat into a data center as comparable UPSs. The rack-mountable system provides36 kilowatts of power or24 kilowatts with N+1 redundancy. UPS paralleling allows up to six UPS modules to work together to increase load capacity and N+1 fault tolerance.
HEWLETT PACKARD
www.hp.com/go/infrastructure
Residential solutions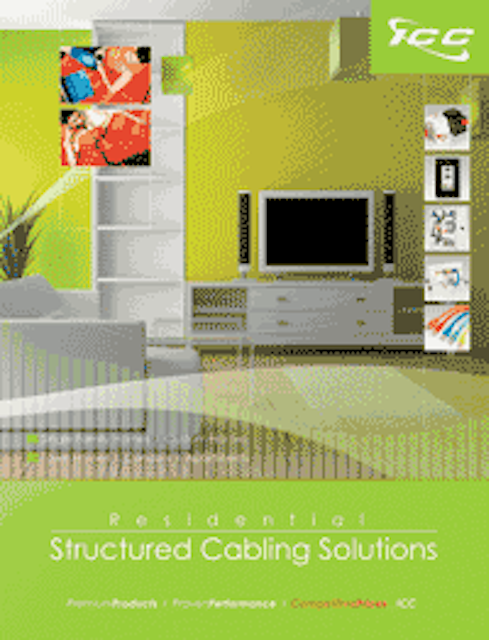 Click here to enlarge image
The 2008 Residential Structured Cabling Solutions catalog features connectivity products for computer networking, home theater, high-speed Internet, and multi-room video. Products include HDMI and RGB-VGA inserts, DSL filter modules, and a variety of media center connectivity products.
ICC
www.icc.com/residential
Speedy 10-GbE test kit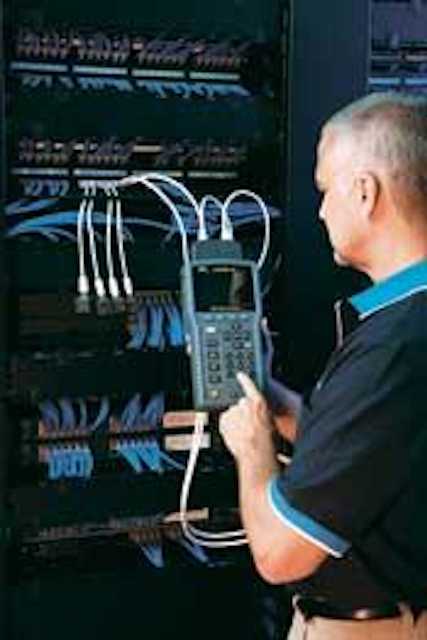 Click here to enlarge image
This 10-Gigabit Alien Crosstalk Testing Kit with software upgrade allowsLANTEK 6A and 7G cable certifiers to perform complete alien crosstalktesting in compliance with proposedinternational standards. The kit consists of two dual-head AXT adapters and12 specialized AXT terminators. Thedual-head adapter lets each LANTEK handset transmit on a disturbercable and detect the alien crosstalk on a victim cable from both sides of the link simultaneously, reducing test times by as much a half compared to othersolutions when performing a full PSANEXT and PSAACR-Fcertification. Thetester can also perform all AXT measurements and calculations in the field without the need for a personal computer or testing software, allowing a technician to run the testsystem by following the intelligent graphical user interface and gettinginstant pass/fail results.
IDEAL INDUSTRIES
www.idealindustries.com
Wireless device server
Designed to connect hard-to-wireserial devices, the JetPort 5801 one-port RS-232/422/485 Wireless SerialDevice Server is 802.11b/g compliant with up to 54 Mbits/sec. Security includes 128-bit WEP. The unit can be configured with the company's JetPort Commander that lets you manage the wired and wireless JetPort without installing add-itional software. Power input options are terminal block or power jack. The unit can be wall- or DIN-rail-mounted.
KORENIX TECHNOLOGY
www.korenix.com
Copper, fiber assemblies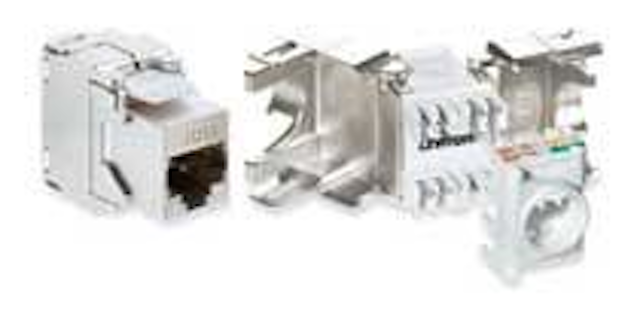 Click here to enlarge image
Preterminated, factory-tested copper trunk cable assemblies are custom-configured in pre-engineered lengths using connectors that meet the specific needs of each application. These copper trunks use the company's QuickPort jacks, which are compatible with the company's line of QuickPort panels, letting you install the trunks alongside individualcable runs or other media types. Offered in UTP and shielded versions in Category5e, 6, and 6A performance, the trunkassembly receives a unique serial number, and individual cables are numbered relative to the serial number. A braidedsleeve bundles individual cables into a cohesive assembly. A quick-ship program is available for custom-made MTP-to-MTP fiber trunk cable assemblies (shown above). The company says it can build and ship up to 144 fiber count custom length multimode and singlemodeassemblies within five working days of receiving the purchase order.
LEVITON NETWORK SOLUTIONS
www.levitonnetworksolutions.com
Shielded Category 6A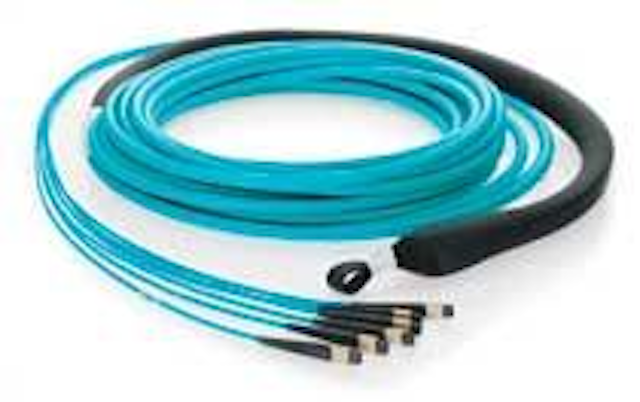 Click here to enlarge image
This Category 6A shielded connectivity system is independently verified by ETL to support a 4-connector, 100-meterchannel, and exceeds all electricalparameters and alien crosstalkrequirements of the TIA/EIA and ISOCategory 6A standards. The systemalso exceeds IEEE 802.3an performance requirements for support of 10-GbitEthernet applications. With electrical performance beyond 500 MHz, the shielded system minimizes alien crosstalk, combining Gigabit Ethernet performance with advanced security and EMI/RFI protection. According to the manufacturer, this Category 6A system supports current Category 5e and 6 network applications while allowing migration to future 10-gigabit network requirements.
LEVITON NETWORK SOLUTIONS
www.levitonnetworksolutions.com
Mini-converter
Click here to enlarge image
Designed for integrating fiber-optic cabling into a 10/100 UPT environment for multimode applications up to 2 km and singlemode up to 80 km, the Mini-Media Converter series includes an advancedauto-MDI/MDI-X feature that lets you use a standard Ethernet Category 5e or 6 patch cord. Measuring 2.5 inches wide by 1-inch high by 3.5 inches long, the Mini-Media Converter is built for use in restricted areas unsuitable for a standard size converter. A lifetime performance warranty is included.
LYNN ELECTRONICS/TECOPTIX DIVISION
www.lynnelec.com
Enhanced estimator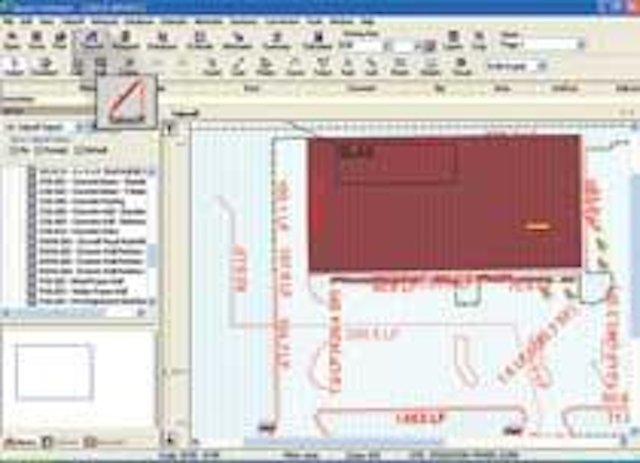 Click here to enlarge image
Quest Estimator 7.6 is designed for faster speed and accuracy in contractor takeoff and estimating. The company says thelatest version of its software streamlines the process from estimate to billing, and gives business owners greater visibilityinto the bid accuracy, win percentage, and profitability for every job. Estimating,accounting and product management are now available in a single system. The software includes proprietary 3-D VisualAssemblies, which are detailed computer takeoff images that let an estimator zoom, rotate, see inside, and separate the components of any structure. Also integrated in the software is Proposal Writer, which helps contractors accumulate estimate details and create proposals in the format customers want to see. In all, Version 7.6 features more than 200 featureenhancements.
MAXWELL SYSTEMS
www.maxwellsystems.com
Flat pack rack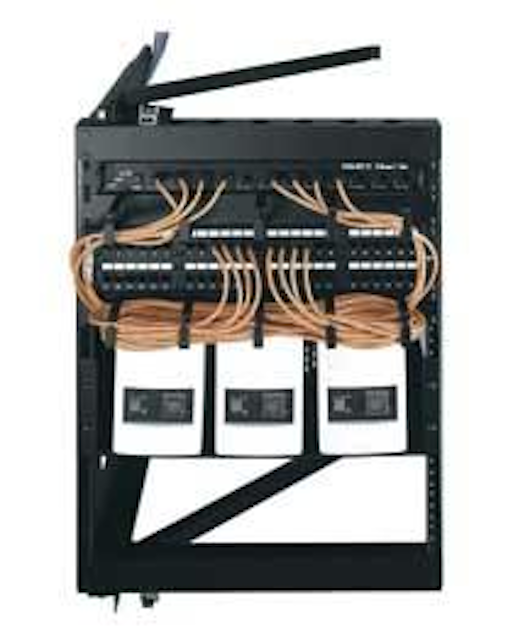 Click here to enlarge image
SFR Series wall racks are now available in a smaller, easy-to-assemble flat pack, designed to reduce shipping costs and storage requirements. The rack features an open wall-mount design that allows equipment to swing out, while a 90° positive-stop design facilitates punching down while fully open. Usable equipment depth is 18 inches, and weight capacity is 100 pounds.
MIDDLE ATLANTIC PRODUCTS
www.middleatlantic.com
Upgraded IP video manager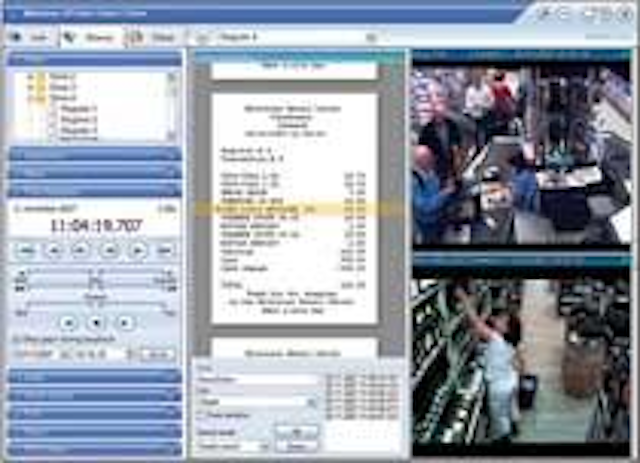 Click here to enlarge image
Version 2.5 of XProtect Transact is anintegrated IP video surveillance software solution for business, industry, andfinancial data center installations to help reduce fraud, errors, and theft. Thesoftware can help track goods fromreceiving to sales; determine lost,shoplifted, or mistreated items; follow activities visually and produce evidence more clearly. The newest version offers improved search functions, faster browsing, and an SQL database that enables support for Microsoft Vista.
MILESTONE SYSTEMS
www.milestonesys.com
Wall-mount baluns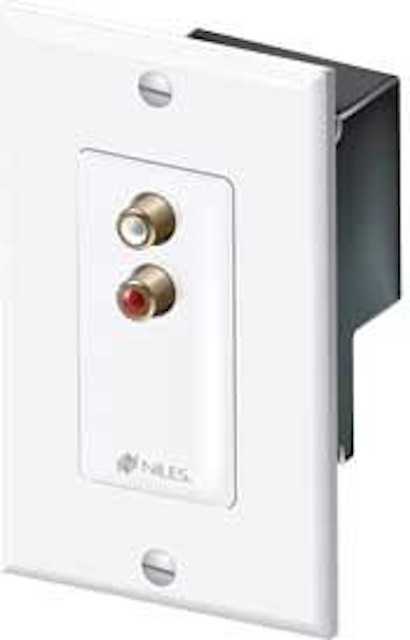 Click here to enlarge image
Each of the company's nine new wall-mount CAT-5 Balun models aredesigned to convert a wide range of signals to balanced circuit topology,enabling conventional audio/video signals to be transmitted over long runs of Category 5 cabling. Typically used in pairs, each balun in the series is designed with a specific signal application inmind (i.e., analog audio, digital audio, composite video, S-video, cable TV, component video, and VGA signal distribution). The baluns' passive circuitry lets you mix and match to provide solutions for most installations. All baluns ship with a10-year limited warranty.
NILES AUDIO CORP.
www.nilesaudio.com
Outdoor WAP, client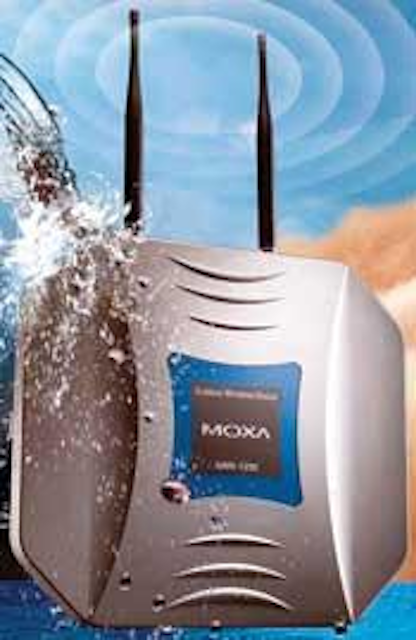 Click here to enlarge image
Supplied in IP67/68-certified weatherproof casing, the AWK-1200 series IP68-rated Access Point/Bridge and IP67-rated AP client operate in temperatures from-20° to 70° C. The WAP and client are compliant with IEEE 802.11g/b and support the IEEE 802.3af Power over Ethernet protocol. Featuring WEP, WPA/WPA2, and IEEE 802.1x authentication for wireless security, these products can be used for point-to-point and point-to-multipoint wireless communication. Several special-purpose antennas are available for optimal coverage.
MOXA TECH USA
www.moxa.com
Fiber-optic network cables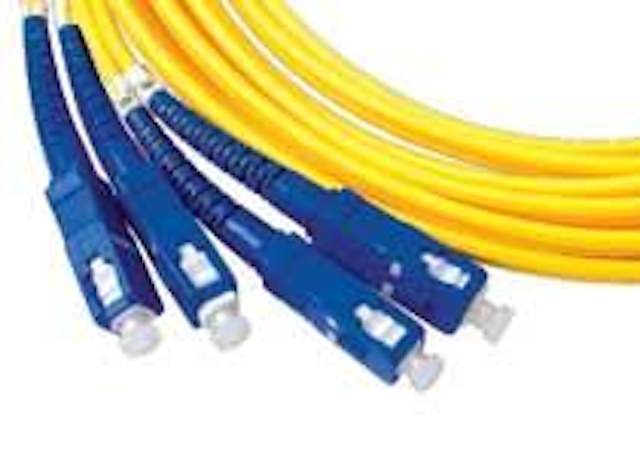 Click here to enlarge image
This line of fiber-optic network cables and assemblies is available in 10-Gbitlaser-optimized or standard 50-µm multimode, 62.5/125-µm multimode and singlemold, and mode-conditioning versions. The company also offers a variety of connectors, including LC, SC, ST, and MTRJ, cable assemblies, splitters, and multi-directional couplers.
ONCORE POWER SYSTEMS
www.oncorepower.com
10-Gbit test kit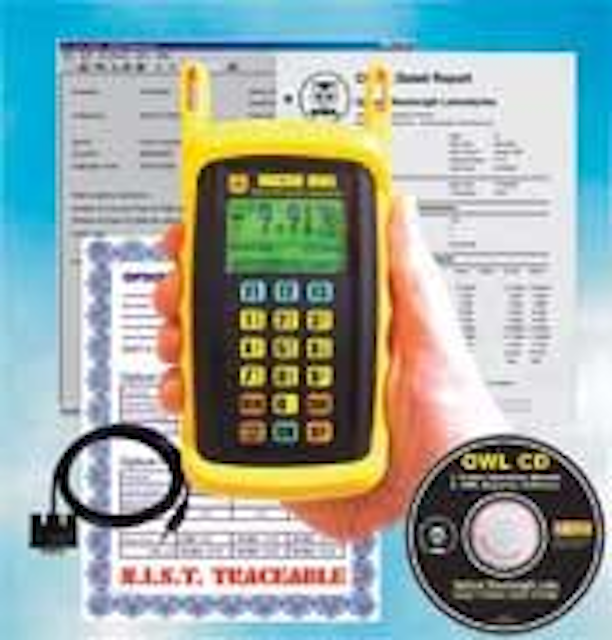 Click here to enlarge image
The newly redesigned Micro OWL 2optical power meter features an improved menu system, user-flashable firmware, auto-wavelength switching, and an optional integrated precision-coupledvisual fault locator (PCVFL). When bundled with the company's NIST-traceable multimode or singlemode light sources, the 10-Gig Micro OWL 2 becomes anaccurate handheld optical power meter offering standards-based certification of 10-Gigabit Ethernet fiber links, and able to display 10-Gig Pass/Fail results while in the field. In addition to 10-Gbit certification, the Micro OWL 2 is configured to test many other types of fiber networks, including FTTx and TIA-568-B.3.
OPTICAL WAVELENGTH LABS
www.owl-inc.
Composite ferrule connector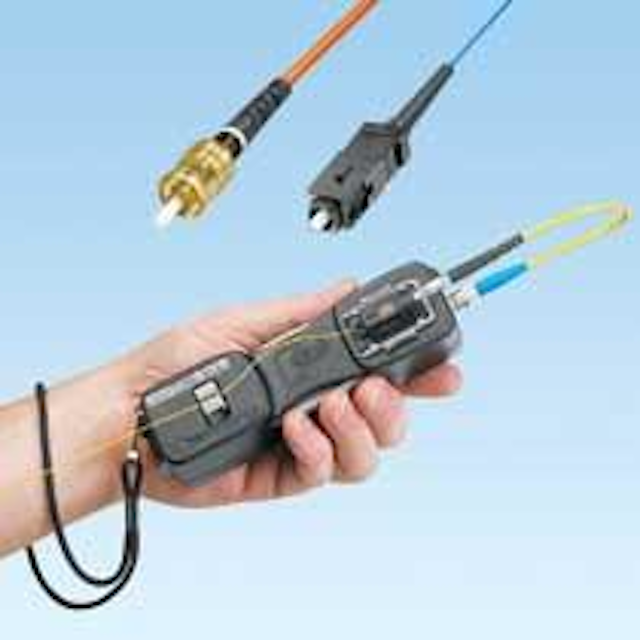 Click here to enlarge image
With yield rates approaching 100%, composite ferrule SC and ST OptiCAM connectors are an alternative to zirconia ceramic connectors for static applications, such as behind the wall, fiber-to-the-zone, and panel installations. The connectors feature a patented dual-cam design that eliminates crimping, allows re-termination, and reduces overall termination time. Each connectors is factory-tested for insertion loss. An OptiCAM termination tool aids in simplified termination, and features an integrated visual termination indicator for identification of proper termination after the cam step has been completed.
PANDUIT
www.panduit.com
8-foot rack system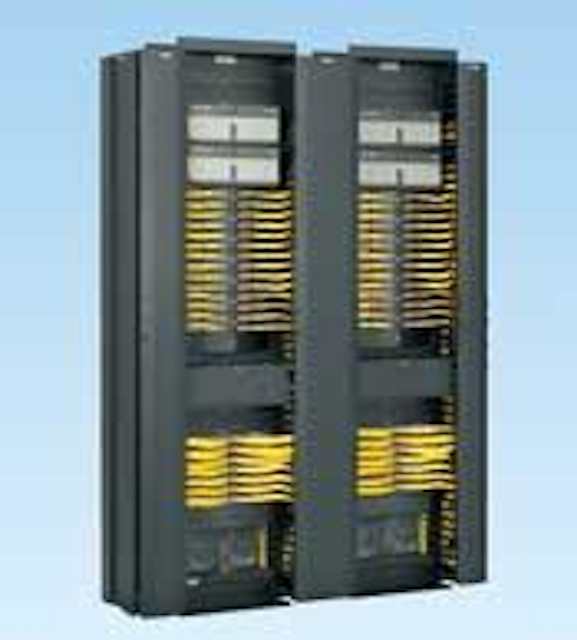 Click here to enlarge image
PatchRunner is an 8-foot vertical cable management rack system designed to provide 16% more rack space for equipment in the same footprint as a conventional 7-foot rack. A 2-post standard rack is UL-listed for 1,000 pounds load rating, is constructed of lightweight aluminum, and is built for support patch panels and smaller network equipment. A 4-post version is UL-listed for 2,000 pounds load rating, and features adjustable front and rear equipment mounting rails to accommodate heavier equipment. Both racks are bonded to simplify the grounding process. Also included are PatchRunner vertical cable managers designed for high-density applications, and featuring: molded cable management fingers forenhanced bend radius control, dual hinged doors for clear access to network cables, and slack management spools for patch cord management.
PANDUIT
www.panduit.com
Color camera for networks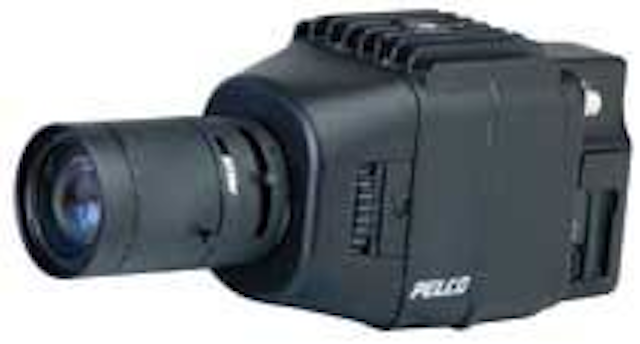 Click here to enlarge image
IP3701 color network cameras are builton an open architecture designed to add flexibility to existing IT and securityinstallations. Users can view and control the cameras via standard web browser, the company's Endura network-based video security systems, or through many industry-standard, third-party software products. The IP3701 features Power over Ethernet connectivity, and its extendeddynamic range promises clear images in extreme lighting environments and in confined spaces.
PELCO
www.pelco.com
Splice tray secures fibers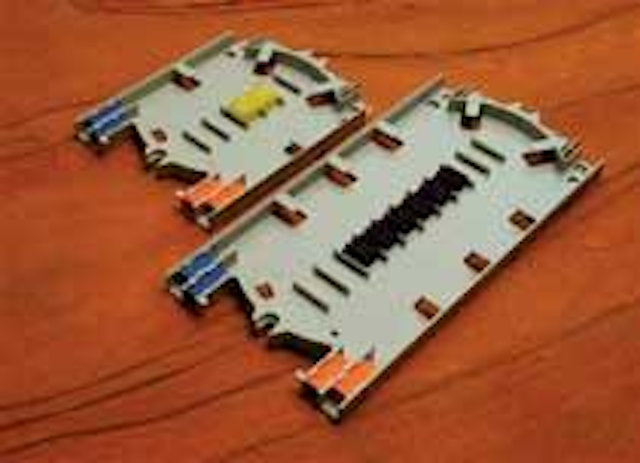 Click here to enlarge image
Coyote outside-plant splice trays withLITE-GRIP technology feature retention sleeves that are designed to secure bare fiber entering the tray, splice blocks that secure and protect fiber splices from movement andvibration, and ribbon managers thathelp organize fiber bundles withinfiber storage compartments. No tie wraps are needed. Splice trays accommodatesingle and multiple buffer tube and pigtail grip configurations, and are color-coded to help identify and manage central office and field fiber. Soft component materials help ensure that fiber is not over-compressed during installation or adjustment.
PREFORMED LINE PRODUCTS
www.preformed.com
Super wide day/night camera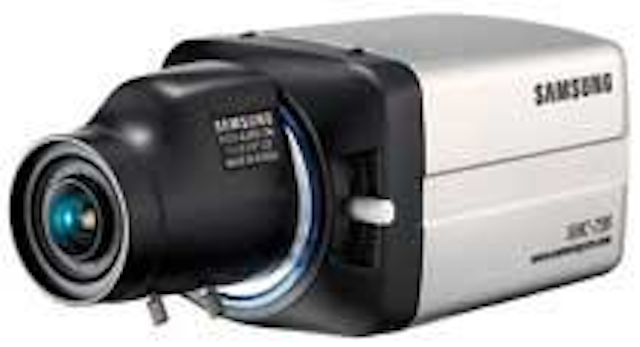 Click here to enlarge image
The SHC735N Super Wide Dynamic Range (SWDR) Ultra High Resolution Day/Night camera incorporates proprietary DSP technology designed for outstanding performance for video surveillance installations. An ICR filter provides day/night switchover. Sensitivity of0.2 Lux at F1.2 Color, 0.01 black-and-white, and 0.0001 Sens-up enablesaround-the-clock surveillance in alllighting conditions. A new generation of proprietary Super Noise Reduction(SSNR II) increases picture quality by eliminating noise in low light, and provides DVR storage savings. A super-widedynamic range of 128x with 52 dBsignal-to-noise ratio allows capture ofdetails in both dark and light areas ofthe same scene.
SAMSUNG
www.samsung360.com
Passive VGA balun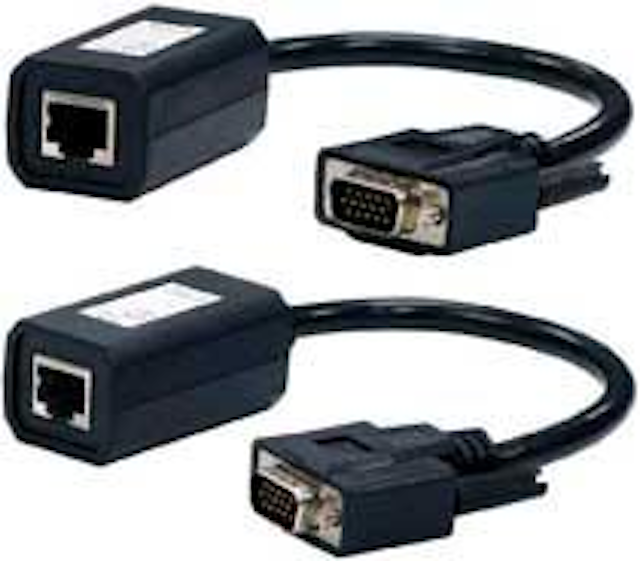 Click here to enlarge image
Using Category 5 or 5e shieldedcable with shielded RJ-45 connectors,the Model EVT-SBP-GQ passive VGA balun connects a PC, digital videorecorder, or video splitter to a VGA monitor at distances up to 450 feet. The balun is designed to work with video signals of up to 1,280 x 1,024 pixel resolution, and allows security monitors to be placed on a desktop while video devices are locked securely in a separate room.
SECO-LARM
www.seco-larm.com
Surface-mount Cat 6A box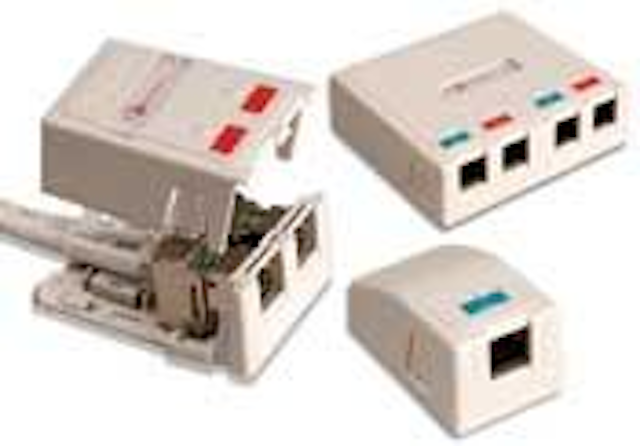 Click here to enlarge image
MAX surface-mount boxes support the company's 10G 6A F/UTP networkcabling solution for screened Category 6A installation requirements. Available in 1-, 2-, 4-, and 6-port configurations, these boxes offer multiple built-in cable management features designed to ensure proper bend radius and strain relief for copper and fiber. The box is also designed for sufficient clearance for a wide range of cable sizes, including screened and fully shielded network cables, and large-diameter Category 6A UTP cables. The cover features a secure-release latch, and designation areas for color-coded icons and write-on designation labels. Multiple breakout areas on the sides and bottom allow flexible cable and raceway entry. Mounting options include concealed screw and flush-mount magnets.
SIEMON
www.siemon.com
Bridging media converter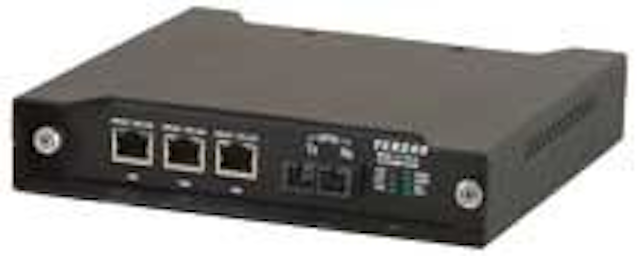 Click here to enlarge image
Featuring long-distance capability and rate control, the TC3240 10/100M 4-port switching/bridging fiber-optic Ethernet media converter is designed to convert or connect 10/100Base-TX UTP networks to 100Base-FX (fiber) networks. Theconverter includes a built-in switch that enables distances up to 100 km without switch or router, and can be managed through a web browser, SNMP, Telnet, or serial console. The TC3240 allows up to four different IP address aliases, manageable privilege levels for users, and password protection. It provides10/100 Mbits/sec auto-negotiation and automatically adapts to full- or half-duplex mode.
TC COMMUNICATIONS
www.tccomm.com
Retractable fiber cassettes
Click here to enlarge image
This 3U 19-inch rack-mount module contains eight SureLink retractable cablecassettes, and is designed to reduce slack cable management for wiring closets and test/measurement systems that require frequent reconfiguration. According to the company, the need to organize excess cable lengths is eliminated by the provision of fiberoptic patch cords in cassette form, each cassette dispensing up to 3 meters of cable. Cassettes are available with simplex, duplex, or ribbonfiberoptic cable, and the design maintains a minimum bend radius of 1.5 inches for jacketed fiber.
TELESCENT
www.telescent.com
Dual wavelength loopback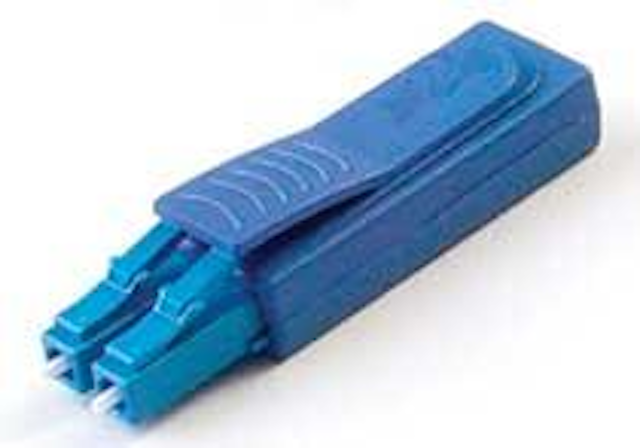 Click here to enlarge image
The Armadillo dual wavelength attenuated loopback is designed to provide wavelength-independent signal loss simulation across multiple applications. It features uniform attenuation technologythat enables precision optical loss at both 1310 and 1510 nm, and isavailable with any level of attenuation(0 to 20 dB), and a wide range of ruggedization and customization options. The devices feature a hard, protective shell case that protects the fiber elements, and is built to eliminate problems with ferrule alignment, fiber breakage, andperformance degradation.
TIMBERCON
www.timbercon.com
Multi-support WAP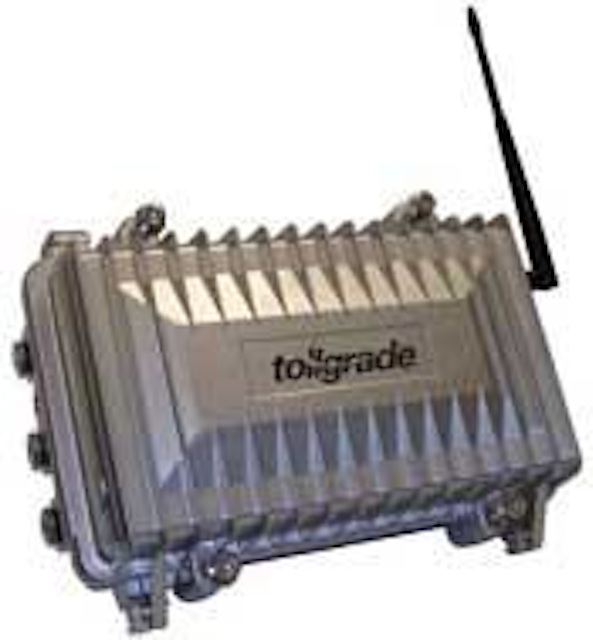 Click here to enlarge image
Built to support up to four independent IEEE 802.11 a/b/g radios within a single enclosure, the HyFi 100 DOCSIS-based wireless access point (WAP) can beauto-discovered, remotely configured, and centrally managed for roaming broadband access, public hotspot access, and secured mobile technician network access. Each supported radio is designed to be configurable to support a variety of wireless, networking, andsecurity parameters. The company's Consolidated Access Server Application (CASA) software also serves as a centralized platform for RADIUS Proxy support and custom web page hosting for various Wi-Fi hotspot applications.
TOLLGRADE
www.tollgrade.com
Long-reach suppressors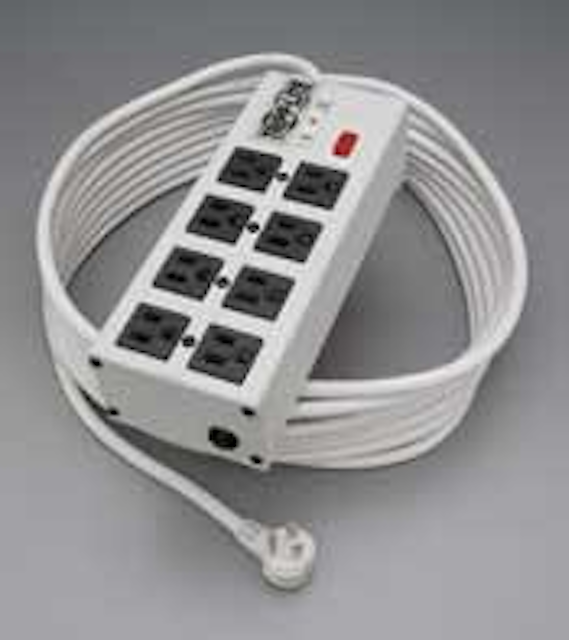 Click here to enlarge image
The Isobar ISOBAR825ULTRA and Protect It! TLP725 and TLP825 surge suppressors feature 25-foot-cords for protecting equipment across a room. Designed with eight outlets arranged in four filter banks, ISOBAR825ULTRA prevents common system crashes,reboots, and performance problems.Diagnostic LEDs confirm power availability, line fault, and protection status before problems damage connected equipment. TLP725/825 suppressors shield connected equipment from dam-age and performance problems due topower irregularities; the 725 feature seven outlets, diagnostic LEDs, and a1000-joule suppression rating, while the 825 features eight outlets withsafety covers, diagnostic LEDs, and a 1900-joule rating.
TRIPP LITE
www.tripplite.com
Shielded panels, jack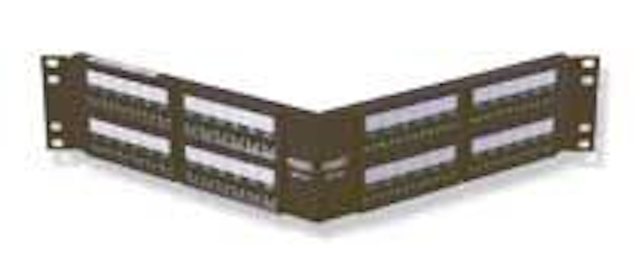 Click here to enlarge image
An improved AMPTRAC XG shielded patch panel (pictured) is optimized for10-Gbit Ethernet over copper. It looks and installs like an unshielded patchpanel, with no special handling for bonding; a bonding bar automatically completes a metallic connection from the jack to the patch panel, while a paint-piercing star washer enables complete bonding from the patch panel to the rack. Unlike other all-metallic shielded panels, the AMPTRAC XG integrates a dual-purpose labeling space for either paper or adhesive labels. In addition, an improved XG shielded patch panel for 10-Gbit Ethernet applications features integrated grounding and bonding, improved labeling, and multimedia capabilities. These panels are available in 24- and 48-port configurations, and flat and angled versions.
A new side-entry AMP-TWIST XG jack is the latest addition to the AMP Netconnect XG shielded cabling system for 10-Gbit over copper. These rear-entry jacks enable cable to enter from the side for depth-limited applications. With termination promised in about 90 seconds, the reusable XG jacks feature a two-piece construction with a shield clamp designed to simplify shield connection, plus integrated shield and strain relief.
TYCO ELECTRONICS/AMP NETCONNECT
www.ampnetconnect.com
Handheld VFL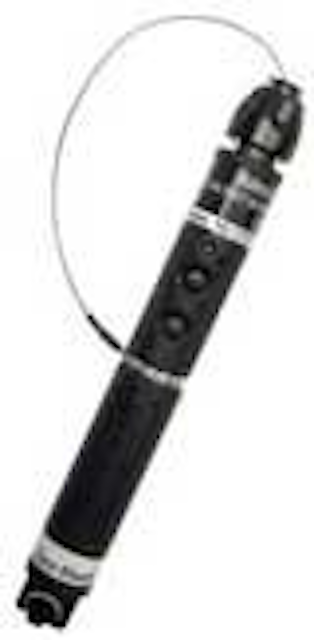 Click here to enlarge image
Featuring a 650-nm laser, this handheld visual fault locator (VFL) is designed to ease the task of locating damaged, broken, or tightly bent fibers that cause attenuation. The tool's cable jacket glows red when a fault is located,while a flash button lets you toggle between continuous or pulsed mode. According to the company, one AA battery provides more than 30 hours of continuous use.
TYCO ELECTRONICS
www.tycoelectronics.com
Single-fiber cleaner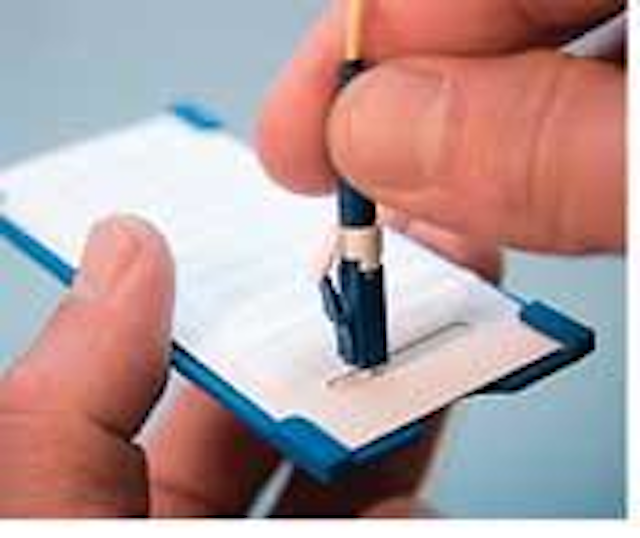 Click here to enlarge image
This disposable, electrostatic, cloth tool is designed to clean oil and debris on singlemode and multimode APC and UPC connectors. The cloth cleaning sheet is protected with a film to keep it clean until ready for use. According to the company, the cleaner can be shipped with cableassemblies, transceivers, and opticalline cards, and can include a customized company imprint.
US CONEC
www.usconec.com
Fixed position camera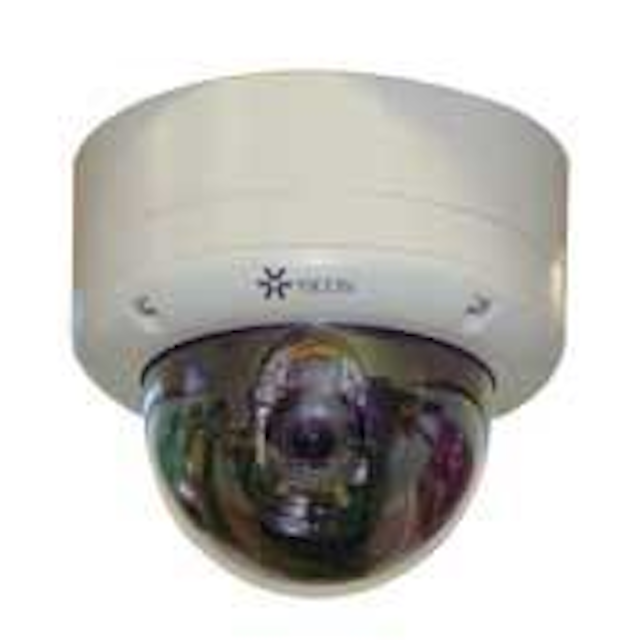 Click here to enlarge image
The VC-700S (pictured) and VC-710S series of fixed-position compact camera domes are configured for in-ceiling or surface-mount installation to a standard 4 x 4 electrical box, without the need for an adapter. It can be rotated 90° toallow for a straight-down view of thearea being monitored. The VC-700series includes a super-high-resolution color camera with an isolated powerinput and a vari-focal, auto-iris lens. The VC-710 provides a wide dynamic range camera for exceptional contrast in difficult lighting environments. Bothcameras have a smoked lower dome. Models are available in NTSC and PAL formats.
VICON INDUSTRIES
www.vicon-cctv.com
Fiber-based HDMI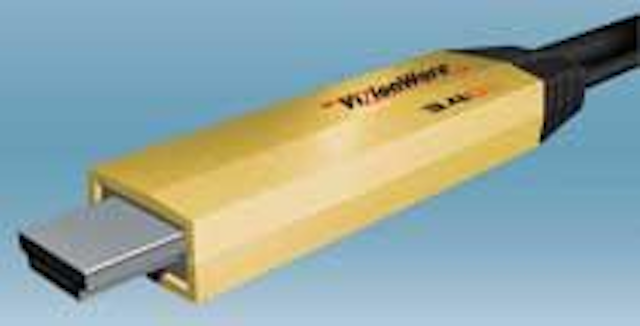 Click here to enlarge image
The 1650LD Series of fiber-optic HDMI interconnects let you transmit 1080p HDMI at lengths of 50 to 100 meters with no data loss. Featuring the Deep Color HDMI specification, the 1650LD multiplexes all digital video data onto a single fiber strand, offering greater flexibilityand durability compared to comparable bulky methods. HDMI-compliant from end to end, the 1650LD's one-piece design minimizes attenuation in thecable. Because external balun transformers or extenders are not required, insertion loss along the transmission path is also minimized.
VIZIONWARE
www.vizionware.com
Home automation cable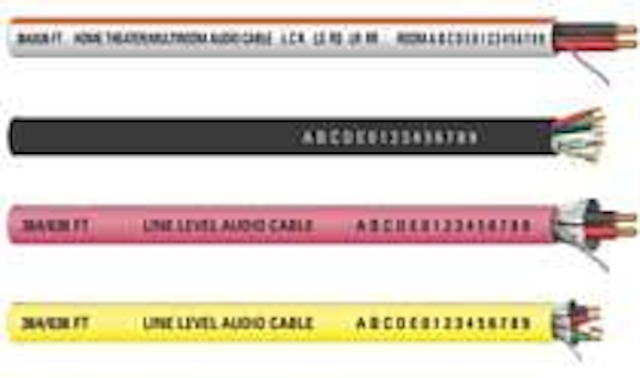 Click here to enlarge image
Additions to the company's line of home automation cables include a 12/2 105-strand oxy-free audio, a 5C RGB, a24-4p Category 5e PVC, and an OAS and 22-2p EPS line-level audio. Eachincludes the company's SmartWire feature, which is a low-voltage wire andcable that has the qualities of tape measure, tester, toner, and label maker.
WINDY CITY WIRE
www.smartwire.com
Compact divided raceway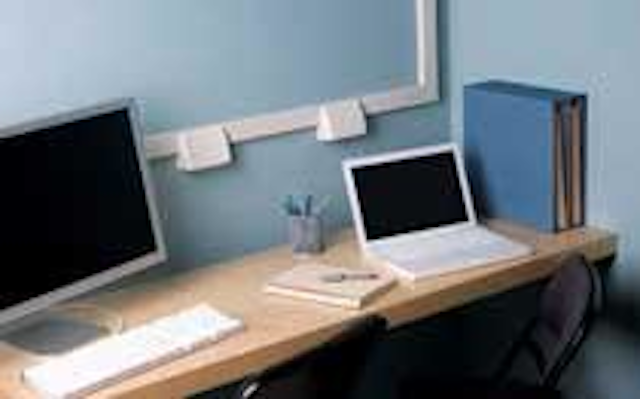 Click here to enlarge image
The 2400D compact dual-compartment raceway is designed for jobs that do not require the extra capacity of largerperimeter raceways or vertical drop systems, and is an alternative to installing separate raceway runs and device boxes for power and data in classrooms, retail stores, and smaller offices. Downward-facing device boxes for receptacles and communications jacks feature a proprietary over-the-raceway design so that they can be installed over a continuous run of raceway base, reducing cutting. The downward-facing receptacles let youinstall the raceway directly under chalkboards and laboratory furnishings. This FiberReady system is available withfittings to ensure a gradual bend radius for fiber-optic and 10-Gigabit cabling.
WIREMOLD/LEGRAND
www.wiremold.com
Large function floor box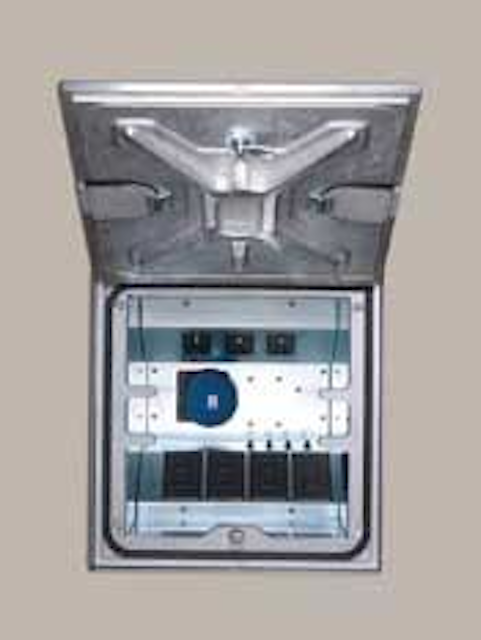 Click here to enlarge image
This multi-service floor box is designed for rooms that host large gatherings, meetings, and mini-trade shows but do not require full-size convention center boxes.It combines connections for power, communications, and AV devices, and a cover assembly with a load rating of 10,000 pounds. The cover has a carpet cut-out area so thatthe box can blend into any carpet style. Covers are scrubwater-compliant.
WIREMOLD/LEGRAND
www.wiremold.com
Multimedia cabling solution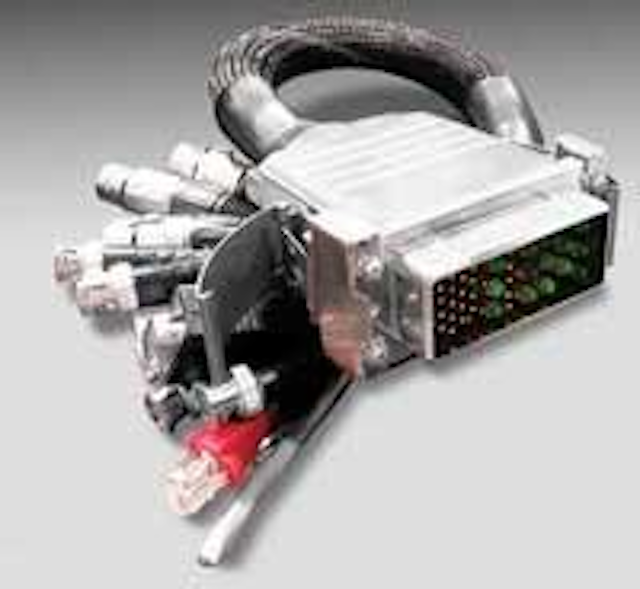 Click here to enlarge image
AV2000 multimedia cabling system is now HD-compatible, and built for multimedia, audio/video projects and live productions, mobile broadcasting, and post-production. The solution combines audio, high-definition video,data, and control signals through ahybrid connector that replaces multipletails and connectors. System components—Access Point, Umbilical, and Link—can be configured to match customer needs, and all tails can be terminated to meet system requirements. AV2000 features a metal housing thatincorporates enhanced strain relief, and 16-gauge brass pin-and-socket contacts with proprietary gold plating. Toaccommodate a wide range of high-performance coaxial cables, specifically sized true coaxial contacts are used.
WIREWORKS
www.wireworks.com
Flush-cut ties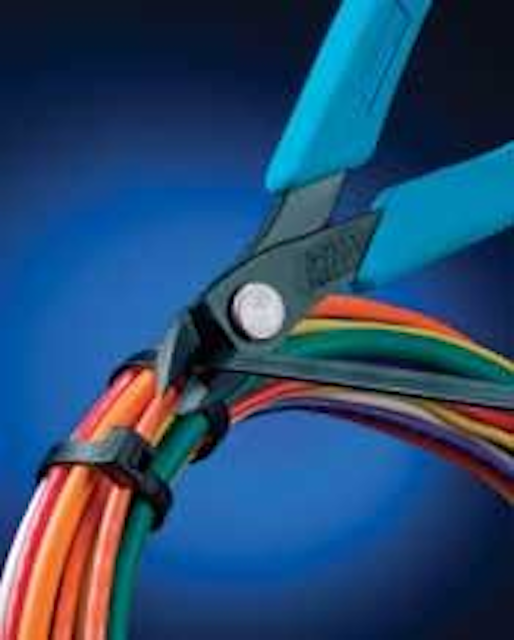 Click here to enlarge image
Featuring a patented Micro-Shear bypass cutting technology that square-cuts cable ties rather than pinching them and leaving spikes, the Model 2775 Quick-Cutter produces flush cuts with a smooth, flat finish. Quick-Cutter is designed to provide a full cutting capacity along the entire length of the blades for fast cutting of cable ties in tight spaces or wherevision is limited. Developed for wireharness applications involving the cutting of many cable ties, the Quick-Cutter is ergonomically designed with rubber-cushioned hand grips, springreturn, and no finger loops.
XURON CORP.
www.xuron.com
High-def A/V connectors

Click here to enlarge image
This expanded line of audio/video connectors is designed for a wide variety of high-performance, high-definitionapplications. Connectors include 3.5-mmstereo, HD-15 screw terminal, HDMI and DVI-I. Additional RCA QuickPort connectors feature new colors for composite and component video connection.
LEVITON NETWORK SOLUTIONS
www.levitonnetworksolutions.com
IP video solutions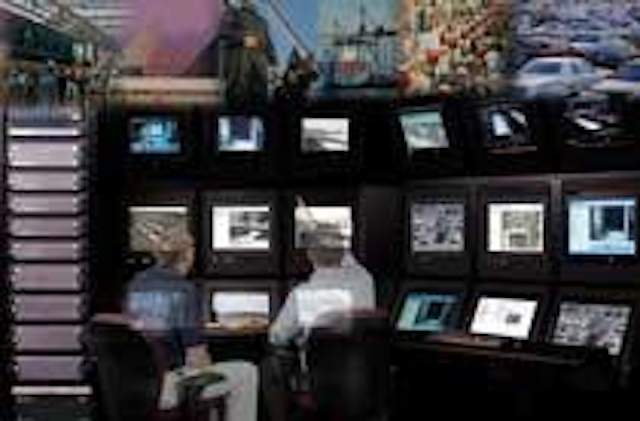 Click here to enlarge image
A new set of Endura IP video security system products provides connectivity tointelligent video and mapping thatenhance configuration and control. WS5000 Advanced System Software v. 1.5 features an upgraded user interface that provides more intuitive access to alloperation and configuration features of the Endura system. Mapping software is designed for simplified configuration and use of system maps, and features instant access to live video, alarms, and relays.Intelligent Video features encoders that run a suite of object and activity detection behaviors, including adaptivemotion, directional motion, object counting, and object removal. Gateway and Transcoder, working in tandem, provide scaleable Internet connectivity for users with low bandwidth connections. The Endura Wireless series of encoders and transmitters is suitable for parking lots, campuses, seaports, airports, and city surveillance systems. High-power radios are designed to deliver a higher quality signal at longer distances and higher link speeds when compared to other IP systems. From wireless and Internet connectivity to intelligent video and mapping, the company says its system provides powerful options for implementing, configuring, and controlling IP videosecurity systems.
PELCO
www.pelco.com
Plug-and-play splitter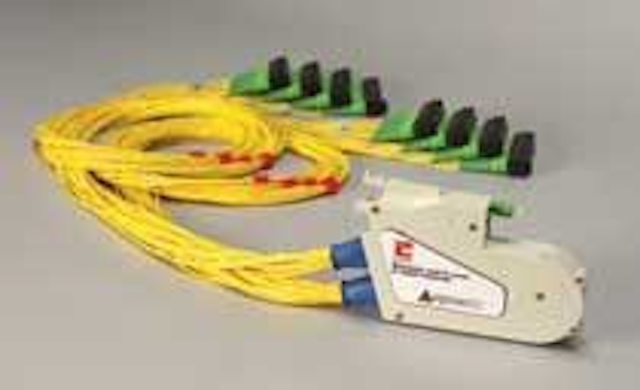 Click here to enlarge image
The OmniReach 1x64 FTTx splitter doubles the number of customers that can be served from a single splitter and reduces the feeder fibers needed for the network. Designed for all indoor and outdoorFTTx installations, the splitteroffers plug-and-play functionality, isdesigned to meet Telcordia GR-1209and GR-1221 standards, and is com-patible with the company's entire OmniReach fiber distribution product line.
ADC
www.adc.com