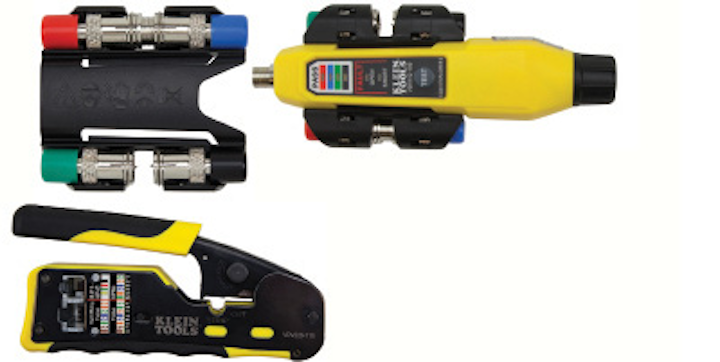 News, products and trends for the communications systems industry
AV TECHNOLOGY
Belden helps AV systems designer HB Communications create immersive technology experiences
Belden announced its recent partnership with AV systems designer HB Communications to bring a new audiovisual ecosystem to life. During the recent renovation of its corporate headquarters in North Haven, CT, HB Communications wanted to reimagine how AV technology is implemented and integrated throughout not only its North Haven location, but also across the entire company. It also wanted to showcase unique applications of technology to customers while improving internal and external communication and collaboration.
HB Communications staff envisioned a state-of-the-art environment called the Audiovisual Ecosystem: a client showpiece that also served as a place for meetings, content creation, impromptu collaboration and presentations to live or remote audiences. To create a reliable, futureproof network, Belden cable and connectivity solutions were used throughout the space.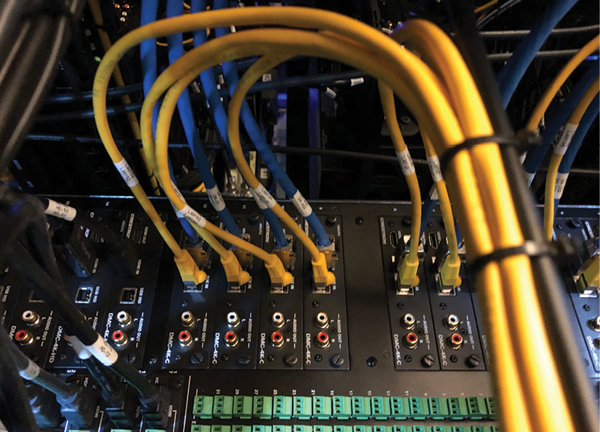 "With help from Belden, HB Communications was able to establish an easy way for anyone and everyone–onsite or remote–to effortlessly join meetings with any device in any conference room," says Elizabeth Stephan, director of sales and channel, broadcast and AV, for Belden. "The infrastructure is designed to support an easy-to-use collaboration platform for the entire organization (including mobile desktop and collaboration spaces) that improves communication. In addition, the company can now support the sharing and display of real-time data about managed services and clients to keep employees informed about performance and progress."
According to a press release, more than 38,000 linear feet of Belden 10GX Category 6A Cable support the needs of the Audiovisual Ecosystem, which requires high-density connections and superb mechanical and electrical performance. For AV transportation and video switching, more than 5,000 linear feet of Belden's 4K Ultra HD Media Cable support a Crestron DigitalMedia system–a 32x32 DigitalMedia matrix switcher–which connects several spaces to one frame and serves as the AV backbone, transmitting and distributing audio and video.
Belden's REVConnect Connectivity System was also used to simplify termination during the project. The connectors use a unique termination process with a universal core comprised of a cable manager and cap. With the ability to support devices requiring up to 100W of power, REVConnect creates highly reliable, gas-tight terminations for all Category 5e, 6 and 6A UTP and STP cables. This complete end-to-end infrastructure supports technology such as immersive video walls and digital signage, 4K video content and digital art, overhead audio and surround sound, BYOD devices and a live, 24/7 connection between HB Communications headquarters and remote locations.
By reimagining its headquarters and creating an Audiovisual Ecosystem with a robust infrastructure for seamless internal and external communication, HB Communications proves that almost any type of collaboration is possible through the integration of AV and IT technology
DESIGN & INSTALLATION
Report finds new construction starts slipped 7 percent
At a seasonally adjusted annual rate of $789.3 billion, new construction starts in November 2018 decreased 7 percent from October's elevated amount, according to Dodge Data & Analytics. Most of the total construction decline in the month was the result of nonresidential building pulling back 15 percent after its 43-percent surge in October, said the analyst.
Per a Dodge press statement: "There were eight very large projects with a value of $500 million or more (totaling $7.4 billion) that boosted nonresidential building in October. In contrast, there were just three very large projects with a value of $500 million or more (totaling $2.8 billion) that were entered as nonresidential building starts in November. The other two major construction sectors witnessed slightly reduced activity in November, with residential building down 1 percent and nonbuilding construction down 2 percent. During the January-November period of 2018, total construction starts on an unadjusted basis were $738.2 billion, up 1 percent from a year ago. Excluding the electric utility/gas plant category, which fell 30 percent year-to-date, total construction starts in the first eleven months of 2018 were up 2 percent."
November's data produced a reading of 167 for the Dodge Index (2000=100), down from a revised 179 for October and returning the Index to a level closer to the 166 average for the full year 2017. Through the first eleven months of 2018, the Dodge Index averaged 169. "Amidst the monthly ups-and-downs, the construction start statistics show that on balance the construction industry expansion was still underway in 2018, although the rate of growth has slowed considerably from the 7 percent gains for total construction reported during 2016 and 2017," stated Robert A. Murray, chief economist for Dodge Data & Analytics.
"Several features stand out about the pattern of construction starts during 2018," Murray continued. "Nonresidential building through eleven months has stayed within 2 percent of the enhanced activity registered during 2017, reflecting a varied performance by project type. The commercial building segment revealed more growth in dollar terms for hotels and office buildings, with the latter boosted by the start of such projects as the $1.8 billion Spiral office tower in New York NY, a $665 million office tower on North Wacker Drive in Chicago IL, as well as several massive data center projects. The institutional building segment has benefitted from more growth for educational facilities and amusement-related projects, but transportation terminal starts have settled back from an exceptional amount in 2017 to what's still a healthy volume in 2018."
Murray added, "Manufacturing plant construction has shown wide swings month-to-month, yet for 2018 this project type continues to trend upward. With regard to residential building, multifamily housing has seen renewed growth in 2018 after its loss of momentum in 2017, but single family housing has plateaued."
5G WIRELESS
Gigabit wireless CPE transfers power, data through glass windows or structural walls up to 20-cm thick
MaxLinear, Inc., a provider of radio frequency (RF), analog and mixed-signal integrated circuits for wired and wireless infrastructure, and industrial and multimarket applications, and jjPlus, a supplier of wireless power transfer products, recently announced that Zinwell, a manufacturer of wired and wireless broadcast and broadband communication equipment, has integrated MaxLinear's AirPHY multi-gigabit modem technology with jjPlus's latest 65W magnetic resonant wireless power module into its 3rd generation ZRA-003 device, which can transfer power and gigabit data through glass windows or structural walls up to 20-cm thick.
Per the companies, "The breakthrough solution enables wireless internet service providers (WISPs) to offer a 4G/LTE or 5G millimeter wave wireless broadband service with gigabit speeds and deliver it without any wires to an indoor WiFi router, eliminating the need for drilling holes and costly professional installations. With this new technology, consumers can easily connect an outdoor unit (ODU) with an indoor unit (IDU) to enjoy gigabit wireless speeds in their existing WiFi home network. Resonant coupling occurs when specially designed magnetic 'resonators,' consisting of a transmitter module and a receiver module, share the same resonant frequency. The jjPlus embedded power module is based on years of collaboration with its strategic partner, WiTricity Corporation. The power modules follow the AirFuel Alliance Resonant charging standards to enable high efficiency wireless power transfer across much greater distances than other available technologies in today's market. The wireless power can also penetrate through window glass and other common building materials like concrete, stone, brick, wood, stucco and plaster."
With 65W of output power, Zinwell says the ZRA-003 can provide sufficient power to enable next-generation millimeter wave modems for 5G gigabit-speed internet services. The unit's innovative magnetic resonant technology can penetrate a 20-cm concrete wall, which has never been demonstrated until now, according to the companies. "With a simple, fast installation, the ZRA-003 will potentially save service providers millions of dollars in truck rolls to set up new subscribers," adds Zinwell.
"Until now, consumer wireless power solutions were limited to about 15 Watts and could only transfer power up to 5 centimeters," comments Will Torgerson, vice president and general manager of MaxLinear's Broadband Group. "With MaxLinear's AirPHY solution and the latest high-power AirFuel Resonant solutions from jjPlus, Zinwell was able to meet the demanding cost, size and power requirements of service providers aiming to deploy gigabit wireless CPEs that can be self-installed on walls or windows."
"jjPlus develops magnetic resonant wireless power transfer solutions to enable various applications which require wireless power at a distance," adds Gary Chi, chief marketing officer of jjPlus Corporation. "Powering a gigabit wireless CPE through a concrete wall up to 20-cm thick is a perfect example of our technology put to good use. We are excited to be part of the MaxLinear and Zinwell team to demonstrate how wireless power can expedite the deployment of 5G fixed wireless to indoor environments cost-effectively."
"In partnership with MaxLinear and jjPlus, Zinwell has successfully integrated the most innovative state-of-the-art technologies into the ZRA-003 to save wall drilling costs and time required to deploy 5G fixed wireless access (FWA) internet services. With this powerful device, mobile network operators (MNOs) can enhance user experience of millimeter wave technology in residential and office environments," concludes Paul Wu, senior director of sales and marketing of Zinwell.
A demonstration of the ZRA-003 device transmitting data and power through a concrete wall was held during CES 2019.
DATA CENTERS
Hyperconvergence expert Cohesity to hire nearly 400 at San Jose, Research Triangle Park, NC locations
Cohesity, a specialist in hyperconverged secondary storage, on December 17 announced it is "significantly expanding its employee base and office footprint in the United States to meet explosive customer demand and to continue its rapid pace of innovation." Cohesity is planning to hire 300 new employees by summer 2019 at its San Jose headquarters, nearly doubling the employee headcount at that location. Cohesity also intends to double the size of its employee base at the company's location in Research Triangle Park (RTP), hiring up to 70 employees in North Carolina. In San Jose, Cohesity is recruiting new employees across all job functions and levels including marketing, human resources, operations, IT, finance, and legal. Cohesity is also focused on rapidly expanding the size of its engineering team to accelerate innovation in areas like artificial intelligence and machine learning within the Cohesity DataPlatform, which is optimized for hybrid cloud architectures. At the RTP location, Cohesity will hire across a wide array of job functions including engineering, customer support, sales, and administrative roles.
"We are planning to nearly double the size of Cohesity to 1,500 employees within a year, and while much of this growth will take place in the U.S., we will also see a significant workforce expansion in the EMEA region and in Asia – building on our partnership with SoftBank," said Paul Whitney, chief people officer, Cohesity. "These new hires will help Cohesity continue to deliver outstanding innovation that will empower customers to protect, store, and manage their apps and data simply and efficiently while solving critical mass data fragmentation challenges."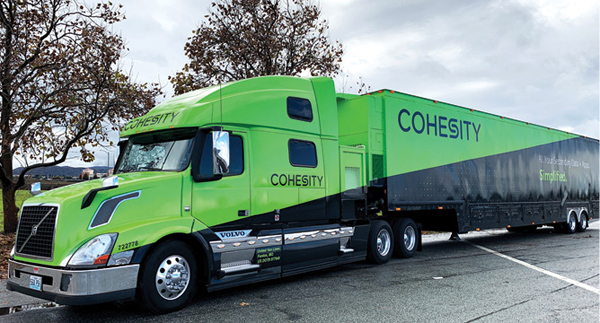 To accommodate this rapidly expanding employee base, Cohesity has agreed to lease three additional floors for its headquarters at Riverpark Towers in downtown San Jose, growing from 34,000 to 99,000 square feet of office space. The expanded headquarters will support more than 800 people across five floors and will include a world-class executive briefing center, a dedicated training room, and a video studio. At RTP, the company is relocating to Bristol Place at the Imperial Center Business Park in Durham, North Carolina. With this move, the company will triple the size of its office footprint, moving from 8,800 square feet to more than 25,000 square feet, with space for 190 employees. This new location will also feature a new research software lab.
Cohesity is quickly growing its employee base and expanding its real estate footprint as more and more customers across the globe transition from legacy infrastructure to Cohesity's disruptive technology. Research shows that nearly 90 percent of customers globally struggle to solve mass data fragmentation challenges. Cohesity continues to disrupt the $60 billion secondary data and apps market by empowering organizations to consolidate secondary data silos including backup, files and objects, testing and development, archiving, and analytics on a single web-scale platform. Cohesity recently announced that it has quadrupled the size of its customer base, increased revenues by 300 percent, and received $250 million in Series D funding led by the SoftBank Vision Fund. Further, as Cohesity expands its office presence in San Jose and RTP, the company is also expanding its ability to directly interact with customers, partners, and prospects at locations across the country. For "The Unstoppable Tour," Cohesity has rolled out its mobile demo center, a modern 18-wheeler semi-truck that is loaded with 20 demos that gives visitors a chance to test drive Cohesity's technology and get answers straight from the experts, all within a futuristic, comfortable setting.
Separately, on Dececember 10, Cohesity announced significant growth and expansion in its public sector business. In its last two fiscal quarters (Q3, Q4), Cohesity has grown its public sector customer base by nearly 200 percent. In the fourth quarter, Cohesity added 24 new federal government clients. The company said this rapid growth reflects significant momentum as public sector customers look to consolidate siloed data infrastructure onto a single software platform that is optimized for the cloud and hybrid architectures and is much more efficient and cost effective than legacy alternatives. Federal customers added in the past year include the Defense Information Systems Agency, the U.S. Army, the U.S. Department of Agriculture, Department of Justice, Department of Veterans Affairs, the National Science Foundation, and additional U.S. Department of Energy laboratories.
"Cohesity is seeing a significant shift among public sector clients," said Steve Grewal, Federal CTO, Cohesity. "IT modernization initiatives are prompting federal organizations to re-examine legacy approaches to protecting, storing, and managing their secondary data, both on-premises and in hybrid cloud environments. Cohesity's unique DataPlatform reduces architectural complexity, brings simplicity into organizations, helps lower costs, provides cloud-native integrations, and makes it easy for customers to extract value from large volumes of untapped data. All of this is really resonating with public sector customers."
Cohesity has also increased the size of its public sector team by nearly 300 percent over the last 12 months, the company reported.u
SMART CITIES
Continental showcases smart cities innovations at CES 2019
At January's CES 2019 show in Las Vegas, Continental demonstrated its solutions and key technologies for future cities around the theme "Mobility at your service. Freedom to Live." Per a company statement, "Today half the world's population lives in cities; in three decades this number will grow by another 2.5 billion, adding more vehicles to the already overcrowded roads. As more cities approach the population tipping point, digitalization will lead the shift to a new mobility ecosystem."
"Intelligent mobility is an essential pillar of the smart city," added Helmut Matschi, member of the Continental executive board and head of the company's Interior Division. "The number of connected devices exceeds the world's population today, facilitating real-time exchange of information between vehicles, infrastructure and people. At CES 2019, Continental demonstrated solutions that foster mobility intelligence, ease traffic congestion and reduce accidents and pollution, addressing the most critical challenges of urban mobility."
At the show, Continental presented its first comprehensive Intelligent Intersection pilot that is operating in the city of Walnut Creek, California. A three-dimensional view of the intersection, displayed using augmented reality, let visitors experience data feeds from traffic at the junction and talk firsthand with experts about the value intelligent intersections can bring to smart cities. First introduced as a concept at CES 2018, Continental's Intelligent Intersection is billed as a real-world, end-to-end solution comprising a sensor set, powerful sensor fusion algorithms to generate a comprehensive environmental model and dedicated short-range communication (DSRC) to transfer valuable information between the intersection and connected vehicles. The solution makes it possible to warn an oncoming driver about a crossing pedestrian outside the driver's line of sight. Its data can also be used to control signal changes, streamlining traffic and reducing emissions and idling time at intersections.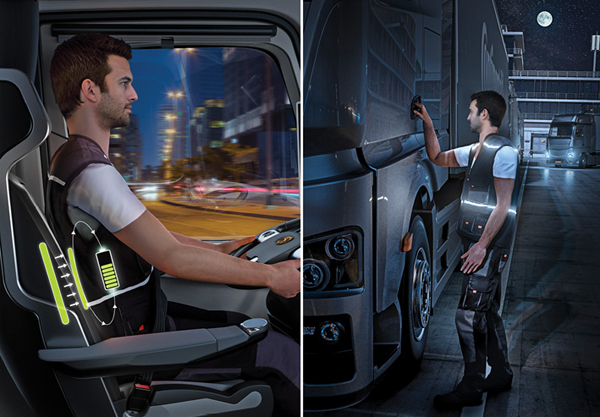 The company says the concept is integral to protecting vulnerable road users (VRUs) such as pedestrians and cyclists and supports drivers in complex intersection traffic scenarios, like preventing left-turning cars from running head-on into traffic that approaches from behind an occlusion. It can also inform drivers turning right about traffic approaching from the left. Additionally, Continental's Intelligent Intersection enables the collection of information and statistics from intersections – often congested, high-incidence zones – which can then be used for traffic flow, safety and environmental improvements. "Like Continental, Walnut Creek prioritizes safety, efficiency, and accessibility for its road users," said Jeremy McClain, director of systems and technology, Continental North America. "The city has high vehicle and pedestrian traffic, and a longstanding focus on transportation innovation, creating a perfect environment for piloting our Intelligent Intersection technology."
Also at CES 2019, Continental presented its Intelligent Street Lamp concept. Transferring its automotive competency into the infrastructure of tomorrow's cities, Continental's Intelligent Street Lamp simplifies the management of lighting, while monitoring and analyzing environment, traffic and parking information in smart cities. Using secure connectivity and sensorics, Continental's Intelligent Street Lamp solution enables remote light control as well as adaptive street lighting depending on surrounding traffic participants. Furthermore, the new portfolio provides remote maintenance such as over-the-air updates and performance monitoring. These features allow smart cities and operators to save energy and reduce cost by working more efficiently. The Intelligent Street Lamp is also a valuable source of data for future smart cities, adds the company. Combining the synergies between the Intelligent Intersection and Intelligent Street Lamp, Continental says it can increase safety beyond intersections to mid-block areas by detecting critical situations and transferring this information through V2X communication to connected vehicles. Additionally, by identifying free parking space, the solution can reduce congestion and improve overall traffic flow. Finally, by measuring pollution levels like noise and air quality, Continental's new Intelligent Street Lamp portfolio stands to improve the quality of life in tomorrow's cities.
Notably, the company's City Data as a Service (CDaaS) platform enables Continental to provide interoperable, integrated and end-to-end services in the context of its entire smart city portfolio, which includes nodes for intelligent intersections, intelligent street lamps, intelligent crossings, automated shuttles, smart parking and city fleet management. The platform provides access to a pool of common customer services like reservation, payment or routing to different solutions. All information generated as well as used by the solutions are shared through a data hub which meets the highest standards of privacy and security. Further, easy integration of services of third parties can be achieved by appropriate SDKs and open APIs. The platform collects, processes and fuses data from different solutions, thereby creating mobility intelligence, which can be used to develop new and relevant solutions to improve the quality of life in smart cities. For example, the Intelligent Street Lamp can identify an available parking spot, CDaaS then leverages artificial intelligence to predict its availability for smart parking. Smart parking then guides the driver to the right parking spot.
Finally, going beyond infrastructure and mobility in the smart city, Continental is developing solutions to address the needs of city workers with its intelligent wearables – i.e. smart electronics integrated into textiles. Per the company, "Intelligent wearables can contribute to lower energy consumption in vehicles and increase safety and comfort for drivers. This technology is especially suitable for rescue or construction workers. To increase their safety, their jackets can be equipped with active light sources, like LED strips, which ensure visibility even in visibly limiting conditions."