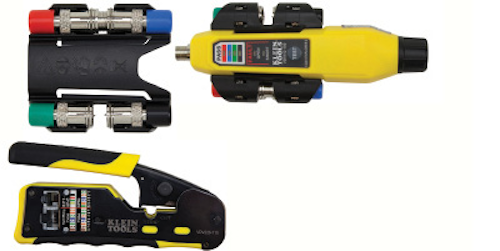 hyperscale networking
Fujitsu unveils 600G hyperscale optical transport blade
Fujitsu Network Communications, Inc. recently announced the commercial availability of its 1FINITY T600 blade, the next-generation optical transponder in its carrier-grade transport family, enabling maximum performance and capacity for data center interconnect (DCI) and 5G transport networks. Per the company, "As network operators seek to progressively scale their networks, the new T600 blade offers an ideal evolution path, enabling flexible configurations, hyperscale transport capacity, automated operations and secure protection of critical data."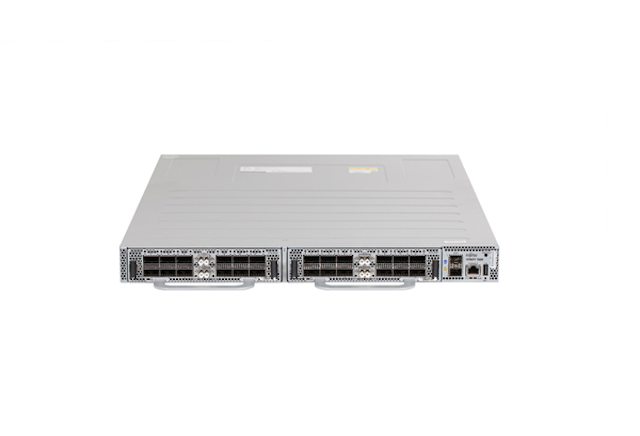 Leveraging Fujitsu's high-performance coherent digital signal processor (DSP) technology for terabit optical networking, the company says its 1FINITY T600 blade "provides an optimum transport solution for reach, performance and power consumption, combining exceptional design flexibility and enhanced transport functions with leading space and power efficiency." The T600 delivers capacity with 600-Gbit/sec single-wavelength transmission using 64QAM modulation at 75-GHz channel spacing. For campus, metro and long-haul DCI networks, the flexible T600 provides programmable modes from 200 to 600 Gbits/sec, as well as improved optical performance and extended reach across all configurations supported by innovative modulation format and various forward error correction (FEC) and baud rates. This new transponder also enables the highest spectral efficiency in the industry, claims Fujitsu, achieving up to 76.8 Tbits/sec per single fiber by extending C-band transmission to the adjacent L-band, with comparable performance.
"Disaggregated WDM [wavelength division multiplexing] systems such as Fujitsu's 1FINITY transport product address a fast-growing market need for a stackable form factor that balances capacity and reach within an open environment," asserts Jimmy Yu, vice president, optical transport market research, Dell'Oro Group. "As such, we forecast demand for disaggregated transponder units will grow at a five-year compounded annual growth rate of 27 percent, driven largely by data center interconnect and the migration to higher wavelength speeds."
The core system software of the 1FINITY T600 offers open management interfaces and tools to allow for the highest levels of automation, according to Fujitsu. Standard interfaces are complemented by newer M2M interfaces such as RESTful APIs, NETCONF and gNMI (gRPC Network Management Interface). To embrace various open industry initiatives the T600 supports YANG models from OpenConfig, Open ROADM and IETF (Internet Engineering Task Force). Operational automation of the T600 is further extended by supporting zero-touch provisioning (ZTP), streaming telemetry and LLDP (Link Layer Discovery Protocol) snooping.
Further, to meet today's demands for data protection, Fujitsu says the T600 offers the highest level of secure communications with multi-plane protection and physical security, designed to meet the requirements of the FIPS 140-2 cryptographic standard. The T600 employs industry-standard, end-to-end Layer 1 OTN (Optical Transport Network) encryption, complemented by fully secure management operations and key exchange protocols as well as special handling of critical security parameters. Physical security of the T600 is ensured by an option to disable unused management ports, tampering evidence proofing and full opacity of physical design.
"The convergence of artificial intelligence (AI), Internet of things (IoT) and edge computing are transforming how ubiquitous video and data are delivered to the hyper-connected world," concludes Rod Naphan, chief technology officer at Fujitsu Network Communications. "The best-in-class capabilities of the 1FINITY T600 enable service providers and hyperscale operators to scale their networks for explosive traffic growth while reducing cost per bit."
A live demonstration of the 1FINITY T600 platform was presented by Fujitsu at the OFC Conference and Exhibition, from March 3-7, 2019, in San Diego.
network cable
AFL intros plenum-rated indoor/outdoor loose tube cable
AFL has introduced its LQ-Series I/O Plenum Loose Tube Cable, developed to provide a lower-cost inter-building cabling solution for campus-based networks. Because the LQ cable is tested and qualified to meet industry cable standards for outside plant (OSP) and inside plant (ISP) plenum-rated fiber-optic cables, it can be used as a single-cable solution for OSP and ISP cable installations. This dual-rating functionality eliminates the need to use separate cables for OSP and ISP route segments.
"The National Fire Protection Agency (NFPA) NEC guidelines allow for outside plant-only cables to be routed into a building space for up to only 50 feet," explained Stephen Martin, RCDD, senior product manager for AFL's enterprise cable division. "If the termination point of the outside plant cable is beyond 50 feet from the point of entrance into the building, the cable must be placed into a fire-protected pathway or spliced to a properly flame-rated inside plant cable."
The cable construction consists of 12-fiber, gel-free buffer tubes stranded around a central strength member. The finished core is jacketed with a flame-retardant, UV-resistant thermoplastic. The LQ-Series cable is available with 12 to 144 singlemode or multimode fibers. Applications include campus backbones, OSP buried pathways, routes that require cables to transit OSP space, and ISP environments that require riser or plenum ratings.
Martin continued, "AFL's LQ-Series Indoor/Outdoor Plenum Loose Tube cable, with combined outside and inside plant ratings, eliminates the need to transition to a separate flame-rated ISP cable when in-building termination points are beyond 50 feet from the entrance location."u
wireless
Semtech deploys new optical chips enabling 5G wireless segments from 10m to 20km
Semtech Corporation, a supplier of high-performance analog and mixed-signal semiconductor and algorithm technology, recently announced the availability of its ClearEdge and FiberEdge IC portfolios, optimized for optical transceivers serving 5G wireless applications.
Semtech recently helped launch flagship 5G deployments with its ClearEdge platform, used in applications for 5G wireless 300m/10km/20km modules, and is now delivering integrated PHY/PMD solutions. This technology enables module vendors to develop more fully optimized next-gen optical transceivers. "The unprecedented and strategic nature of 5G has come into sharp focus in recent months and 5G deployments are expected to accelerate throughout 2019," says Dr. Timothy Vang, vice president of marketing and applications for Semtech's signal integrity products group.
Vang continues, "Apart from being faster and more reliable, 5G wireless networks are transforming how devices connect to the Internet and with each other. 5G enables key markets such as virtual reality, autonomous vehicles, IoT, and other applications requiring high throughput, massive network connectivity and ultra-low-latency for real-time operations. With higher amounts of mobile data, 5G wireless networks require higher-speed wired interconnect. Key components are optical transceiver modules capable of supporting industrial temperature range for distances starting from 10m to over 20km."
5g deployment
More than 90 percent of telecoms operators fear increasing energy costs of 5G, edge: Survey
At February's Mobile World Congress 2019 (MWC 2019) in Barcelona, Vertiv, together with technology analyst firm 451 Research, released the findings of an in-depth survey that the firms say reveals a good sense of optimism about the services 5G will enable and the interplay with edge computing. The majority of telecoms operators surveyed believe the 5G era will start in earnest in 2021 in all geographies, with 88 percent of respondents planning to deploy 5G in 2021-2022.
However, more than 90 percent of respondents believe 5G will result in higher energy costs and are interested in technologies and services that improve efficiency. This is consistent with internal analysis by Vertiv, which finds the move to 5G is likely to increase total network energy consumption by 150-170 percent by 2026, with the largest increases in macro, node and network data center areas.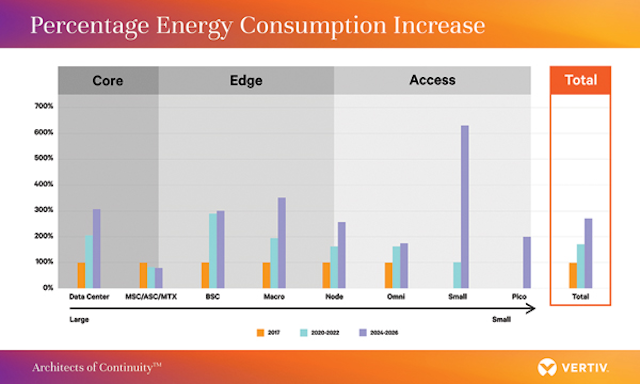 The survey questioned more than 100 global telecoms operators about the opportunities and potential obstacles of deploying 5G services and the impact on edge computing adoption. Vertiv and 451 Research provided more detail on these findings as part of Vertiv's Partner Program event at MWC19, which included a keynote from Vertiv on the interdependent relationship between 5G and edge computing.
"The challenge for operators considering 5G will be choosing the most mature use cases, verticals and eco-systems where they can play a meaningful and sustainable role. The research Vertiv has undertaken into edge computing use cases and archetypes, together with this latest survey with 451, will help our operator customers and telecoms partners to build more robust business cases for 5G investments and associated edge compute deployments," says Giordano Albertazzi, president for Vertiv in Europe, Middle East and Africa.
Regarding edge and 5G specifically, the survey reveals that a large majority of operators have deployed (37 percent) or plan to deploy (47 percent) edge compute that is aligned with mobile infrastructure—also called multi-access edge computing (MEC).
"This survey brings us clarity on telecom operators' hopes and fears around 5G and edge deployments," says Brian Partridge, research vice president for 451 Research. "We were frankly surprised by some of these results and believe it brings clarity to the level of transformation the industry now faces."
In addition to this latest survey, Vertiv has been conducting extensive research in the field.
industry accolades
Commercial low-voltage electronic systems group NSCA announces award honorees
The National Systems Contractors Association (NSCA), a not-for-profit association representing the commercial low-voltage electronic systems industry, announced three award honorees for 2019. Award recipients were honored during the 21st annual Business & Leadership Conference, held in February.
The award honorees are as follows.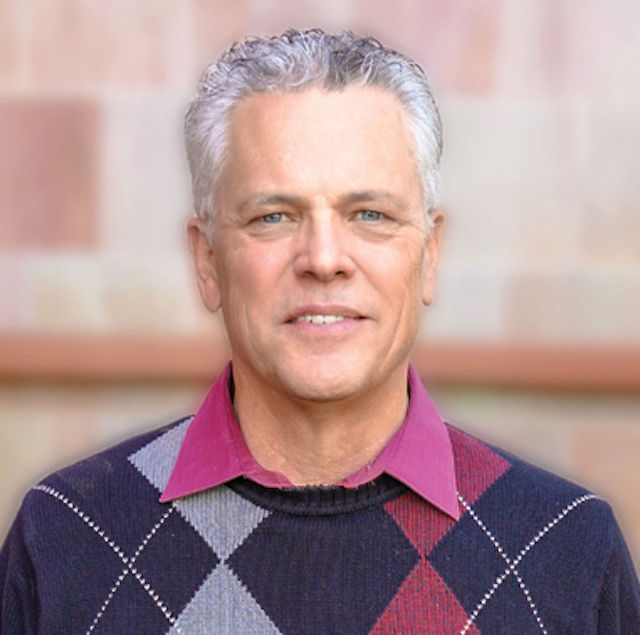 Mark Dundas—who served on the NSCA board of directors for 11 years, including his role as treasurer and president—is the recipient of the 2019 Per Haugen Lifetime Achievement Award. Per an NSCA press statement, "Dundas's impact on NSCA and the industry is felt every day. Shortly after he joined the board of directors, he launched NSCA's first-ever accounting system."
Dundas also founded the NSCA Education Foundation and served on its board of directors until 2007. Per the statement, "His industry journey began in 1975, when he worked for 10 years for Industrial Communication Co. Nearly one decade later, in 1984, he founded United Communication Technology Inc. In 1988, Dundas founded Tech Works after spending nights and weekends engineering technology solutions when customer requests called for specialized systems. He still actively runs this manufacturing company, which specializes in simplified audio and healthcare solutions for hospitals, clinics, and detention facilities."
"From the very start, Mark knew the industry's future would involve integrating electronic systems," comments NSCA executive director Chuck Wilson. "His ideas and experiences shaped many of the processes that NSCA still follows today."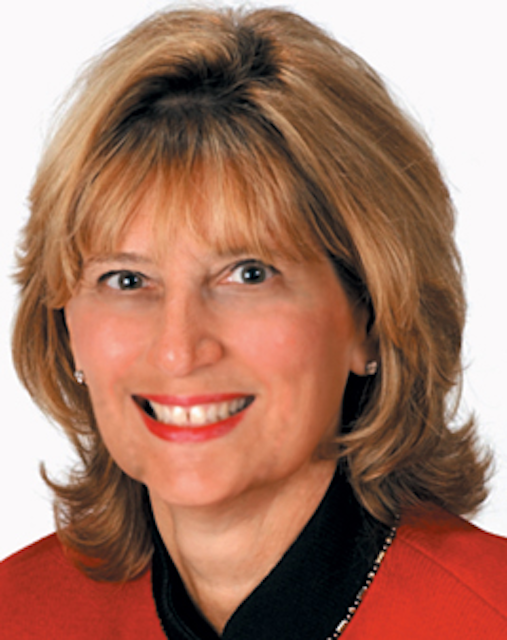 Jan Sandri is the recipient of the 2019 NSCA Education Foundation Founders Award. A founding member of FSR, a women-owned manufacturer of solutions for the AV, education, hospitality, government, and houses of worship markets, Sandri has been instrumental in growing the company to 100-plus employees and implementing green manufacturing processes.
In addition to serving the industry, Sandri also finds time to give back to her community. She has served as mayor of Little Falls, NJ; sat on the city council; served as the fire and police commissioner; and was the Little Falls Board of Health president. She also serves on the board of Kindness Shared Happiness Squared, a charity that helps children in need.
"Jan has been a major industry contributor for many years," says NSCA's Wilson. "She is an inspiration to professionals at all stages of their careers, as well as to women who are forging their own paths in the systems integration world today."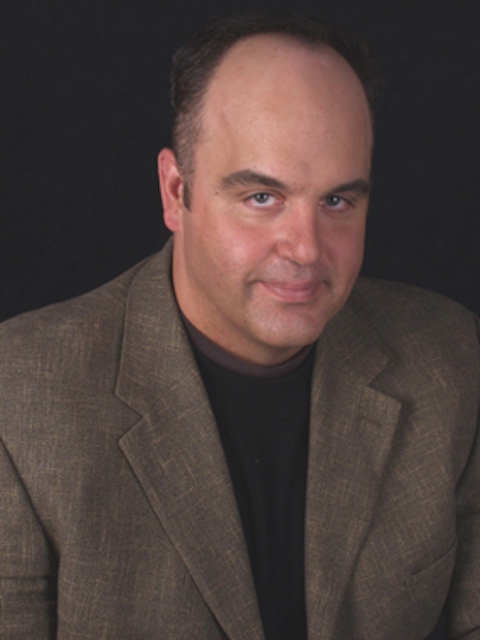 The NSCA's 2019 Volunteer of the Year Award is being given to Guy Grace, director of security and emergency planning for Littleton Public Schools in Littleton, CO and chair of Partner Alliance for Safer Schools (PASS). Grace was instrumental in forming PASS, which developed the Safety and Security Guidelines for K-12 Schools (currently in its fourth iteration).
"Under Guy Grace's leadership, and with his experiences in school security, PASS has grown to become a national resource for schools, integrators, architects, and other professionals," says Wilson. "Guy has been instrumental in helping create school security guidelines based on an approach that takes individual needs, best practices, and resources into consideration."