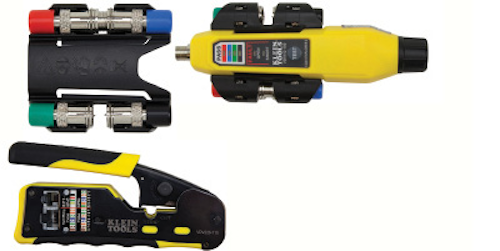 DATA CENTER
Intel names Robert Swan as CEO to focus on data center, AI challenges
Intel Corp. announced on January 31 that its board of directors has named Robert (Bob) Swan as chief executive officer. Swan, 58, who has been serving as Intel's interim CEO for seven months and as chief financial officer since 2016, is the seventh CEO in Intel's 50-year history. Swan has also been elected to Intel's board of directors.
Todd Underwood, vice president of finance and director of Intel's corporate planning and reporting, will assume the role of interim chief financial officer as the company undertakes an internal and external search for a permanent CFO.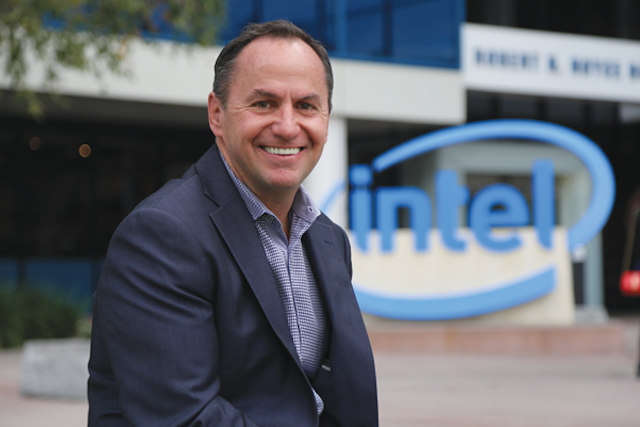 "As Intel continues to transform its business to capture more of a large and expanding opportunity that includes the data center, artificial intelligence and autonomous driving, while continuing to get value from the PC business, the board concluded after a thorough search that Bob is the right leader to drive Intel into its next era of growth," said Intel board chairman Andy Bryant.
Bryant added, "The search committee conducted a comprehensive evaluation of a wide range of internal and external candidates to identify the right leader at this critical juncture in Intel's evolution. We considered many outstanding executives and we concluded the best choice is Bob. Important in the board's decision was the outstanding job Bob did as interim CEO for the past seven months, as reflected in Intel's outstanding results in 2018. Bob's performance, his knowledge of the business, his command of our growth strategy, and the respect he has earned from our customers, our owners, and his colleagues confirmed he is the right executive to lead Intel."
"In my role as interim CEO, I've developed an even deeper understanding of Intel's opportunities and challenges, our people and our customers," Swan said. "When I was first named interim CEO, I was immediately focused on running the company and working with our customers. When the board approached me to take on the role permanently, I jumped at the chance to lead this special company. This is an exciting time for Intel: 2018 was an outstanding year and we are in the midst of transforming the company to pursue our biggest market opportunity ever. I'm honored to have the chance to continue working alongside our board, our leadership team, and our more than 107,000 superb employees as we take the company forward."
HYPERSCALES
Former Facebook data center honcho migrates to Stack Infrastructure
Stack Infrastructure, a data center company formed to address the technology infrastructure needs of rapidly scaling enterprises and hyperscale businesses, recently announced the appointment of Matt VanderZanden as the company's chief strategy officer. VanderZanden will lead development and location strategy for Stack with a focus on product development, site selection, and strategic partnerships.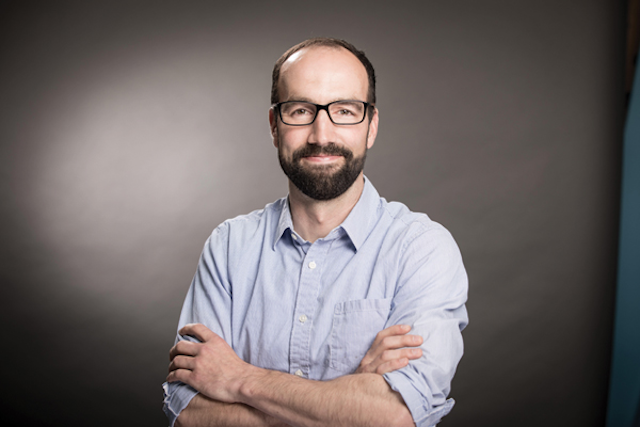 Per a press statement, VanderZanden "brings deep roots and insights as a former hyperscale data center executive, having spent most of the last decade expanding Facebook's worldwide data center footprint. As director of data center site selection, Mr. VanderZanden built Facebook's global data center location strategy program and understands the intricacies and interrelationships of data center and critical infrastructure development, government relations, incentives, and location strategy. Before joining Facebook, Mr. VanderZanden practiced real estate law at Paul Hastings."
"Matt's joining is a real-time insight into our strategy for Stack. We are singularly focused on meeting the needs of our clients," said Brian Cox, chief executive officer of Stack. "Matt represents the very best of the hyperscale community and the rigorous capacity, technical, uptime, and value expectations that community demands. As the voice of the customer and the head of our strategy, he will provide a unique perspective as we develop the national footprint, scale, and flexibility our platform can deliver."
Stack says the company "is committed to being the data center industry leader in building and delivering flexible critical infrastructure solutions that meet and support the complex requirements of enterprise and hyperscale deployments. The company's offering includes hyperscale campuses and build-to-suit data centers, immediately available wholesale colocation and private data suites, and powered shell options."
"I am thrilled to join the Stack team," commented VanderZanden. "This team has worked smart and hard to build Stack from the ground up."u
£

CABLING INSTALLATION
Platinum Tools brings waterproof RJ45 coupler system to ISE 2019
Platinum Tools debuted its new Waterproof RJ45 Coupler System during ISE 2019.
For use with Category 5e and Category 6 cabling and UTP and STP applications, the IP67 waterproof and dustproof system is shock- and vibration-resistant and accommodates a temperature range of -20 degrees C to +80 degrees C.

The RJ45 housing supports a cable diameter range of 5.5- to 7.0-mm (0.216 in. to 0.276 in.). The contact material is gold-plated 50-micron over copper alloy, supporting a cycle life of 1,000 insertions.
"There are those installs where your Ethernet connections will need ruggedized protection due to exposure to water, dust, corrosion, harsh elements, and vibration," explains John Phillips, Platinum Tools, Inc. product manager. "A simple solution is Platinum Tools' Waterproof RJ45 Coupler System."u
£

FIBER-OPTIC CONNECTIVITY
AFL launches Ascend modular high density fiber system for data centers
At the 2019 BICSI Winter Conference in Orlando, FL, AFL launched Ascend, a modular high-density platform that the company says "sets the standard in larger and more technical data center environments.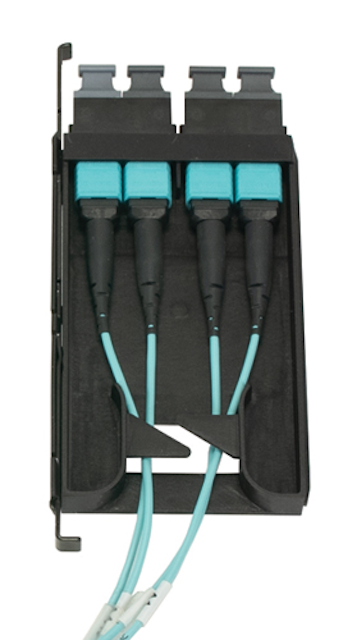 Consisting of fiber housings, cassettes and assemblies, the Ascend platform transforms the status quo of current data center platforms and raises the level for futureproofing needs," contends AFL.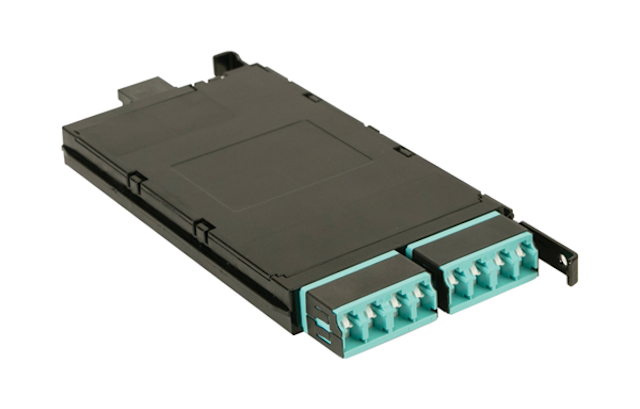 "Bandwidth demands will continue to grow and flexibility in networks will be critical," explained Steve Polidan, general manager of AFL's optical connectivity and premise cables division. "The Ascend platform is designed to overcome today's ever-changing network requirements and the entire product solution provides the flexibility and versatility needed in today's fast-paced market."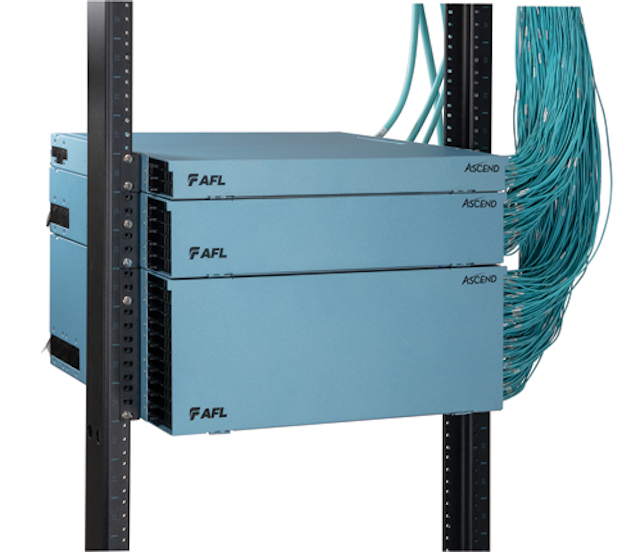 Per AFL, "The Ascend fiber housings offer flexibility, functionality and ease-of-use. Available in 1RU, 2RU and 4RU sizes with densities of up to 144, 288 and 576 fibers, these fiber housings consist of front and back doors both hinged on the bottom. The back of the housing cover is removable for unobstructed access to all connector interfaces. With routing rings at the front of the trays, routing patch cords is easy, secured and organized."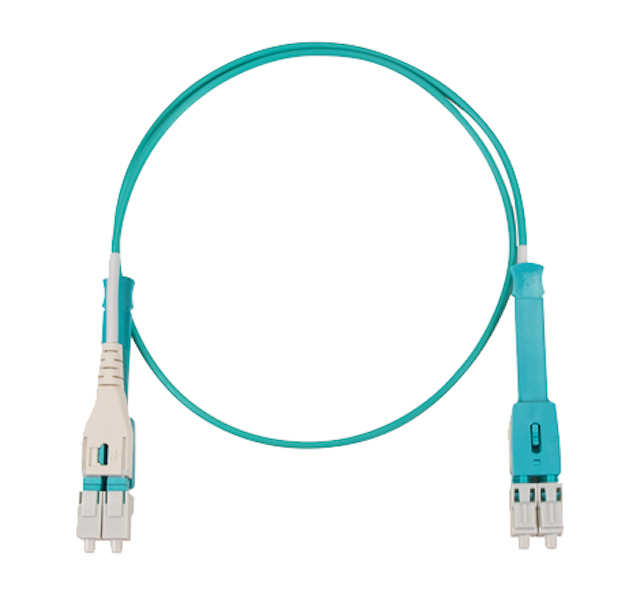 Another key feature of the platform is its versatile cassette design. Providing a wide range of options, the Ascend cassette portfolio is one of the most comprehensive in the industry, AFL stated when introducing the platform. The cassettes independently mount within the fiber management housings and trays, allowing for ease of access and modularity. Cassette designs range from Base-8 to Base-24 and cover additional applications ranging from patch-through connectivity to xWDM installation.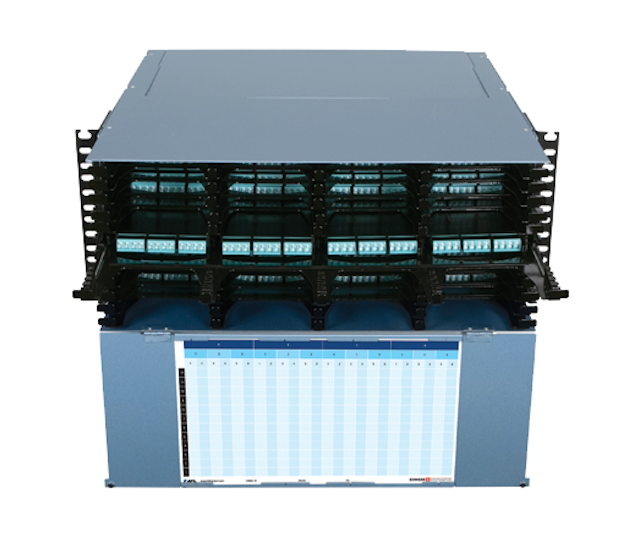 Available in singlemode and multimode, Ascend optical cassettes feature low-loss MPO connectors and VFL-compatible shuttered LC adapters. Splice cassettes include 250 µm preterminated single fiber pigtails and can be spliced directly to loose or ribbon fiber cable. Splice cassettes are compatible with all Base-12 Ascend housings. Available in singlemode and multimode, fanout cassettes are preterminated plug and play breakout modules designed to transition a trunk cable into individual connector ports.
The platform also includes both trunk cable and patch cord assemblies. Trunk cable assemblies feature AFL's Microcore cable and the MTP PRO connector, which allows for field-reversible polarity and gender with no housing removal, exposed fibers or loose points. Available in 12 to 144 fibers in Base-8 and Base-12 configurations, the Ascend trunk cable assemblies include an integrated cable mounting clip that eliminates the need for additional cable clamps, securely positioning the incoming cable and eliminating stress during installation.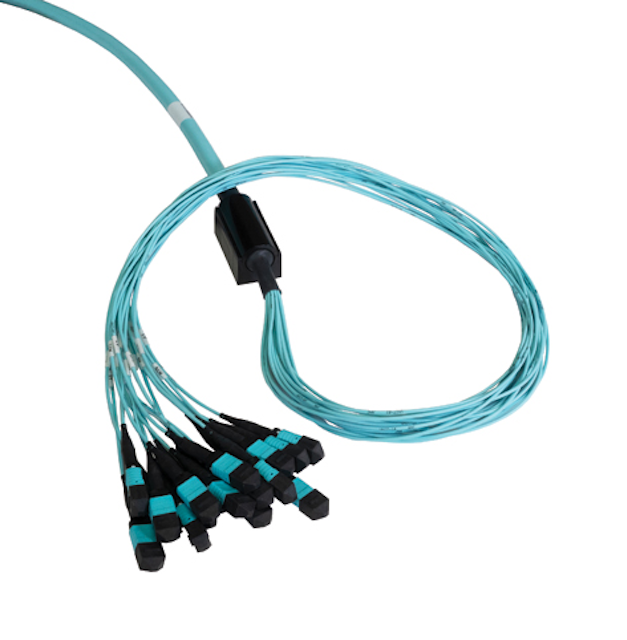 Patch cord assemblies are constructed with AFL's Dual-Link cable and terminated with a field reversible LC Uniboot connector, minimizing the front-side cabling footprint and reducing the impact on airflow up and down the rack and between the racks.
FIBER CLEANING
Softing unveils XpertClean fiber-optic cleaning kits 4
Softing Inc. has introduced its XpertClean line of fiber optic cleaning kits, complete with a cleaning process for fiber cable certifiers, IT managers, and network troubleshooters. The XpertClean kits come with cleaning essentials targeted for 2.5-mm ST, SC, and FC connectors, 1.25-mm LC connectors, and MPO fiber-optic connectors. XpertClean kits contain the required fiber-optic cleaning tools as part of a complete in-field solution when used with the Softing line of testers.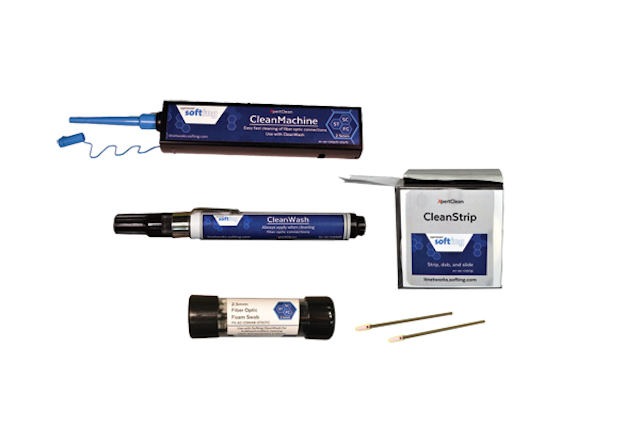 Per the company, "Fiber-optic cleaning is always required before connecting and before testing a fiber-optic cable. In the past, gathering the right set of cleaning supplies, and understanding their use, required time and research. Now, with Softing's XpertClean kits, fiber-optic cleaning is bundled and easy. Kits include a CleanWash solvent pen, a CleanMachine push and click cleaner for bulk cleaning, CleanSwabs and CleanStrip for hard to reach areas. The XpertClean process saves you time cleaning and troubleshooting, resulting in clean fiber-optic endfaces and maximum network performance."
"Softing found that field technicians cleaning fiber-optic cables ranged from non-existent to wiping the endface on a shirt before testing or troubleshooting," says Deane Horn, director of marketing for Softing Inc. "Many people don't realize, for example, that any method of dry rubbing creates a static charge, which attracts enough dust particles to make a fiber-optic cable fail. Proper fiber cleaning is easy with the right tool set and can eliminate over 90 percent of fiber problems. The XpertClean process saves time in the field, and by snapping a picture of the clean endface, you can document your work, and leave a verification report for the customer."