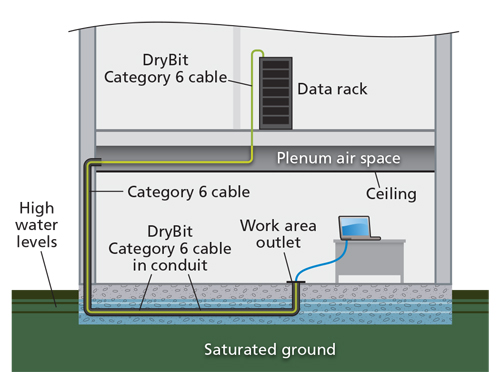 Standardized by the Insulated Cable Engineers Association, indoor/outdoor cable takes several shapes and forms, and serves many a
pplications.
A standard produced by the Insulated Cable Engineers Association (ICEA) defines specifications for cable that can be used both indoors and outdoors. Published in 2016, ANSI/ICEA S-100-685-2016 is titled "Standard for Thermoplastic Insulated and Jacketed Telecommunications Station Wire For Indoor/Outdoor Use." The standard defines its own purpose as "to establish generic technical requirements that may be referenced by individual telecommunications wire specifications covering thermoplastic insulated and jacketed station wire products for indoor/outdoorapplication."
The standard further explains that because it "does not cover all details of individual wire designs, it cannot be used as a single document for procurement of a product. It is intended to be used in conjunction with an individual product specification that provides complete design details for the specific wire type and designates the applicable performancerequirements."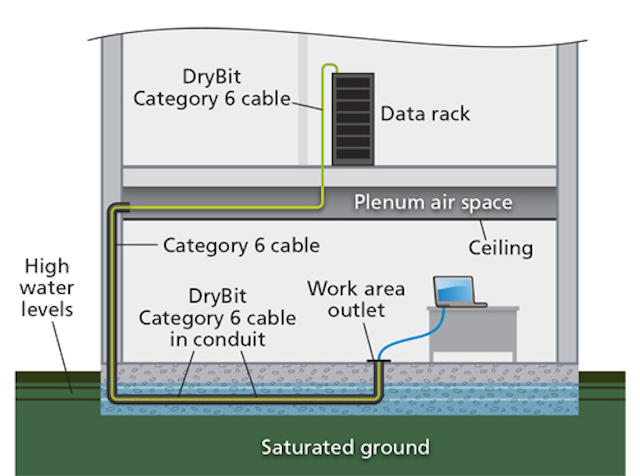 Hitachi Cable America's DryBit Category 6 plenum-rated cable includes a dual-layer jacket construction for long-term immersion in wet environments, such as below-grade conduit. The cable has a dry, no-gel construction, which the manufacturer characterizes as being contractor-friendly.
To that end, several manufacturers of cables that can be used in both indoor and outdoor environments have produced documents and other resources intended to help users specify these products. For example, Superior Essex published a technical guideline titled "What is Indoor/Outdoor Cable?" In it, the company explains, "In general, 'indoor' implies that the cable has at minimum an NEC Fire Resistance Rating so that the cable is not subject to the typical 50-foot indoor length limitation that applies to outside plant (OSP) cables. 'Outdoor' generally implies that the construction of the cable is such that it will withstand certain environmental extremes typically only experienced outdoors. Beyond that, the specifics of the design must be examined to determine the suitability of any cable for an application requiring indoor/outdoorperformance."
Superior Essex further describes unshielded twisted-pair (UTP) and optical-fiber indoor/outdoor cable. Of UTP cable, the company says, "indoor/outdoor is a special designation of cable intended for limited indoor/outdoor use. This cable was designed for the purpose of connecting the network interface device located outside of a building or residence to the inside services, which may be a small telecommunications closet or simply a wall outlet. This cable typically has a minimum NEC Fire Resistance Rating of CMX plus an additional UL rating of 'Outdoor.' … The materials used in indoor/outdoor UTP cables provide better low-temperature properties and UV protection than their strictly indoorcounterparts."
The company further points out that indoor/outdoor UTP cable "is not intended for typical outdoor applications for which OSP cables are designed. As with most UTP cables, indoor/outdoor cables lack a grounding mechanism for handling the electrical surge that can occur from a lightning strike or contact with another power source. This is a safety issue and should not be taken lightly." The document then describes requirements of the National Electrical Code (NEC) and National Electrical Safety Code (NESC) for electrically exposed cable.
Discussing indoor/outdoor optical-fiber cable, Superior Essex says these cables "also have at minimum an NEC Fire Resistance Rating. Like indoor/outdoor UTP cables, they also utilize materials that provide better temperature properties and UV protection. Some also include additional protection against water ingress. Designs are available in loose-tube and tight-buffered construction and are suitable for all fiber types.
"Indoor/outdoor optical fiber cables are generally all-dielectric and thus exempt from the grounding issues inherent to copper conductor cables. The primary advantage of the cable is the ability to transition form the outdoor to indoor environment with the same cable, thus eliminating a splice/connector point."
On its website, Hitachi Cable America (HCA) states, "Conduit that originates indoors but passes through or under a concrete slab is often subject to water infiltration. NEC 2017 Edition, Article 100 and the BICSI Telecommunications Distribution Methods Manual (TDMM) define these environments as wet locations since the slab and the associated conduit are subject to saturation by water. Standard plenum or riser-rated cables can't be used in these situations since water will have a catastrophic effect on both their electrical and physical performance. The typical solution has been to use outdoor cable in the conduit, and then transition to the appropriately rated cable type once indoors."
This information on the HCA website also describes the company's DryBit Category 6 cable, which was introduced in 2018. HCA says DryBit is plenum-rated and can withstand the harsh conditions of a wet environment without suffering degraded electrical performance. "DryBit is verified by Underwriters Laboratories for long-term water submersion," the company said when introducing the cable, adding that it "also carries a plenum (CMP) rating. This CMP rating makes Drybit one of the most versatile cables available by simplifying installation and eliminating the costs associated with transition points."
The cable is available in UTP and F/UTPconstructions.
Another ICEA standard covering indoor/outdoor cable, ICEA S-104-696 is titled simply "Indoor/Outdoor Optical Fiber Cable." It was most recently revised in 2013. In the standard's abstract, the ICEA states, "Indoor/outdoor cables covered by this standard are generally derived from outdoor cable designs having the thermal and mechanical robustness that makes them suitable for use in the outside plant. Material changes are made, as required, to allow the designs to meet their intended fire rating. These cables can be expected to comply with all specification requirements stipulated in this standard.
"In cases where outside exposure is limited (less than 10 meters), a weatherized cable may be derived from an indoor cable design (backbone or interconnect) … the indoor cable weatherized for outdoor use uses the basic requirements found in ICEA S-83-596 [Indoor Optical Fiber Cable]."
The abstract further explains that cable designs addressed in the standard "are intended for operation under normal conditions found in the outside plant environment and in the communications user's premises. These products normally convey communications signals (voice, video and data) from point to point or point to multipoint, within and outside buildings. Products covered by this standard may be factory-terminated with connectors or splicing modules … Indoor/outdoor cables are generally used to make interconnections within and between adjacent buildings or to the first outdoor splice point. These cables are physically resistant to the typical outside plant environment, but their attenuation characteristics are not necessarily the same as outside plant communications cables."
In 2018 CommScope introduced multiple indoor/outdoor fiber-optic cable products. Its interlocking armored indoor/outdoor rollable ribbon fiber cables "provide double the density of standard matrix ribbon cables," the company explains. "Much higher fiber counts can now be used in existing duct banks, avoiding OSP construction. Data center overhead or underfloor pathways are less congested, avoiding or postponing expensive pathway additions."
The company also introduced a pushable drop cable for indoor and outdoor applications. CommScope says the fiber drop cable "is designed for speedy installation with and without the use of air, due to the flexible yet stiff construction of the fluted outer jacket. For maximum efficiency, the cable is intended to be used in duct sizes ranging from 1/8 to 3/8 inches in inside diameter, and can be pushed up to 500 feet by hand without the assistance of air, and nearly 1970 feet with air. The inner cable comprises a single G.657.A2 bend-insensitive singlemode fiber with a 900-micron tight buffer."
Indoor/outdoor cables are defined on a high level by the ICEA standards mentioned in this article, but specifying and deploying this type of cable requires a firm understanding of the installation environment and the applications it will serve.
These installations generally require tight collaboration among the full value chain—manufacturer, distributor, consultant, installer, and end-user—involved in a project.