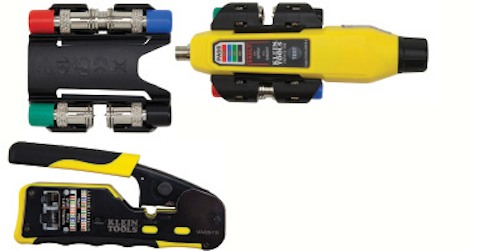 News, products and trends for the communications systems industry
WIRELESS
Liberty University deploys Aruba's stadium wireless network platform for inaugural D1 football season
Aruba, a Hewlett Packard Enterprise company, in October announced that Liberty University, the largest university in Virginia, has completed a significant expansion of its Williams Stadium using Aruba wireless, security and network management solutions. The upgrade, which was completed in less than one year, is reportedly already delivering fast and reliable connectivity to bring fans and event attendees an exceptional mobile experience, Aruba says.
In preparation for its new NCAA Division 1 football classification, the Liberty IT team knew they needed to upgrade Williams Stadium to accommodate the minimum levels of seating and attendance required by the NCAA and to provide a rich and engaging fan experience. Additionally, IT needed to address event attendees' complaints about a lack of WiFi in the school's large public venues, particularly the stadium and other athletic arenas.
After conducting a proof of concept with several vendors, Liberty chose Aruba for the new stadium infrastructure and Louisiana's MS Benbow and Associates for construction and engineering. Using a mixture of Aruba access points, as well as Aruba ClearPass for network access control (NAC) and guest access services, and AirWave to deliver a single pane of glass to monitor and manage the network, Liberty can now support an expected 25,000 devices in the stadium. The new infrastructure and Aruba software will enable the use of key applications such as HD video streaming and WiFi calling in a highly dense environment.
"One of the big benefits of Aruba's wireless solution is having location-ready access points with built-in beacons—and without the need for additional PoE cabling to manage the beacons—so we have the flexibility to enhance our application with this functionality when we're ready," said Thomas Norton, wireless network architect for Liberty. "With our Aruba infrastructure in place, we can look at new and innovative ways to draw more fans into our venues and to continue to improve their experiences."
In the future, Liberty plans to expand the network infrastructure to provide the same experiences in all 11 of its large public venues around campus including the baseball and softball fields, indoor track facility and natatorium. Norton says they will also evaluate Aruba's location services portfolio as they look to enhance their current campus app with the athletic venues' information, adding new features that will enhance the fan experience further.
DATA CENTER
Hyper-efficient data centers: Vulnerabilities and opportunities
The Silent Partner Group of Companies (SPGC), specialists in hyper-efficiency for off-the-grid data centers, projects that by 2021, cloud traffic is projected to account for 95 percent of all data center traffic, and cloud data centers will process 94 percent of workloads and compute instances.
As laid out by an SPGC industry brief issued in November 2018, "A number of cloud-services providers have been battling for market dominance in this lucrative sector. Amazon Web Services (AWS) emerged as a frontrunner when it landed a $600 million contract with the CIA in 2013, and AWS is considered to be a top contender for the Pentagon's Joint Enterprise Defense Infrastructure (JEDI) cloud—a single-provider contract estimated to be worth $10 billion."
The brief continues, "However, some have questioned whether AWS can deliver the reliability and security required for a project of JEDI's scope. A coalition known as the Free & Fair Markets Initiative requested an inquiry to determine if Amazon's cloud systems were compromised by malicious chips from China, and the chairman of the Senate Armed Services Committee has reportedly agreed to investigate potential cyber vulnerabilities in the U.S. supply chain. AWS has also been called out for power outages affecting its largest data center."
"Power sources have the potential to make or break a data center, so their importance can't be overstated," observes Dale Hobbie, CEO of Silent Partner Group of Companies. "When a client is investing millions or billions of dollars into cloud services, they expect a zero-downtime guarantee, sufficient bandwidth to allow for future growth and spikes in demand—and assurances the system is secure and impenetrable. Yet as recent headlines have shown, there are still gaps to overcome before we see data centers reach their full potential."
Leveraging his previous experience in energy, mission-critical, commercial, military and other sectors, Hobbie says that via SPGC and its associates, he's set out to transform the industry's data-center and energy-source challenges into business opportunities and competitive advantages. Hobbie says that SPGC's solution—hyper-efficiency via off-the-grid (HE-OTG) data centers—will soon prove the efficacy of this vision with the launch of six hyperscale data centers in Scandinavia: three each in Norway and Finland.
Each facility will have an initial power capacity of 250 MW.
PERSONNEL NEWS
Comtran Cable names new director of business development
Harsh-environment cable manufacturer Comtran Cable recently announced the appointment of Craig Stratton as the company's new director of business development. Per a company press release, "This role will be instrumental in further developing and growing Comtran's specialty product portfolio."
Stratton comes to Comtran with more than 20 years of experience, including product development and management, business development, and technical sales. His experience covers many multinational industries, such as the key market verticals of oil and gas, mining, military, and mass transit. Stratton spent the last 10 years at AFL, most recently in the role of industrial market manager, where he focused on specialty solutions for harsh environments. At Comtran, he will be responsible for establishing specification position, identifying growth opportunities, and cultivating relationships, specifically in the transit and shipboard markets.
Tom Ortolano, vice president of sales for Comtran, said he's excited to welcome Stratton to the company's sales team. "Craig's extensive background and prior success are a great match for Comtran," he said. "His experience will be integral in continuing to strengthen Comtran's reputation as a leader in the specialty markets."
MANUFACTURING
OFS manufacturing facility in Avon, CT is now AS9100D certified
OFS, a designer, manufacturer, and supplier of fiber-optic products, announced that it has achieved certification of its Avon, CT facility to AS9100D.
AS9100 is the internationally recognized quality management system standard specific to the aerospace, aviation and defense industries. OFS has more than 30 years of experience manufacturing fiber-optic products for the aerospace and defense markets and offers a wide range of optical-fiber-based solutions that meet stringent aerospace and defense industry standards.
LeRuth P. Bell, aerospace and defense market manager for OFS, commented, "Focusing on quality is a part of the OFS culture. Our quality management system is designed to ensure the right products are made to the identified specification before being shipped." She added, "The AS9100D certification further expands upon our commitment as a company to provide optimal quality, reliability, and service to our customers."
The AS9100 certification is in addition to OFS's existing ISO9001:2015, and ISO13485 certifications.
Pictured are Heather Dunn, general manager of the Avon, CT plant and Mike Winslow, senior quality manager.
CONNECTIVITY
Modular, color-coded terminal blocks enable mistake-free 600V applications
BlockMaster Electronics, a supplier of terminal blocks for electrical and electronic distribution, has expanded its popular "Jelly Bean" line of color-coded terminal blocks for 600V applications. The modular JB7 Series comprises thermoplastic terminal blocks in multiple colors for ease in identifying terminations and preventing costly field-wiring mistakes.
Per the company, "Terminating the wrong wire to the wrong terminal can be a costly and hazardous mistake, damaging PC boards, components, etc., and creating safety hazards. Low-voltage and line-voltage connections can easily be mixed up, even by experienced installers.
"Unfortunately, this happens all too often in the field. However, the innovative Jelly Bean solution from BlockMaster prevents such mishaps. The new Jelly Bean JB7 Series can eliminate this problem for installers by using color-coded terminal blocks. For example, line input 120/220 connections can be made to a white block, while low-voltage connections can be made to a green terminal block. If more than one type of low-voltage control is necessary, other colors can be used."
In addition to color coding, BlockMaster offers screen printing services to mark alphanumeric characters on its JB7 Series terminal blocks to further simplify field wiring. "The JB7 Series provides a simple and effective means of differentiating field wiring connections by color, custom legends or both," adds the company's press release.
The JB7 Series terminal blocks are modular in construction, allowing customers to obtain the exact length needed. They are molded of thermoplastic and offered with 7/16-inch centers. They are available in 10 colors: white, red, blue, green, orange, yellow, purple, brown, gray and black.
The block housing is thermoplastic (UL 94V-0) and the terminal is made of brass/bright tin over copper plating. Screws are #6-32 steel, zinc plated with clear chromate coating and undercut binding head. Operating temperature range is 130 degrees Celsius max.
NETWORK CABLE
TE Connectivity's Raychem Cat 5e cable for extreme temperatures
TE Connectivity (TE) recently introduced its Raychem Category 5e cable, which offers high-performance Ethernet connectivity at speeds up to 1 Gbit/sec in harsh military, marine and aerospace environments. Combined with TE's line of connectivity products, the Category 5e cable can be part of a customizable, end-to-end solution from TE, the company said.
The new Category 5e cable makes use of high temperature fluoropolymers that are designed to perform under extreme temperature fluctuations from -65 to +200 degrees Celsius. Designed in accordance with ANSI/TIA-568-C.2, the cable is both lightweight and easy to terminate, attested the manufacturer. TE further explained its waterblock variation uses super-absorbent tapes and yarns that further help reduce weight, increase flexibility and lower installation costs when compared to silicon-filled waterblocks.
TE Connectivity has a variety of in-house jacket materials that the company says help give customers the flexibility to design the solution that's right for their application. "Whether it's a marine environment that requires zero halogen materials or small, tight spaces that call for flexible materials, TE's diverse portfolio of materials provide customers the ability to design Cat 5e cables that meet their needs," adds a company statement.
"The ability to support 1-Gbit/sec speeds while maintaining data integrity and quality is critical for high-data-rate communications in harsh environments," says Lynden Bajus, specialty cable product manager for TE's aerospace, defense and marine division. "We believe the Raychem Cat 5e cable is an important complement to our expansive line of high-speed connectors, contacts, backshells and terminals."
TE's Raychem Cat 5e cables can be used in a variety of specific applications, including those for shipboard, satellite, missiles C4ISR, weapons systems, avionics, soldier systems and in-flight-entertainment systems.
Outer-jacket material options for the Category 5e cables include Zerohal, FEP (fluorinated ethylene propylene), ETFE (ethylene tetrafluoroethylene), and FDR-25. The cables are available with the following outer-jacket colors: black, white, brown, red, orange, yellow, green, blue, violet, gray and clear, with translucent variations available. Not all colors are available with all jacket materials. Shield constructions are aluminized wrap and round braid, or flat and round braid.
INSTALLATION
Brother launches iLink&Label mobile app for integrated cable testing, labeling
In November 2018, Brother Mobile Solutions, Inc. introduced iLink&Label, the next generation of its app for integrated cable testing and labeling. The newly rebranded iLink&Label solution replaces the LabelLink app introduced a year earlier. The enhanced app was developed in partnership with Fluke Networks in response to growing global demand for streamlined and improved network infrastructure processes.
The iLink&Label iOS app is now available globally and includes updated functionality. Its advanced project control feature enables project managers to securely share cable identifiers and select subsets of project data with subcontractors.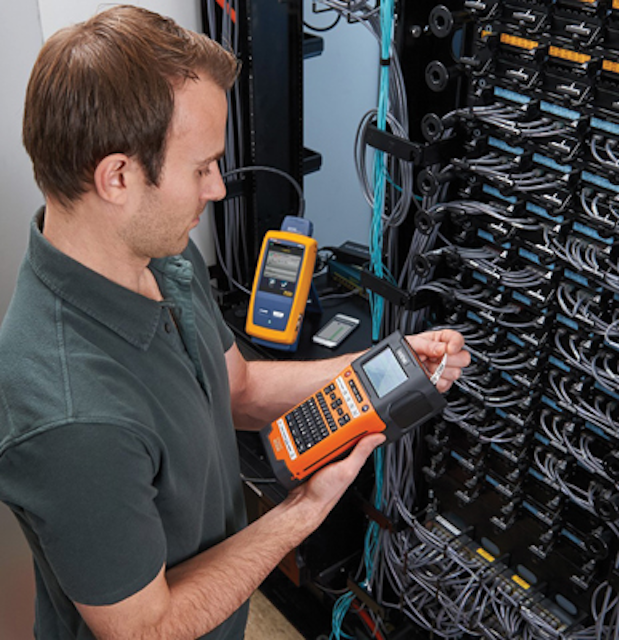 The enhanced iOS version also supports search, sort and filter control that includes downloading projects by their status and date, and allows for download of more records to the database.
The iLink&Label app integrates the Brother P-touch EDGE E550W labeling tool with Fluke Networks' newly updated LinkWare Live cloud-based project management system, "bridging the gap between the office where the project originates and the jobsite where the data is needed for testing and labeling," as stated by the companies.
According to Ravi Panjwani, vice president of marketing and product management at Brother Mobile Solutions, "We are thrilled to introduce the next generation of our award-winning app which received a positive market response. The new iteration, branded as iLink&Label, is available globally, and features advanced capabilities so system designers and contractors around the world can now meet multiple cabling and ID project needs faster and more efficiently than ever before. Data is centralized in the cloud, input only once, and can be accessed wirelessly by multiple project stakeholders."
Panjwani adds, "Our collaboration with Fluke Networks, which marries industry-leading technologies, has truly been a game changer. This app, coupled with the new and improved LinkWare Live system, will continue to deliver an unparalleled jobsite workflow solution to users all over the globe."
To use the app, in the office, the systems designer uses CAD to plan the network infrastructure, and then uploads cable ID and component identifiers to Fluke Networks' LinkWare Live and report management application. The contractor downloads and installs the iLink&Label app.
On the jobsite, the contractor or technician downloads the identifiers from LinkWare Live through an iOS device or iOS smartphone into a Brother P-touch EDGE PT-E550W industrial labeling tool, which is used to create and print labels. Also on the jobsite, the contractor or technician downloads the same identifiers and test setups into the Fluke Networks Versiv Cabling Certification System, performs the tests, and uploads testing results for each identifier to LinkWare Live.
The result is that the cable identifiers and test results for each project are stored in one place and can be retrieved and used as many times and virtually wherever they are needed. Brother Mobile Solutions stresses that this process helps to improve efficiencies, eliminate duplication of effort, reduce human error and dramatically improve a cabling project's labeling step.