Higher frequencies and faster data rates lead to new termination procedures and equipment design.
Patrick McLaughlin
As the specifications for high-frequency Category 6 cabling systems develop, much attention focuses on the 8-pin modular plug-and-jack interface. Because the Category 6 standard will specify positive attenuation-to-crosstalk ratio (ACR) at 200 megahertz and call for testing installed systems to 250 MHz, product developers have paid specific attention to controlling crosstalk performance.
"The higher the frequency, the higher the possibility of crosstalk problems," says Luc Adriaenssens, director of Systimax Research and Development at Lucent Technologies (Murray Hill, NJ). "That`s because as a wire pair gets more and more energized--all the way to 200 MHz--the more likely some of the energy will bleed out onto a nearby pair."
And with both the T568A and T568B termination schemes mandating that the 3-6 conductor pair be split during termination, the crosstalk associated with modular plugs and jacks has become historic. Manufacturers have countered the crosstalk in the plug by introducing opposite performance characteristics into the jack, resulting in the mated pair achieving acceptable crosstalk performance (see "How will copper connectors perform at 200 MHz?", December 1998).
Mated pairs or blocks?
The upshot is that 8-pin modular plugs and jacks, long thought to be the weakest point in a channel configuration, are on the verge of achieving the crosstalk performance proposed as a Category 6 level. Then what about the other connection method in twisted-pair networks: the insulation displacement connection (IDC) connecting block? According to some makers of connecting blocks, achieving Category 6 performance may be a significant challenge.
"When an unshielded twisted-pair [UTP] cable is terminated to a traditional 110-style block, the pairs are so close to each other that the crosstalk between them may be a limiting factor to next-generation cabling performance," says Bob Carlson, marketing manager at the Siemon Co. (Watertown, CT). Crosstalk in a system that includes 110 blocks, he continues, will very likely exceed the maximum value allowed in the current Category 6 draft specifications.
It`s simply a matter of design, and specifically, the spacing between the individual contacts, Carlson stresses. To that end, the Siemon Co. developed its S210 block, which it introduced to the market more than a year ago. In addition to increased pair spacing, the S210 block incorporates internal crosstalk barriers, which, according to the company, achieve 360o pair isolation for near-end crosstalk performance that exceeds proposed Category 6 performance.
Users who implement the S210 system compromise on density for performance, Carlson says. "Because there is more space between each conductor than you will find on a 110-style block, you cannot fit as many S210 connections in the same footprint as you can 110-type connections. But when it comes to performance, no other block compares."
Carlson says the S210 block is ideal for use in consolidation points. "Consolidation points used in zone-cabling environments are another point of connection and loss in a system," he says. "And this block is virtually invisible as a source of loss."
Two other engineering aspects of the block affect workmanship: the Pyramid wire-entry system and cable-access openings in the block`s rear. The Pyramid system separates paired conductors when installers are lacing cables, in an effort to simplify and reduce installation time. The rear cable-access openings let installers route cables through the rear of the block, allowing jacketed cables to extend directly to the termination point.
The company has developed a complete S210 product line, including connecting blocks in a field-termination kit, a tower system, vertical cable managers, field-terminated 19-inch panels, vertically mounted blocks, field-terminated patch plugs, and factory-terminated cable assemblies. The S210 connecting blocks can be terminated using a single-pair 110 tool, and the Siemon Co. also offers a multipair S210 impact tool.
Mark Ross, a telecommunications hardware manager with software developer Parsons Technology (Hiawatha, IA), spent years as a cabling installer before taking his current job in an end-user organization. "When I was installing cable, all we ever used were 66-style blocks," he says. "Once I got to be an end user, I began using the 110 block.
"I believe the 66 block is more friendly for somebody who`s not terribly familiar with wiring and terminating. For example, when you are terminating a 25-pair cable to a 66 block, it is easy to fan out the pairs and identify the pairs by recognizing their colors.
"However, one of the reasons we went to 110 blocks here was because of density. We can fit more connections per square foot when using a 110 block than we can when using a 66 block. I`ve had experience with some equipment that I`ve really liked, but it has taken up a lot of space. So density is an important issue when you don`t have a lot of closet space to begin with."
Management techniques
Last June, Lucent Technologies announced the 110 VisiPatch System, which is designed for improved organization and management of IDC-type terminations. "It cleans up the clutter in the premises closet," says Tom McNeil, a Systimax manager at Lucent. The VisiPatch System is part of the company`s Systimax Structured Connectivity Solution. "It`s easier to install and easier to manage, making it more cost-effective and efficient," McNeil adds.
VisiPatch offers a reverse-direction patch-cord design, increased density, snap-together installation with wall-mountable hardware, and integrated cable and patch-cord management. Components of the VisiPatch System snap together on a stackable supporting unit that helps eliminate the threat of short-circuits, the company says. McNeil explains that reverse-direction patching keeps patch cords from tan- gling and allows for easier identification and accessibility for maintenance.
The system supports a total of 336 terminations and occupies the same space as previous systems that supported 300 terminations, Lucent says. The VisiPatch System became available in limited quantities in August and generally available in October.
So the two newest innovations in connecting-block technology offer divergent benefits, to some extent. The Siemon Co.`s S210 block provides electrical performance that the company says is not achievable with traditional 110 systems, suggesting that a fundamental design change may be necessary for IDC systems to achieve Category 6 performance. Meanwhile, Lucent has brought 110-block technology to a new level with respect to cord and cable management.
Not all in favor
However, not everyone in the cabling industry, including product manufacturers, is a proponent of connecting-block technology. For example, ITT Industries Network Systems and Services (New York City) manufactures connecting-block systems as well as 8-pin modular plugs and jacks. Larry Paniccia, director of the company`s North American operations, recommends the plug-and-jack approach. "Do we have connecting blocks available to customers who want them? Yes, we do," he says. "But we prefer modular terminations. Our primary reason is that connecting blocks are more susceptible to field-termination errors, which can affect overall reliability and ultimately the quality of the link. Every time a move or change takes place in a network that uses connecting blocks, there is a chance that the initial performance of that link will be degraded."
He further comments, "Two years ago, people were saying there`s no way Category 6 could run on 8-pin modular plugs and jacks. But that`s exactly what`s happening. Overall, I don`t believe the end user will maintain as consistent a level of Category 6 performance using connecting blocks as they would from using a modular termination. Connecting blocks do not offer the same level of repeatability in the field that a well- designed, modular connector can guarantee."
The Siemon Co.`s Carlson maintains, however, that the use of patch plugs with connecting blocks eliminates the possibility of degrading the block`s initial performance. He also says his company has conducted testing that shows the S210 provides better performance than modular plugs and jacks.
Paniccia, whose company, ITT Industries, manufactures UTP and screened twisted-pair (ScTP) cabling systems, points out that terminating ScTP to a connecting block raises installation and performance issues. "Typically, the modular plug and jack are used for ScTP terminations. Using a connecting block designed for an ScTP cable is possible but not advisable. The block would have to provide a termination point for the drain wire or screen, while still ensuring the half-inch untwist requirement is maintained. However, the combination of ScTP cable and screened connectors is still considered the optimum solution."
ITT Industries Network Systems and Services produces the XE product line, which is designed to exceed Category 6 performance levels and available in screened and UTP media types, Paniccia says. He also points out that the "E" in XE refers to the Class E specifications under development within the International Organization for Standardization/International Electrotechnical Commission (iso/iec--Geneva). The XE system comes with a guarantee of Class E application support.
Ross, meanwhile, says he has found IDC terminations to be somewhat forgiving. "I`ve used 66 blocks that have been punched down forever. The only problem I`ve encountered with the 110 or 66 block is when pulling out a terminated wire; sometimes a little residue gets left behind. The 66 blocks are more forgiving when you find an incorrect termination and have to pull the wires out, then reterminate."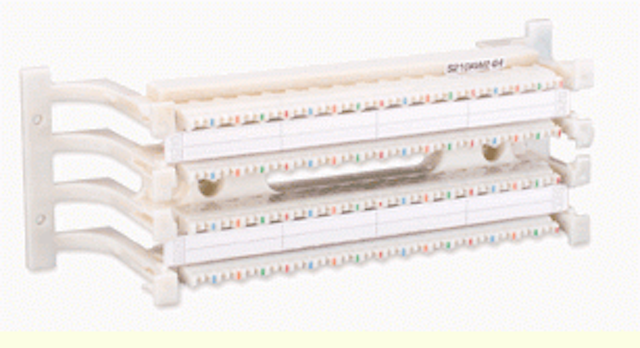 Click here to enlarge image
The S210 block from the Siemon Co. incorporates pair spacing and internal crosstalk barriers not found in traditional 110-style blocks. The company says these design characteristics allow the block to achieve near-end crosstalk performance that is not possible with 110 blocks.
Click here to enlarge image
The VisiPatch System from Lucent Technologies allows users to implement a reverse-direction patch cord, which the company says helps with cord management. Shown here is a wall-mounted VisiPatch.