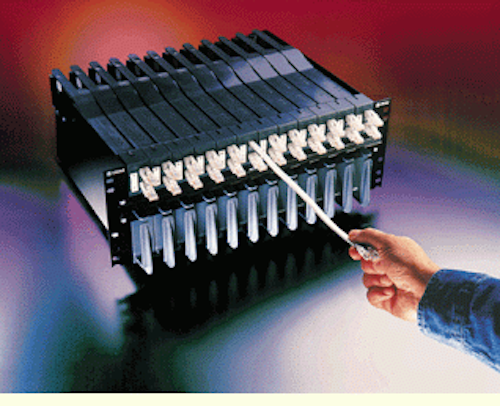 Growing networks and rising data speeds prompt upgrades in density, management, and performance.
Patrick McLaughlin
As the development of a Category 6 standard for copper-cabling systems progresses, all copper-based components, including cable and connecting hardware, undergo more rounds of research and development. Category 6 systems will have to perform to 250 megahertz, with positive attenuation-to-crosstalk ratio (ACR) to at least 200 MHz. This leap in bandwidth is causing a lot of work for the electronics engineers who develop system components, as they don`t merely strive to provide the anticipated requirements of the standard-under-development: They seek to exceed those requirements.
At the same time this standard goes through the development process, changes in the broader landscape of networking in general also influence the development of components and, in particular, patch panels. Perhaps most significantly, networks are becoming larger.
And as a network gets larger, more workstations are served from each telecommunications closet (TC). That means more patch panels or, alternatively, more ports per panel. Recent introductions by Ortronics Inc. (Pawcatuck, CT) and the Siemon Co. (Watertown, CT) illustrate the trend toward higher-density patch panels. The modular patch panels that Ortronics recently added to its GigaMo+ product line are available with standard or high-density 6-port modules or with high-density 8-port modules. Panels with 6-port modules come in 24-, 48-, and 96-port configurations, while panels with the 8-port modules come in 16-, 24-, 32-, 48-, 64-, and 96-port configurations.
Likewise, the HD6 patch panel--HD stands for "high density" and the 6 is a reference to the forthcoming Category 6 standard--from the Siemon Co. features 16-, 24-, 48-, and 96-port configurations.
"In this day and age, users definitely need density in their patch panels," says Dave Valentukonis, technical support manager with the Siemon Co.
Emphasis on management
Higher-density patch panels in TCs and large numbers of workstations served by horizontal cabling runs necessitate the need for patch-cord management. Both Ortronics and the Siemon Co. have incorporated cable-management features into their latest patch panels.
"Many end users want cabling systems that look good enough to be showpieces," continues Valentukonis. "The rear cable manager included with our Category 5 patch panel--the HD5--was well-received. We have included it in our HD6 patch panel as well. We`ve found that installers` approaches to cable management vary. Some use management on each cable, while others bundle cables together. The managers on the HD6 allow either approach." He adds, "One important aspect of the rear managers is that when they`re used, the cables are dressed a bit farther away from the jack than they might otherwise be, ensuring performance if cables are pulled or jerked during cable management."
Krone Inc. (Englewood, CO) has taken an entirely different approach to patch-cord management with Retract-A-Patch. Introduced this past spring, Retract-A-Patch features 24 retractable patch cords that the user pulls out to the necessary length. "The innovative technology behind Retract-A-Patch delivers exactly the right length patch cord every time," the company said when releasing the product.
The patch cords built into the product can extend to 10 feet or fully retract into a module, leaving only the patch-cord boot exposed. Krone says that the retracting module maintains "proper" bend radius during all phases of the retraction of extension, although patch-cord bend radius is not currently specified in a standard. Retract-A-Patch mounts on a 19-inch equipment rack, and Krone guarantees the product for 750 operations over 20 years.
High-level performance
Of course, networks are not just getting bigger; they`re getting faster. Even though no specific applications have been earmarked to run over Category 6 cabling, the development of a Category 6 standard is well under way. Equipment makers are fully aware of the requirements in the standard`s latest draft, and many promote their products as meeting those emerging requirements.
Krone uses flat cable with bonded pairs in Retract-A-Patch to help ensure high-level performance. And its assurance regarding bend radius addresses a current concern regarding high-bandwidth, high-speed transmission.
The HD6 patch panel is one of several products that incorporate the Siemon Co.`s Tri-Balance technology. Called "tri-balance" because it incorporates three components--the jack, the printed circuit board (PCB), and the punchdown block--this technology is incorporated into all connectivity products in the company`s Category 6 line.
"Some manufacturers have opted to concentrate on the PCB alone to address high-bandwidth performance," Valentukonis says. "We incorporated the jack and block as well because these individual components work together as a whole to achieve performance."
The punchdown block, called the S310 block, uses the same termination tool as the familiar S110 block, he explains. But the block`s design is different. "Our motto when designing the S310 block was essentially, `An ounce of isolation is worth a pound of separation,` " he adds. "The more physical space you can get between the terminated conductors, the better."
The block incorporates what the company calls "quadrant pair isolation." Two conductors are terminated in each of the block`s four corners. Each contact is positioned at a 45° angle to allow for maximum space between the contacts.
This 45° angle, however, should not be confused with the technology used in Krone`s connecting block, in which the two contacts to which an individual conductor is terminated are positioned at 45o angles from each other. This positioning, Krone says, leaves more wire between contact points and provides a more stress-resistant connection. The Siemon Co.`s S310 block design is intended to provide maximum space between connections within the block.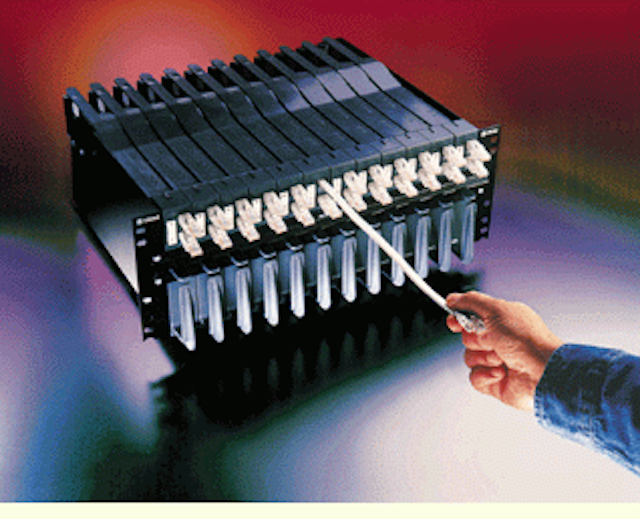 Click here to enlarge image
Krone`s Retract-A-Patch allows users to use only the length of patch cord they need. Each cord extends to a maximum of 10 feet, then retracts onto a spool within the panel.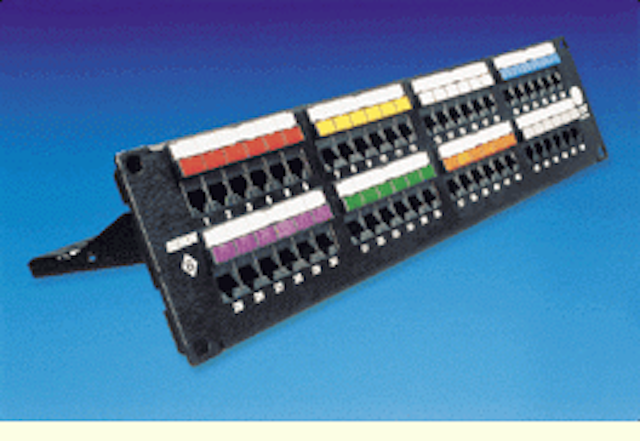 Click here to enlarge image
Shown here is a 48-port HD6 patch panel from the Siemon Co. The panels are available with as many as 96 ports, indicating a trend toward larger networks and underpinning a need for cable management within TCs.