Expect to be shocked without surge protection
Snap, crackle, pop!" Sounds like a famous breakfast cereal, but it`s quite possible your network equipment could experience a similar phenomenon if it is not armed with surge-protection devices. Whether it is a bolt of lightning, a falling tree, or squirrel who attempts to walk the power-line tight rope, a power surge is more than likely the outcome, and data-communications and telecommunications equipment are highly susceptible.
Sep 1st, 1999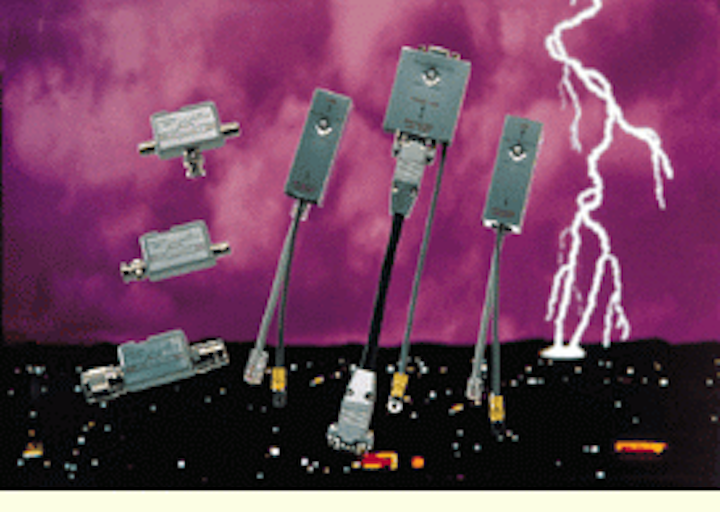 Mark A. DeSorbo
Snap, crackle, pop!" Sounds like a famous breakfast cereal, but it`s quite possible your network equipment could experience a similar phenomenon if it is not armed with surge-protection devices. Whether it is a bolt of lightning, a falling tree, or squirrel who attempts to walk the power-line tight rope, a power surge is more than likely the outcome, and data-communications and telecommunications equipment are highly susceptible.
John C. Roth, national sales manager at Atlantic Scientific Corp. (West Melbourne, FL), says that a power surge as short as one-millionth of a second can render a network inoperable. "People think all they need is a strip protector, but you need something that protects the alternating-current [AC] power, the data-communications lines, the local-area and wide-area network [lan/wan], and even answering machines," he says. "If you don`t have the protection, you may end up destroying the server. The surge will take you right off the network. You`ll end up with no e-mail, no Internet access, no phones, nothing."
Roth says many end users and installers need to think beyond the desktop when setting up an environment to protect against electrical surges. He uses Russian nesting dolls, the round figurines that fit inside the other, to describe what Atlantic Scientific calls "zone protection."
The first layer to protect, Roth explains, is the main electrical panel, or the entrance facility, where the electrical power comes in from the street. "That`s where the highest capacity surge protector should be installed," he adds. The second layer would have a mid-range device to protect the sub-panels, or the boxes on the floor that feed power to the building. The device in the second layer absorbs the portion of the surge that may get past the first layer, Roth explains, and the last layer, the LAN or the desktop, is also outfitted with its own surge-suppression device.
"The theory is you are stepping down the surge at each layer. You are trying to continually reduce the surge load to a low enough level so it will not harm anything. The big surge is mostly absorbed outside," he says, adding that protecting each layer is imperative. "If you don`t have a surge protector at the desktop, network interface cards [NICs] may be destroyed. Category 5 cable is perfectly capable of carrying up to 1000 amperes, and that will certainly do a number on your PC."
Same but different
Many surge protectors may look alike from the outside, but the inside is what sets them apart (see Product Update table, page 84). There are three important specifications when choosing this type of device. The first is the Underwriters Laboratories (UL--Northbrook, IL) breakover voltage, or clamping category, which refers to the voltage level of whatever is left of the surge after it has been absorbed by the device. A lower number indicates more effective protection. The best UL category is 330 volts. The second specification is actual clamping voltage--the level of voltage that passes through the device to the protected equipment. Again, a lower number means better performance. The third is maximum surge current, which is important because a device with a high maximum surge current will have a longer life than one with a lower maximum surge current.
The C62.21-1991 standard from the Institute of Electrical and Electronics Engineers (IEEE--New York City) should also be reviewed when choosing surge-protection devices. The specification outlines recommended practices on surge voltages in low-voltage AC power circuits.
For networks and desktops, Atlantic Scientific recommends three of its surge-protection devices--Zone Guard-ian Plus, ProShield UP 7000, and ProShield AP 7000. The Zone Guard-ian Plus, a 3- or 7-outlet strip, can withstand a surge of 64,000 amps. The ProShield UP and the ProShield AP are 7-outlet strips, with the UP and AP versions handling up to 50,000 and 27,000 amps, respectively. Atlantic Scientific also manufactures 20 different modules that modify the devices for Token Ring, Asynchronous Transfer Mode, 100Base-T, Integrated Services Digital Network, asymmetric digital subscriber line, T1, and Category 5 applications. And like most manufacturers, Atlantic Scientific`s outlet strip surge protectors come with lifetime warranties. If connected hardware is damaged through the Zone Guardian Plus and the Pro-Shield UP 7000, an equipment-protection program covers up to $25,000 of the loss. The ProShield AP 7000 equipment-protection program covers up to $10,000 in damages.
Beefing up surge protection
In southern Florida, where incidents of lightning range from great to extreme, officials at Boca Raton-based wireless-communications service pro-vider PCS PrimeCo. agreed to beef up surge protection in base stations and cell sites.
"We agreed to do this for two reasons: First, we all know what lightning can be like in Florida. Second, we asked ourselves why we should wait to protect the equipment. We wanted a defense line before it could get to the equipment," says George Degruccio, a senior base transceiver station engineer.
PCS PrimeCo. outfitted 250 cell sites with Atlantic Scientific surge-protection devices. "We chose these [devices] because they can sustain themselves through an entire incident. They remain constant and can take thousands of hits. If they do self-destruct, they will go into a fail-safe mode, meaning they will still protect the network," Degruccio adds. "We also use T1 surge suppressors to protect repeaters and the plain old telephone service."
And the system works, he says. There have been a few instances when lightning made direct hits on PCS PrimeCo.`s facilities in the four seasons the surge-protection devices have been in place. Not one device or piece of network equipment was damaged, Degruccio says.
To give an example of how intense the lightning gets, he noted an electrical meter canister outside of a base station was almost completely vaporized. When the bolt struck, the canister was blown off the wall and reduced to a 10-inch disk of melted copper, various metals, and gravel. "The 480V service and the 280/240 transformer were destroyed, but the base station was fine. The site remained on-air with battery backup," he adds. "These [surge protectors] sell themselves, and by purchasing them, you protect a substantial investment in equipment and your services to customers and the community."
But there are many people out there who end up learning about the importance of surge protection the hard way, says Matt Wakeham, marketing manager for power-quality programs at Leviton Telcom (Bothell, WA).
"People just don`t realize that surges can come through the telephone lines. They buy surge strips, but the strips do not have ports for communication lines, their modems, or hard drives," he says. "We see it all the time: For $35, some of them could have bought a surge-protection strip that, in the long run, would have saved them the trouble of replacing a hard drive that just got fried. If it`s in a commercial business, you risk productivity if the network goes down."
Leviton manufactures several surge-protection devices. For communication lines, Wakeham recommends the 5350 series, which are adaptable for 2-, 4-, and 8-wire applications and configurable to LANs, WANs, data lines, and cable-TV and closed- circuit-TV applications. At the desktop, he recommends Leviton`s 4950 and 5300 line of plug strip surge- protection devices. Both lines are available with built-in jacks for data, voice, and coaxial-cable lines.
Although the device absorbs the bulk of the juice generated by lightning on the outside of a building, 80% of surges are generated from within a building. "You always want the most rugged protection on the outside, but you also want devices on the inside," Wakeham says. "A laser printer or a photocopier can cause surges on their own, and when they do, cause destruction to lower-level equipment."
In addition, Leviton makes rack-mounted surge protectors like the 5500-19X, which clamps down at 330V. Like all of Leviton`s surge protectors, the 5500 has a limited lifetime warranty. It also offers customers up to $25,000 through an equipment- protection program.
Wakeham says many of Leviton`s surge-protection devices are made with attenuation filters so equipment will not be affected by radio frequencies that can make PC monitors "fuzz up." The units, he adds, should have good functionality, meaning diagnostic lights that indicate the device`s polarity and ground are correct.
Even though the features offer network equipment the ultimate protection, many still believe that a simple AC outlet strip surge protector is adequate. "It`s a common misconception, and it has diminished a little, but you still see it quite a bit," says Wakeham. "There`s still the learning curve."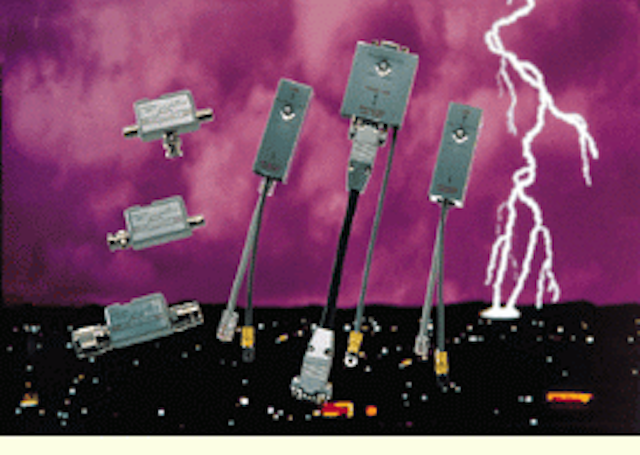 Click here to enlarge image
Bravo Communications Inc. has recently introduced more than 100 new products for network surge protection. Shown is Bravo`s family of Sure/Fire LAN Protectors, including the RJ45/LAN 8.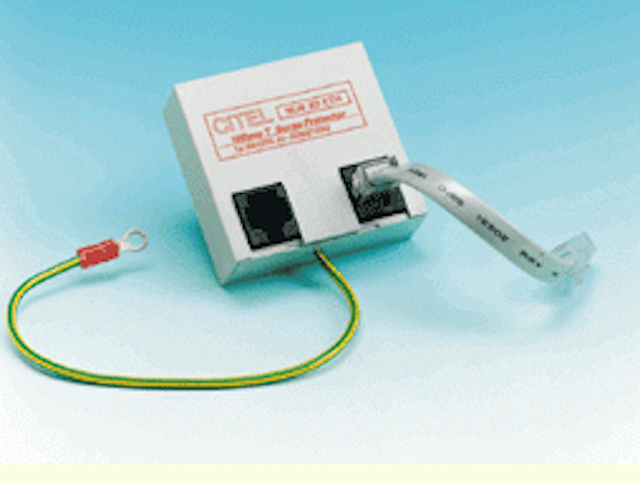 Click here to enlarge image
Citel Inc.`s LAN Surge Protectors are available for computer networks such as IBM, Token Ring, Thin and Thick Ethernet, AS400 Systems, Arcnet, and 10Base-T.