Fiber-connector battle takes on a new dimension
A little more than one year ago, one of the most chronicled nondecisions in the history of cabling-standards creation unfolded. Because the standards activity was so well- followed by the trade press, most cabling-industry professionals are aware that for the past 18 months or so, the makers of five small-form-factor (sff) fiber-optic connector interfaces have done their best to position themselves and get their products deployed in the premises marketplace. Yet while much of the focus has been
Jun 1st, 1999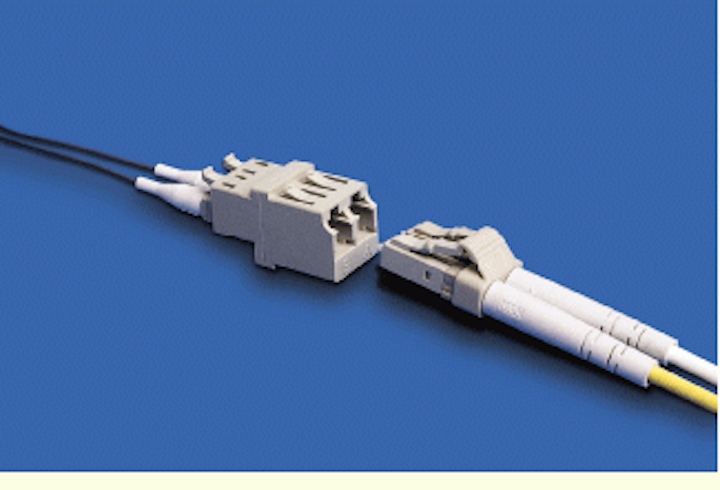 Backed by complete cabling systems, small-form-factor interfaces continue to penetrate the market.
Patrick McLaughlin
A little more than one year ago, one of the most chronicled nondecisions in the history of cabling-standards creation unfolded. Because the standards activity was so well- followed by the trade press, most cabling-industry professionals are aware that for the past 18 months or so, the makers of five small-form-factor (sff) fiber-optic connector interfaces have done their best to position themselves and get their products deployed in the premises marketplace. Yet while much of the focus has been on the connectors themselves, several of these interfaces are components of full-scale fiber-optic cabling systems. So what was originally characterized as a connector battle has become more than that and is promising to change the landscape of the premises fiber-optic cabling industry.
All the players involved in the winter 1998 forum are still present, and one other has joined the fray. So now six sff connector interfaces exist:
vf-45 from 3M Telecom Systems Div. (Austin, TX)
lx.5 from adc Telecommunications (Minneapolis, MN) --the newest entrant into the arena
mt-rj from a consortium of amp Inc. (Harrisburg, PA), Siecor Corp. (Hickory, NC), Hewlett-Packard Co. (San Jose, CA), usconec (Hickory, NC), and Fujikura (Atlanta)
LC from Lucent Technologies (Murray Hill, NJ)
opti-jack from Panduit Corp. (Orland Park, IL)
scdc and scqc from Siecor, Siemens (Berlin, Germany), and ibm (Poughkeepsie, NY).
It`s possible to track each interface`s penetration into the marketplace several ways. One method is to find out whether the Telecommunications Industry Association (tia--Arlington, VA) has published a Fiber Optic Connector Intermateability Standard Document, or focis Document, on the interface. The manufacturers of all six interfaces are in one phase or another of writing focis documents or gaining tia approval on them; several already have received approval. A focis document is an engineering tool in that it includes size and geometry information that allows any manufacturer to make hardware that will mate with the documented interface--and that is exactly the document`s purpose.
In addition to achieving focis documentation, the original connector manufacturers have been busy granting licenses to others who also want to manufacture the interface. For example, LC connectors can be purchased from nine connector manufacturers, including Molex (Downers Grove, IL), Methode Electronics (Chicago), and Senko Advanced Components (Southboro, MA), in addition to Lucent Technologies. Similarly, amp has granted 17 licenses to manufacture the mt-rj connector.
John George, Lucent`s systimax fiber-optic development manager, explains, "All ansi [American National Standards Institute] standards bodies have a licensing policy that applies to any interface being considered as a standard. That policy mandates fair and unbiased licensing of the patents necessary to produce the interface."
Incorporation into hardware
Even though much attention has been paid to the interfaces exclusively, several manufacturers stress that their connectors are part of a comprehensive structured fiber-optic cabling system. Not surprisingly, these manufacturers would like to see the systems receive as much attention as the interfaces have thus far. "We`ve seen some demand for the LC connector exclusive of the system, but typically the demand from our customers is for the entire Optispeed system," says Lucent`s George.
3M`s vf-45 is part of its Volition fiber- optic cabling system, and the company has always marketed Volition as a complete solution as opposed to emphasizing the vf-45 interface. "Now with the introduction of the vf-45 interconnect, 3M is offering the market a low-cost fiber-cabling solution," says Fred Hammond, business development manager with 3M. "We consider the vf-45 to be the enabling agent." 3M positions Volition as a low-cost cabling solution, so much so that Hammond describes it as a cost-competitor with copper-wire systems, not with more-expensive fiber-optic cabling systems. "We`re trying to reach the market that has traditionally put copper cabling in the horizontal," he explains.
Recognized as a cabling-system provider rather than just a provider of individual components, amp incorporates the mt-rj into its Solarum fiber-optic cabling system.
Panduit stresses the inclusion of the opti-jack fiber-optic connector as part of its Pan-Net Network Cabling Solution. One of Pan-Net`s attributes is its ability to combine high-end copper and fiber connectivity solutions with a full line of products designed to manage, route, and identify the cabling runs.
In fact, these and other manufacturers have been busy getting their interfaces incorporated into networking equipment such as transceivers, media converters, and network interface cards (nics). The effort has gone well by all reports, and Siecor`s Martyn Easton, manager of premises systems marketing, lends some insight as to why. "The interface is incorporated into transceivers, which are then incorporated into equipment made by companies such as Cisco Systems and 3Com," he says. "These companies have motivation to incorporate the sff interface because it represents a strong value proposition to them. It doubles the density of their circuit boards and provides other cost-saving advantages for them."
Cisco Systems Inc. (San Jose, CA) adopted the mt-rj interface for its Catalyst 8500, Catalyst 6000, and Catalyst 5000 series of switches. "A key factor in Cisco`s choice of the mt-rj interface was a broad product offering," says Paul Dul, product manager for the Catalyst 5000 series. "The mt-rj product in the Catalyst 8500 series is a 16-port 100Base-FX module. The Catalyst 6000 series includes a 24-port, 100Base-FX product with the mt-rj interface, and the Catalyst 5000 series includes a 24-port 10Base-FL product with the mt-rj interface.
"The fact that mt-rj products span from 10Base-FL to 1000Base-LX will allow Cisco to offer a common sff connector across the Catalyst family," Dul continues. "We believe the mt-rj has demonstrated performance and is priced to compare favorably in fiber-to-the-desk applications."
So the marriage of connector maker to transceiver maker is mutually beneficial, and connector makers have been quick to publicize such unions when their interfaces have been adopted by prominent transceiver makers. Interestingly, one of the most recognized companies to adopt Lucent`s LC interface into a transceiver is ibm--the company that, along with Siecor and Siemens, brought forth the scdc and scqc interfaces. Siemens Microelectronics, an offspring of the company involved in producing the scdc and scqc, recently announced it incorporated the vf-45 into its transceivers. Siecor`s Easton says that demand for the mt-rj has strongly outweighed demand for the scdc or scqc.
Omnitron Systems Technology (Irvine, CA) recently added two media converters to its FlexPoint line--one with the mt-rj interface and another with the vf-45 interface. "From our standpoint, we found it worthwhile to support these two interfaces," says Omnitron president, Arie Goldberg. "We believe the mt-rj will have its share of the market and the vf-45 will have its share. These two interfaces seem to have gained the most market acceptance."
Other media-converter makers have also had to make such choices. Last fall, Allied Telesyn International Corp. (Sunnyvale, CA) introduced converters with the LC, mt-rj, and vf-45 interfaces. At the time they were introduced, the company`s director of corporate communications, James Mustarde, said Allied Telesyn would continue to look at the general acceptance of other interfaces and consider incorporating them into converters "if the industry moves toward those connectors in any substantial way."
Transition Networks (Minneapolis, MN) has embraced the LC and mt-rj interfaces, as evidenced by some of its recent product introductions.
Transceiver makers, including mrv Communications and networking-hardware providers such as NBase Communications, have implemented Panduit`s opti-jack into their equipment.
Field deployment
Another way to measure a technology`s success is by consumer interest and field deployment. Most manufacturers are claiming strong results in this area. "We have shipped more than one million LC connectors," says Lucent`s George. "We have seen wide acceptance from Fortune 1000, educational, financial, government, health-care, and scientific and engineering market segments. The demand has really been across the board." He estimates that 40% of the connectors shipped have been multimode and 60% singlemode.
He says that demand has picked up significantly. "Of those million, approximately 500,000 were shipped over the course of one year and the other 500,000 over the past three months," he commented during a March interview. "I think a lot of the accelerated demand comes from an increased desire to support higher-bandwidth applications. We offer guaranteed application support for Gigabit Ethernet through our Optispeed system."
Panduit makes similar statements regarding its opti-jack. "It was the original RJ-style fiber-optic connector," says Rick Akins, global data-communications marketing manager. "It`s a proven technology that has been deployed in the field for years."
3M says sales of its Volition system have been strong. "A significant percentage of those sales have come from the elementary-education sector," reports Dan Silver, market development manager.
Sandra McWilliams, program manager of fiber-optic products for adc Telecommunications, says that lx.5 technology has been "received beyond the company`s expectations" since it was introduced at the National Fiber Optic Engineering Conference last September.
Consumers interested in getting the full mt-rj-based fiber-optic cabling system, meanwhile, have had to wait until recently. "Plugs, cable assemblies, and transceivers have been available since the first quarter of 1998," says Ken Hall, amp`s manager of fiber-optic systems marketing. "The field-terminated jacks have been in beta sites since January 1998 and are now shipping commercially."
He adds that amp is working to fill the back orders on the system, and once those orders are satisfied, the system will be available through distribution. So it appears to be a good news/bad news situation for the mt-rj camp. The good news: Because of consumer interest, a lot of orders must be filled. The bad news: Because of consumer interest, a lot of orders must be filled.
Connectivity, a Hudson, NH-based cabling-installation company, recently signed on as a reseller of 3M`s Volition system. "We`re excited about the program and began filling requests for quotes almost immediately," says John Troy, Connectivity`s president.
Concerning 3M`s claim that Volition competes with copper in horizontal cabling runs, Troy reflects, "We get requests from our customers for quotes of Category 5, Category 5E, and even Category 6 systems. When we receive requests for Category 6 systems, we also offer them information on Volition as an option because it`s competitive in an item-for-item comparison.
"The item-for-item comparison doesn`t take into account the economies derived from using fiber, such as extended network distances," he continues. "The economic advantage grows when you design for fiber in the horizontal medium, in terms of reducing the number of wiring closets, collapsing and even eliminating the backbone, and optimizing port densities in active electronics. This advantage helps to offset the cost of fiber ports in active electronics or offset the cost of media converters, which is something 3M has made great strides in accomplishing."
Consortium activity
Supporters of the mt-rj, opti-jack, and vf-45 have each developed an independent vendor group with essentially the same purpose: to promote the use and acceptance of the interface by end-users and networking-equipment manufacturers. The vf-45 Action Group, the Fiber Jack Roundtable, and the mt-rj Consortium seek to further the penetration of the respective connectors into the premises-cabling marketplace.
According to Rick White of nic manufacturer Phobos (Salt Lake City, UT), the company joined the Action Group because of what the entire Volition system offers. "We weren`t looking for port density in an interface," he says. "We were looking for a complete solution, and we found Volition to be the only one that gave copper cost to a fiber system."
3M`s Hammond further emphasizes that aside from drawing attention specifically to his company`s products, the Action Group will effectively promote fiber as a viable, affordable horizontal-cabling medium. amp`s Hall views the situation similarly. "The membership of the mt-rj Consortium is building; it includes five transceiver manufacturers and in excess of 25 leaders in networking electronics. The proliferation of fiber and particularly the mt-rj into the marketplace will be substantial."
Panduit has formed the Fiber Jack Industry Roundtable, also with a goal of promoting the connector`s deployment. Panduit says the group now includes more than 100 manufacturers, cabling installers, and end-users.
The interest from equipment manufacturers is steadily increasing for the LC, Lucent reports. Additionally, the company participates in providing a common sff footprint for standardization and lists tia/eia-568b, the ieee 802.5 specification for gigabit Token Ring, and the high-speed version of the ieee-1394b high-performance serial bus specification among the standards that either approve, include, or specify the connector as an interface.
Technological developments
When the tia decided not to put forth a single interface as an alternative to or replacement of the standard SC connector at the workstation, it allowed the makers of all fiber-optic connectors to solidify their technology and propose their wares to the marketplace in true capitalistic style. And solidify they have.
As stated earlier, the field-installable mt-rj jack was under development for several months after the connector battle began. Hall also explains another refinement made over the past year. "The ferrule-to-ferrule interface hasn`t changed," he says. "But there have been some changes made to the housing to improve side-load performance. It concerns the position of the interface, and the increased performance is in the alignment for side load."
He points out that the changes really don`t impact the mt-rj`s installation or use. "Today`s enhancement is backward-compatible to what has already been deployed. And as far as installers are concerned, it`s not an issue because nothing affects termination or installation."
amp now also produces a reusable jack. "That does affect installers," Hall says. "It is prepolished at the factory, epoxyless, and reusable. They can reterminate the jack if they make a mistake."
Siecor`s Easton adds that you`re likely to see mt-rj adapters soon, too. "We`ve been contacted by manufacturers of terminating hardware. They want to be able to offer the mt-rj interface, and they can do that by adding adapters to their current products."
The LC connector design has remained stable for more than a year. "The performance of the LC connector speaks for itself," says Lucent`s George. "This connector has been proven to be the best-performing sff connector on the market." He points specifically to emerging applications and states that the LC is a good choice "as end-users have become increasingly concerned with futureproofing their networks to support gigabit applications and beyond.
"As the data rates have increased, the ieee and the atm Forum have dramatically tightened the channel-loss allocation, which is optical-power loss through an entire channel consisting of connectors and cable. The Ethernet 10Base-FL channel loss maximum is 12.5 decibels, while the increasingly Gigabit Ethernet 1000Base-SX allocation is five times lower--only 2.5-dB maximum for 300-meter links in 62.5-micron systems with 200-megahertz/kilometer fiber. More than 80% of Gigabit Ethernet ports sold to date are 1000Base-SX, and our customers want a high-performance cabling solution that is guaranteed to support 1000Base-SX."
Lucent`s Optispeed system comes with a 20-year guarantee of support for 1000Base-SX transmission to 300 meters with up to six LC connections. And Optispeed Plus guarantees support for 1000Base-SX to 600 meters with as many as five LC connections.
Panduit adamantly reports no changes to opti-jack`s underlying technology. "Ferrule-based connectors are so widespread and proven, we`re not altering that at all," Akins comments. He stresses that the opti-jack requires standard termination tools and procedures. New from Panduit are a singlemode version of the opti-jack connector and a prepolished version of the multimode jack.
The vf-45 technology has remained steady, although it differs from the other sff offerings in that it is ferruleless. The elimination of a ferrule allows 3M to offer such a low-cost end-to-end cabling system, the company says. Not surprisingly, the ferruleless design has come under some scrutiny, particularly by those with a vested interest in the ferrule-based connectors. 3M continues to maintain that the vf-45`s V-groove technology is time-tested, even if historically it might not have seen widespread use in premises networks. 3M`s Silver explains that singlemode and multimode fusion splicers use a V-groove to align the fibers. And V-grooves in mechanical splices have been used for more than a dozen years. 3M has been able to extrapolate that technology and use it in the vf-45.
Everything from adc Telecommunications can be considered new, because the lx.5 was introduced less than a year ago. Typically regarded as a solutions provider and known for fiber management, adc introduced a premises cabling system called Enteraprise last fall. The system is available in copper and fiber-optic models. The lx.5 connector and adapter represent a step further into premises cabling by adc.
McWilliams says the two key identifiers of the lx.5 are its density--like the other sff connectors, exactly half the size of the SC--and shutters. The lx.5 can replace an SC adapter and provide two connections in the place of one without any hardware changes. Both the plug and the adapter include shutters designed for eye safety. The plug has a spring-loaded shutter that is raised as the plug fits into the adapter and returns to fit over the ferrule when the plug is removed. The lx.5 is available in multimode and singlemode versions.
The band plays on
On the whole, all interface manufacturers are decidedly upbeat and confident that their products will succeed. Even the manufacturers of the scdc and scqc, despite admittedly weak demand, continue to support it as a sound technology. Each interface offers a different technology, approach, or history to back up that confidence.
Panduit will tell you it`s the company that started the sff connector rally and cites a recent installation at Sprint as evidence of its impact today. Lucent points to its one million units in deployment and a solid testing record to support claims of performance and acceptance. 3M stands firmly on the idea that its system is a cost-effective solution that incorporates technology used in telecommunications for years. amp, Siecor, and other mt-rj advocates emphasize strong demand, performance figures, and adoption by several transceiver manufacturers as proof of worthiness. And adc Telecommunications had the opportunity to observe the early successes or shortcomings of other connectors before unveiling its products.
Connectivity`s Troy is keeping his options open: "We work with what the customer wants. We offer Volition and we think that 3M has done a thorough job, from beginning to end, designing a fiber-to-the-desk system. But we`re not walking away from the other products that we offer. And we`ll also look at other small-connector designs that work well and may meet our clients` needs and budgets."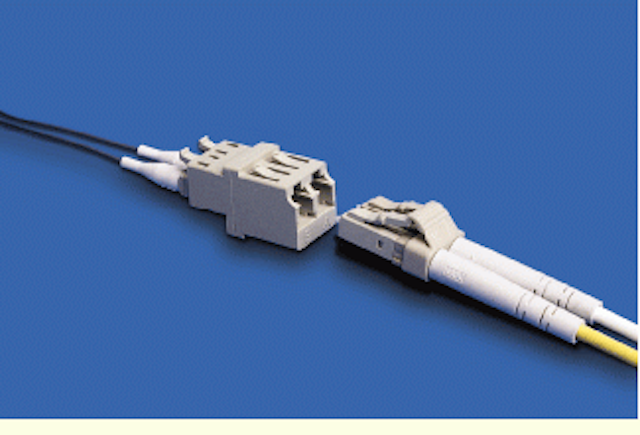 Click here to enlarge image
The LC connector interface, designed and introduced by Lucent Technologies, is now also available through several other licensed vendors.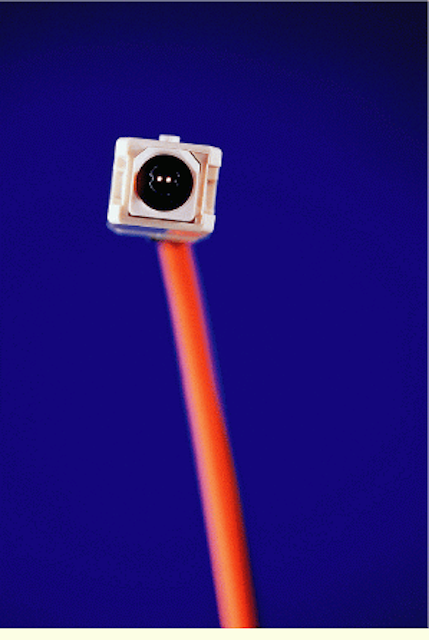 Click here to enlarge image
The scdc connector incorporates two fibers into a connector that is the same size as the SC connector.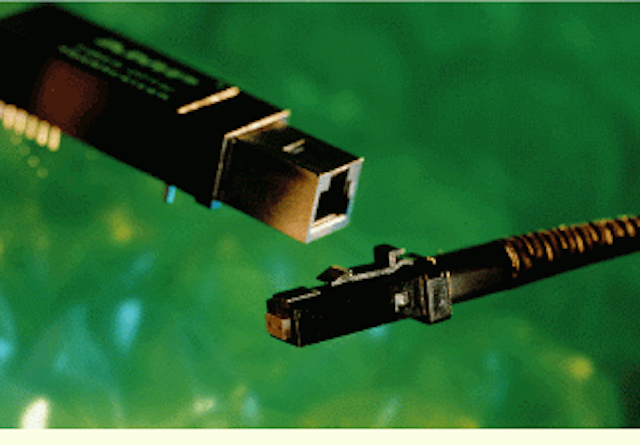 Click here to enlarge image
Field-installable mt-rj jacks have been available for a few months. amp and Siecor, makers of the field-installable jacks, both report that demand for the product has been significant.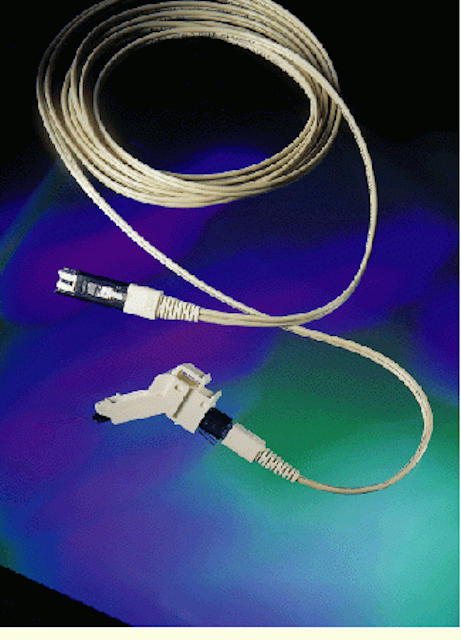 Click here to enlarge image
The vf-45 connector interface has been a rallying point for the vf-45 Action Group, which seeks to further the deployment of the interface and the Volition system in horizontal cabling runs.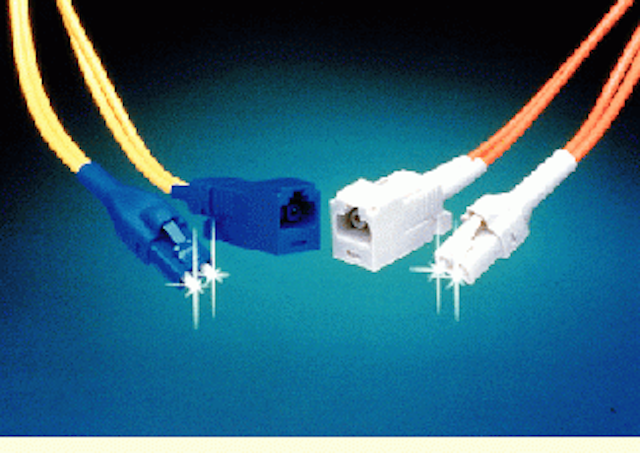 Click here to enlarge image
Panduit`s opti-jack is available in singlemode (left) and multimode (right) versions. The multimode jack is also available prepolished.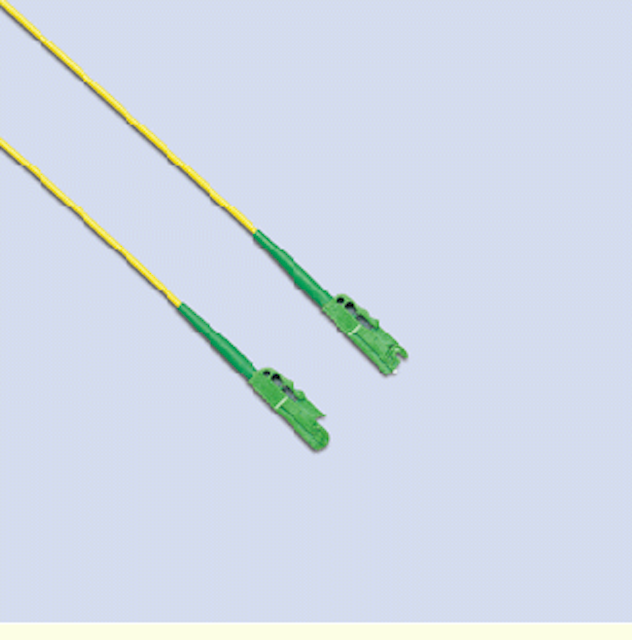 Click here to enlarge image
adc Telecommunications` lx.5 connector includes a spring-loaded shutter designed to prevent eye damage from live fibers.