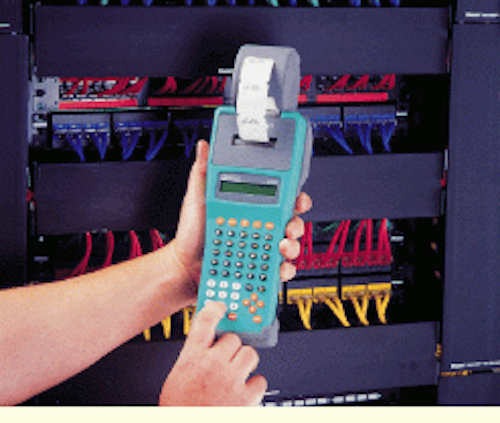 Catherine Varmazis
Years ago, when I worked for [a well-known service provider] putting in large installations," recounts Lynn Pugh, president of Pugh Communications (Wamego, KS), "some of the installers would say, `Don`t label anything. That way, you know what`s going on, but nobody else does. It makes you look good.` "
We`ve come a long way. Today, most, if not all, new installations are labeled, and cable-labeling tools and equipment represent a stable market (see Product Update table, page 140).
Labeling network cables and components is not a difficult job, but it is time-consuming. So products that make this task as easy as possible generate loyalty among installers. Doug Thomas, site coordinator with Crescom Engineering Co. (Bowling Green, KY), says his company`s installers use handheld Brady printers: "They print out a unique label--whatever you want--on a sticky label that wraps around the cable and is self-laminating. Once you put it on, you can seldom get it off in one piece."
One feature that saves a lot of time is automatic sequential labeling. According to an informal survey conducted by Robert Moore, inventory control and purchasing manager at Puget Sound Services (Seattle, WA), the feature most popular with his company`s technicians is automatic serialization that some printers offer. This feature lets installers key in just the first number in the label series, and the printer automatically numbers the rest of the labels sequentially.
While the market for labeling equipment is fairly mature, manufacturers continue to enhance their offerings. According to Todd Fries, product marketing manager for identification products with Tyton Hellermann, printers that use thermal-transfer technology are the fastest-growing products in his company. Labels printed with this technology can incorporate graphic images like a telephone or data symbol right into the alphanumeric text. "The printer determines the spacing on the label, and when you combine it with our TagPrint Pro software, it can print labels right on the fly but with such precision that you can fit a lot of data, even images, without the distortion you find in other print media," explains Fries.
Keep it simple
Although installers usually appreciate the features that allow label customization, some prefer a simpler, easier-to-use solution. Richard A. Butler, department manager with MetroPower Inc. (Norcross, GA), comments, "It seems like even [some of the] handheld printers are over-complicated. A way to simplify that is to have a lower-cost printer for Cat 5 basically, with just one label that fits in there." With some products, says Butler, "you can`t just hand it to somebody and say, `Here you go; go label those cables.` You`ve got to spend half a day`s worth of training to figure out how to use it."
Other installers prefer the range of options that their favorite products offer. "We`ve never had any problems with our Bradys," says Thomas. "We have one of the latest ones that has a few more features to it, but even with the very first one, when we got it, it took maybe 30 min to play with it, read the manual, and we were making labels. It`s not complicated at all."
Most installers take pride in their workmanship, says Brien Christopherson, data-communications industry manager with Brady Worldwide (Milwaukee, WI). His company`s smart-cell technology delivers laser-quality labels that don`t smear. "Contractors have a lot on their mind and they`re looking for someone to be the labeling expert," he explains. "They don`t want to mess around with programming and formatting. The labels used with the tls2200 include a smart cell--a really small, inexpensive chip--on every roll of labels. When you put the roll into the printer, the labels `tell` the printer their size and format, which font to use, how to space them out--all automatically for the user. So, when we have a new label size to fit a certain block or panel, we program it into the smart cell, and for the user it`s just drop-and-go."
A look at logistics
Convenience and economics are important considerations when deciding whether to use cable-labeling software and printers that pre-print labels in the office or handheld printers that generate them at the job site. The method of choice depends on what is more important to the decision-maker.
Pre-printing labels is time-consuming and complicated, according to Crescom`s Thomas. "We used to pre-print labels from a computer in the office, but that was much more complicated because we had to lay out the scheme here and print all the labels here, and put them on the cables as we pulled the wire," he explains. "But with the handheld printers we can have one guy sitting there printing labels while the others are pulling cable. It takes very little time." Pre-printing also leaves little room for error, he says: "If you messed up a label on the job site, you didn`t have any extras to replace the ruined label. With the handheld labeler, you just make another label right there and put it over the old one and go on. It`s more handy."
Richard Schoultz, president of Schoultz Electric (Elkhorn, WI), bases his decision on economics. "If I can print them ahead of time, I`m far better off than having someone in the field do it," he says. "It`s cheaper because I`m not paying a technician to print labels; an assistant in the office can do it."
While cable labeling is widely practiced today, some installers--particularly those who pull the cable but are not responsible for maintaining the network--do not consider it their responsibility. Jennifer Hill, marketing specialist with Panduit Corp., says her company holds training seminars to raise installers` awareness of the need to label as recommended by the tia/eia-606 Administration Standard for the Telecommunications Infrastructure of Commercial Buildings. One surprising reason for the reluctance of some installers to label was revealed at one of these sessions. "At my first seminar, I learned that many installers did not know what information to include on the labels," notes Hill. "They knew they were supposed to label, but they did not know what labeling scheme to use. We show them one way it can be done, and the feedback we`re getting is that they find the training very useful."
It just makes sense
Why identify cabling and network components? "Labeling is a `pay a dollar now and save five dollars later` investment," says Brady`s Christopherson. "And people are realizing that a dollar spent upfront is a wise investment. In my mind, you can`t call it `structured cabling` unless it`s identified."
Thomas agrees and adds that his company`s policy is that, regardless of the size of the installation, all Category 5 cables have to be labeled within 16 inches of the end. "From an installer`s standpoint," he says, "whenever you pull the wire, it`s not necessarily punched down as you pull it. You may pull 70,000 feet of wire, and then you have to punch it down. If it`s not labeled, you`re in trouble."
Labeling the network is just common sense because it allows any installer to pick up where another left off, concludes Pugh: "It`s simple stuff, but if I have to follow you up, or you have to follow me up, you know what the heck I`m doing."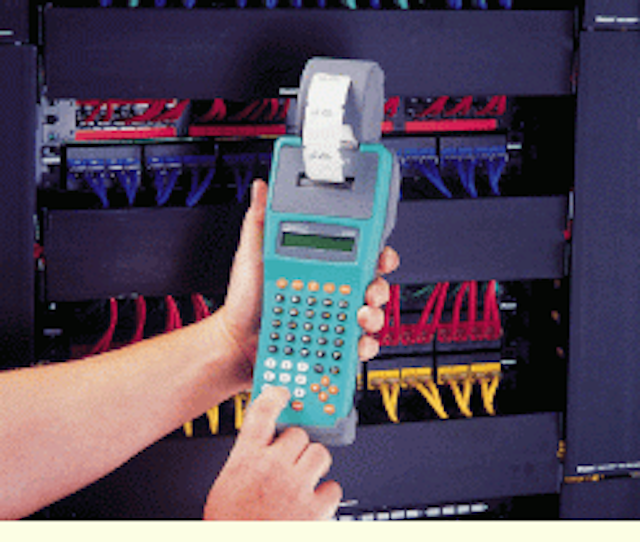 Click here to enlarge image
Panduit`s Pan-Quik LS3E dot-matrix printer features automatic recall of the last label entered, even after shutting the printer off or recharging its battery pack.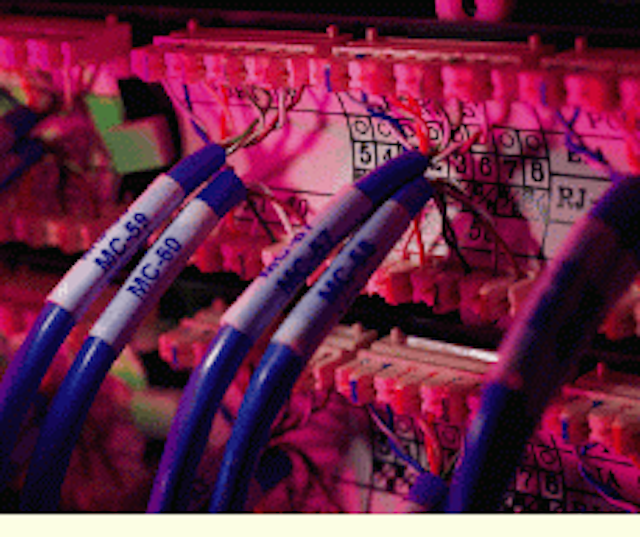 Click here to enlarge image
Cable connected to a 110 block is labeled using Tyton Hellermann`s thermal-transfer printers and TagPrint Pro software.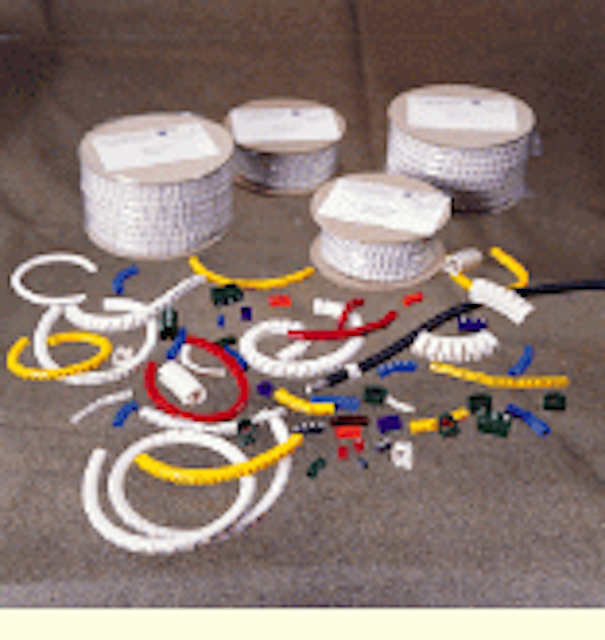 Click here to enlarge image
Flexible sleeve markers from Plastic Extruded Parts Inc. can be used for both indoor- and outdoor-cable identification.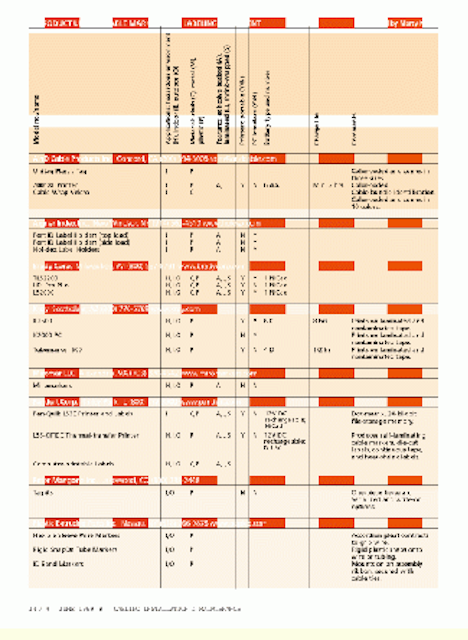 Click here to enlarge image