Underfloor cable access gets easier
Floor boxes and access floor systems can make life simpler for cabling-system installers and end users.
Oct 1st, 1999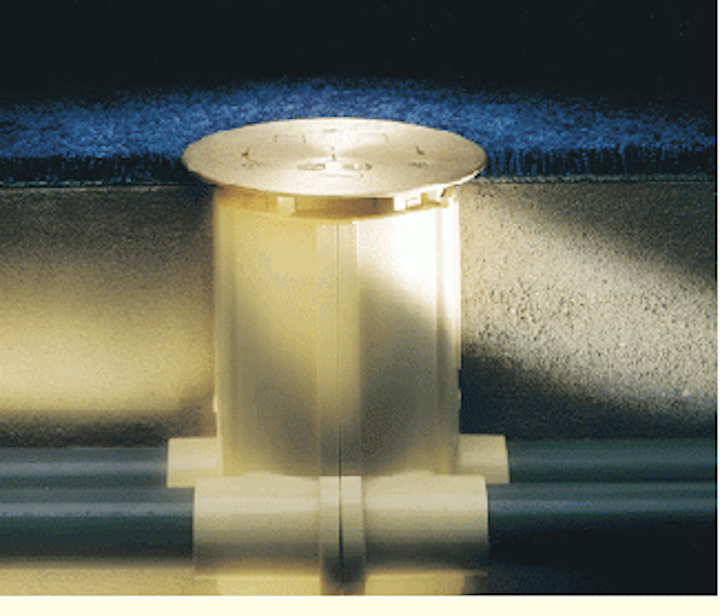 Floor boxes and access floor systems can make life simpler for cabling-system installers and end users.
Patrick McLaughlin
Floor boxes, poke-thru devices, and access floor systems are common pieces of equipment for cabling-plant managers who choose not to work in the world of overhead cabling runs. The use of an underfloor cabling system has several benefits.
"I favored installing an underfloor cabling system during the construction of our new building," says Bruce Demaine, computer information systems manager with the Advanced Technology Div. of PennWell Corp. (Nashua, NH), the publisher of Cabling Installation & Maintenance. "A system like that makes a lot of sense for our company in particular because we have frequent moves, adds, and changes."
"Some use the floor for cable management and run cable to the workstation for connectivity," says Mike Masterson, vice president of the local-area-network (LAN) premise division of Multilink (Elyria, OH), a manufacturer of access floor systems. "Access floor systems have been used everywhere, from computer rooms to LAN rooms and in schools. They can also accommodate open-office settings well. Another benefit is that they do not require the use of plenum-rated cable," he adds.
The difference between an access floor system and other underfloor cabling systems is that the access floor can be put in place over an existing floor. Many other underfloor systems are actually part of the building`s construction. Conduit, put in place before the concrete floor was poured, runs beneath the floor`s surface. Access to the cabling in these types of underfloor systems is usually through floor boxes.
"There are typically a couple of steps to incorporate the conduit and boxes into an underfloor system," says Robert Chase, marketing manager for the wire-management group at Thomas & Betts Corp. (Memphis, TN). "After a preliminary pour, the boxes go on top of the concrete. Once the boxes are in place, the installers run conduit between the boxes. Then another concrete pour goes on top.
"Boxes used in this type of construction come with disposable covers to prevent concrete from getting into the box during the pour. The same procedure is followed for either slab-on-grade or steel-deck construction."
The floor box is different from a poke-thru device in several ways, explains Kim Fledderman, marketing manager with Carlon (Cleveland, OH). "The floor box is an outlet box that`s in the floor, while a poke-thru device goes all the way through the floor," she says. "The poke-thru can be used in new construction and retrofit applications but is more commonly seen in retrofits. With the poke-thru, a concern lies with fire potentially going through the floors, so when you`re dealing with those products, you have to take fire-code issues into consideration.
"Also with a poke-thru, the conduit is run under floor slabs and is fully exposed, while with a floor box, the conduit is encased in concrete. Leveling is an issue with floor boxes but not with poke-thru devices. The floor box is mounted on the rebar before the concrete pour and must be leveled after the concrete is poured."
Leveling techniques
The process by which installers level a floor box is one of several characteristics that differentiate one product type from another.
For example, floor boxes in the new Steel City 740 series from Thomas & Betts incorporate one-step carpet and tile flanges, which allow installers to insert the box into the floor opening and simply step on it. Available in depths of 25/8 and 35/8 inches, floor boxes in the Steel City 740 series feature four exterior leveling legs that allow 2 inches of prepour adjustment and an interior leveling ring that allows up to 11/4 inches of after-pour adjustment.
"The beauty of it is that it doesn`t require any adjusting screws," says Chase. "The installer just steps on it and it levels itself to the final poured-concrete level."
Carlon offers a series of nonmetallic floor boxes that take a different approach to leveling. All the boxes in the series come in a single depth and can be cut in the field to fit the depth of the pour.
The Walker Ratchet-Pro floor box from the Wiremold Co. (Bristol, CT) features an adjustment ring that ratchets into place and eliminates the need for glue during installation. Following the concrete pour, the installer trims the box to floor height, attaches the cover to the adjustment ring, aligns it with guide slots, and pushes the assembly down into place. The ratchet mechanism secures the cover flush with the floor, even if the box is not precisely vertical.
Composition material
The composition material can also differ from one box to another. As its name indicates, Thomas & Betts`s Steel City 740 line is made of steel, but the company also offers boxes made of other materials. "With the proliferation of plastics, virtually all manufacturers are making plastic floor boxes," comments Chase.
But the company continues to produce metal boxes and in fact expanded its metal-box offerings with the introduction of the 740 series in August. The Wiremold Co. also offers boxes made of metallic and nonmetallic materials. The metallic materials include steel and cast iron.
"The question of which material to use," Chase notes, "is often related to the area of the building in which the box will be placed--above, on, or below grade. Products used on or below grade must be water-tight, and in those situations, most people lean toward cast iron. For above grade, you can go to stamped steel, which is economical."
Multiple services
Another characteristic to consider when looking at floor boxes is the services offered through each box. For example, Carlon`s round floor box offers three service capabilities--power, phone, and data wiring. The company`s multiservice divider kit separates the three cabling types into individual compartments within the box.
Carlon`s rectangular floor-box system is gangable, allowing users to mount two or three boxes together. "A plate separates the units, so you can keep your power, voice, and data lines physically separated from each other," says Carlon`s Fledderman.
Wiremold`s Ratchet-Pro box includes a divider for dual- service applications, and its RFB series features four independent wiring compartments that allow for up to four duplex receptacles, telephone, or data services.
Thomas & Betts offers single-, double-, and triple-gang boxes for multiple-service requirements.
Other differentiating characteristics among floor boxes, which are practical if not extremely technical in focus, include whether the boxes are round or square and cover material (including carpet, brass, aluminum, or plastic/nonmetallic). Additionally, some boxes--typically called pedestals--are mounted on top of the floor, rather than flush with the floor or concealed within the floor.
Planning considerations
Floor boxes, as part of underfloor cabling systems that are put in place during the concrete-pouring stage, generally can be considered part of the building`s construction. One of the most significant considerations associated with this approach is the cost of adding height to a building. Because of that, reports Thomas & Betts`s Chase, there is a move in the floor-box industry toward slimming down the boxes. "Some floor boxes are as shallow as 3 inches in height," he says.
The fact that the system becomes interwoven into the construction process necessitates early planning. As PennWell`s Demaine explains, that scenario became clear with his company`s recent project. "The vendor we looked at gave us solid information about the return on investment for the system. But we ran into several roadblocks integrating the system into the building construction.
"The system cut across several budget planes, like carpeting for instance," he continues. "The construction budget allowed a certain amount of money for carpeting, which would have to be reconfigured to take into consideration every area that wouldn`t need traditional carpeting."
He emphasizes that although the underfloor system he looked at carried a significant price tag, it would have been cost-effective in the long run. Timing, however, ultimately forced him to choose another cabling setup. "Had we gotten all the information on underfloor systems much sooner, we might have gone with it. But because we began looking into it as late in the process as we did, the construction process was well underway, and that made implementing it a much more difficult proposition."
Access floor systems offer an alternative approach as an underfloor cabling system that is not part of the construction. Multilink`s Masterson explains, "It`s a low-profile flooring system that is portable, modular, and adaptable. It never really adheres to the floor."
Multilink`s system, called Netfloor, is made of polypropylene. The Netfloor line includes three series: the 900 series with a 31/2-inch clearance, the 600 series with a 21/4-inch clearance, and the 400 series with a 11/2-inch clearance. Each line features built-in cable management. "A traditional underfloor system includes 2x2-foot squares," Masterson says. "The Netfloor system gives you access to the cable trough every 24 inches."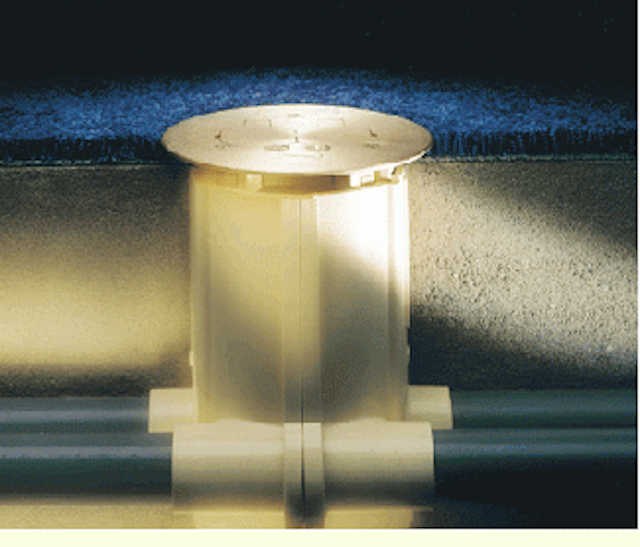 Click here to enlarge image
The Ratchet-Pro floor box from the Wiremold Co. features an adjustment ring (inset) that ratchets into place and eliminates the need for glue during installation. The box also features four 1-inch conduit hubs in a parallel configuration.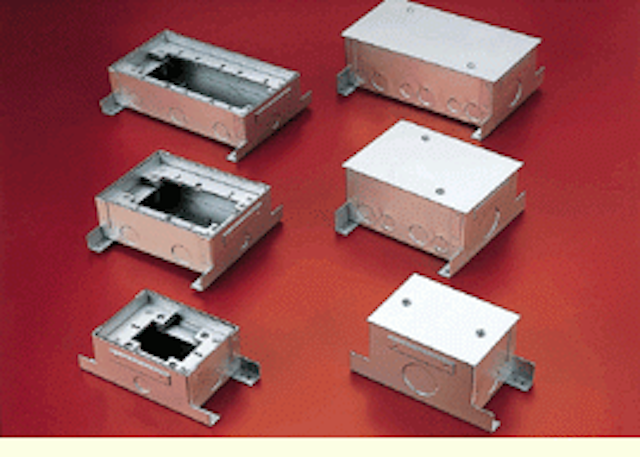 Click here to enlarge image
The Steel City 740 series of floor boxes from Thomas & Betts provides flush service for power, communications, and data cabling in a single box.