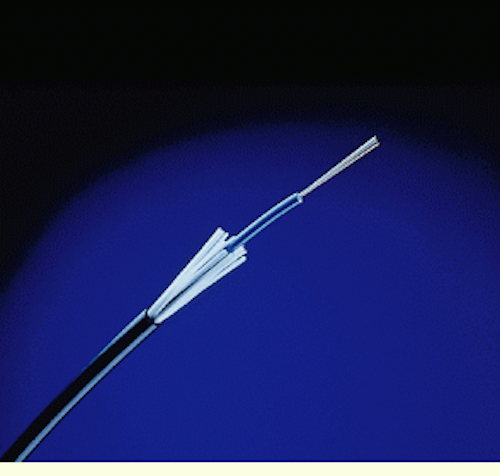 Lynn Haber
Premises-cabling systems are a fast-moving target with corporate-networking needs continuing to spiral toward higher and higher speeds. What makes fiber-optic cable attractive is its ability to support fast speeds at long distances for both current and anticipated future applications. The advent of hybrid fiber-optic cable takes the concept of investment protection one step further, offering customers even longer-term flexibility.
Most manufacturers of hybrid fiber-optic cable agree that employing a hybrid-cable design lets corporate customers buy and budget now for both current and future upgrades without incurring additional installation costs later. The catch: two fibers in one. Whereas multimode fiber is most often used for premises applications where links are less than 2000 meters and there are many connectors, singlemode fiber has been traditionally deployed on longer cable runs that require high data rates.
According to product vendors, the market for hybrid fiber-optic cable is small, but they are optimistic about the potential for future growth. "We expect to see this product category grow because people aren`t sure where the standards are going, and hybrid cable leaves their options open," says Irv Dwyer, research and technology manager at BICC General Corp. (Highland Heights, KY).
Campus-type applications
Manufacturers report a number of trends in this product category, one of which is an increased demand for hybrid fiber-optic multimode and singlemode fiber in campus-type applications. One of the reasons for this increased demand is the longer distances associated with a campus environment where it`s more applicable to use singlemode fiber. Another reason that hybrid fiber-optic cable is making inroads in the campus environment is financial. The cost to install fiber in a geographically disperse setting is significant so organizations are more willing to install singlemode fiber more liberally at the outset while keeping it dark for future use. Finally, hybrid cables offer space advantages, which means installers can conserve duct space and access infrastructure.
Another trend reported by industry players has to with an increase in the use of 50-micron multimode fiber as opposed to 62.5-micron cable in hybrid construction. The driver, according to Tony Beam, director of systems marketing at AMP Inc. (Harrisburg, PA), is the introduction of laser transceivers for high-speed multimode applications and the effective utilization of 50-micron multimode cable to support applications, particularly Gigabit Ethernet.
The distance limitation for 62.5-micron multimode fiber is about 240 meters compared with 550 meters--or more than double the distance--with 50-micron multimode fiber.
And, there`s more good news besides better performance over longer distances for the 50-micron multimode fiber: 50-micron multimode fiber costs less than 62.5-micron multimode fiber. "The material is typically less expensive to make and, therefore, we can pass the savings to our customers," says Michael Connaughton, fiber-optic product manager at Mohawk/CDT (Leominster, MA).
The fiber industry has seen price depression overall, according to manufacturers. In particular, singlemode- fiber costs have decreased by as much as 50% due to high capacities. In general, pricing for hybrid fiber-optic cable is strictly fiber-driven.
AMP`s Beam also points out a couple of trends in cable construction that impact the hybrid market. One trend is the popularity of indoor/outdoor- cable construction that provides reliable outside cable and also allows the cable to run inside to a terminal point without having to transition to inside-plant cable. Another observation is that both indoor/outdoor and indoor-only cable are moving toward dry- water-block materials versus gel-filled water-blocking materials. Dry-water-block material can be used in either straight singlemode or multimode fiber as well as in hybrid cables. "Installers tell us that they prefer to work with the dry-water-blocked cable because it`s easier to terminate, faster, and cleaner," he says.
A closer look
More than a half-dozen manufacturers offer hybrid fiber-optic cables that target a variety of applications, including premises distribution, outside plant, and indoor/outdoor. A closer look at vendors and their product offerings shows that while much has stayed the same, there has been activity in vendor consolidation and new product introductions (see Product Update table, page 126).
What was formerly BICC Brand-Rex Co. is now BICC General Corp., a change that occurred mid-year, according to Dwyer. Along with the name change was the purchase of BICC Brand-Rex by General Cable Corp., which opted to keep BICC in the company name. More recently, General Cable bought General Photonics and put the company under BICC General. General Cable and General Photonics had been involved in a 50/50 joint venture.
How does the consolidation impact the products sold at the various companies? "To customers, the merger will be transparent," says BICC General`s Dwyer, adding that the products are not going to change. One thing that will change, however, is that BICC will move more toward a dis- tribution model versus an original-equipment-manufacturer model, but it won`t abandon the latter. "Our sources of fiber will also become more disperse internationally as well as domestically," he adds.
BICC General also recently introduced Micro-Pak plug-and-play, small-form-factor (SFF) cables that could be hybrids with up to 24 fibers (12 multimode and 12 singlemode). According to Dwyer, the Micro-Pak, a factory-engineered system, is considered an SFF high-density cable- management system and is the vendor`s first plug-and-play product used for this application.
Siecor (Hickory, NC) has always been a proponent of hybrid fiber- optic cabling, according to Allen Dixon, senior product specialist at Siecor. The vendor sells four different products in this cabling category. The way he sees it, vendor product differentiation has little to do with the hybrid cable itself and more to do with the overall product design, or building a better mousetrap.
Siecor, for example, incorporates a layer of Teflon in the optical fiber and tight buffer, which makes it easier to strip by reducing the strip force. "We`re able to increase the strip length and reduce the installation time to get connectors on the product," says Dixon. In fact, where technicians typically remove the tight buffer layer in quarter-inch increments, technicians working with Siecor`s product can remove 1- to 11/2-inch layers in one pass, he contends. Connections can be made in one minute versus five to 30 minutes--a reduction in time of 80% or more.
Not all vendors of hybrid fiber-optic cable are its biggest proponents. While Lucent Technologies (Murray Hill, NJ) offers products in this area, the company still sees hybrid fiber-optic cable as a niche application. "It makes sense for customers who know their future needs and have their equipment in the same rack," says Bob Pietruszka, senior product manager for fiber-optic outside-plant cable at Lucent.
Other than for this application, the Lucent spokesman says that putting singlemode and multimode fiber in the same jacket can lead to additional effort in recordkeeping and, potentially, installation if the singlemode equipment is not near the multimode equipment.
Mohawk/CDT`s Connaughton says his company`s approach has been to promote multimode fiber for local area networks (LANs) because it`s more economical than singlemode since the electronics, or active equipment, is less expensive. But he notes that singlemode fiber ensures a lifetime for cable length. "We`re seeing multimode and singlemode fiber going into hybrid cable [at an equal rate]," he says.
To the end user, he explains, the singlemode adds cost, but customers also get the long-term protection, critical length, and critical native high-speed capability from point A to point B. "Singlemode fiber is getting more attention in the LAN than ever before," he says.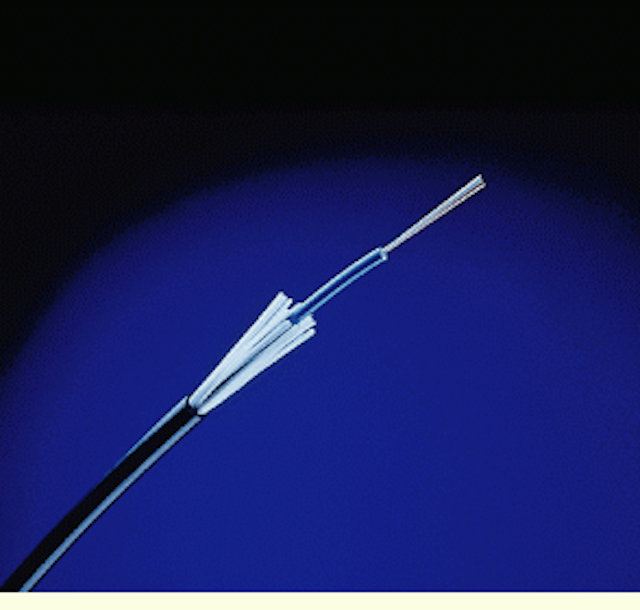 Click here to enlarge image
Siecor`s freedm/lst optical-fiber cable is flame-retardant, UV-stabilized, and fully water-blocked. This compact, all-dielectric cable is available in multimode, singlemode, and hybrid versions.
Lynn Haber is a freelance writer specializing in networking and telecommunications issues.