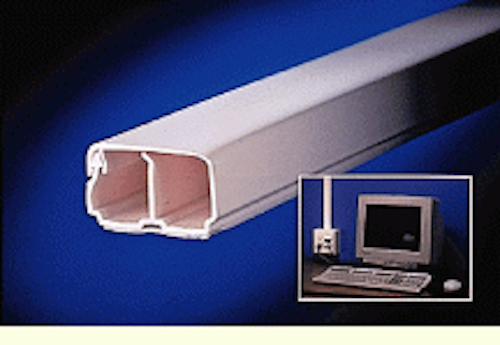 Mark A. DeSorbo
Students at Long Beach, CA-based Advantage/Signal Training can expect only a crash-course on the ins and outs of surface raceways.
"We don`t spend a lot of time on it," says Joe Gusman, executive administrator of training operations and a bicsi-certified trainer. "We do take them through it as part of an installation. They have to learn how to anchor it, how to assemble all the different shapes such as elbows, `Ts, and ends, and bring it to the faceplate."
Raceways, he says, are components that are often overlooked before and during an installation. "They are an afterthought and, in many instances, are [not even] included in the request for proposal," Gusman says. Years ago, he explains, raceways were somewhat temporary--a Band-Aid--but with the dawn of modular furniture, they have become a permanent fixture (see Product Update table, page 62).
Usually, Gusman quips, it`s the fledgling technician who gets stuck hanging the equipment--a tough job no matter what brand of raceway it is. "Every manufacturer has a different size raceway and there`s no adaptability between them," he adds. Moreover, many types of cabling raceways do have a divider that separates the electrical and data cables. "If moves, adds, and changes come about, you`ve lost the option to run power extensions, cable for alarms, or anything through there," Gusman says.
As for recommending a brand to his customers, he doesn`t. Gusman lets the customer choose, and most of the time the choice is Panduit Corp.`s raceways. The company manufactures nine different lines of raceways, the three latest ones being the T-70, the twin-70, and the ld2p10. "They are available in multiple colors--white, off-white, electric ivory, and gray," says Rick Akins, Panduit`s global data-communications marketing manager. "Along with the bases, covers, and divider walls, the fittings are designed to accommodate power and data cables and have the required bend-radius control."
The T-70 and twin-70 are multichannel systems that can be used together or independently. Fittings and terminations maintain a 1-inch bend radius for Category 5 and fiber-optic cabling. Both also feature tamper- resistant covers and fittings.
The ld2p10 has hinges on one side that opens, allowing installers to lay the cable in the raceway. "By being able to lay cable, you`re not putting added stress that often happens when pulling cable," Akins says. He adds that Panduit raceways often find their way into classrooms and dormitories.
Gusman can attest to this. "We are doing a lot of K-through-12 work. You can`t always fish the walls in an old cinder block or brick building," he says. "With raceways, you can get the cable into the classroom. They provide a simple solution."
Raceways come in handy
Raceways also come in handy in places such as New Mexico, where there are many buildings constructed of sun-dried clay and straw. "We have a lot of adobe-style buildings," says Michael Mitchell, project manager at Com- munications Diversified Inc. (Albuquerque, NM). "We often cannot fish through the walls, so we use raceways."
Mitchell admits that raceways have come a long way in terms of design. He says they used to look ugly, but now the component has taken the shape of crown molding to fit the cosmetics of the room. His brand of choice is the Wiremold 2300 Raceway, which can be mounted on ceilings and walls and holds copper and fiber. "The Wiremold 2300 holds 12 4-pair cables," Mitchell says. "We use a lot of it on top of office furniture in about 30% of our installations."
Although he speaks highly of Wiremold`s products, Mitchell also has some qualms about using any kind of raceway. One problem, he notes, is that standard colors for this type of component often do not match. "I wish manufacturers would match the whites and the ivories. Wiremold`s ivory is not the same ivory of an electrical faceplate," he adds. Another problem he has with raceways is that despite being more aesthetically pleasing, they still stick out.
The bottom line, Mitchell says, is to avoid using surface raceways. "If you can hide cable someplace else, do it. If you don`t have a choice, then go with a raceway," he adds.
Aside from installer opinions, the use of surface raceways is sometimes inevitable, which is why they continue to evolve.
Take the Perimeters raceway systems manufactured by The Siemon Co., for instance. The company`s raceways include a patented symmetrical hinge that allows cables to be retained during installation. "The symmetrical latching hinge locks in the open position to form a trough to load cables," says Bob Carlson, marketing manager. "The installer does not need to be concerned about which side the latch is on because it`s accessible from either side."
Siemon raceways also feature outside corner fittings. "One side is shorter, minimizing the gap between the fitting and the wall when installed on outside corners that are not exactly 90o," Carlson says. He adds that Siemon raceways comply with bend-radius standards and the Underwriters Laboratories specification, which requires a plate to separate cables from the wall. Carlson explains that the company designed its raceway systems to make them as good looking as possible and offer as many benefits to the installer. Available in three lengths and sizes to accommodate two to 16 cables, Siemon raceway systems are available in white and light ivory. "The Siemon Co. is not really known for manufacturing raceway," Carlson adds, "but we still ask people to try it."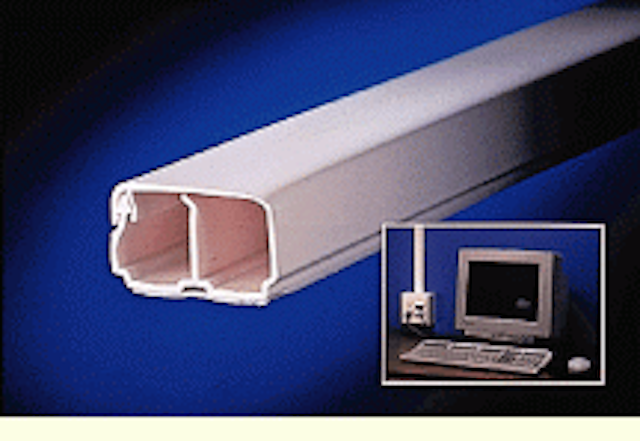 Click here to enlarge image
Panduit`s ld2p10 one-piece, hinged, 2-channel surface raceway is designed for data, voice, fiber-optic, and power cabling.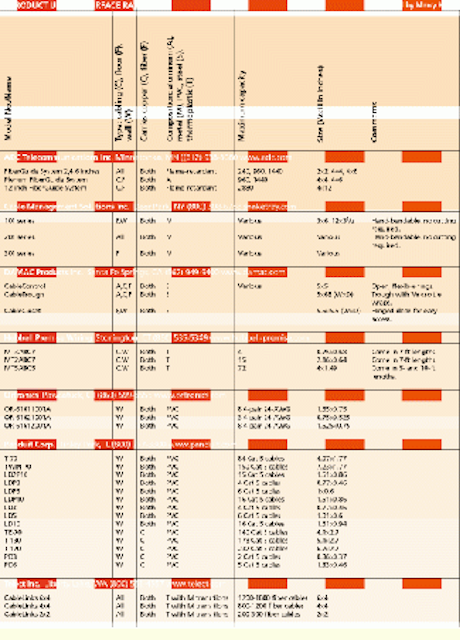 Click here to enlarge image