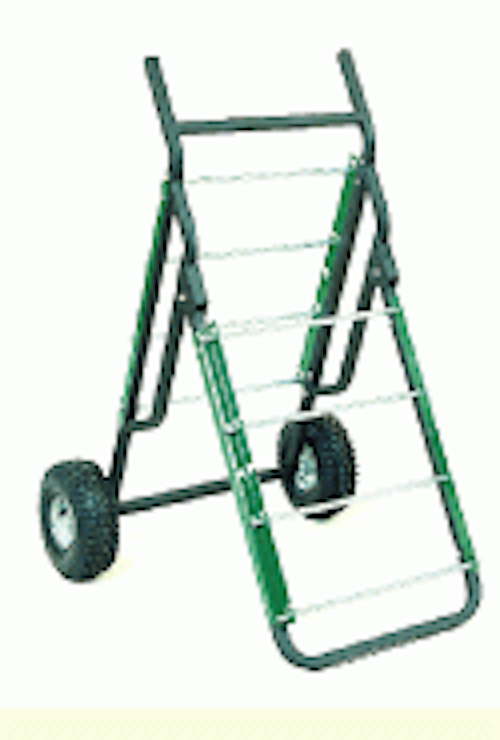 Patrick McLaughlin,
Carts, caddies, and other tools help installers move cable from its starting point.
Caddies, carts, and other instruments that hold reels during cable installation are among the most fundamental of tools in the arsenal necessary to ensure a timely, quality job. But the basic structure of the tools does not make them any less important than an installer`s most sophisticated technological device. When you`re on the job site, all your tools--from the simplest to the most complex--have to work appropriately. In fact, you can`t even get started if your dispensing equipment isn`t up-to-snuff.
Fortunately, the equipment is reliable, says David Talton, co-owner of Wyrecart (Wendell, NC), which manufactures and distributes wire- and cable-carrying tools. "My customers rarely require replacement parts for any of their tools," he says. "And when they do, it`s usually because a part was lost, not because it failed."
Wyrecart offers a variety of these devices, including carts, caddies, dispensers, stands, and jacks. Talton explains the differences among his products. "All are designed for a job-site environment. Each tool is designed to handle a different type of spool or coil."
"Caddies, carts, and dispensers are essentially the same tools," says Ken Hagemeyer, director of product management with Greenlee Textron (Rockford, IL). "They perform very similar functions and some people use the terminology interchangeably. Stands are a bit different than the others. They are not portable and are used to help lift a reel off the ground. Generally, stands are used for bigger loads than caddies and carts can handle."
Shapes and sizes
Even though caddies and carts ultimately serve a sole purpose--to accommodate reels of cable--they are available in several sizes and varieties. Some look like hand trucks with spindles that hold the reels, while others have four wheels and spindles branching off a metal trunk. And some fold up like a briefcase.
Music Supply Co. Inc. (Arlington, TX) makes the Easy Kary (EK) line of wire-reel holders, which includes seven models. Products in the EK line range from the EK-11/18, which weighs 17 pounds and has 22 total inches of reel space, to the EK-25/ 125A, which weighs 59 lbs and has 125 total inches of reel space. Yet, even the EK-25/125A folds up so users can carry it like a briefcase--albeit a heavy one--to the job site. Each holder in the EK series also accepts half-inch pipe, and when installers use this size pipe, they triple the amount of reel space available.
Stands have an entirely different look. They are used in pairs, and a spindle connects the two stands in the pair. Greenlee Textron offers a ratchet-type stand, which includes a ratchet mechanism to raise or lower the height.
Greenlee Textron and Wyrecart also offer rollers, which are equipped with built-in loading ramps and designed to handle large, heavy reels.
Rugged applications
Because these tools are generic in that they accommodate reels containing any type of cable or wire, they must be capable of withstanding nearly any environment. So they are typically made of strong materials such as steel and coated with materials that will hold up to harsh weather.
"All our tools are designed for use indoors and outdoors," says Greenlee Textron`s Hagemeyer. They are protected by a powder-coat finish, and the spindles are zinc-plated for protection from corrosion.
Similarly, Wyrecart`s products are coated with zinc for outdoor use. "Our more heavy-duty tools are made of structural steel with an enamel coating," Talton says.
All of Music Supply`s EK products, including the EK-13/ 24A specifically designed for small jobs, are made of solid steel.
All agree that the mobility of these tools is vital. Cable installers take these tools to the job site, set them up, and take them down so often that a clumsy piece of equipment is unacceptable. "We design all our products around the spool," says Wyrecart`s Talton. "When our products are set up, you see little cart and a lot of spool.
"One of the most important engineering considerations is whether an installer can fit the tool in the back of the van," he continues. For that reason, most of them fold and unfold as necessary and have wheels so they can be moved easily at the job site.
Room for improvement
As predictable as they may seem, wire-handling tools are still open to design improvements. Last fall, Greenlee Textron introduced its 9500 product line, a series of nine new caddies. Greenlee`s Hagemeyer explains that the caddies were designed by an electrical contractor and reflect the actual needs of users in the field. One of the design enhancements of the new line is the elimination of loose parts, particularly the pins that traditionally have held spindles in place. The company`s 9505 and 9510 models have slots that house the half-inch spindles, without the need for any pins.
Most products in the 9500 line fold for convenient storage and mobility. The 9505 and 9510 include 10-inch pneumatic tires in addition to the pinless design. One product in the new series, the 9520, is called the Data Cable Caddy and, as its name indicates, is intended specifically for data applications. It is so called because Greenlee Textron says its large width is ideal for spools of communications cable. The caddy folds down for storage and mobility and incorporates a pinless design.
Talton reports that Wyrecart`s SS model is the second most popular among communications-cable installers, behind the 550, which is a hand-truck-like tool. The SS includes two triangular spool stands, accommodates a 24-inch spool diameter, and weighs 10 lbs.
Ralph Rink, network administrator for electronic-component manufacturer Creative Electric Inc. (Auburn, NY), hasn`t had occasion to use cable-dispensing equipment. Rink oversees the operation of approximately 35 nodes, and in maintaining a network of that size, he has used reel-in-a-box cable without any problems.
"We`ve probably pulled a total of 6000 to 7000 feet of cable, including voice and data cable," he says. "We typically pull it right out of the box. Each box contains a 1000-foot spool, and we haven`t had to use any other equipment to help pull the cable."
But, for administrators of larger networks and for installers who pull cable daily, the investment in dispensing equipment pays for itself rapidly.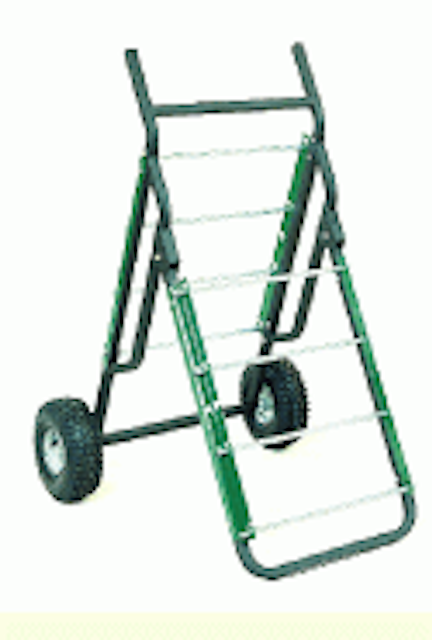 Click here to enlarge image
The spindles on Greenlee Textron`s 9510 model caddy fit into slots, eliminating the need for removable pins. Like other products in the 9500 series, the 9510 folds for convenient storage and mobility.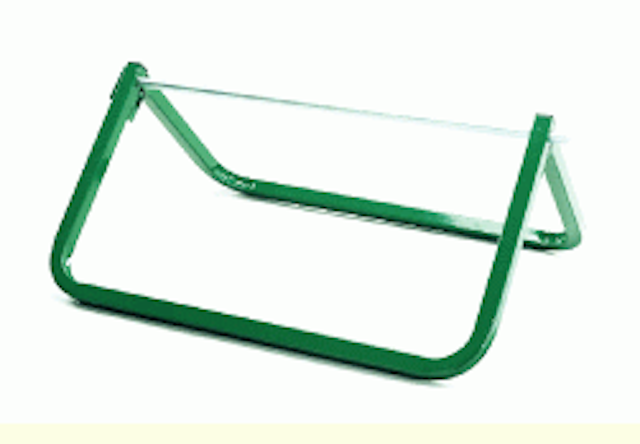 Click here to enlarge image
Greenlee Textron`s Data Cable Caddy can accommodate four 15-inch-diameter spools of communications cable.