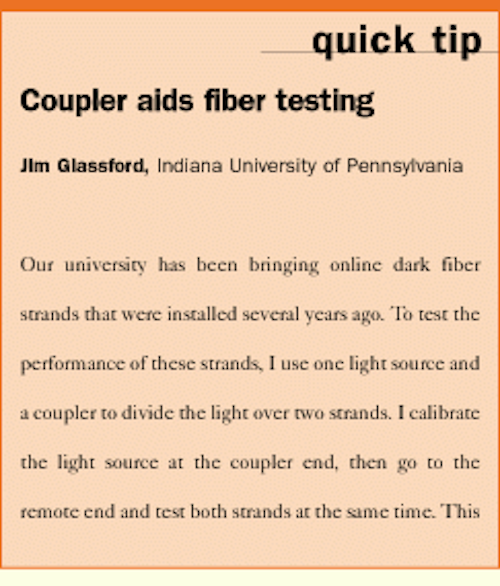 Robert Richards, Custom Cabling Services
Problem
After you have used a pullstring to make more than two or three cable pulls, on subsequent pulls the string tends to wrap around the cable bundle and tangle. Also, with the pullstring, new pulls run over, under, and through existing pulls, sometimes causing damage.
Solution
Suspend a loop of pullstring with two pulleys above the pull area, leaving 6 to 8 inches of pullstring to hang down. When you attach cables to the loop for each pull, the front end of the cable bundle will remain above the existing cables. When you`re done with the pull you can then place the newly pulled cables into the support structure.
Procedure
1) Place a small pulley at each end of the cable-run area.
2) Run a length of pullstring through the pulleys.
3) Leave 6 to 8 inches of pullstring hanging down.
4 Tighten and secure the ends of the cord to make a pulling loop.
5) Attach a swivel hook to the 6- to 8-inch loop that you let hang from the loop.
6) When conducting your next cable pull, attach the new cable bundle to the swivel hook and use the suspended pullstring to run the bundle through its route. Then place the newly pulled cable in the appropriate support structure.
The key to making this setup successful is ensuring the pullstring is tight. A tight pullstring will keep the leading end of the cable bundle above the existing cable, eliminating the possibility of tangles and damage.
In an area that`s difficult to access, leave the setup in place in case cable needs to be pulled there again. The labor associated with setting up the system again outweighs the cost of two small pulleys and a length of pullstring.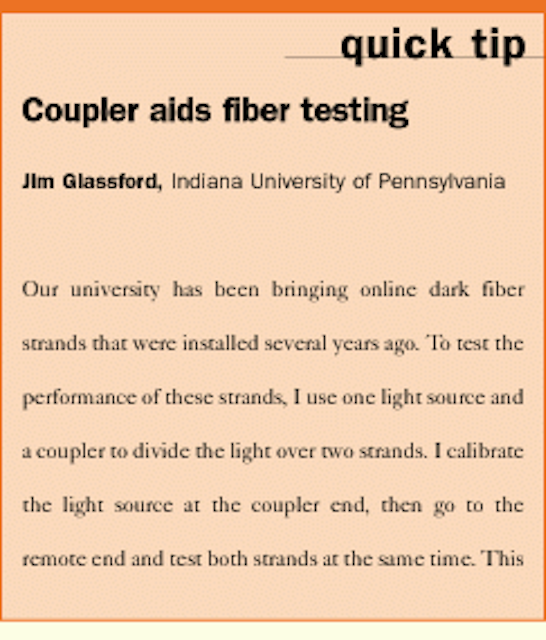 Click here to enlarge image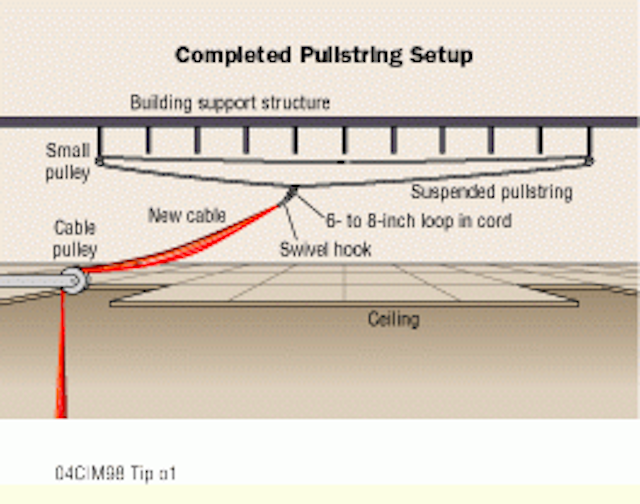 Click here to enlarge image
Although it looks complex, this setup is simple, low-cost, and eliminates headaches when you are pulling cables in an area where you have more than two pulls to make.
Robert Richards owns Custom Cabling Services (Interlochen, MI). This tip was submitted for the Cabling Installer Tips` Contest at Cabling Installation Expo `98, held last October in Atlanta, GA.