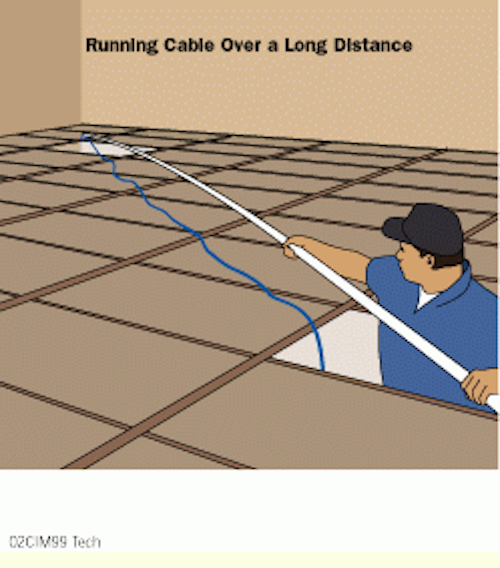 Devices help move cable up, down, and all around in demanding conditions as well as cramped quarters.
Patrick McLaughlin
Fans of the National Football League are familiar with John Madden`s theory that games are won and lost "in the trenches." Madden, a former nfl coach, believes that the performance of a team`s offensive and defensive linemen usually dictates how the team fares. But, these linemen don`t catch touchdown passes, break long runs, or kick last-second field goals that show up on highlight films. Being a lineman is not a glorious job, hence Madden`s reference to the trenches.
Cabling installers can relate to Madden`s theory. Vital information carried over a corporate voice-, data-, and video-communications network runs through cables that are installed in cramped environments, under trying conditions, often late at night, or over a weekend. Cabling installers work in the trenches, and the work is not glorious. No matter how technologically advanced the termination scheme of a modular jack or how tightly a manufacturer twists the pairs of a cable, that cable will be strung through a building using time-tested methods that often are handed from one generation of installer to the next.
Similarly, clever tricks of the cabling trade are handed down from experienced installer to apprentice. But, sometimes, even experienced installers face a problem that they just cannot negotiate. Fortunately, several manufacturers have developed tools for installers who find themselves in difficult circumstances.
Finding hard-to-reach areas
Crain Enterprises (Mound City, IL), which manufactures predominantly land-surveying equipment, developed the Gopher Pole, a wire installation tool. The Gopher Pole is a telescoping device 2 inches in diameter that expands from 52 inches to 22 feet in length. It weighs 4 pounds and is made of fiberglass. The Gopher Pole is designed to allow installers to bring cables over long spans or into hard-to-reach areas above suspended ceilings, beneath floors, and in crawl spaces and attics.
According to Jeff Crain, vice president of Crain Enterprises, his brother invented the Gopher Pole after leaving Crain Enterprises to install security systems. On a particularly difficult installation 12 years ago, he resorted to using a scrap piece of telescoping surveying equipment to help him access an area. That was when the proverbial light bulb went off in his head and, along with Jeff, he designed the Gopher Pole. The pole includes what Crain Enterprises calls a hook/skid tip, to which an installer attaches the cable. The user then extends a fiberglass section until it stops and rotates the section until the snap/lock button locks securely in place. Jeff Crain reports that the Gopher Pole has gone through one modification in its 12 years. "It`s basically the same product it has always been. The one change we made was cosmetic," he says, adding that the pole "is a generic-type tool for wire and cable installers. It`s a good tool for an installer to have in a bag of tricks. Like a drill, you`re not always going to use it, but when you do, it pays for itself pretty quickly.
"In fact, in an installation environment, it might pay for itself the first time it`s used," he says. "It`s a $150 tool, and if you consider the time spent trying to achieve another solution, the Gopher Pole is typically a worthwhile investment."
Crain adds that workers other than installers of voice-, video-, and data-communications cabling plants use the Gopher Pole. "It`s attractive to people who wear coats and ties every day and don`t want to get dirty climbing up above a ceiling. We don`t offer attachments, but users sometimes add their own and put the pole to use for a number of purposes. Government agencies have used it to plant listening devices."
He says the pole is also being well-received in the home- theatre installation market, as evidenced by a strong response at a recent consumer-electronics trade show.
A reel benefit
Reusable plastic reels are the forte of ipl Inc. (St. Damien, QC, Canada). The company manufactures the Reelsaver reel for the premises and campus environments and recently began producing the U-1000 reel for long-haul cabling applications. Sid Braunstien, ipl`s director, has confirmed through research that the cost of the reel is built into the cost of a reel of cable. If an installer could purchase just the cable and supply the reel, Braunstien reasons, the cost of a coil of cable would be lowered. Eventually, the investment in a reusable reel would pay for itself, then begin to pay monetary benefits to the purchaser.
The trick is to get cable manufacturers to offer a coil of cable, fit to the specifications of the Reelsaver or U-1000. So far, ipl has enlisted several cable manufacturers such as Cable Systems International (csi--Phoenix, AZ), a company that produces cable for premises, campus, and long-haul applications.
The Reelsaver can accommodate 1000 feet of 4-pair indoor/outdoor Category 3 cable. It weighs a little more than seven pounds and is stackable. The U-1000 can accommodate 2000 feet of Category 5 plenum cable and is available with a speed-control A-frame that aids maneuverability.
Dennis Sheehan, technical manager for Talton Telecommunications (Raleigh, NC), used ipl`s U-1000 when installing csi`s Category 5 cable in a correctional facility in Raleigh. He also used it when installing 5-pair buried service wire in a park in the Raleigh area.
Something up your sleeve
Jeff Crain characterized his company`s Gopher Pole as a good addition to an installer`s "bag of tricks." A company called Labor $aving Devices Inc. (Commerce City, CO) offers enough time-saving products to fill such a bag. The StudSensor is a non-magnetic tool that detects changes in the density of a wall, rather than detecting metal. It allows users to find hidden wood and metal studs through drywall, plaster, or wood. The StudSensor typically helps installers fish cables between floors by finding studs above ceilings.
The product is manufactured and patented by a company called Zircon. "We have been offering it, although we don`t manufacture it, because we feel it is one of the tools a wire and cable installer completing retrofits should own," says Patrick deVille, president of Labor $aving Devices. "It will locate obstacles inside a wall before the installer gets into the wall."
Another product from Labor $aving Devices, the 2nd Man Cable Pulley, eliminates the need for a second technician to feed cable up through a ceiling or around turns during a cable pull. A simple tool, it includes a pulley, a hanging strap, an axle pin, and a retaining latch. Users snap the hanging strap off the axle pin and the retaining latch, attach the pulley to a support device, and snap the strap back on the axle pin and in the retaining latch. Using the same technique, the user can position other pulleys at horizontal turns and elevation changes throughout the cable run.
"Conceptualized by a cable installer and inventor at heart who was looking for a better way to pull cable in commercial buildings, the 2nd Man Cable Pulley was developed and is manufactured, under agreement, by the inventor`s former company," deVille explains. "Currently a plenum version is being developed and should be submitted for Underwriters Laboratories approval early in 1999," he adds.
Other products from Labor $aving Devices include the Sling-A-Line Slingshot for pulling long cable runs; the Mini Scoping Retriever; Creep-Zit, which the company says makes traditional fish tape obsolete; the Kary-Kit Wire and Cable Kit, which is a series of cable-installation tools; and three- and five-section telescoping push/pull poles called Grabbit. DeVille comments that Fishtix is also the brainchild of a telecommunications installer and works well when pulling cables in raceways that are 100 feet or longer.
Roy Bowling, who founded Labor $aving Devices, was an alarm and security installer who created several tools to help make his own job easier. He eventually left the installation practice to become a trainer and then was persuaded to manufacture the homemade tools he referred to in his training classes.
"Telephone installers, including major telephone companies, were among the first to use our tools outside of alarm and security dealers," deVille notes. "This segment, including data-communications installers, now represents our second largest low-voltage market."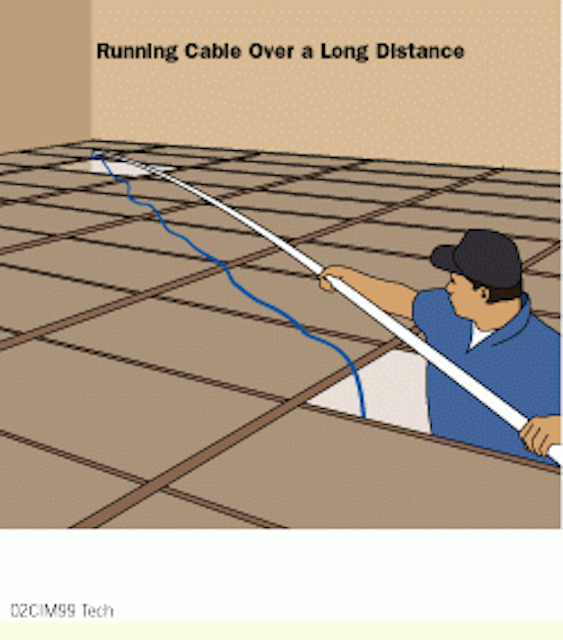 Click here to enlarge image
The telescoping action of the Gopher Pole allows it to reach 22 feet in distance.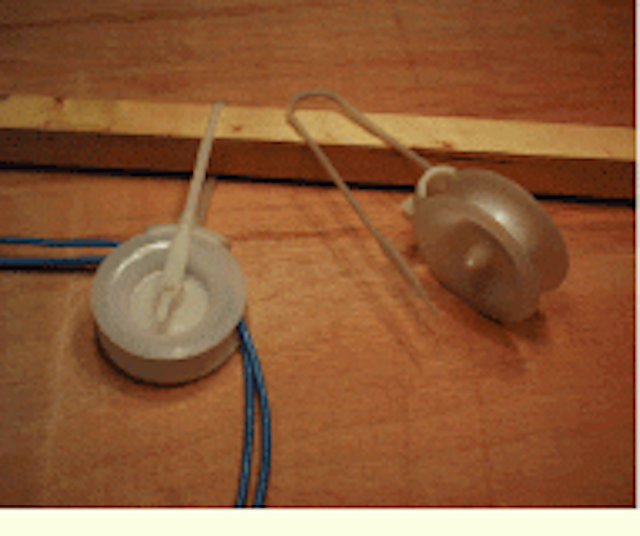 Click here to enlarge image
The 2nd Man Cable Pulley is currently available for non-plenum environments and may soon be offered in a plenum version.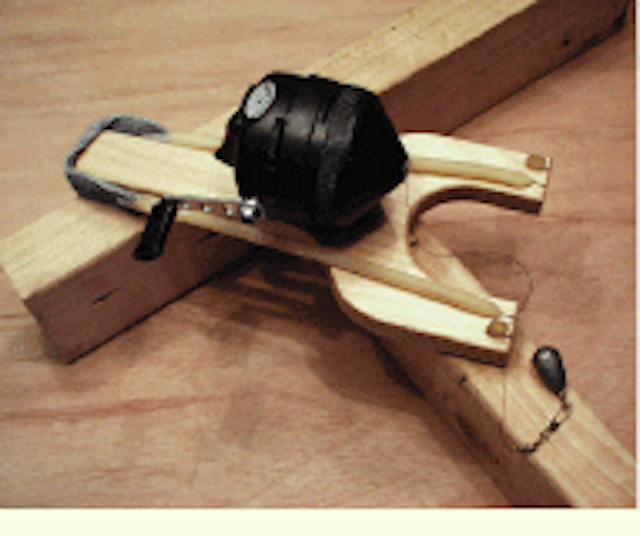 Click here to enlarge image
Labor $aving Devices reports that Sling-A-Line, the company`s first tool, remains one of the fastest ways to run cables over false ceilings.