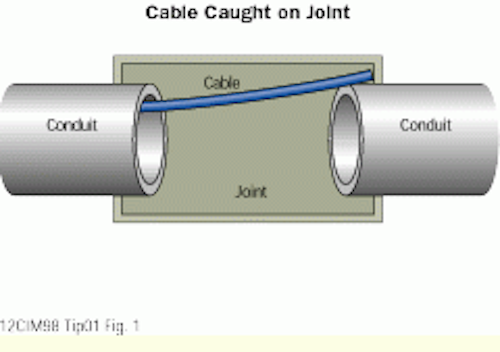 William J. Masterson, Buckeye Information Systems Inc.
problem
When feeding a single cable through a stubbed conduit to an outlet box, installers sometimes get frustrated because the cable can easily get caught on the joint that holds the conduit pieces together. The problem exists because the cut end of the cable is essentially flat and butts up against the conduit joint.
solution
By bending the end of the cable over to form a rounded end, you can drastically minimize or even eliminate the problem.
procedure
1 Bend back the last 3 to 5 inches of the cable so that it forms a loop.
2 Twist the end around the cable at least twice and tape it if desired.
3 Ensure the loop is round and small enough to fit inside the conduit.
4 Slide the cable into the conduit and push it toward the outlet box.
5 If the cable hits the conduit joint, simply turn the cable. It should easily slide past the joint.
6 Once the cable reaches the box, pull it out, cut it, and terminate it.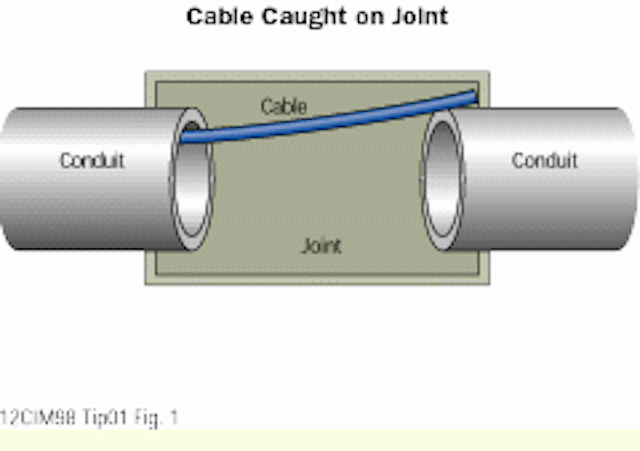 Click here to enlarge image
A single cable can easily snag against the joint that holds together two pieces of conduit.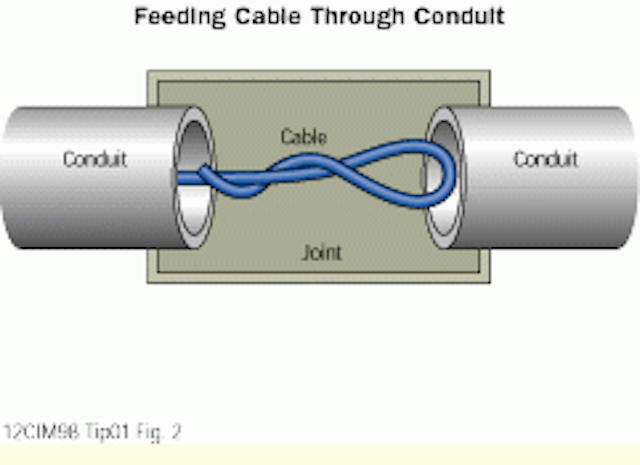 Click here to enlarge image
A cable that is rounded like this one will slide past the conduit joint when twisted.
William J. Masterson is a cabling installer with Buckeye Information Systems Inc. (Dayton, OH). This tip was submitted for the Cabling Installer Tips` Contest at Cabling Installation Expo `98, held last October in Atlanta, GA.