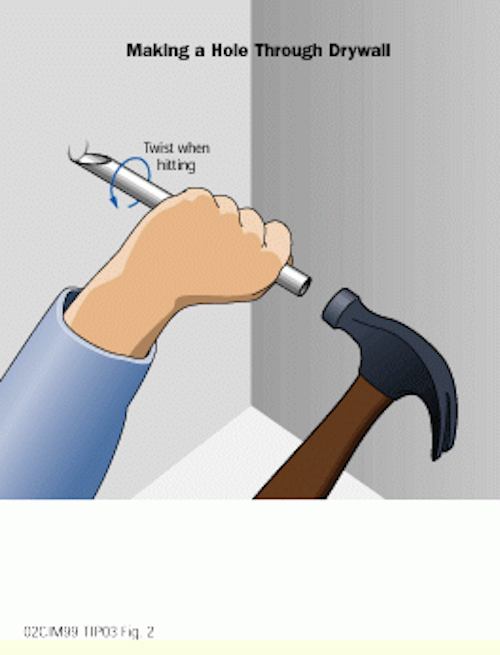 Bernie Gavlick, MK Gavlick Inc.
Problem
Trying to make a hole in drywall for a toggle bolt is typically a messy process, especially when you use a screwdriver or a star drill.
Solution
Punching the hole through the drywall with a length of 1/2-inch emt conduit is much cleaner. The hole punches through without a lot of dust or debris.
procedure
1 Cut or find an 8- to 12-inch-long piece of scrap emt conduit.
2 Cut one end of the conduit at a 45o angle.
3 Hold the conduit in one hand and, using the other hand, pound the angled end of the conduit into the drywall with a hammer.
4 As you hit the conduit with the hammer, slowly twist the conduit (either clockwise or counterclockwise, whichever is easier).
5 Using this approach, you will make a clean, perfectly sized hole for toggle bolts that can be used to mount racks and other equipment to the wall.
Click here to enlarge image
Holding the conduit in one hand, slowly twist it as you hammer the angled end into the drywall to make a clean hole.
Bernie Gavlick is an electrical worker with 20 years of experience and a member of ibew Local 163 in Wilkes-Barre, PA.