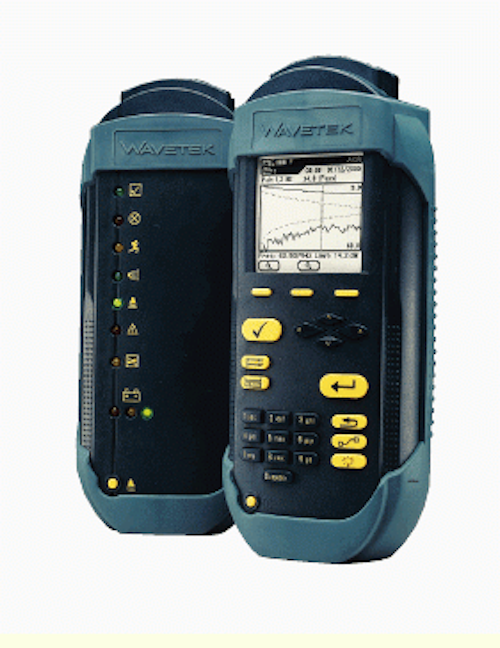 Mark A. DeSorbo
First, it was Category 5. Then it was Category 5E. Now, local area network (LAN) cable-tester manufacturers have thrown aspects of the proposed Category 6 and the distant Category 7 into the mix. Spicing it up even more are the merger-acquisition transactions that have occurred within the market.
A watched pot never boils, but when this one does, you`d better be watching. Even though three of the five major tester manufacturers have merged with or been acquired by other companies, the desire to be the number one maker of testers has never been greater. The varying opinions of the players are testament to that.
"We see the merger-acquisitions as a softening in the strength of competition, and we`d like to think that makes us the experts," says David Coffin, Microtest Inc.`s vice president of research and development.
Scott Lindsay, product marketing manager for Hewlett-Packard/Scope Communications, says real strength comes in the number that makes up the sales and marketing force. "The rationale for partnering with Hewlett-Packard [HP] wasn`t because we were not profitable," he says, adding "HP is a force to be reckoned with, and it has allowed us to grow to the next level by giving us market penetration everywhere."
The merger-and-acquisition activity has intensified the rivalry among tester manufacturers. Competition among tester manufacturers began to build in September 1995 when the Telecommunications Industry Association (TIA --Arlington, VA) issued telecommunications systems bulletin TSB-67. The Bible for testing and verifying links of Cate-gory 5 cabling, TSB-67 mandated four tests--attenuation, cable length, near-end crosstalk, and wire map--that installed cable must pass for certification. The document also changed the way installers chose a tester, which at the time sent the then five tester manufacturers jousting for the top market position.
Four years later, Datacom Textron Inc., Fluke Corp., Hewlett-Packard/ Scope Communications, Microtest, and Wavetek Wandel & Goltermann are still vying for customers--more so now that new requirements are on the horizon.
That push has caused the level rating of testers to change. Level II testers are expected to get overshadowed by emerging Level IIE testers for Enhanced Category 5 (5E) and Level III testers that can test Category 6. The measurement accuracy for Level II near-end crosstalk (NEXT) is plus or minus 1.6 decibels at the basic link pass/fail test limit, while the measurement accuracy for attenuation is plus or minus 1 dB.
Henriecus Koeman, a principal engineer at Fluke, says the five major lan cable tester manufacturers actively participate in tia discussions involving performance parameters. "We know roughly what the pass/fail limit is going to be," he says. "We have all agreed that our goal for Level IIE is plus or minus 2-dB accuracy at the pass/fail limit for Category 5E. For Level III, we want to be plus or minus 2-dB accuracy at the far more sensitive levels of Category 6."
General requirements for next measurement accuracy for the channel, Koeman says, are more stringent for Level II than they are for Level IIE.
New testers emerge
Paul Kish, chairman of the TIA`s TR-42 committee, which covers testing procedures and field requirements, says a new generation of testers has already emerged. "There are new requirements for accuracy, far-end crosstalk [FEXT] and return loss, which is a key parameter of Gigabit Ethernet." Although there are no plans to amend TSB-67, new testing procedures and field requirements will be covered in the TIA/EIA-568A addendum, Kish says.
The plan is to combine TSB-67 with the 568B standard, which will consist of three documents. The first section, 568B1, will be the main document, while 568B2 will provide detailed specifications on copper cable. The last section, 568B3, will address fiber-optic cabling.
While new addenda are being hashed out, many manufacturers are continuing their efforts to build the tester of tomorrow today. Datacom Textron`s LANcat System 6, Fluke`s DSP-4000 digital cable analyzer, Microtest`s omniscanner, and Wavetek Wandel & Goltermann`s LT8155A are examples.
For Paula Foley, office manager for Associated Voice and Data Services (Waltham, MA), the decision on what tester to buy depends on the price tag. "When we buy a tester, we look for more bang for the buck," Foley says. "Presently, we use [HP`s] WireScope 100."
Associated Voice and Data buys lan cable testers every five years, always shopping for the best bargain. "If there were a product available for $3000 instead of $5000, we would try it," Foley says, adding that she wishes LAN cable testers were more durable.
HP`s most celebrated LAN cable tester is the WireScope 155, which certifies Gigabit Ethernet, Category 5, Category 5E, and fiber-optic installations. It also incorporates the new measurements, such as equal-level far-end crosstalk (ELFEXT), return loss, delay skew, power-sum near-end crosstalk (PS-NEXT), and PS-ELFEXT.
Testing at Category 5E
HP/Scope`s Lindsay says, "The ability to test at Category 5E must be in an installer`s bag of tricks to be competitive. A minority of jobs that installers are bidding on may have a Category 6 request, although the standard isn`t firm."
The Category 5E and Category 6 standards may not be set in stone, but some tester manufacturers say that installers still want the ability to assess networks at that level. "The sophistication of the tester and measurement is needed, and installers also want something simple and easy to use," says Microtest`s Coffin.
Microtest manufactures a number of LAN cable testers, most notably the OMNIscanner, a 1998 Cabling Product News IQ Award winner, as well as the PentaScanner 350 and the PentaScanner+. While the PentaScanners certify only Category 5 cabling, the OMNIscanner has the functionality to test cables complying with upcoming standards for Categories 5E, 6, and 7. Coffin says the OMNIscanner offers latitude with 100 dB of headroom and can support up to 300-MHz bandwidth. Microtest also introduced the OMNIfiber attachment, which enables the OMNIscanner to test multimode and singlemode fiber. "We are targeting the diagnostics environment with our products," Coffin adds.
For installers at Federal Communications Group (Tempe, AZ), testing beyond Category 5 is key, and they do so with a variety of testers, one of which is the Microtest omniscanner. Paul Haire, account manager for Federal Communications, says the company also uses Fluke`s DSP-2000 and HP`s WireScope 155.
Microtest, however, is not the only tester manufacturer to provide fiber-optic testing capability. Datacom Textron also introduced its fibercat Test & Talk, an upgrade option for the company`s LANcat testers that certifies multimode fiber pairs by comparing 850- and 1300-nanometer loss, length, and propagation-delay measurements according to industry standards.
"It is the fiber equivalent of the necessary copper tests. Until recently, the loss or attenuation of the fiber was generally regarded as the only parameter of interest," says Jim Bordyn, Datacom Textron`s vice president of marketing. "It was common practice to measure that at 850 and 1350 nm. The change that is emerging as a new requirement is due to the new Gigabit Ethernet applications, which is putting much more restrictive length limitations for proper use over fiber."
When it comes to heralding the testing of Categories 6 and 7, Datacom Textron is more conservative, saying its MAPcat 1100 fault tester measures wire continuity for Category 6 and 7 proposals. "We are not making claims that we can meet standards that are so far off, and we won`t until we are more certain of what those qualifications will be," Bordyn adds.
Questions remain
The questions that remain, he says, are: "What happens if it fails? Who is going to take responsibility for it?" There are a number of what he calls pre-standard products that customers take a risk buying.
Datacom Textron, Bordyn says, is discovering that the greatest interest installers have is meeting the upcoming Category 5E specification. The company is also finding that installers want to measure attenuation-to-crosstalk ratio (ACR) and PowerSum ACR to meet Categories 5 and 5E. "They are looking for a way to get this measured...to validate the systems that guarantee this type of performance," he adds.
Datacom Textron manufactures six models of lan cable testers, which include the lancat System 5 and the LANcat System 6. Bordyn says the most popular tester in the line comes in the form of a package deal--the LANcat System 6, which includes the module for fiber testing.
The ability to talk over twisted-pair and fiber and a module to test fiber are also features of Fluke`s newest tester, the DSP-4000 CableAnalyzer. It performs two-way auto-tests in about 10 seconds, while automatically diagnosing cabling faults and displays results graphically and in text.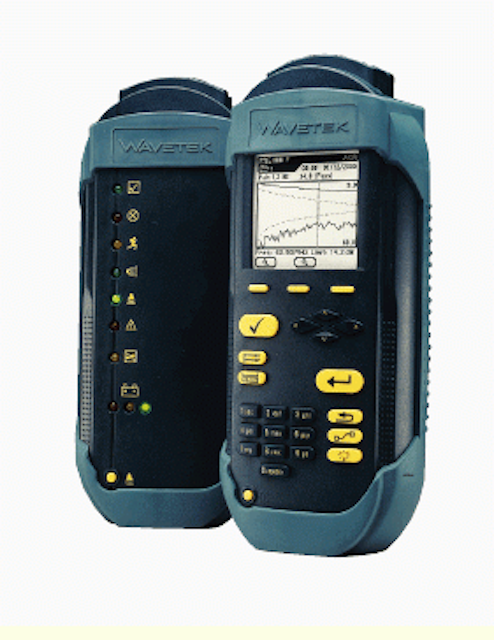 Click here to enlarge image
The LT8155A LAN cable tester from Wavetek Wandel & Goltermann offers Category 5E certification and measures PS-NEXT, ACR, and headroom up to 155 MHz. The company says it also ensures that cable supports Fast Ethernet, 155-Mbit/sec Asynchronous Transfer Mode, and Gigabit Ethernet.