Massive cabling project at the EPA
Charged with safeguarding the natural environment, the U.S. Environmental Protection Agency (EPA) is also improving its own working environment. As part of the relocation of its headquarters to the Federal Triangle Complex in Washington, DC, the EPA is undergoing a major upgrade of its voice- and data-communications network. The agency has begun consolidation of its Washington-area staff of 5700 employees--currently located in various sites in Washington, DC, and Virginia--to four buildings with
May 1st, 1999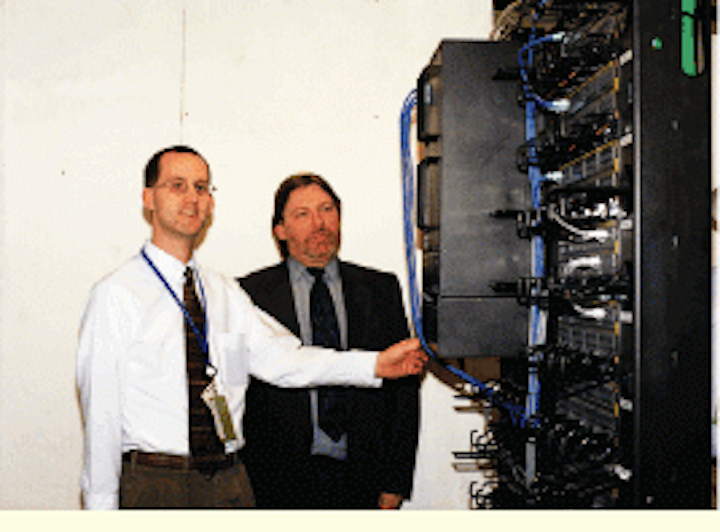 The agency consolidates headquarters and centralizes its network.
Catherine Varmazis
Charged with safeguarding the natural environment, the U.S. Environmental Protection Agency (EPA) is also improving its own working environment. As part of the relocation of its headquarters to the Federal Triangle Complex in Washington, DC, the EPA is undergoing a major upgrade of its voice- and data-communications network. The agency has begun consolidation of its Washington-area staff of 5700 employees--currently located in various sites in Washington, DC, and Virginia--to four buildings within the Federal Triangle. When the move is completed, EPA headquarters will be housed in the new Ronald Reagan Building and three buildings dating from the early 1900s.
George Kranich, chief of the EPA headquarters services branch, explains that moving to a new site gave the agency the opportunity to improve network services to keep pace with rapidly changing technology. The agency determined that a fiber-optic backbone for the complex, which covers a city block, combined with Category 5 copper cabling to the desktop, would meet its needs for the foreseeable future. "Five years ago, we transitioned from analog services to isdn [Integrated Services Digital Network]," says Kranich. "In the isdn environment, we were still using twisted-pair, and the backbone for our data network was copper. We have now migrated to fiber and an FDDI [Fiber Distributed Data Interface] ring for our campus backbone. We also put in a Cisco router and are connecting all our LANs [local area networks] to a centrally managed system that will give us more capability and better response time and reduce costs," he adds. The agency`s 16-megabit-per- second Token Ring network is being replaced by switched, 10-Mbit/sec Ethernet to the desktop.
Over the years, each of the EPA`s program offices had developed its own LAN infrastructure and maintained its own server. With 12,000 nodes, the network stood to benefit from centralized management. Its backbone of singlemode and multimode fiber at the Federal Triangle makes centralization possible. Kendyll Benson, senior network engineer with Lockheed Martin (Bethesda, MD), contractor to the EPA, explains that the fiber backbone is key because it allows the implementation of 400-Mbit/sec, full-duplex Fast EtherChannel technology. "Since fiber is already in place, it made sense to tie the whole backbone into one continuous high-speed network," Benson says. "We`re using Cisco 5500 Series switches to dedicate bandwidth to the desktop."
Centralization through fiber
This design enables centralized backups of file-server data to servers located throughout the Federal Triangle complex. "The way we do backups now," explains Benson, "we may have five file servers servicing 100 users. We propose to centralize that backup solution without any degradation of bandwidth. It`s definitely better for management, maintenance, and costs."
In addition to fiber, the campus backbone contains emergency copper voice ties that, in case of an outage, can be used to supply voice from another frame or building. Furthermore, coaxial cable in the outside plant supports the network`s desktop video-distribution system. A proposal is currently under review to migrate all campus video systems to singlemode fiber, which would diminish the size and quantity of conduit necessary to connect the campus.
The installation
In the latest phase of the project, DynCorp (Washington, DC), the EPA`s installation contractor, is installing cabling in the northern half of the seven-story Ariel Rios Building--a 500,000-square-foot area. Shaped like two semicircles placed back-to-back, the stately 1930s building is also undergoing renovation in its north side to restore the interior and to meet code. Renovation of the south side was completed five years ago and that side is already occupied by the EPA.
The Rios Building network is configured in a star topology with 12-strand multimode/12-strand singlemode fiber linking the main computer room on the sixth floor to 20 telecommunications closets (TCs) throughout the northern half of the building and 11 in the southern half. Dedicated TCs are being built on each floor of the north side to accommodate the network. In the south side, existing TCs are being used. All horizontal cabling will be plenum-rated Category 5 cable from Mohawk/ CDT (Leominster, MA).
As a registered historic structure, the Rios Building is protected under the National Historic Preservation Act of 1966, which mandates that all such buildings undergo reviews by both state and federal historic preservation officers before construction or renovation is begun. Ultimately, the epa and General Services Administration (GSA) are responsible for following preservation guidelines and for restoring the building to its original appearance after the work is completed.
Installing a modern structured cabling system in historic buildings requires more than technical skill--it takes creative thinking as well. "Dealing with historic buildings is the biggest challenge," says Bruce Riddle, DynCorp`s epa telecom manager for headquarters operations. "Most are from the early 1900s, and the Historic Preservation Office has mandated where you can and cannot disturb hallways, ceilings, and the structure. So we`ve had to come up with innovative solutions to get infrastructure cabling to those locations without disturbing the historic environment."
Solid mahogany walls are among the architectural elements in the building that cannot be disturbed. "We`ve done a lot of poke-throughs through the floor, going under the wall and coming back onto the same floor, rather than disturb the walls," says Riddle. "We`ve also done a lot of `cropping` in the hallways. We use flexible conduit that we put above the existing hallway, boring above it and coming across the hallway. Usually, you can just run a pipe across the ceiling, but that`s not doable here. You have to go the extra length to get connectivity and pathways across these hallways." In cases where this solution is not feasible, the construction crew has to cut holes in the ceiling to allow access for cabling and then has to come back and restore it to its original appearance.
In addition to the restraints imposed by the historic nature of the building, Telecommunications Industry Association/Electronic Industries Alliance (TIA/EIA--Arlington, VA) guidelines add another layer of complexity to the project. "It`s challenging to try to stay within the TIA/EIA standards for distance and all the limitations set by the tia, but we do try to adhere to them at all times," comments Riddle.
Standardizing the installation
Keeping an eye on the bottom line, Riddle recommended to the epa that it phase out multiple vendors and migrate, instead, to one manufacturer`s products. "When I first came to the epa, we had a mixture of various products," says Riddle. "I felt we could save money on warehousing and support issues for moves, adds, and changes if we moved to a one-vendor solution. I surveyed all the epa`s new headquarters sites and most of the installed base we had was Ortronics. As we vacate sites and our inventory of other manufacturers` parts goes down, that narrows down what we have to warehouse and inventory for those folks."
According to Riddle, the Ortronics system includes features that lend themselves to use with both modular cubicles and hard-walled mountings. "Other products may do that as well," he concedes, "but if we use just one manufacturer`s product, we just have to support that one manufacturer, and we don`t have to stock multiple lines." It also makes it easier for technicians, Riddle points out, because they know exactly which parts they`ll need to take with them when they set out to a trouble spot.
Another benefit was Ortronics`s 25-year warranty. To qualify, DynCorp had to train its technicians to use the company`s products and submit all its designs and engineering drawings to Ortronics before the installation. During installation, a certain percentage of Ortronics-trained technicians must be on the job at all times. After installation, DynCorp has to submit all its data back to Ortronics for verification that the installer has performed the installation according to the original plans. Stringent criteria, perhaps, but Riddle believes it`s worth it to have the installation guaranteed for 25 years.
Keeping it all running
In addition to voice and data applications, the EPA makes extensive use of dial-up videoconferencing. The agency`s wide area network connects it to 10 epa regions throughout the continental United States and to state environmental-protection offices. Connections to the Department of Justice and other government agencies are over T1 1.554-Mbit/sec lines.
Proactive management is key to keeping the network running glitch-free. "By centralizing and consolidating all the file servers into central computer rooms," says Kranich, "the technical staff can constantly monitor them, so they are aware of any problems with the servers well before the client sees any degradation on his screen."
The staff of about 15 technicians also handle daily moves, adds, and changes, trouble-tickets, and maintenance issues to be sure dial tone is correct, all numbers are to the correct users, and any frame installations are installed correctly. Dial tone to the EPA is provided by the gsa`s Washington Interagency Telecommunications Services system.
In addition, a staff of customer-service representatives go out and survey all the program offices to make sure they have gathered all the pertinent information, to make the move to the new offices as easy as possible for employees. "We also have a staff of line-assignment folks who do all the entry for the baosc [Bell Atlantic Operating System Connectivity] program," says Riddle. "We input telephone features for each user into baosc and we also staff an engineering division and an Autocad division. Any time a change is made, it`s added to our documentation."
Day-to-day moves that do not involve running new cable are handled as a "Quick" programming entry in baosc. The installation team keeps an inventory of cable and pairs as well as jack locations and numbers for each user. "Unless we install new cabling for a new user or put the user in an area where there was no cabling before, it`s simply done in baosc where we can keep updated cable and pair information for that particular connection," says Riddle.
With its hard-walled offices, the Rios Building interior may not look like the typical corporate office with modular cubicles. Nonetheless, the churn rate is just as high. "We`re always doing moves, adds, and changes," says Riddle. "We have a regular weekly meeting where people request to move one to 20 users, and we support that also."
What`s ahead?
Future network growth is planned by adding more cabling than is currently needed. "We place 10% more cabling in locations where we think users will likely be placed in the future, so we don`t have to come back and start from the closet and pull cable all the way through to the user`s area," explains Riddle. "We can simply go above the ceiling, find the spares, drop them down, and have connectivity without disturbing the client any more than we absolutely have to. And those spares are also placed on the Autocad system so we know where they are."
Cabling of the north side of the Rios Building is scheduled for completion next fall. Expansion of the infrastructure will be assessed as the EPA`s needs change. For example, the agency is keeping an eye on voice-over-Internet- protocol (voice-over-IP) technology. If that technology matures to the point where it is practical and cost-effective, the EPA will likely implement it. "Based on the technology we have now, we`d have to put in new switches or routers to accommodate voice-over-IP," says David Michals, epa headquarters network supervisor.
The use of Fast EtherChannel technology in the backbone will make implementation of voice-over-IP and migration to Gigabit Ethernet easier and less expensive. The epa does not require Gigabit Ethernet at this time, but when the agency is ready for voice-over-IP and multimedia to the desktop, the bandwidth will already be in place and the upgrade will be much easier.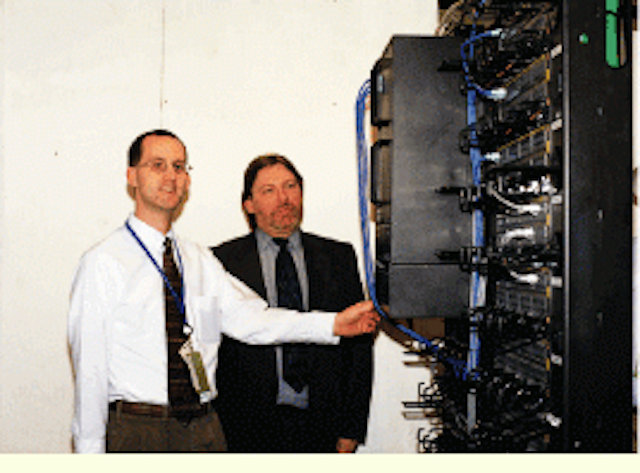 Click here to enlarge image
Tim Maas (left), senior systems analyst with Lockheed Martin (Bethesda, MD), and Bruce Riddle, DynCorp`s EPA telecom manager, headquarters operations, prepare to install a Cisco switch. The new wire-management system, which consolidates voice and data connectivity, is replicated in all the telecommunications closets in the installation so technicians can quickly locate cables.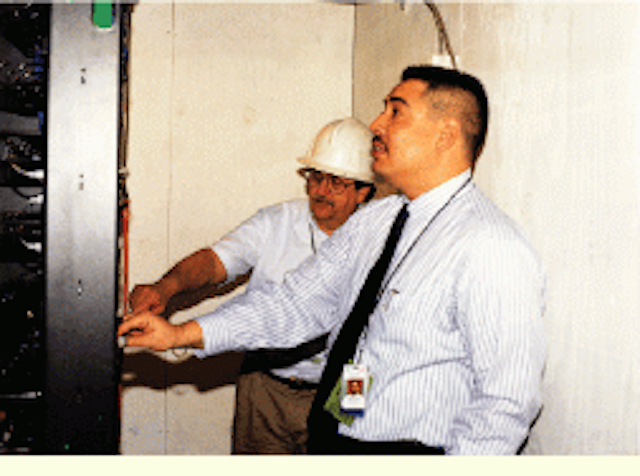 Click here to enlarge image
Jim Garrison (left), technical supervisor with DynCorp (Washington, DC), and Kendyll Benson, senior network engineer with Lockheed Martin (Bethesda, MD), inspect Category 5 cables at a crossconnect in the Ariel Rios Building.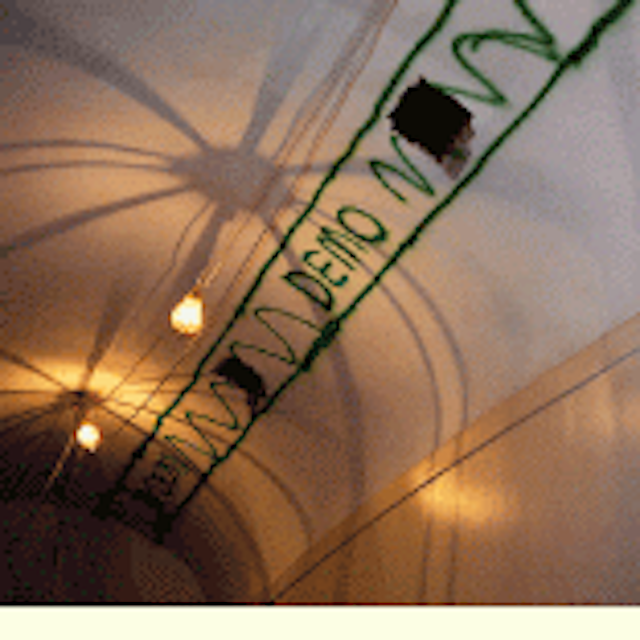 Click here to enlarge image
Twenty-foot-high arched ceilings are among the architectural features of the Ariel Rios Building that must be preserved. To limit damage, cabling must be done through small openings (inset), and the ceiling must then be restored to its original condition. Alternatively, cables are carried over the hallway in flexible, rather than rigid, conduit that conforms to the shape of the ceiling.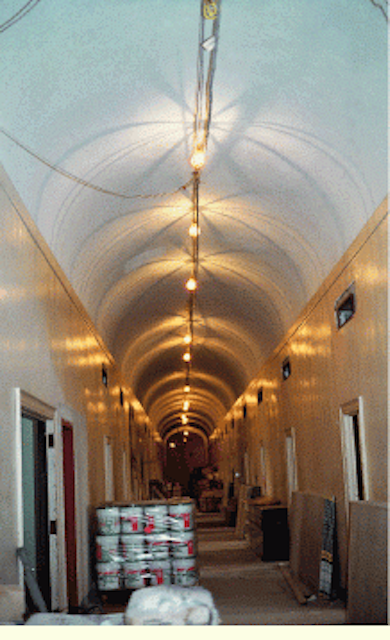 Click here to enlarge image
Twenty-foot-high arched ceilings are among the architectural features of the Ariel Rios Building that must be preserved. To limit damage, cabling must be done through small openings (inset), and the ceiling must then be restored to its original condition. Alternatively, cables are carried over the hallway in flexible, rather than rigid, conduit that conforms to the shape of the ceiling.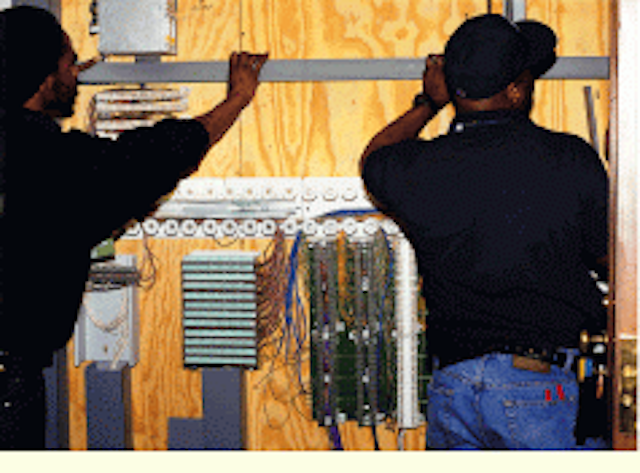 Click here to enlarge image
Old 66 blocks that carry isdn services are being replaced in the epa`s new network by an integrated cable-management system for voice and data cables.