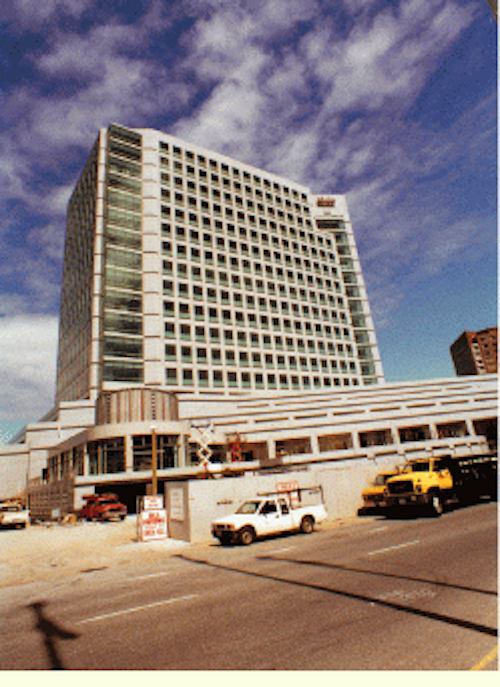 The company`s employees are connected with an atm network and a private OC-48 ring.
Jeff Redlick
Belden Wire & Cable Co.
Since its founding in 1982, Adobe Systems Inc. has grown to become the world`s third-largest personal-computer software company. The company`s growth and success, however, has not been without challenges, including the challenge of requiring more space. When Adobe ran out of room at its suburban campus in Mountain View, CA, the company recently expanded, building a towering granite high-rise in downtown San Jose. The 18-story West Tower is the city`s tallest building, and from a communications point of view, it is probably one of the most technologically advanced buildings in the United States.
As an advanced-technology company, Adobe Systems wanted to implement an advanced network communications system--namely, Asynchronous Transfer Mode (ATM)--in its new facility. Because of the asynchronous nature of signal transfer with ATM, it can squeeze data, voice, and video signals into a single "pipeline" rather than requiring dedicated lines for each. Moreover, ATM`s lightning speed--as high as 2.5 gigabits per second--leaves most of today`s typical local area network architectures trailing behind.
"We now have one of the largest corporate ATM networks in the country," says Dan Gisi, Adobe Systems` manager of architectures and planning. "We own this building and didn`t want to have to redo the structured network cabling system in three or four years. The reason we wanted ATM was its ability to handle higher--and really higher--speeds."
Structured cabling system
The West Tower includes 13 tenantable floors, a main floor, and six floors of parking space, including two underground. Every Adobe employee occupies a hard-walled office rather than a modular workstation. The reason for this is that 60% of the employees in the West Tower are software engineers, and the company`s studies showed that these employees are more productive in an environment that provides more privacy than does a cubicle. Every office in the facility-- whether an engineer`s or an accountant`s--is wired identically. This strategy enables maximum employee mobility and workstation configuration flexibility for years to come, without incurring the hassle and expense of rewiring.
Belden DataTwist 350 was the cable specified throughout Adobe Systems` network. The West Tower building has 4500 workstations to serve the 900 employees at the site. The wiring complement to the desktop includes six 4-pair unshielded twisted-pair cable (UTP) for data, four 2-pair UTP for voice, and two pairs of fiber. Some might consider this cabling scheme a patent case of overkill. It makes sense, however, when you discover that the average number of desktop computers per employee at Adobe Systems is 4.1.
The utp wiring on each floor originates at an intermediate crossconnect (IC) in a wiring closet and is run overhead to the offices. The standard complement is six data cables terminated in 568A wire jacks, with the voice cables installed in dual modules. The voice cables are actually split in 2-pair/2-pair termination modules. Krone terminations are used at the ICs and Siemon jacks at the workstations.
To meet the building`s scheduled occupancy date, the cabling had to be installed in a compressed construction schedule. It took some doing, but the installation company, wbe Telecom (Novato, CA), met all the deadlines. According to construction team project managers Rich Riboli and Steven Bradley, their crews worked around many construction trades and personnel and handled numerous issues to install the cabling infrastructure on time. For the West Tower implementation, wbe project supervisor Bill Rogers managed a crew of 30 technicians who installed, dressed, and tested the cable simultaneously on multiple floors.
Explaining Adobe`s choice of Belden DataTwist 350 cable for data, voice, and video transmission, Gisi explains: "Specifying DataTwist 350 was really a decision to futureproof the installation. Adobe Systems builds products not just to solve the problems of today but to solve problems in the future. We applied the same kind of thinking to building our networked communications infrastructure."
Charles Sumner, sales representative for Anixter Inc. (Skokie, IL), the wire and cable distributor, reports that more than 3 million feet--or more than 568 miles--of Belden DataTwist 350 cable were installed in the West Tower. Sumner affirms the importance of futureproofing. "Because it`s a 350-megahertz cable," he notes, "DataTwist 350 offers a lot of headroom. It`s really a good cable to choose if you`re planning to run 100-megabit or atm."
Mobility and flexibility
In addition to futureproofing, Gisi cites mobility and flexibility as key factors in the overall design of the new headquarters. He says the major reason for selecting atm technology was scalability and mobility. With every workstation wired identically, every employee has the freedom to be able to work anywhere, at any time.
For example, Adobe`s employees can go to a conference room (all of the conference room tables have data and fiber jacks, along with power outlets, in the middle of the table), to one of the company`s other facilities in San Jose, or even to a sister site in Seattle, WA, and plug in. At each location, they will find literally the same familiar desktop environment that they left.
Adobe is erecting another building adjacent to the high-rise tower. The 16-story East Tower will also be a full Belden installation, using 2.4 million feet of DataTwist 350 to be installed by wbe Telecom. The new facility will have 100% Krone connectivity, including Krone`s new MultiMedia Box, at the workstations. And the East Tower`s Belden-Krone Certified Cabling System will be covered by a Belden-Krone Certified Link 15-year warranty covering products, applications, and the performance of the installed cabling system.
In addition, just two blocks away, Adobe occupies another building originally built for IBM but never occupied. Before moving into this facility, the company had all of the Token Ring cable taken out and retrofitted the building with Belden DataTwist 350. Today, all three buildings, together with another nearby high-rise, are connected by a private OC-48 ring, one of the first in California.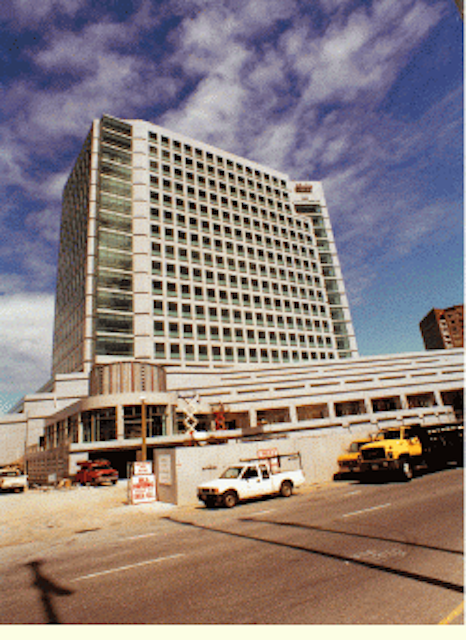 Click here to enlarge image
Adobe Systems` new West Tower in San Jose, CA, has one of the largest corporate atm networks in the country. The 18-story high-rise and three other Adobe buildings are networked by a private OC-48 2.5-Gbit/sec ring.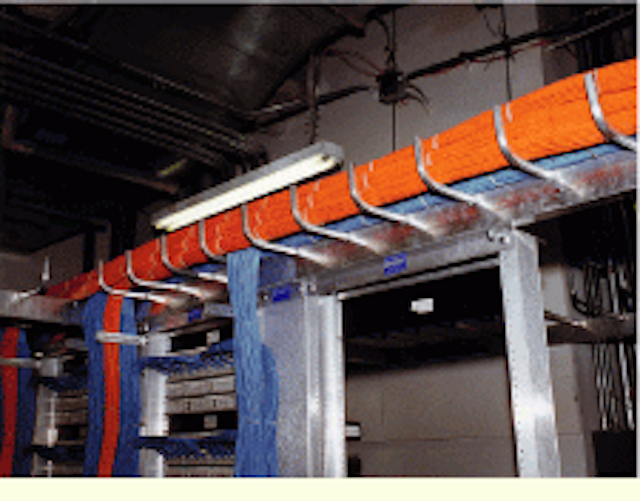 Click here to enlarge image
The DataTwist 350 wiring on each floor originates at an intermediate crossconnect in a telecommunications closet and is run overhead to the offices.
Jeff Redlick is technical sales consultant at Belden Wire & Cable Co. (Richmond, IN).