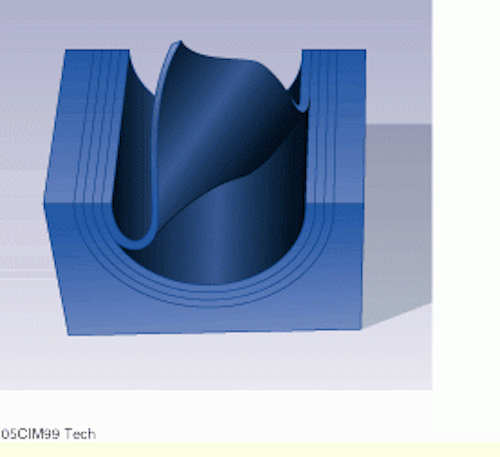 With safety issues at the core, stopping the spread of fire cannot be overemphasized or overlooked.
Patrick McLaughlin
Cabling has long been viewed as a construction trade, and some in the cabling industry seek to further legitimize that view by adding a place for communications cabling in the construction industry`s MasterFormat. Proponents of adding communications-cabling specifications as the MasterFormat`s Division 17 might find support for their position in the practice of firestopping. A critical part of every construction project, firestopping restores the integrity of fire-rated walls, floors, and ceilings when they have been penetrated--whether by the plumbing, electrical, heating/ventilation/air-conditioning, or the cabling contractor.
Regardless of which trade firestops a penetration, using the right products and implementing the right procedure are important. Considering the safety issues at stake and the horror stories heard from manufacturers of firestopping materials, appropriately firestopping a building can literally mean the difference between life and death.
Local rules apply
The breadth of materials available can make product selection difficult, and a lack of uniform national requirements can make the task even more daunting. "It would be nice if requirements were the same throughout this country and in Canada," says Joe O`Brien, product manager for Nelson Firestop Products (Tulsa, OK). "But jurisdictional problems make the whole process difficult. Many times, what qualifies as proper firestopping is left to the discretion of the local inspector and the inspector`s knowledge base. But the inspectors can`t be expected to know it all, and in many cases firestop manufacturers can help."
Indeed, more than a dozen building codes, national codes (including the National Electrical Code), and test requirements mandate the use of firestopping materials to restore the integrity of fire-rated barriers that have been penetrated.
Mike Tobias, owner of Unique Firestop Products (Robertsdale, AL), says the situation has affected how he manufactures his products. Tobias, whose company makes mechanical firestopping sleeves for new and retrofit applications, says, "Trying to accommodate what people wanted for a length of protrusion [out of the wall, floor, or ceiling] became very difficult. Initially, we made 18-inch sleeves and everyone we talked to said he needed at least 6 inches of protrusion. That minimum protrusion length grew to 12, 18, and 24 inches so we took it upon ourselves to try to find out why this was happening."
His research turned up findings that echo O`Brien`s concerns. "The appropriate length of protrusion for a firestopping sleeve is just opinion, really," Tobias concludes. "There`s no national code in place, so it`s really a guessing game in most places." Today, Unique Firestop`s sleeves are a uniform 12 inches long. They only make exceptions when the application includes thick walls that require a longer sleeve.
Conscientious contractors sometimes have other concerns with respect to enforcement. "In some counties, inspectors are lax and sometimes what they consider to be adequate firestopping I consider to be inadequate," says Claud McCrory III, registered communications distribution designer, a professional engineer, and owner of electrical and data-communications installation company McCrory Electric Co. (Memphis, TN). The concern he raises puts contractors in a precarious position. Many end-users are probably unwilling to pay a premium for firestopping measures that exceed the local inspectors` demands. And in the competitive cabling-installation industry, submitting a bid that is higher than others because it includes more labor and materials charges for firestopping puts the contractor at risk of losing the job.
Third-party testing
One place that contractors and plant managers can turn to for some third-party assurance of firestopping-system performance is Underwriters Laboratories (UL--Northbrook, IL), which tests and rates firestopping systems, as opposed to individual products. "A lot of the technology used to firestop is patented," says Bernadette Smith, marketing manager at Specified Technologies Inc. (sti--Somerville, NJ). "The way that manufacturers compete with each other and distinguish themselves from one another is through testing," she adds. "The UL logo on a tube of firestopping caulk, for instance, doesn`t have a lot to do with the product itself. Rather, UL tests the different ways of using a firestop material."
Independent labs, like UL, test firestopping materials` effectiveness when applied to particular building materials, such as concrete floors and walls, gypsum wallboard, and wood-joist floor/ceiling assemblies. The UL-1479 test assigns an F rating to a firestop system. The rating indicates the amount of time that a system prevents the propagation of a fire and is described in terms of time. Thus, firestop products are often rated as 1-, 2-, or 3-hour systems. Some penetrations require firestopping systems rated as high as six hours.
In its quest to differentiate its products from those of other manufacturers, sti sends its products to Factory Mutual (Norwood, MA) for testing, in addition to the testing performed by UL.
One product in STI`s SpecSeal line that is of particular interest to communications-cabling installers is SpecSeal Cable Coating. The latex-based intumescent compound is designed to protect grouped cables against the propagation of fire. According to STI`s literature, when properly installed, the material will limit flame spread and provide short-term circuit integrity during a fire. Designed for electrical as well as communications cables, the coating is engineered to adhere to all cable-jacketing materials and typically applied with spray equipment. Installers can use a brush for small or touch-up applications.
Rox Systems (Tulsa, OK) implements what it calls Multi- Diameter technology into its adaptable seals for pipes and cables. The seals are made of flexible material and have an adaptable center core that can be adjusted to fit around the penetrating pipe or cable. They are available as square modules or round seals. Each module fits a variety of penetration diameters. For example, the RM 20, one of the six different-sized modules offered by Rox, accommodates cables between 4 and 13.5 millimeters.
Multiple-product systems
While STI and Rox offer single products that form a complete firestop barrier, in many situations, installers must use a combination of products to achieve effective firestopping. That is why independent labs typically test systems rather than individual products.
For example, a combination of mortar and firestopping pillows can restore the integrity of a wall where a cable tray passes through it. CSD Sealing Systems (Melrose, MA) offers a system to protect similar cable-tray installations. Its fsp system can be used for initial installations and ongoing maintenance of cable-tray constructions. The system includes a two-piece steel enclosure and sealing materials. The company says the system makes installation and alterations quick and economical.
The frequent necessity of using several firestopping-material types together in one application has prompted Unique Firestop Products to form agreements with several makers of sealing products. Unique`s Split-Sleeve System, Smooth Penetrator, and Threaded Penetrator achieve UL rating when used in combination with sealing material from 3M Telecom Systems Div. (Austin, TX). Unique`s Tobias explains, "Because our products are mechanical, they require a fill material like caulk or putty to be a complete firestopping solution. We concentrate on making these mechanical systems, and it wouldn`t be a prudent move for us to begin producing these fill materials.
"Our UL listing requires the use of 3M fill material," he continues. "But our materials and theirs are not packaged together and we have received calls from job sites where installers purchased our products and fill materials from Nelson or some manufacturer other than 3M." So Unique Firestop approached other fill-material makers, including Nelson, Hilti (Liechtenstein), and STI, about the possibility of specifying their sealing products with Tobias`s mechanical sleeves. They have agreed, and Tobias says that when these other products are used with Unique Firestop`s mechanical devices, "the resulting system is what`s called an engineered system, or ES, as opposed to a tested system."
Other manufacturers, including some with which Unique has developed engineered systems, produce both penetrants and sealants. International Protective Coatings Corp. (Oakhurst, NJ) recently added the Wrap Strip Device to its FlameSafe product line, which is an assembled wrap strip and restraining collar used to firestop combustible penetrants such as pvc. It is available for pipe sizes from 11/2 to 5 inches, and in both 1- and 11/2-inch widths. The wrap strip and restraining collar are also available separately.
Nelson`s O`Brien adds that with some of his company`s products, users can address integrity items, including groundwater and high-pressure containment, electromagnetic interference, noise dampening, explosion, seismic activity, grease-duct fires, joint seals, cable-holding in vertical pathways, and cable management.
McCrory, who explains that many firestopping materials are available because different applications require different combinations of solutions, says that he sees putty as the single product that is used more than others. "I think that putties have pretty much taken the firestopping market," he says. "It is the easiest product to handle, and that means a lot to contractors who are always concerned about doing a job correctly, but also quickly."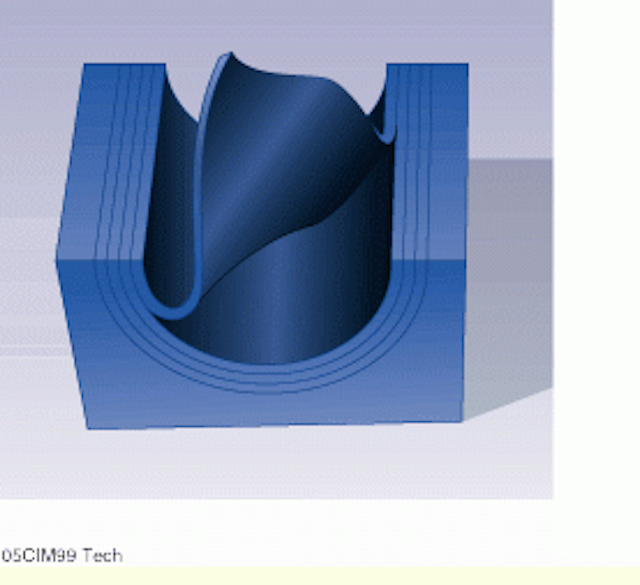 Click here to enlarge image
Rox Systems` MultiDiameter technology allows users of its modules to peel away layers of sealant so the module fits the penetrated opening.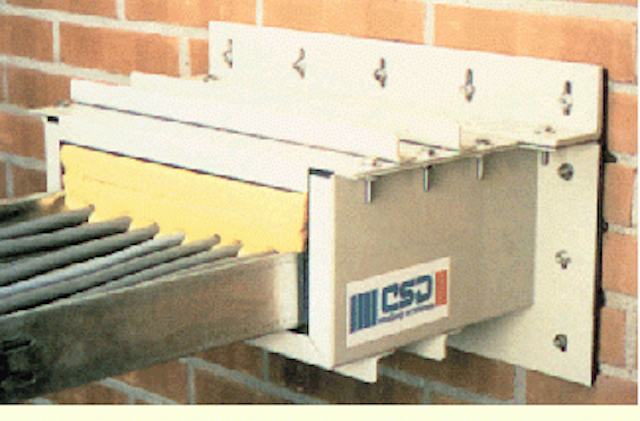 Click here to enlarge image
Consisting of a two-piece steel enclosure and sealing materials, the FSP system from CSD Sealing Systems is one of several ways to restore integrity to a wall that has been penetrated by a cable tray.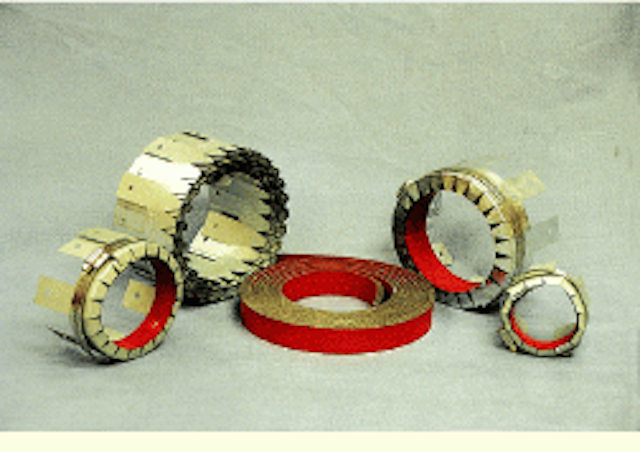 Click here to enlarge image
The newly introduced Wrap Strip Device from International Protective Coatings, including wrap strips and a retaining collar, firestops penetrations made by pipes 11/2 to 5 inches in diameter. The products are also available separately.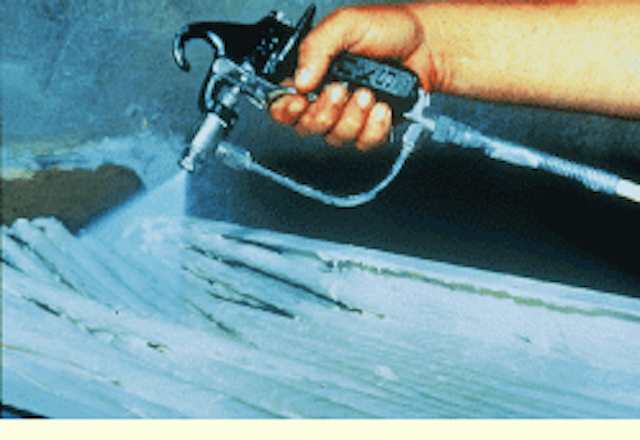 Click here to enlarge image
Nelson Firestop Products produces a spray material that, when applied to cables laid in a tray like the application shown here, provides a firestop barrier.