Networks keep assembly lines rolling
Installing a structured cabling system in a 3-million-square-foot area is a big job. Installing it in a manufacturing plant that produces vehicles `round the clock is an even more formidable challenge. That was the situation facing Bell Gateways (Toronto) when the company took on data-communications network upgrades of the of DaimlerChrysler assembly plants in Canada.
Mar 1st, 1999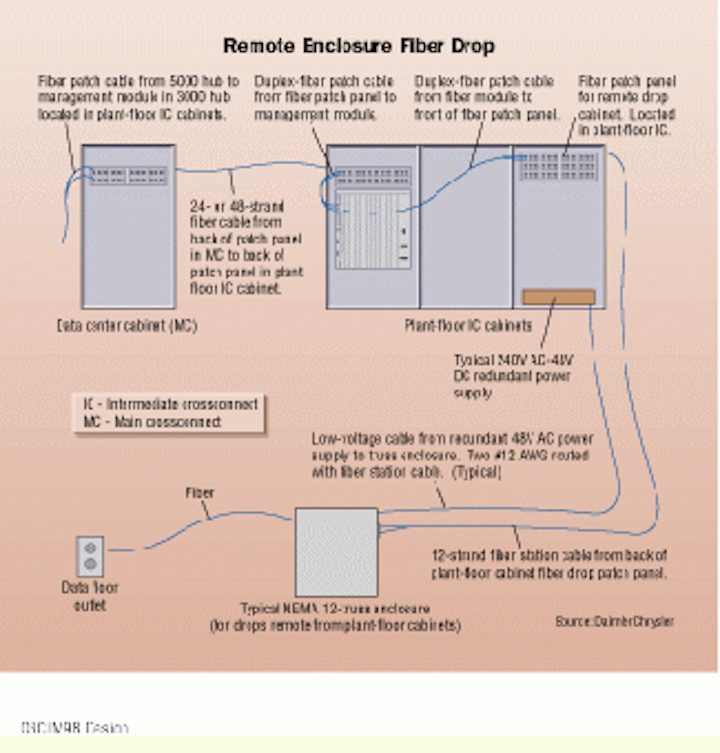 A massive new cabling infrastructure supports vehicle production in Canada.
Terry Tighe
Installing a structured cabling system in a 3-million-square-foot area is a big job. Installing it in a manufacturing plant that produces vehicles `round the clock is an even more formidable challenge. That was the situation facing Bell Gateways (Toronto) when the company took on data-communications network upgrades of the of DaimlerChrysler assembly plants in Canada.
Each time auto manufacturers shift production to a new model, they must upgrade their information-technology infrastructure to handle the changeover. When DaimlerChrysler had to bring its plant data cabling up to speed in time for the launch of its 1998 line, it faced two big challenges: the massive size of the buildings and a production cycle that could not be interrupted. DaimlerChrysler chose Bell Gateways, a division of Bell Canada, to design, install, and maintain the data-communications networks of several of its Ontario plants (see "A winning partnership," page 18).
"We were initially a 3270 network," says Richard Etheridge, senior technical analyst, local area network (lan) systems, at DaimlerChrysler (Center Line, MI). "We found that we needed to evolve to a higher-speed network to ensure that we keep up with technology and are able to fulfill the requirements for information wherever necessary."
Production issues
Key to keeping vehicle production on time are the electronic "track sheets." These customized records follow each vehicle through every stage of production, detailing all specifications and changes as well as providing up-to-the-minute production status reports. Not long ago, this information would rattle off a teletype machine. Now, the latest data must be available instantaneously so adjustments can be made as soon as a change is input into the system.
The in-building cabling networks that transport this information are critical to the smooth operation of the plants. The cabling feeds data into robots that speed production. If the networks break down, the assembly lines stop and manufacturers lose millions of dollars for each hour that production is halted.
"The robots in the plant are hooked into our network. If the network is down, we can`t build cars," says Elive Likine, technical analyst, lan planning, for DaimlerChrysler, and project manager of the Pillette Road and Bramalea network projects. "We are in the business of making cars. The network infrastructure should not jeopardize the building of cars."
The auto maker required a reliable and flexible cabling system that would transport information more quickly while providing completely accurate product details wherever and whenever needed. The network also had to be capable of instantly alerting employees to any changes in vehicle specifications during production.
New topology
The switch to a new network topology was a major change. The old network had a 10Base-2 backbone in a 3270 topology--an old ibm architecture. The cabling was 50-ohm thin coaxial cable. The new design called for a 10-megabit-per- second Ethernet lan in a star topology, compliant with the tia/eia-568a Commercial Building Telecommunications Cabling Standard. The design included a 48-strand fiber-optic backbone and Category 5 unshielded twisted-pair for most of the horizontal cabling. Coaxial cabling was retained where copper-cable maximum-length requirements were insufficient to meet manufacturing needs.
In the Bramalea plant, Bell Gateways cabling specialists completely redesigned and upgraded the plant`s information infrastructure and rebuilt its central computer room, including the communications hub cabinets and all associated cabling. This particular project was a considerable feat because the computer center serves a structure of about 3 million sq ft.
Technicians installed more than 1 million feet of Category 5 structured cabling, which links all parts of the plant, from the order desks to the shipping docks, and connects more than 1000 small computers throughout the plant to 25 intermediate crossconnects (ICs). Each IC houses Bay Networks` electronic hub equipment, which was also installed and configured by the team. The ICs are connected to the main crossconnect (MC) by approximately 60,000 feet of multimode fiber-optic cable.
Harsh environment
Installing sensitive data-communications equipment in a manufacturing environment requires special considerations, but the demands of the manufacturing process come first. Because the configuration of the assembly line could change, fixed telecommunications closets (TCs) could not be used. Instead, cabinets were attached to a beam so they could be moved as needed. "The lay of the production line is paramount," explains Etheridge. "If the manufacturing process changes and the line needs to move to where the TC was, your TC would have to move."
The ICs in the Bramalea and Windsor plants consist of nema 12-specification cabinets from CableTalk (Brampton, ON, Canada). Double-walled and air-conditioned to protect against temperature fluctuations, the cabinets also keep humidity, dust, and paint vapors away from critical components.
An added advantage of the cabinets is their horizontal and vertical cable-management trays, which are not only aesthetically appealing, but also aid in tracing out the patch cords later, according to Bill Stratford, application technology specialist with Bell Gateways. "You see very little of the patch cord, whereas in some cabinets all you see are patch cords hanging down the front. With these cabinets, you don`t see that congestion," says Stratford. "We store the extra slack in the vertical managers, and it`s very easy to trace out." The patch cords are also labeled at the patch panel and the hub for easy identification.
To protect cabling on the plant floor, it was pulled through rigid galvanized steel conduit. Three conduits lead from the trusses through the top of each cabinet. A 4-inch conduit houses the structured cabling, a 2-inch conduit houses the fiber- optic cable, and a 1-inch cable has the electrical wiring.
In the parts of the plant that required longer spans of cabling than recommended by tia/eia-568a for copper cabling, the network design calls for RG-58 and RG-62 coaxial cable. RG-58 cable can be used as far as 600 feet from the patch panel--about twice as long as copper--and RG-62 is used in spans to 1000 feet. These coaxial cables feed "dumb terminals" that are connected to the mainframe and provide employees with the latest specifications as vehicles move down the assembly line.
Standards compliance
At a second Windsor plant--the Pillette Road plant--the team constructed a complete data center and network, including an MC that was connected to 14 ICs by 30,000 feet of fiber-optic cable. Approximately 250,000 feet of copper cable link the ICs to more than 1000 computer terminals, and more are planned for the future.
Throughout the project, the cabling specialists worked to Telecommunications Industry Association/Electronic Industries Alliance (Arlington, VA) standards. At the same time, DaimlerChrysler began to standardize all of its networks using these standards as a guide for installing structured cabling. Etheridge, co-author of the Chrysler lan Infrastructure Manual, which was the model for these installations, explains that it is important to do it right the first time because 80% of the problems in a network can be traced to faulty installation practices. "If you can get rid of most of that, it provides for a highly reliable network," Etheridge says.
The network upgrades have provided DaimlerChrysler with greater efficiency and productivity, simplified procedures, better management and data communications, and easier resource sharing. "The way our networks are set up today is directly related to the number of vehicles that come off the line," says Etheridge. "We`ve become very dependent upon the networks and the information they provide."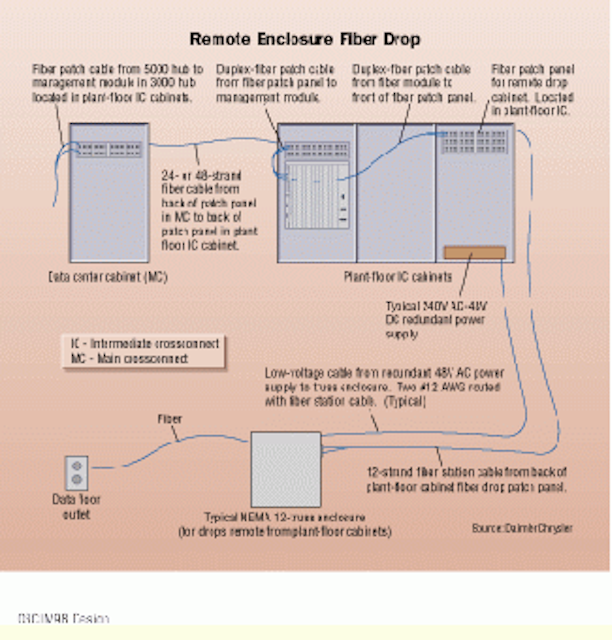 Click here to enlarge image
The network at the DaimlerChrysler Windsor assembly plant includes a main crossconnect located in the data center and 14 intermediate crossconnects. Fiber is run directly to the work area to operate programmable logic controllers, which manage and run conveyors and process systems.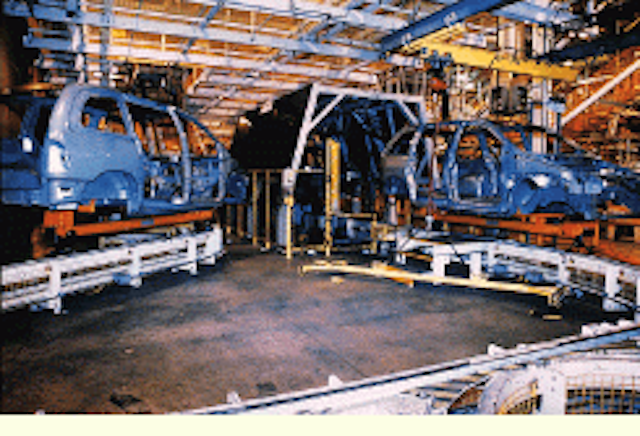 Click here to enlarge image
A production environment requires flexible network planning and use of aerial as well as floor space.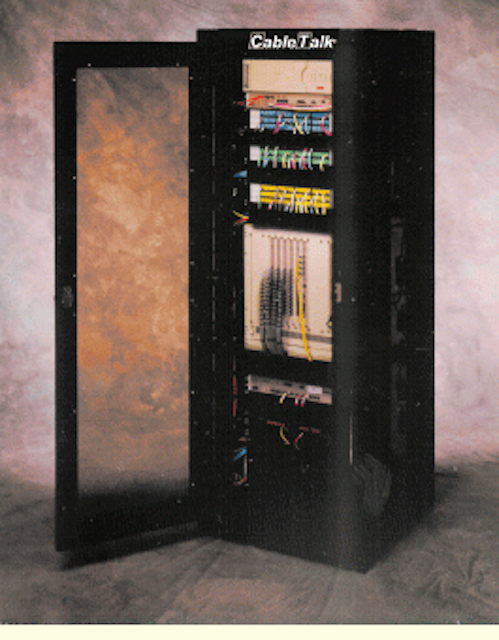 Click here to enlarge image
Cabinets from CableTalk (Brampton, ON, Canada) feature vertical and horizontal patch-cord managers that keep patch cords out of sight and easy to trace.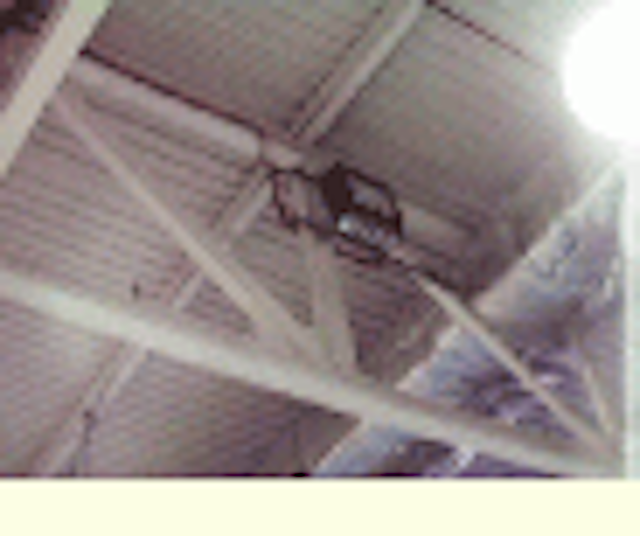 Click here to enlarge image
An installed truss enclosure serves drops that are remote from the plant-floor cabinets. The enclosure (inset) houses fiber and power lines, media converters for conversion to 10Base-T, and outbound ports.
A winning partnership
Faced with competition from a major U.S. cabling company and another Canadian firm for the DaimlerChrysler cabling contract, Bell Canada had to prove itself to win the job.
A division of Bell Canada, Bell Gateways has been in operation for six years, offering integrated structured cabling design, installation, and maintenance services. The company was able to guarantee that DaimlerChrysler would have local support when needed, on-site project management, and network implementation on time. "Being a local company with local management enabled us to provide more dialogue, closer contact, and other efficiencies," says Harry Ounapuu, senior product manager for cabling with Bell Gateways.
By focusing on understanding DaimlerChrysler`s specific needs, the Bell Gateways cabling team was able to deliver the systems that met the client`s tight quality-control requirements and demanding schedules. The Bramalea, Pillette Road, and Windsor assembly plants are now the benchmark for DaimlerChrysler`s other plant networks.
Terry Tighe is team leader, lan cabling, for Bell Gateways (Toronto).