Donald Wright,
Compel Corp.
Problem
When you are drilling into a ceiling, dust and other particles fall onto the floor and on the installer. Aside from being aesthetically unpleasing, the falling dust can pose a safety risk because it may get into the installer`s eyes even though the installer is wearing safety glasses.
Solution
Keep funnels of various sizes in your drill kit to use as dust/debris catchers. In a pinch, you can use a paper or Styrofoam cup as a catcher.
Procedure
1) Choose the appropriately sized funnel from your kit. Determine which one is appropriate by fitting the drill bit through the small hole in the funnel.
2) Slide the funnel (small end first) over the bit.
3) Attach the funnel to the bottom of the bit with tape.
4) When you are drilling the hole in the ceiling, the dust and other debris will fall into the wide end of the funnel and, because the funnel is taped to the drill bit, will not fall out the bottom.
5) When you are finished drilling, dump the dust and debris into the trash, remove the funnel from the bit, and clean both the funnel and the bit. Then return the funnel to your kit.
6) If you do not have a funnel for the job, you can use a paper or Styrofoam cup. Poke a hole into the bottom of the cup so it fits snugly onto the bit, slide the cup over the bit as you would a funnel, and securely tape the cup to the bit.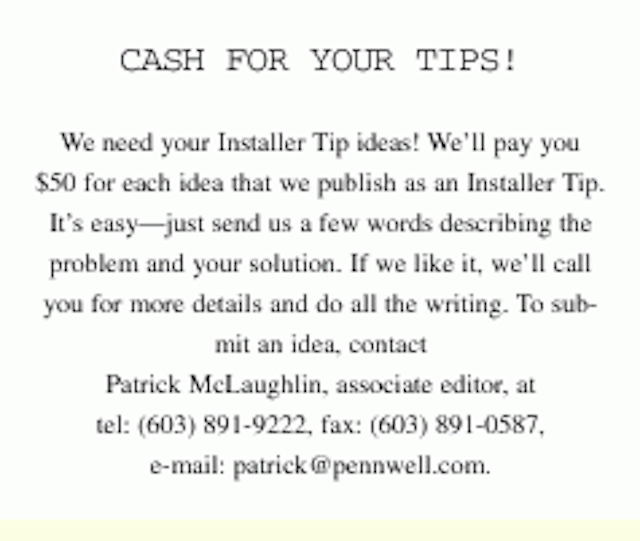 Click here to enlarge image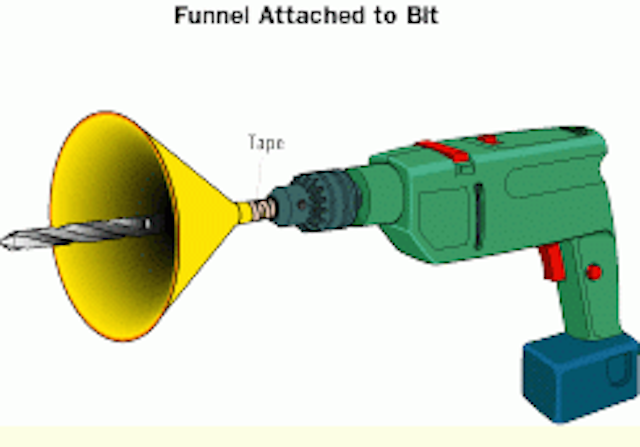 Click here to enlarge image
Once you have found the funnel that fits best over the bit, slide the funnel over the bit and tape it securely to the bit.
Donald Wright, registered communications distribution designer (rcdd), is a bicsi-certified trainer and training director for Compel Corp. (Santa Fe Springs, CA). This tip was submitted for the Cabling Installer Tips` Contest at Cabling Installation Expo `98, held last October in Atlanta, GA.