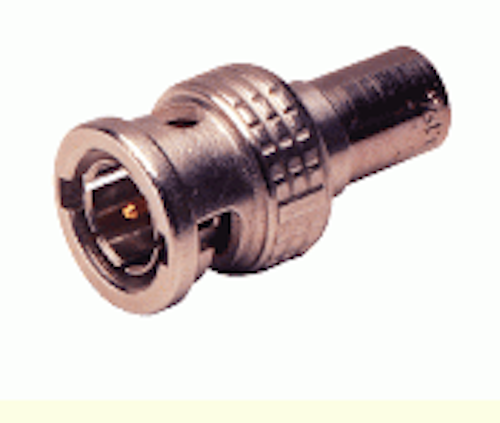 Mark A. DeSorbo
In an age where Category 5 is the answer and fiber-to-the-desk is the dream, the very mention of coaxial-cable connectors may draw puzzled looks that convey thoughts such as, "Those dinosaurs? Are you kidding?"
But lest we forget, those so-called prehistoric suckers, as large, bulky, heavy, and tough to terminate as they are, have been around for a very long time, and despite their decreasing popularity, it doesn`t look like they are going to fade away.
Applicable in voice, video, and data applications, coaxial connectors are most often found in closed-circuit television, security, and cable-TV distribution systems. But long before they were terminated to that coiled-up cable behind the TV, bringing in espn and hbo, they were and still can be found as local network connections. The two most common local area network (lan) coaxial connectors are the bnc and the Type N. Expensive and cumbersome, the Type N was used on the original "thick Ethernet," or Thicknet cable, which brought Ethernet into the world. The connectors are designed to handle frequencies many times higher than those in Ethernet lans. The use of Thicknet cable and Type N connectors, however, has decreased because of Thinnet cabling and the bnc connector. The smaller, less expensive bnc connectors come in two- and three-piece constructions that are designed for termination using screw-on, crimp-on, or solder assembly (see Product Update table, page 60).
The networking industry has generally moved away from using coaxial cable and connectors and is now using unshielded twisted-pair cable for lans. According to a report by Frost & Sullivan (New York City), as the battle between copper and fiber-optic cable forges on, the coaxial and shielded-twisted-pair (stp) markets will begin to fizzle out. "As the cost of implementing fiber into the premises environment comes down, the premises-wiring coaxial and stp markets will cease to exist," the report indicates.
Most installers cringe at the very thought of anything coaxial. When it comes to terminating coaxial connectors, they tend to stick with the good old-fashioned crimp- on method, although twist-on connectors are gaining popularity. "Anything coaxial is a pain," says Scott Goodwin, communications project manager for lmi Electrical Contractors Inc. (Tucker, GA). "Preparing the cable is 80% of it. Once you have it stripped, you`re ready to go, but it`s all relative to the stripping tool. Getting it right is getting the cable stripped correctly."
Choosing a brand of coaxial connector comes down to the overall budget, Goodwin says. "There are several manufacturers out there, and it`s such a miscellaneous device that I tend to go with what is most economical." At press time, Goodwin was preparing to install cable TV to hundreds of desktops. "I have 4000 of them to terminate next month. They are really popular in cable-TV distribution and satellite distributions as well," he adds. "I haven`t seen them in lans for a long time. That`s because of Category 5, and after a while, video will completely move to Category 5, too."
Joseph Carlone, a product applications specialist for itt Industries, Cannon RF Products Div., says there is still a big market for coaxial connectors. Three coaxial connectors that are manufactured by itt Industries are describ- ed by the company as "revolutionary."
One such coaxial connector is the Right-angle qt bnc, which can be used in voice, video, and data applications and is terminated by a snap-on method. "Our Right-angle qt bnc connector is not your typical right- angle connector," says Carlone. "It costs less than most connectors of its type because we don`t use right-angle connectors." itt uses straight connectors and a boot that converts it to a right angle. Normally, right-angle connectors cost about $12. "Our connectors cost about 50 cents more than regular straight connectors, which cost $3 to $3.50," he adds. "They also cut down installation time. You can terminate these in one-quarter of the time."
itt`s right-angle connector is a hybrid of the company`s qt bnc connector, which because of its "QT Technology," is solderless, crimpless, and easy to terminate. itt also makes an msmb coaxial connector for mobile applications. Geared for RG-196 and RG-316, the connector is terminated with the crimp-on method.
If you wish to be in future Product Updates, contact Mark DeSorbo at tel: (603) 891-9418, or e-mail: markd@pennwell.com.
Click here to enlarge image
ADC Telecommunications Inc.`s BNC connectors provide 75-ohm impedance from end to end. The company reports that improved electrical performance is achieved with a precision-molded insulator that maintains true 75 ohms and fastens the gold-plated center conductor into the proper position. The result is a significant reduction of impedance mismatch in the network and an improved transmission reliability for high-definition-TV applications.