TCs in multi-tenant buildings
Q: I would appreciate some guidance on a confusing issue related to tia/ eia-569a, the Commercial Building Standard for Telecommunications Pathways and Spaces of the Telecommunications Industry Association and the Electronic Industries Alliance (tia/eia--Arlington, VA). The standard includes recommendations for sizing telecommunications closets (TCs), equipment rooms, and entrance facilities. My question relates to issues encountered when designing speculative multi-tenant office base buildings-
Jan 1st, 1999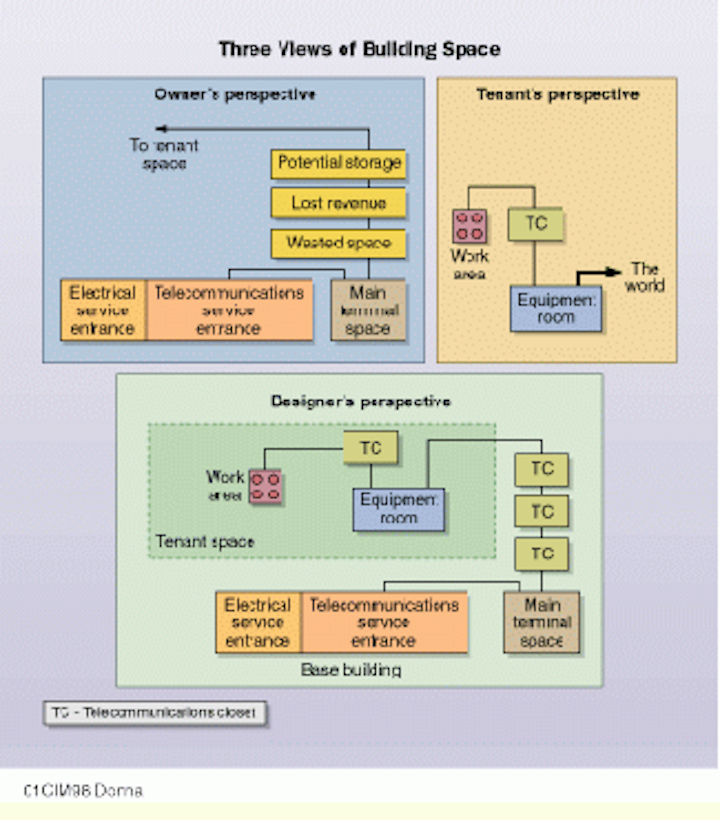 Q: I would appreciate some guidance on a confusing issue related to tia/ eia-569a, the Commercial Building Standard for Telecommunications Pathways and Spaces of the Telecommunications Industry Association and the Electronic Industries Alliance (tia/eia--Arlington, VA). The standard includes recommendations for sizing telecommunications closets (TCs), equipment rooms, and entrance facilities. My question relates to issues encountered when designing speculative multi-tenant office base buildings--these issues are not as confusing when designing an owner-occupied building.
Is tia/eia-569a intended to apply to base-building core-area TCs? I have found that usually, the core-area closets designed during the shell base-building phase function primarily as a cable riser location and telephone-company service connection point for future tenants only. Sizing as recommended by tia/eia-569a appears to be excessive for these closets, and owners and architects are very reluctant to lose any space that would not be considered rentable. Very seldom is any equipment located in these closets. However, during ensuing tenant buildouts, individual tenants generally require a private TC or local area network (lan) equipment room within their occupied space to house their individual phone switches, servers, and other equipment. It appears to me that these are the closets addressed by tia/eia-569a.
This issue also becomes a concern when applying tia/eia-607 grounding and bonding requirements. It appears practical to design and install the main telecommunications bonding busbar (tbb) riser through the base-building core-area TCs during initial construction and to design and install telecommunications bonding busbar interconnecting bonding conductors (tbbibcs) to each tenant`s TC or lan closet later, during buildout.
David C. Schaeffer
Girard Engineering
McLean, VA
A: From the architect`s and building owner`s perspective, any space that is non-income-producing is too much space. From the tenant`s perspec- tive, the building owner must provide access, and lots of it, from the service provider demarcation point to the tenant space.
Our job is to sell the telecommunications infrastructure designer`s perspective. While tia/eia-569a is not a tremendous help in multi-tenant buildings, it is not an insurmountable obstacle either. For the most part, the standard assumes shared use of TC space for all occupants of the area served. The shared usage does not help in a multi-tenant building where leasing, buildout, and occupancy usually occur after the base building has been constructed and provisioned.
I understand exactly what you are saying. In fact, I made the same argument myself during a meeting of the TR-41.8.3 editors before tia/eia-569a was published. There are now some "weasel words" in the revised standard that were not in eia/tia-569, and they will allow you some of the flexibility you are seeking.
Since you asked for an interpretation, I asked Paul Kreager, who chairs TR-41.8.3--the group responsible for maintaining tia/eia-569a--for his take on this issue. Paul replied, "I think the intent of [tia/eia-569a] 1.1.3 answers [David`s] concern with the idea of forming a two-level backbone hierarchy for multi-tenant situations. The small core [TC] could become the intermediate crossconnect, feeding multiple TCs on each floor."
In my opinion, some design assumptions must be made when designing for multi-tenant-specification buildings:
It is likely that the distinct telecommunications service requirements of individual tenants will require additional telecommunications pathways and space facilities beyond those provided in the base-building design.
It is expected that, at time of buildout, each tenant will design the telecommunications infrastructure from either the service entrance or main terminal space to his own equipment room, resulting in at least a two-level--possibly three-level--backbone cabling hierarchy for each tenant.
The size of the TC is not specified in tia/eia-569a; it is determined and specified by the telecommunications infrastructure designer (see "Standard does not specify TC size," page 10).
To determine the size of the TCs in the base building, the designer should contact the local exchange carrier to determine where the company will demarc with the tenant, and any specific space requirements they have. This in-formation varies between regional Bell operating companies and other service providers.
In addition, the designer should discuss with the building owner how many tenants the floor-serving TC will have to accommodate and whether a particular business sector is being targeted as tenants. For example, the density of services is much greater in a call center or stock brokerage than in doctors` or lawyers` offices.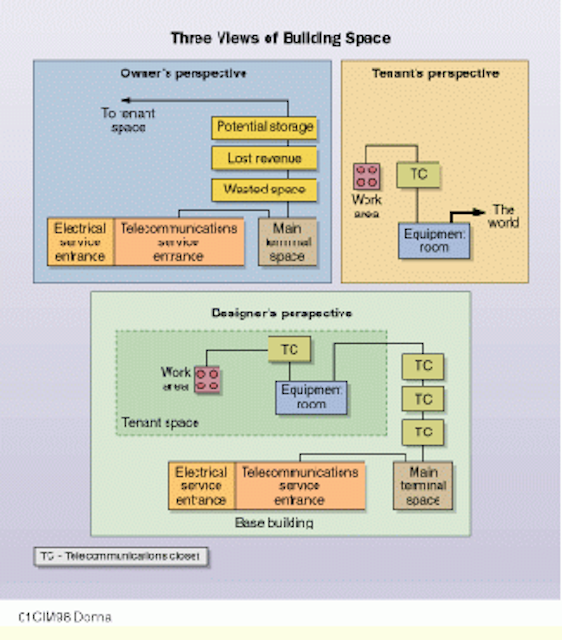 Click here to enlarge image
The designer`s perspective takes into account the concerns of the owner, the needs of the tenant, and the infrastructure requirements of a modern corporate telecommunications network.
Donna Ballast is a com- munications analyst at the University of Texas at Austin and a bicsi reg-istered communications distribution designer (rcdd). Questions can be sent to her at Cabling Installation & Maintenance or at PO Drawer 7580, the University of Texas, Austin, TX 78713; tel: (512) 471-0112, fax: (512) 471-8883, e-mail: ballast@utexas.edu.