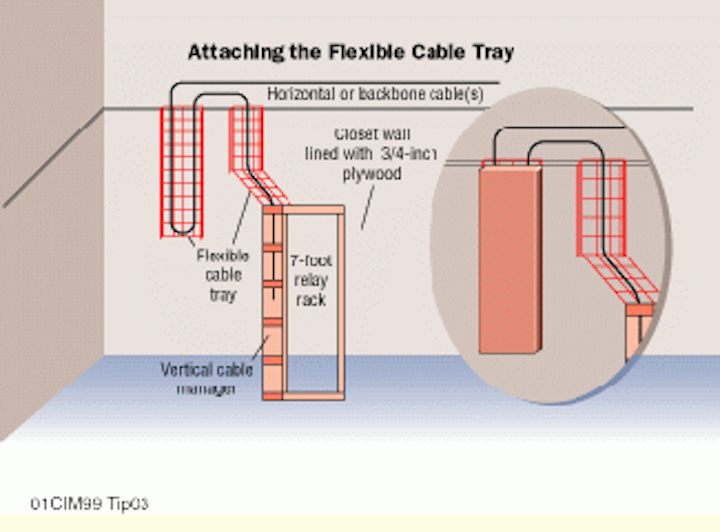 Brant Hylton, Novartis Crop Protection Inc.
problem
It is often difficult to plan and provide for slack cable in the telecommunications closet (TC) that will offer the flexibility needed to make future cabling-system changes.
solution
By installing a section of flexible cable tray on the closet wall, you can provide an inexpensive, easily accessible, protected length of slack cable to your horizontal or backbone cable runs. This arrangement will make future cabling changes easier and less time-consuming.
procedure
1) Install a 5-foot section of flexible cable tray to the closet wall, which should be lined with 3/4-inch plywood. Install the tray as close as possible to the rack it will serve. Mount the cable tray to the wall using standoff brackets that will allow you to route cable ties between the tray and wall. Also remember to provide a cable tray that will be large enough to easily handle more cables in the future.
2) Starting at the top of the tray, place a cable or multiple cables into the tray using tie wraps to hold them in place. At the bottom of the tray, loop the cables back up to the top of the tray. Make sure that you provide for the minimum amount of bend radius required for the cables that will be placed into the tray.
3) Route cables to the rack that you are serving. Attach the flexible cable-tray cover over the top of the cable tray.
4) When you need to access the slack cables, remove the cover and cut the cable ties. Make any changes necessary, then replace the cables in the tray and reattach the cable ties and cover.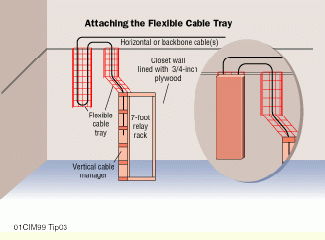 Click here to enlarge image
You should attach the flexible cable tray as close as possible to the rack that it will serve. Once you have the tray in place against the TC wall, attach a removable cover so you can access the cables when necessary (see inset).
Brant Hylton, registered communications distribution designer (rcdd), is a network engineer III with Novartis Crop Protection Inc. (Greensboro, NC). This tip was submitted for the Cabling Installer Tips` Contest at Cabling Installation Expo `98, held last October in Atlanta, GA.