Space-saving cable management at Hewlett-Packard
With office space at a premium, the amount of square footage companies are willing to allot to telecommunications closets, main crossconnects, and data centers is often less than optimum from the perspective of the network designer or cabling-installation contractor. Often, more and more equipment has to be squeezed into smaller and smaller spaces. The challenge for those designing the hardware that will become the transition point between the outside-plant, riser, or distribution cables and the
Aug 1st, 1999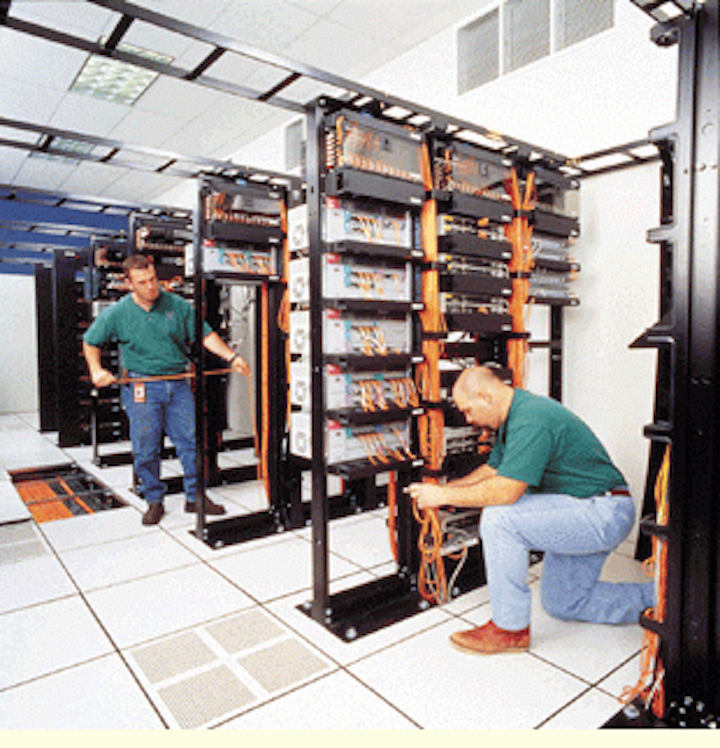 Alyson Moore
Siecor
When room for a data center is limited, space-saving hardware is especially important.
With office space at a premium, the amount of square footage companies are willing to allot to telecommunications closets, main crossconnects, and data centers is often less than optimum from the perspective of the network designer or cabling-installation contractor. Often, more and more equipment has to be squeezed into smaller and smaller spaces. The challenge for those designing the hardware that will become the transition point between the outside-plant, riser, or distribution cables and the optoelectronics is to create products that fit easily into limited space, while providing organization and manageability for a large number of cables. Network planners are hard-pressed to find a solution that accommodates the needs of the end user within such space constraints. Hewlett-Packard Co. (HP) faced such a challenge at its Roseville, CA, facility.
Based in Palo Alto, CA, HP has sales, manufacturing, and research and development facilities in more than 120 countries around the world. The company is a global provider of computing, Internet, and intranet solutions, service, communications products, and measurement solutions.
Encompassing more than 500 acres, with over 1.3 million square feet of office space, HP`s Roseville campus houses 24 separate business entities and 5500 employees. Recently, as part of a network upgrade, the facility completed an enterprise network hub at its north campus. Because the cabling infrastructure was already in place, space for the new data center was limited. Despite the space crunch, the data center had to be reliable, flexible, and cost-efficient and was expected to meet the current and projected needs of this large and growing campus.
To meet its requirements for a compact data center, HP enlisted the expertise of Valley Communications (North Highlands, CA) to design and install the new Roseville cabling plant. Valley Communications, a member of Siecor`s LANscape Extended Warranty Program, has been in the cable- installation business for 15 years and has been working with HP since 1989.
Says Brian Johnson, HP information-technology engineering consultant, explaining his company`s long-term relationship with the cabling contractor: "The reason that Valley Communications has been our primary cable-installation vendor for the past 10 years is it takes its work very seriously."
Network configuration
Valley Communications designed a logical star configuration for the physical plant, running Siecor OFNR (optical-fiber nonconductive riser) MIC cables for the network backbone. The cables were terminated with more than 3000 multimode and singlemode SC duplex connectors.
Fiber-optic cable management systems are a vital part of any fiber-optic network. Fiber-optic hardware must offer reliability, flexibility, and upgradability, in addition to manageability, to ever-growing numbers of fiber strands--a tall order for what some consider no more than bent metal. In the Roseville facility equipment rooms, where Siecor`s LANscape hardware was used exclusively, only five equipment racks, 1200 jumpers, and 40 patch panels were needed.
At the core of its Roseville network, HP uses Cisco 7513 routers at the network core with a 155-megabit-per-second Asynchronous Transfer Mode (ATM) backbone servicing approximately 60 subnetworks. Each subnetwork backbone is switched Fast Ethernet using HP switches. Leading to the desktop, HP shared 24-port hubs are in place for the most part, but the company is migrating to switched Ethernet and switched Fast Ethernet. All building-cable risers are multimode fiber, with some singlemode fiber in the campus backbone. Because of the high volume of moves, adds, and changes at this campus, HP subnetworks are based on a geographic model--by building and floor--not a business unit model. All subnetworks are designed generically, and special modifications to the topology are made only at the distribution closet close to the end user, making it easier to move the user if necessary.
Fewer racks required
Johnson has worked with several cable contractors in the Roseville area over the years. He believes that most do good-quality work and are dependable and stand behind their work, but, he says, "Valley Communications constantly looks for ways to make the installation better and pays great attention to the details. Its project managers don`t come to me with a problem without bringing several proposed solutions, too."
The solution that Jim O`Connor, registered communications distribution designer (RCDD) and sales engineer for Valley Communications, offered in this case was based on the client`s need for space to grow. "Future growth was a major concern for the data center," O`Connor explains. "HP didn`t want to spend a ton of money and then outgrow its network." Valley Communications was able to overcome the space restrictions by installing LANscape hardware. The packing density of the vendor`s Closet Connector Housings enabled the installation contractor to reduce the number of equipment racks, which left room for future expansion.
The increased packing density of the housings did not produce a tangle of unmanageable cable. Special features of the LANscape hardware, specifically the jumper-management panels, built-in routing guides, and inter-bay storage (IBS) units, allowed Valley Communications to manage jumpers in an aesthetically pleasing way.
The jumper-management panels are designed specifically for the routing of fiber jumpers but can be used for copper cables as well. The management panels are laid out in such a way that the routing and protection are made easy. The routing guides that are an integral part of the panel are designed with bend- radius control. These routing guides are installed in the factory. Factory installation provides the customer with all the options "ready to go" as soon as it is delivered and saves time during installation.
The IBS unit has been designed for flexibility and manageability. The management guides on the IBS work in conjunction with a hinged door for the retention of jumpers on the front and cable in the rear. Slack storage hubs are also provided for the administration of jumper slack on the front of the IBS.
"This cable-management hardware gave us the ability to terminate 144 strands in four rack units, with duplexed SC connectors," notes O`Connor. "This number of terminations is about twice that of conventional hardware and allowed us to eliminate additional termination bays while still providing a user-friendly patch bay with integrated cable management that is easily administered by the customer."
Referring to his company`s ongoing maintenance of the Roseville network infrastructure, O`Connor emphasizes the importance of taking the time to evaluate a situation and become a partner in finding the solution. Adds HP`s Johnson, "Valley Communications has worked with us for the last 10 years. It knows our network and our networking needs almost as well as we do." For that reason, HP retains Valley Communications support personnel on-site five days a week to handle any moves, adds, or changes.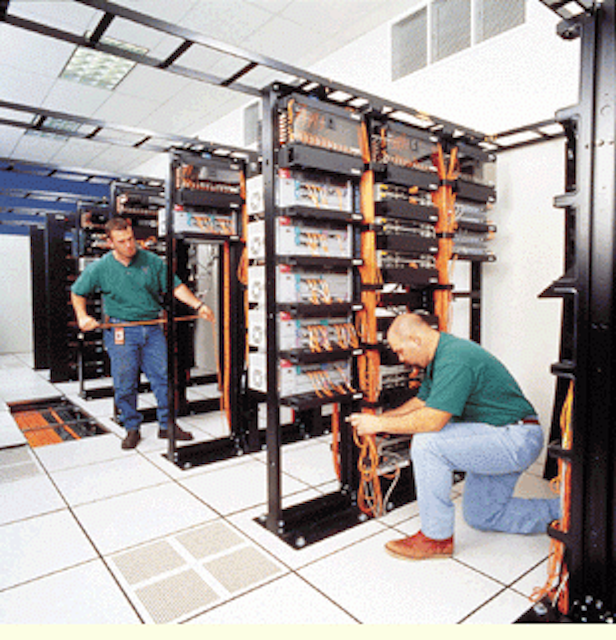 Click here to enlarge image
Valley Communications installer Charles Macdonald (left) and foreman Andrew Pappas keep HP`s Roseville data center properly maintained.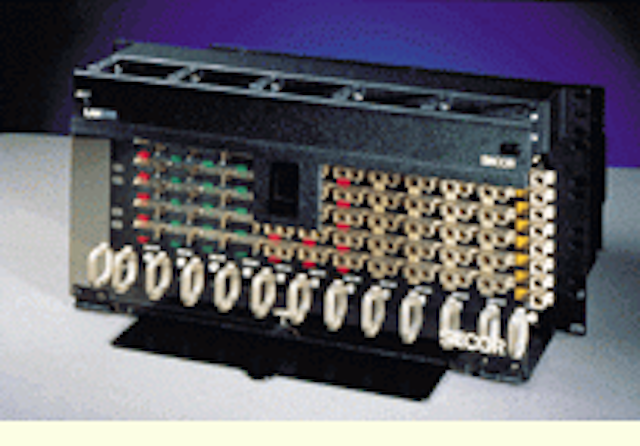 Click here to enlarge image
Part of Siecor`s LANscape hardware line, the Closet Connector Housing accommodates up to 144 fibers.
Alyson Moore is premises market specialist at Siecor (Hickory, NC).