Optimizing network architecture with media converters
Thinking that any network will be static is unrealistic. Not only is there constant demand for added connections and physical expansion, but computer hardware, software, and network technology are all changing as well. All these changes strain the network, and network managers are under constant pressure to make the network faster, more secure, and more reliable. Accomplishing all of those objectives without replacing the network infrastructure can be a challenge, but accommodating legacy system
Aug 1st, 1999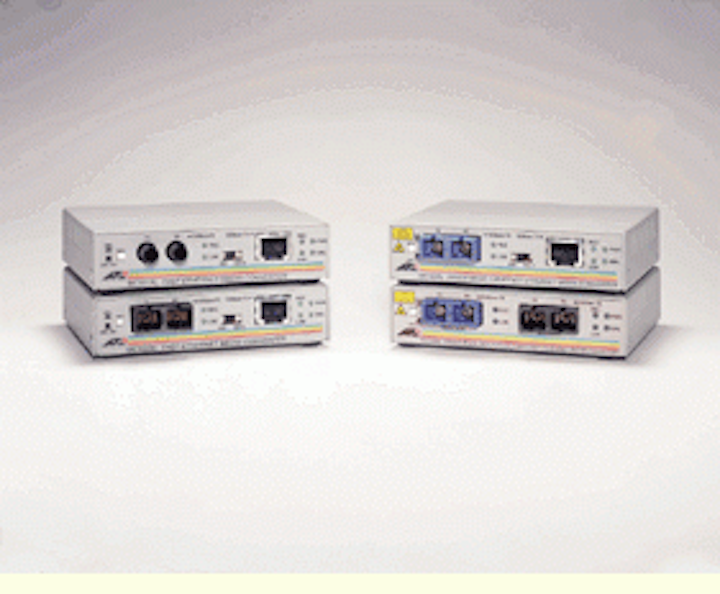 Media converters ease users into network upgrades one segment at a time.
Mark Benevento
Allied Telesyn International
Thinking that any network will be static is unrealistic. Not only is there constant demand for added connections and physical expansion, but computer hardware, software, and network technology are all changing as well. All these changes strain the network, and network managers are under constant pressure to make the network faster, more secure, and more reliable. Accomplishing all of those objectives without replacing the network infrastructure can be a challenge, but accommodating legacy systems and the evolutionary way that networks grow is a fact of life.
Media converters are designed for such dynamic networks. They link dissimilar cabling media and can give network managers the freedom to take advantage of speed, bandwidth, and security enhancements as they become available. These devices do just what their name implies: They convert data signals on one cabling medium (defined by cable and connector types and bandwidth) to signals that can be transported over another medium. Thus, they make it possible to extend the life of legacy networks with the latest technology, rather than having to tear everything out and start over when new technology becomes available or--even worse--being stuck with an old technology (see "The benefits of media conversion," page 32).
Converters let network managers optimize the network in terms of both performance and price by enabling a flexibility that is otherwise difficult, if not impossible, to achieve. Converters that cost $80 to $1500 can link fiber cabling to copper as well as traditional fiber connectors (ST or SC) to the new small-form-factor (SFF) fiber connectors. A simple 2-port switch serving as a converter can link segments running at different network speeds. These devices give network managers the flexibility to make price/performance decisions on a section-by-section basis.
A media converter is best described as two transceivers or media attachment units (MAUs)--which can pass data to and from each other--and a power supply. Each MAU has a different, industry-standard connector to join the different media: One medium goes in, the other comes out. The connectors themselves are standardized to IEEE specifications and, as IEEE-compliant devices, use standard data-encoding rules and link tests.
Because they facilitate the connection of a multitude of devices, media converters lend flexibility to the network. They support connections to and from switches, hubs, routers, and even direct to servers. Currently, the most commonly used media converters support twisted-pair-to-fiber connections. These converters are designed for quick, reliable, cost-effective connections between the following types of media:
•10-megabit-per-second twisted-pair cable or device and 10-Mbit/sec fiber-optic singlemode or multimode cable (10Base-T to 10Base-FL)
•10-Mbit/sec twisted-pair cable or device and 10-Mbit/sec Ethernet coaxial cable (10Base-T to 10Base-2)
•100-Mbit/sec twisted-pair cable or device and 100-Mbit/sec fiber-optic singlemode or multimode cable (100Base-TX to 100Base-FX)
•100-Mbit/sec twisted-pair cable or device and 100-Mbit/sec fiber-optic multimode cable, not to exceed 300 meters (100Base-TX to 100Base-SX)
The newest technology in connectors, often called next-generation SFF fiber connectors, makes media conversion more critical than ever in building and maintaining a cost-effective network. The new connectors are a positive addition to the networking technology base because they solve some of the shortcomings of SC and ST connectors in regard to port density and termination. Because of the connectors` small size, hardware vendors can squeeze more ports into a given device, which results in lower cost to the consumer. Switches and hubs are starting to use more and more fiber. The SFF connectors can double the number of potential connections when compared to ST and SC fiber connectors: The chassis that could hold just 12 ports in the past can fit 24 SFF ports now.
The new connectors also help decrease cable-installation time. Some hardware vendors have already stated their commitment to one or another of these connector types, but a single standard has yet to emerge. It is only a matter of time before any one of them becomes the de facto industry standard, but their economies are well worth taking advantage of now, and they have already been put to use in various types of network hardware, including the latest hubs and switches. Because of the availability of media converters, early adopters can take advantage of the space savings and economy afforded by these connectors now. Media converters can connect their legacy networks to these economical devices via ST- or SC-to-SFF connectors. They also can provide insurance that there will be media converters to accommodate the evolution if the emerging connector standard is other than the one installed by an early adopter.
Speed conversion
Yet another choice emerging within media conversion itself is the small 2-port switch. Low-cost 2-port unmanaged switches upgrade, extend, and relieve network congestion where it`s needed, and they do so cost-effectively. The switches not only provide a means of connecting new network media or speeds, but also further improve performance by providing a means to segment networks into smaller, connected subnetworks at a slightly higher cost (Allied Telesyn`s 2-port switches carry list prices starting at less than $140). While traditional converters are simple pass-through devices, these small switches provide media conversion that is supplemented with security and store-and-forward capability. These switches` connector options follow the conventions of the media converters described above but in a more feature-rich tool. Sometimes the application is worthy of the extra features; in other applications, the simple converter is all that is needed.
In addition to the heterogeneous nature of network installations built over time, the compelling benefits of fiber present a strong argument for the use of media converters in a copper legacy network. Such benefits as increased security, increased bandwidth, and greater link distances are difficult to wait for. The distance specifications are probably the strongest driver in the argument for using fiber as the backbone medium. In standard Ethernet and Fast Ethernet networks, fiber specifications prescribe maximum distance of 2 kilometers, whereas the limit for twisted-pair cable is 100 meters. Gigabit Ethernet, currently a fiber-only specification, supports 1000Base-SX up to 550 meters in distance as well as 1000Base-LX up to 10 km in distance.
Cost has kept many network managers from making the transition to a fiber backbone, but those costs are significantly reduced when network infrastructure needs can be viewed in sections. Having achieved the goals of greater distances, security, and bandwidth in the backbone, a network manager can evaluate needs on a work-group-by-work-group basis. For economic reasons, network managers can often justify a step-down approach to the desktop. A fiber-to-coaxial or fiber-to-twisted-pair media converter, or a 2-port switch bridging a Gigabit Ethernet backbone to a more practical work-group medium, makes it possible to achieve significant benefits without waiting to retrofit the whole network. Even in the case of a new network, backbone-scale bandwidth to the desktop is expensive and usually unnecessary.
The use of Ethernet, Fast Ethernet, and Gigabit Ethernet switches in the network infrastructure is growing. Switches solve many of the problems common to larger networks, but most Ethernet and Fast Ethernet switches on the market today are equipped with twisted-pair connectors. When the entire network is built of twisted-pair cabling, the switches are easy to integrate--just plug one in. However, for many new installations, network managers are looking to optical fiber for their cabling infrastructure. For older installations that use BNC connectors, the same incompatibility arises. A simple fiber-to-twisted-pair media converter or a BNC-to-twisted-pair connector can make these devices work on previously incompatible networks.
Today, numerous choices are available for media conversion. While converters within the Ethernet network classification are in most demand and, therefore, most plentiful, there are also media converters within the Token Ring and Fiber Distributed Data Interface (FDDI) domains as well as converters to facilitate transition from a legacy FDDI or Token Ring network to Ethernet. Once under the Ethernet networking umbrella, the number of available options expands. In addition to the single-port-to-single-port devices traditionally thought of when considering media converters, in many cases a well-placed multiport switch with uplinks or transition ports does double duty.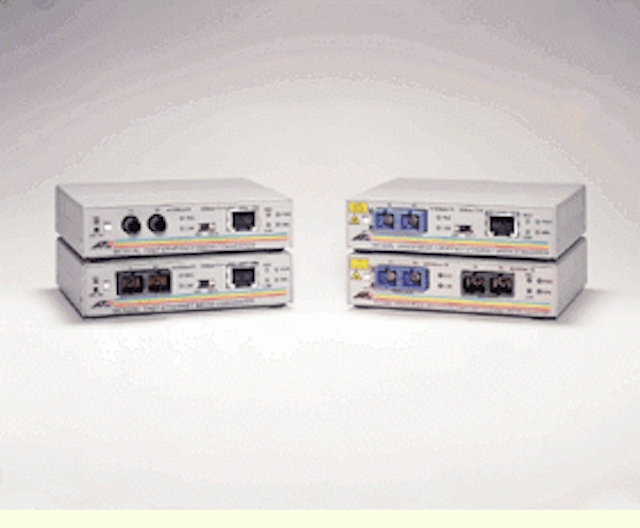 Click here to enlarge image
Available in a variety of conversion options, media converters let users upgrade their networks at their own pace and within budget.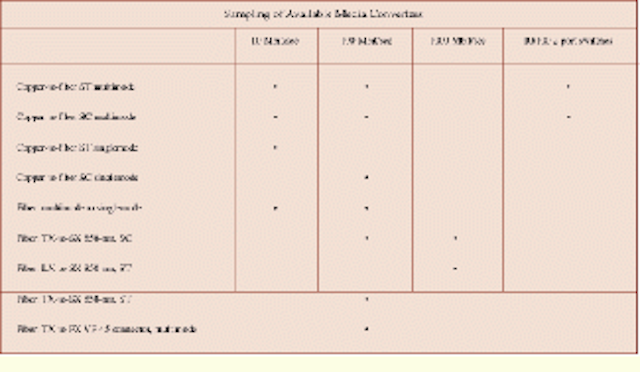 Click here to enlarge image
School prepares its network for the millennium
Students in the Spokane, WA, area may not know it, but they`re benefiting from an especially well-planned network. Officials at Spokane`s District 81 schools grew tired of the never-ending task of upgrading their network piece-by-piece. So they decided to start at the top (well, at the back) to upgrade the network infrastructure so that ongoing upgrades and spending would not be restricted to already outdated components. Of course, "deciding to" isn`t as easy as it sounds when you have to take your case to the voters for a school bond. But the administrators did just that and got voters` approval and funding to bring the K-12 schools in District 81 up to a standard that will take them into the new millennium.
The schools and administrative buildings in the district--52 at press time--are all linked via a metropolitan area network built on a 65-mile Gigabit Ethernet backbone. "The security and bandwidth benefits of fiber were key drivers in the decision, but we chose Gigabit Ethernet because we wanted to construct a network infrastructure that would do more than solve our problems for now," says Dennis Schweikhardt, manager of technology infrastructure for the Spokane Public Schools and the person responsible for implementing and maintaining this networking project.
The backbone`s Gigabit Ethernet fiber-optic cabling enters each building via a Packet Engines switch that steps it down to multiple 10/100 copper Fast Ethernet ports. Allied Telesyn copper-to-fiber media converters (the AT-MC102 for 100-megabit-per-second high-traffic links and the AT-MC14 for 10-Mbit/sec lower-volume links) then make the transition from copper to fiber for the distribution run to all of the classrooms and offices throughout each building. To maximize the benefits of fiber where it will have the greatest impact, while still keeping costs down, the district`s network designers chose to take fiber cabling to the classrooms and copper to the desktops. To accomplish this task, Schweikhardt and his team chose to install another set of media converters to convert the fiber back to copper just before the cabling enters the classroom distribution hubs.
"We had some choices, but the Allied Telesyn solution won out, both for economy and efficiency," says Schweikhardt. "We had considered installing hubs with integrated conversion, but they were actually more costly and allowed less flexibility."
With about 750 of these media converters already deployed, Schweikhardt places a lot of emphasis on reliability and space efficiency. "The 19-inch rack-mount units really make a difference," he states. "We can stack 12 converters in one unit with a redundant power supply to help diminish any possibility of downtime." Schweikhardt is equally pleased about the reliability the devices provide: "Of the more than 700 units installed over the last nine months, I cannot think of more than one or two problems, and the vendor has been very responsive on those few occasions where we have needed to exchange a unit."
Applications now and later
"You can`t keep going back for more. To justify the effort and expense of starting from scratch, we had to build a network that provides more than we need now. We`re not even coming close to filling the gigabit pipes now," says Schweikhardt. "Looking to the future, though, we expect that current trends will continue. More and more complicated multimedia applications and more users trying to get to those applications would put a strain on a poorly planned network."
Besides futureproofing, the District 81 network is serving a futuristic purpose now as well. In addition to serving the basic functions of a network--file sharing, electronic mail, and peripheral access--the District 81 network "brought home" some of its telephone service. The district has enabled voice-over-Internet protocol services; 12 T1 lines carry dial tone into the central administration building and can handle local telephone traffic and Internet access equipment over the metropolitan area network. "The cost-savings there will add up quickly," predicts Schweikhardt, "and there`s still plenty of room for growth."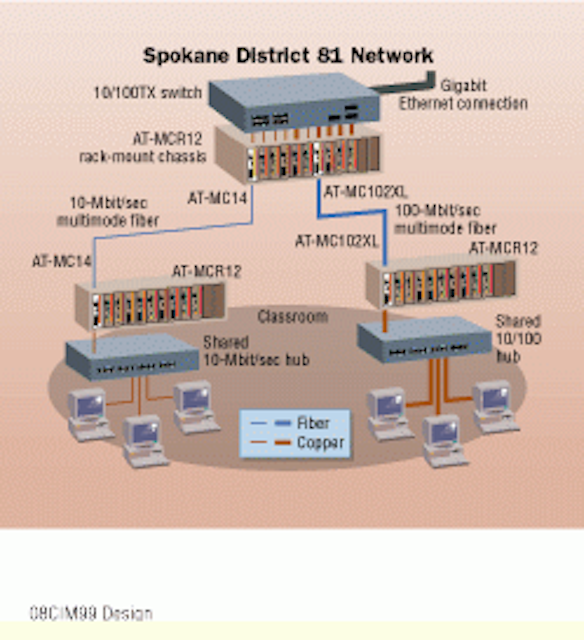 Click here to enlarge image
The Spokane Public School network uses Allied Telesyn 10- and 100-megabit-per-second media converters in rack-mount chassis to convert classroom fiber feeds to copper end-user connections.
The benefits of media conversion
Media converters facilitate the evolution of copper networks to faster, more-secure fiber-optic technology without requiring a full network retrofit. They provide the following benefits:
•Extend network distances by allowing the integration of fiber-optic cable into copper networks to support the longer distances available with fiber.
•Allow add-on devices, making it possible to connect the newest high-end, high-bandwidth switches and hubs, regardless of connector restrictions.
•Maximize efficiency and economy in new networks by enabling a high-bandwidth fiber-optic backbone to feed copper or lower-speed fiber to work groups and desktops.
•Increase network flexibility because media converters can be inserted almost anywhere in the network.
Mark Benevento is product marketing manager for media products at Allied Telesyn International (Sunnyvale, CA). For more information on media converters, see www.alliedtelesyn.com.