Fiber training propels technicians to head of the class
No one can deny that the outside plant is a place of change. Not only are fiber-optic networks and capabilities growing and changing, but the people who install and maintain the networks are changing in profile as well. Ensuring that competent, up-to-date technicians are available to keep fiber-optic plant up and running depends on their levels of knowledge and skill. This is where training comes in.
Aug 1st, 1999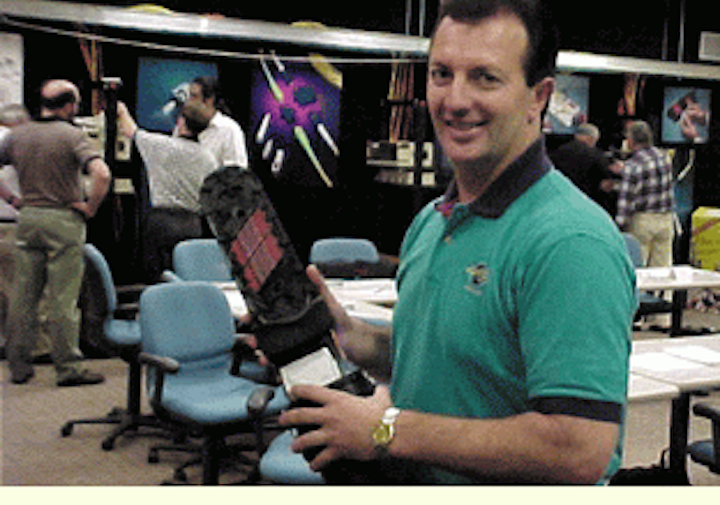 Susan Fogarty
No one can deny that the outside plant is a place of change. Not only are fiber-optic networks and capabilities growing and changing, but the people who install and maintain the networks are changing in profile as well. Ensuring that competent, up-to-date technicians are available to keep fiber-optic plant up and running depends on their levels of knowledge and skill. This is where training comes in.
"Reliability is the issue here," says veteran trainer Eric Pearson, president of Pearson Technologies Inc. (Acworth, GA) and director of the Fiber Optic Association (FOA--Boston). "People without proper skills create low-reliability networks, and we in fiber optics don`t need that. We need to create a reputation for a reliable product." Telecommunications companies--both small and large--must make certain that their installers are properly trained. Jim Hayes, president of Fotec (Medford, MA), which runs the Fiber U training program, notes that while telephone companies used to train their own employees, today the burden is falling more heavily on independent trainers.
Larry Sellers, technical service team leader at 3M Telecom Systems Div., agrees. 3M`s systems division offers a week-long class in fiber optics to the general public at its Austin, TX, training center. "We also customize training for the regulated phone companies; they`re our biggest customers and our real focus. They are in quite a change," Sellers remarks. "Over the next five years, they will lose 60% to 75% of their people to retirement so there will be a big gap between mature installers and new people." A workforce composed of a majority of new hires will make training even more critical.
Class act
Luckily, technicians have many opportunities for training at their disposal (see Product Update table, page 86). Videos, books, Web sites, multimedia programs, and correspondence classes can all be useful tools, but trainers agree that hands-on classroom training is the most valuable. Many instructors have their own training centers but also package classes that travel to diverse cities and company locations. Classes bring students away from the home or workplace, allowing them to concentrate without distraction on the subject matter and providing an interactive environment in which they can ask questions and share experiences with instructors and other students. Hands-on practice with installation and test equipment also reinforces the learning process.
Classes can last one to 10 days, depending on the depth of content. Many trainers offer an introduction-to-fiber class that lasts two or three days and includes instruction on basic fiber theory, connectors and mechanical splicing, cable pulling, and testing with a light source and power meter. A separate class frequently covers network design and is geared toward engineers and managers. Outside-plant technicians with more specific needs may benefit more from advanced classes. According to Hayes, "A basic course can`t cover OTDRs [optical time-domain reflectometers] adequately--we need at least a day to cover the theory and practice--so that is the most popular advanced course. Fusion splicing is another subject that requires additional training. It`s a very automated process and is specific to a vendor`s product, so a day or two of training by the manufacturer is often necessary."
Fiber-optics instructors seem to realize the importance of combining classroom and hands-on training. Trainers describe their programs as anywhere from 50% hands-on up to 85% estimated by 3M`s Sellers. "The key is getting the technicians very involved. In some of the classes we hear about, students put on three or four connectors. In our class, you`re going to put on a minimum of 20 connectors, and then if you want to do more, you can," Sellers says.
Larry Johnson, president of The Light Brigade Inc. (Kent, WA), says comprehensive training combines the knowledge component, which is the book learning and the study, and the skill component, which is the hands-on component. "We work to marry those two disciplines to make sure that we`re attacking the class at the right level, depending on the type of student," he adds.
The Light Brigade frequently customizes courses according to clients` needs, a task that Johnson likens to figuring out a Rubik`s Cube. "You really have to look at the class from the users` perspective and their profile, and pick and choose what best applies. Engineers will require much more knowledge, while technicians require a lot more skill," Johnson says. "I`m not sure people really understand when you put a class together how complex it is. If you develop it right, you win, and if you don`t, everybody may think they did well, but they don`t really come away with something they can use."
To certify, or not to certify
One sticky point in the fiber-training industry is the role of certification. For years, component and equipment manufacturers have been training students on their products and awarding them certification for that product. This type of training is often necessary and is beneficial because it shows students the specifics of using complex instruments like OTDRs and fusion splicers.
The drawback to technicians is that vendor certification limits their choices when specifying and using products in the field. Technicians who must be able to work with equipment from assorted manufacturers are forced to spend large amounts of time and money obtaining certification from several vendors. And in a case when a product is suddenly unavailable in the field and a substitution must be made, the technician`s training may prove worthless.
A major element and the biggest advantage of vendor certification, however, is a 15-year warranty program that many manufacturers offer. They certify technicians to install their products and give the end user a warranty. In that case, limiting certification to vendor-specific products makes perfect sense, and the warranty may benefit both the client and installer.
Generic certification
Certification that is not vendor- specific is available from the Fiber Optic Association. Its CFOT (Certified Fiber Optic Technician) designation is the only noncommercial certification available, and the FOA has approved numerous training programs, such as those offered by Lincoln Trail College, Mississauga Training Consultants, and Telos Corp., as prerequisites to the basic exam.
According to Fotec`s Hayes, who also serves on the organization`s board of directors, the FOA is a nonprofit professional society like the Institute of Electrical and Electronics Engineers. It was chartered to promote fiber optics, provide an opportunity for professional development by offering certification programs for its members, and engage in other activities like standards development. "We feel the FOA is the best nonvendor- specific certification option. Fotec`s training organization offers FOA certification with our programs," Hayes says.
Pearson believes that the strength of the FOA certification program lies in examinations that ensure students understand everything they need to, and in a built-in level structure that recognizes experience. "If you have installed 1000 connectors, you know a lot more than someone who has installed 10," he explains. "As you become more experienced, you become more valuable to your company and your clients. The FOA has over 400 members certified at the first level. At the second level, the certification becomes specialized--you become certified as a connector installer, splicer, and tester, based on experience." There is also a third level, and the organization will soon implement the fourth.
Outside the classroom
Technicians who may not be able to devote the time or money to classroom training still have many options from which to choose. Telcordia Technologies (Lisle, IL), formerly Bellcore, offers online training for corporate intranets and has a wide variety of programs available on cd-rom. The Light Brigade is well-known for its videos covering a wide range of fiber topics. "Videos can enhance and complement existing training. They don`t necessarily take the place of classroom or hands-on training, but they definitely complement it," says Johnson.
The most trendy way to train today is via the World Wide Web. Telecom U, at www.telecom-u.com, is 3M`s site for online training. An interactive installer-level class for Volition connectors is available to the public, along with more complex topics for members.
Fotec`s Fiber U Online is completely free, providing reading material and mini-tests on such subjects as fiber jargon, cabling networks, termination, testing, and OTDRs. Notes Hayes, "Online training looks like the wave of the future--at least the feedback from our online students indicates that is the case. We have used teachers to help us develop self-study programs so far, but now we`re looking at multimedia and virtual reality for simulated hands-on training."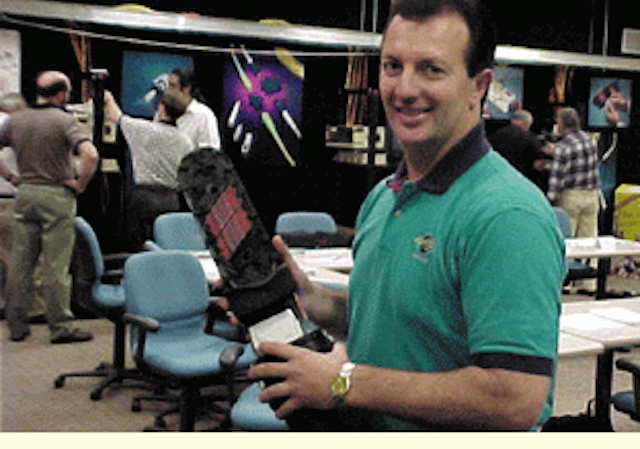 Click here to enlarge image
Rick Domalski, lead instructor for fiber-optic products at 3M`s Austin Training Center, demonstrates the use of fiber splice enclosures to his students.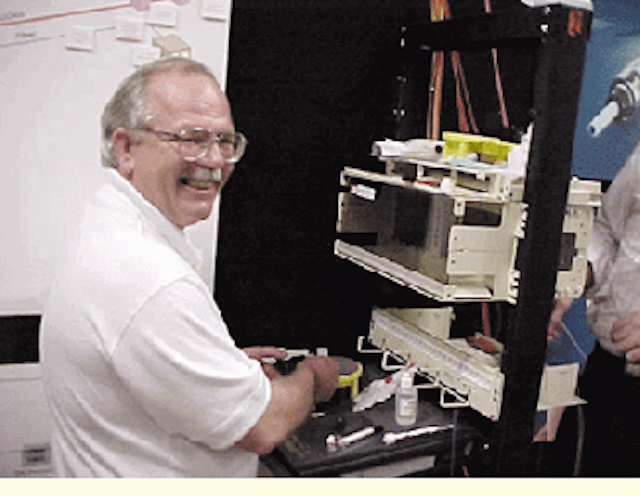 Click here to enlarge image
Jeffrey Dominique, president of FNT International, based in Phoenix, shows the benefits of hands-on experience with fiber-optic equipment at 3M Telecom training center.
Susan Fogarty is assistant managing editor of OSP Engineering & Construction. The article is reprinted from the April 1999 issue of OSP Engineering & Construction, another PennWell publication.