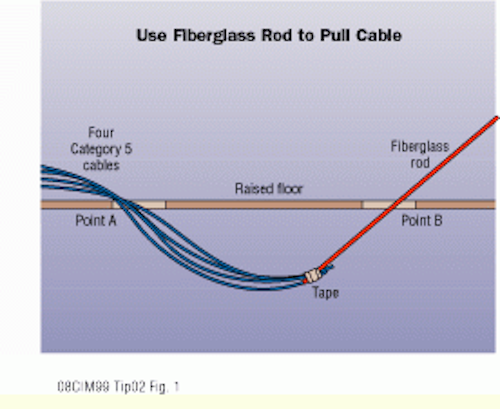 Gordon Ingram
Alcoa Warrick Operations
Problem
Routing cable through suspended ceilings or floors can be time-consuming and create a huge mess with the removal of tiles. It can also pose safety hazards should an installer overreach. The installer can knock over a ladder, fall through a ceiling when he is passing cable to assistants, or lose his balance on a floor without tiles.
Solution
Tape cables to one end of a 1/4-inch x 6-foot or longer fiberglass rod--similar to a bicycle flagpole--and feed cable through desired path. The rod is handed to a worker, while the installer "leap frogs" to the next stage in the path for the handoff.
Procedure
•Use electrical or masking tape and fasten cables to an end of the fiberglass rod.
•Depending on the length of the fiberglass rod, remove the appropriate amount of floor or ceiling tiles to establish cable path--point A to point B.
•Feed or pull cable through the desired route by handing it to a co-worker and then "leap frog" to the next floor or ceiling opening.
Click here to enlarge image
Four Category 5 cables can be attached to a fiberglass rod and pulled through a raised floor.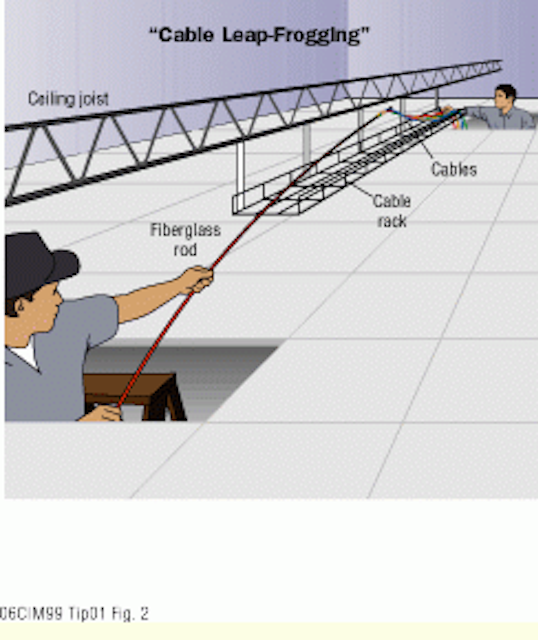 Click here to enlarge image
Cable can also be routed through racks and J-hooks that have been outfitted in the ceiling space. In either case, two workers share the job by rotating to the next floor or ceiling opening.
Gordon Ingram is a network technician at Alcoa Warrick Operations (Newburgh, IN), where he helped upgrade the plant`s coaxial-cable network wiring with fiber and unshielded twisted-pair cable.