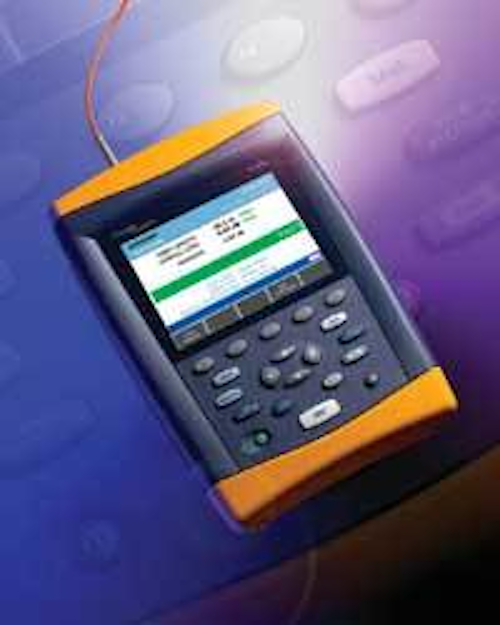 New test modules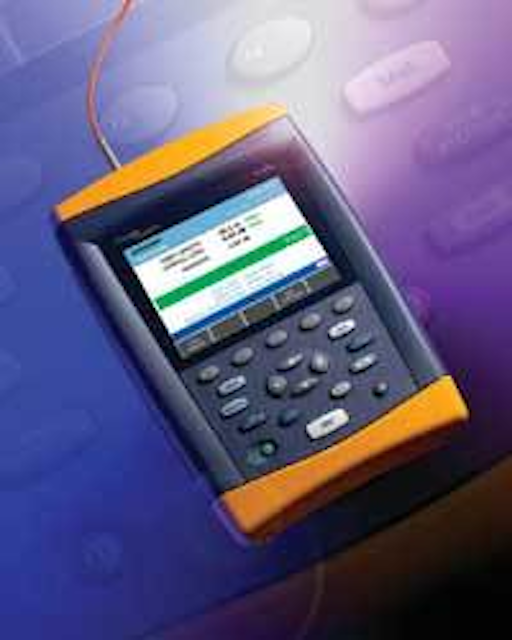 Click here to enlarge image
Additional test modules and software for the OptiFiber Certifying OTDR let you test longer fiber links in campus networks, or very short patch cords in data centers. A singlemode module offers a 60-km range, shorter dead zones, and increased dynamic range. Modules feature removable, cleanable OTDR ports and interchangeable power meter ports. Software enhancements are designed to make real-time trace and optical return loss results easier to view in the field, or to save for viewing and documentation.
FLUKE NETWORKS
www.flukenetworks.com
Micro-duct fiber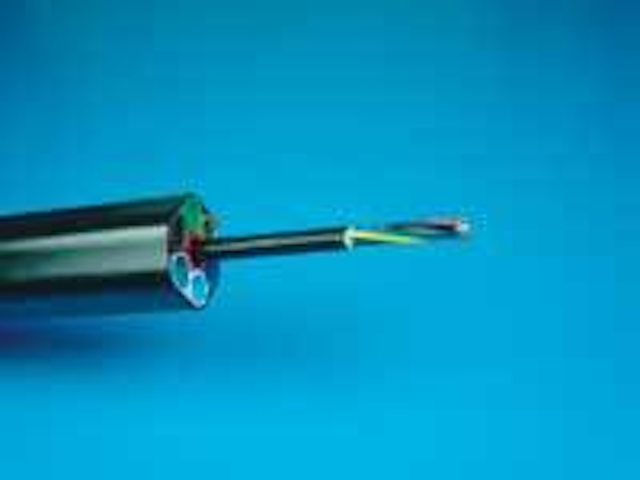 Click here to enlarge image
AirLight is a high-density optical-fiber cable for existing or new micro-duct installations where FTTx is deployed. According to the company, it is ideal for air-blown applications using compressed and dry air. Under trial testing, the fiber has been blown 2,600 meters into a 10/8-mm micro-duct in 71 minutes. Compared to conventional fiber cable, an AirLight micro-duct installation is designed to offer greater capacity of fibers, more flexibility, and lower costs.
FUJIKURA EUROPE
www.fujikura.co.uk
AV, security, tools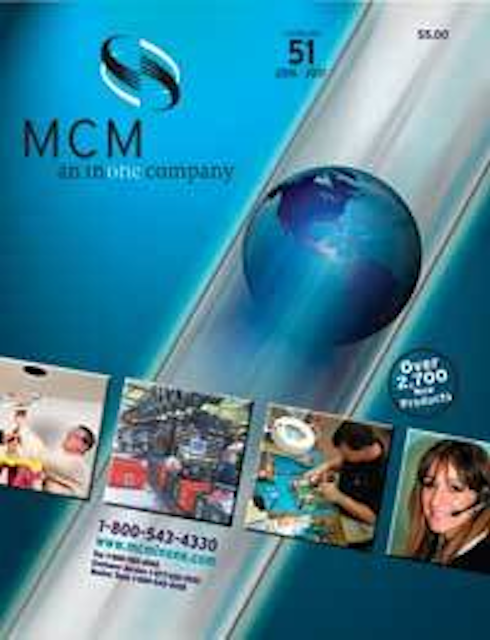 Click here to enlarge image
The 644-page MCM Electronics Catalog 51 contains more than 40,000 products, including parts and packages for security and audio/visual installations. The catalog also includes tools, test equipment, and information on the company's Installer/Dealer Program that promotes a special pricing structure.
MCM/IN ONE
www.mcminone.com
Commercial A/V hub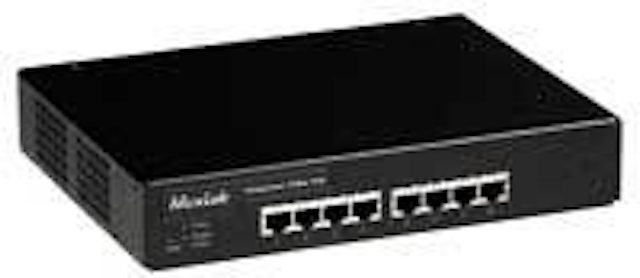 Click here to enlarge image
Developed for commercial audio/video (A/V) and digital signage integrators, the Component Video Hub distributes high-resolution component video plus digital audio to up to eight or 16 displays via Category 5 cable. The hub can be cascaded with other hubs to support up to two levels, and features built-in ground loop isolation on every port for maximum picture quality. It features RJ-45S connectors on both input and output ports, so you can install the hub in a telecom room. The unit supports HDTV resolution up to 500 feet via Category 5 between the video source and furthest display, with the hub being situated anywhere within the 500-foot range. At standard resolution, the hub supports up to 1,000 feet.
MUXLAB
www.muxlab.com
Shielded 10-GbE system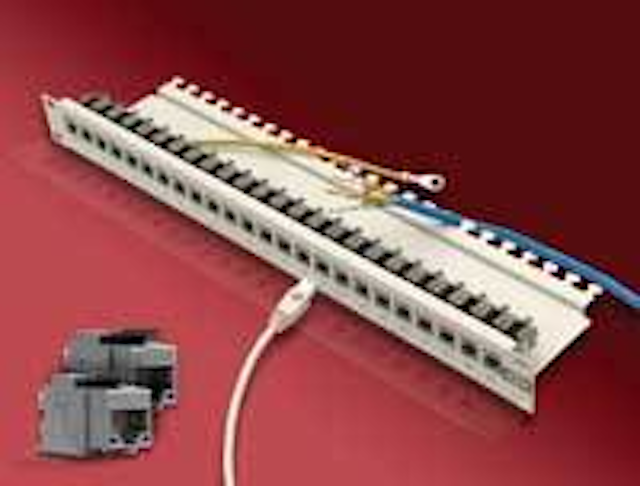 Click here to enlarge image
Promising to deliver standards-compliant 10-Gigabit Ethernet (10-GbE) transmission for the full 100 meters, the NextSpeed Category 6 shielded system is designed to provide headroom beyond 500 MHz, adding protection against ANEXT, external noise and EMI. This tuned system is comprised of: SJ6 jacks with inversely-oriented right-angled IDC contacts designed to allow each pair to be segregated, suppressing pair-to-pair NEXT; factory-tested PS6 patch cords, featuring a plug that incorporates a two-piece conductor sled design for controlling NEXT; PS24 1RU 19-inch, 24-port patch panels, with built-in shelf designed to provide cable management and strain relief for each individual cable; NextSpeed Category 6 screened twisted-pair cable, constructed with polyester-backed aluminum foil shield designed to protect the twisted pairs from ANEXT and external noise.
HUBBLE PREMISE WIRING
www.hubbell-premise.com
No-drill utility rack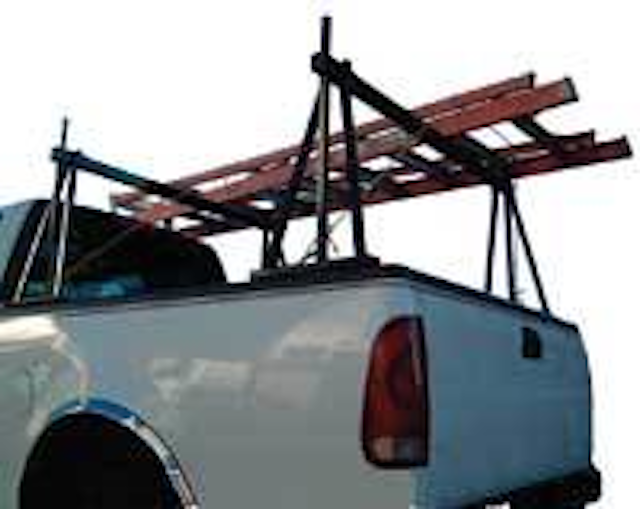 Click here to enlarge image
The Utility Rack, a no-drill alternative to truck bed rack systems, is designed to install in about five minutes and can hold up to 500 pounds of cargo. Made of zinc-plated, powder-coated steel, the Utility Rack adjusts to fit any pickup with ordinary bedrails. It installs via a clamping system to fit the truck bed, and can be stored on the garage wall or in a portable storage bag when not in use. The Utility Rack also has padded components designed to protect the side rails and truck bed finish, with additional padding provided to protect cargo. Tie-down loops on each side of the rack offer additional securing provisions. Available in two heights, the Utility Rack fits regular and light pickups, as well as extra tall cabs.
US RACK
www.usrack.com
Data center monitor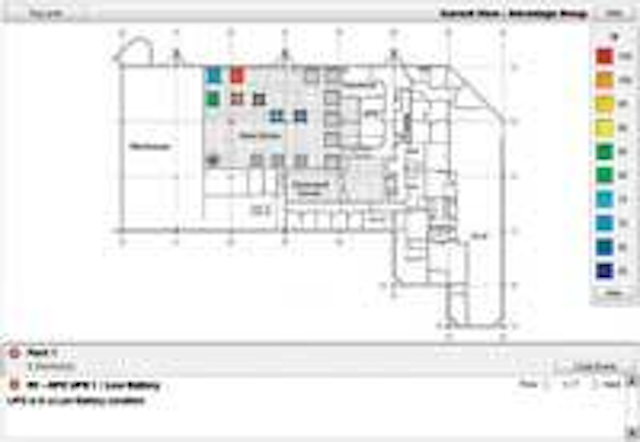 Click here to enlarge image
Enterprise View Version 2.1 lets you simultaneously manage multiple Sentry cabinet power distribution units (CDU) in multiple data centers. It provides a central location where all alarms can be viewed and logged for reporting, e-mail, or SNMP trap notification. New features include thermographic mapping, which shows a visual depiction of all hot spots in the data center. Devices that provide a temperature reading will be displayed in a color corresponding to its current temperature. Version 2.1 also lets you keep track of all maintenance done on data center devices, and notifies you when scheduled maintenance is overdue. Enhanced asset management provides tracking of asset tags, serial numbers, purchase orders, location, and owner.
SERVER TECHNOLOGY
www.servertech.com
Network dome cameras with joystick control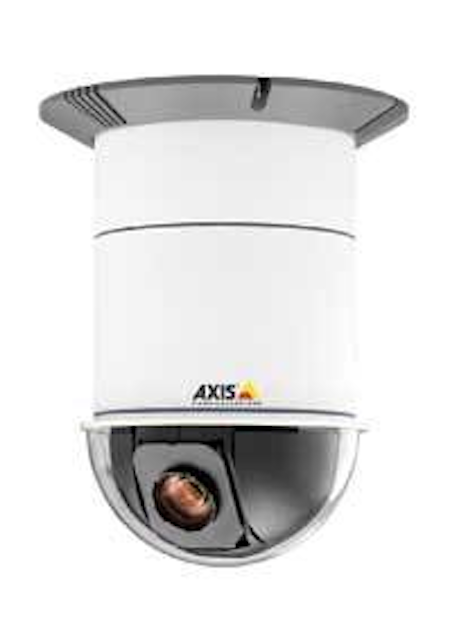 Click here to enlarge image
The AXIS 231D+ (pictured, next page) and 232D+ network dome cameras for professional surveillance and remote monitoring can be operated with the company's 295 Video Surveillance Joystick to provide continuous, 360° pan/tilt/zoom (PTZ) over IP networks. The cameras feature full frame rate video up to 30 frames-per-second, and multiple video streams with simultaneous Motion JPEG and MPEG-4 compression. Both cameras let you program 20 preset positions and an automatic guard tour that monitors activities in key areas. Joystick control is specifically designed to improve PTZ responsiveness and control accuracy, and features a three-axis joystick, an X/Y axis for positioning, turning knob for the zoom, and 12 programmable switches.
AXIS COMMUNICATIONS
www.axis.com
Modular connection system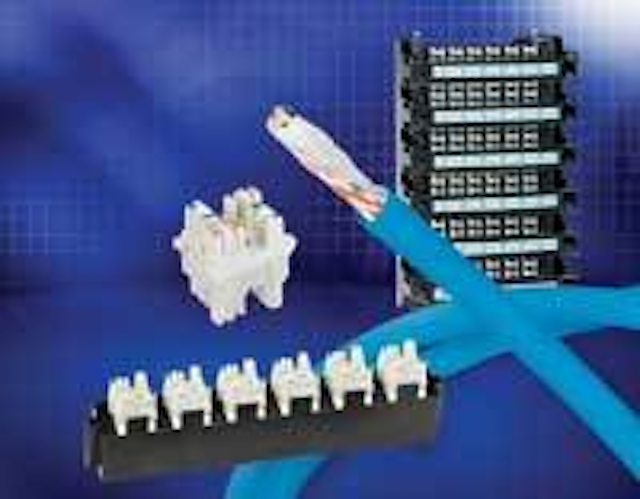 Click here to enlarge image
The 10GX IDC System is a modular connection solution for wall-mounted configuration of large cross-connect and interconnect rack-mounted systems. An alternative to modular patch panels, the system is designed to minimize network infrastructure expenses while improving uptime and security, and is engineered to deliver 10-Gigabit performance plus headroom for 10GBase-T data networking and multimedia applications. The 10GX IDC connecting block is the system's cornerstone and features three proprietary technologies, including one that allows the twisted-pair concept to be carried through the connecting hardware, making the connector transparent within the cable run. The system can be configured in large cross-connect fields with up to 2,300 x 2,300 ports in a 20-foot wall space.
BELDEN
www.belden.com
Enhanced estimating software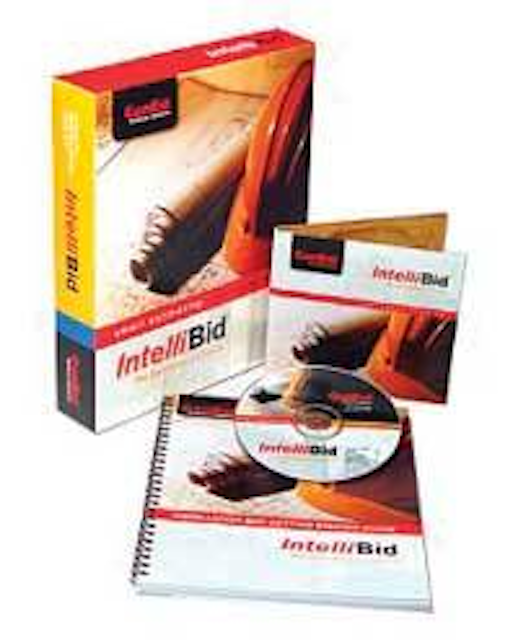 Click here to enlarge image
IntelliBid Version 5.1, the latest version of the company's estimating and business management software, now includes an expanded database of more than 70,000 electrical, low-voltage, and structured cabling materials. Other features include tools for increasing productivity, a Big Recap screen that lets you work on larger jobs with multiple bids, and an automatic backup feature that backs up any open job files when exiting the program. The updated software package is available in Design Build, Pro, Plus, and Lite levels. Optional add-on programs include BidTrac, JobTrac, T&M Billing, and Electrical Formulas. All levels are available in single-user and network versions.
CONEST SOFTWARE SYSTEMS
www.conest.com
Integrated fiber trunk
Click here to enlarge image
The Plug & Play Universal System Integrated Trunk Module is a pre-terminated 12-fiber MTP connector trunk assembly integrated into the company's Plug & Play Systems module. The trunk cable is stored in the module; you can pull it out and deploy to meet exact length requirements, eliminating the need for precise cable length pre-planning. Designed for redeploying optical connectivity, the trunk module is suited for both small data centers (main distribution frame to system equipment cabinet) and large data centers (zone distribution area to cabinet). The module eliminates one mated pair in the channel link, resulting in a lower system link loss. It features a quick-release cable tray, which slides out and tilts for easy cable access.
CORNING CABLE SYSTEMS
www.corningcablesystems.com
Multimedia panels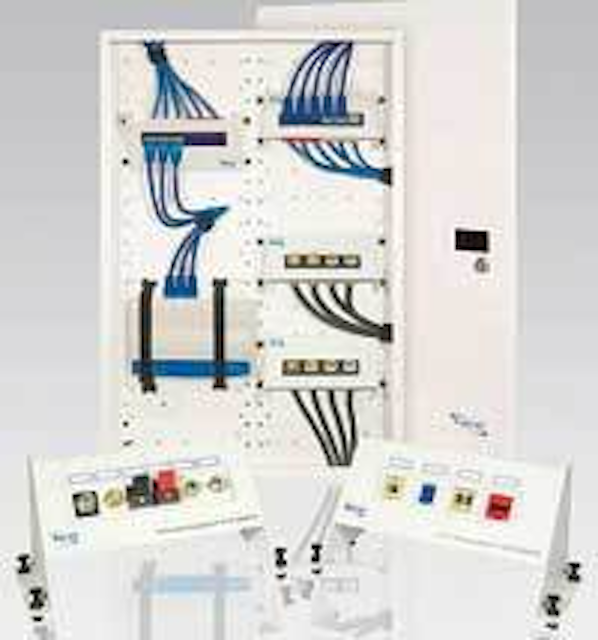 Click here to enlarge image
These blank multimedia patch panels, in 4-port and 6-port versions, are designed for the company's residential cabling enclosures. Both panels accept all of the company's HD-style connectors, which allow for a fiber network in the home. The all-steel panels have a glossy white finish and an open bottom for efficient cable management.
ICC
www.icc.com
Server cabinet compression latch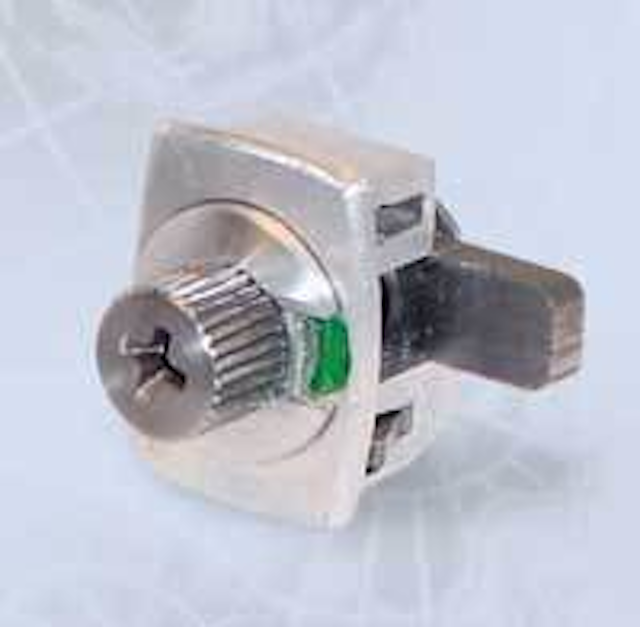 Click here to enlarge image
Designed for server cabinets or small-to-medium size access doors on cabinets and enclosures, these mini-compression latches with D-SNAP technology feature a set of spring-loaded wings that are inserted into a channel in the latch housing, allowing the wings to move freely so they can be inserted into the panel cutout. As the wings retract after passing through the cutout, the mini-compression latch is held securely in place, including during severe vibration applications. Since the latch does not require mounting hardware, the risk of loosened nuts, bolts, and screws is eliminated.
DIRAK
www.dirak.com
1U patch panel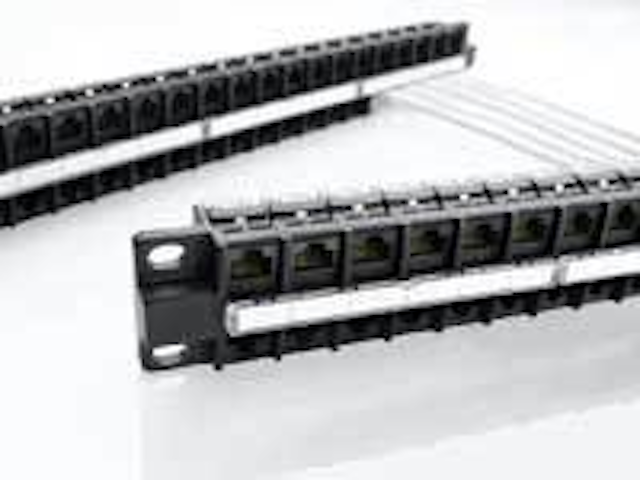 Click here to enlarge image
The QuickPort high-density 1RU/48-port patch panel features die-cast aluminum construction. Available in Category 5e, 6, and 6A versions, each includes one patch panel, 48 connectors, labeling kit, and cable management bar. A port label holder magnifies port markings.
LEVITON VOICE & DATA
www.levitonvoicedata.com
IP video software, encoder
The R5 VOS (video operating system) software system for IP video intelligence solutions, is designed to work on open, industry-standard servers and storage platforms. It features the company's existing video capture, process, storage, and management technologies, and offers intelligent video analytics that tie to the company's business solutions. The 6316 Powered IP Encoder lets customers integrate analog cameras into an open, IP video infrastructure. This digital conversion process allows consolidated video streams to travel over Category 5/6 network cabling to a central IT server, where R5 VOS provides secure video management and storage.
MARCH NETWORKS
www.marchnetworks.com
Pre-terminated fiber system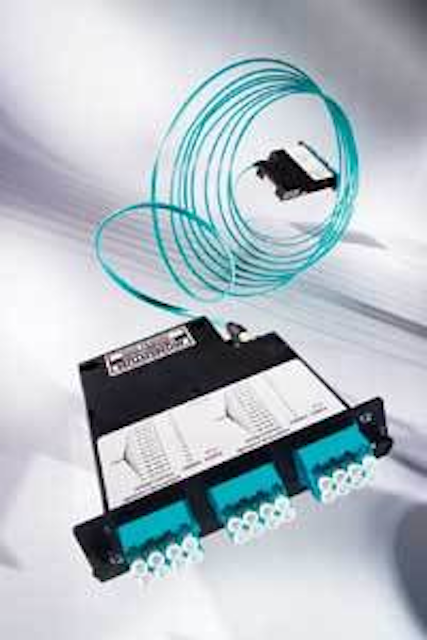 Click here to enlarge image
Momentum 2, a modular, pre-terminated fiberoptic cabling system, combines optical ribbon cabling, MTP termination, LC polishing, and hardware designed to provide a cost-effective solution for mission-critical data centers and storage area networks. This cassette-based system, a next-generation version of the company's original Momentum system, features increased cable plant loss budget through reductions in DMD and modal noise, improved insertion loss cassettes and ribbon backbones, reduced backbone differential mode delay, increased fiber count ribbon backbones, and maximized port density. Cassettes are available in 12-fiber SC or LC duplex, and 24-fiber LC quad connector versions. Ribbon backbones are available in singlemode or 50-µm laser-optimized multimode in 12, 24, 48, and 72 fiber counts.
ORTRONICS/LEGRAND
www.ortronics.com
Fiber trunk assemblies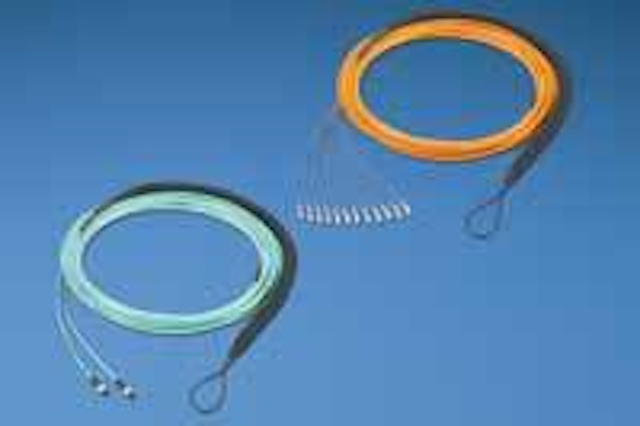 Click here to enlarge image
Opti-Core and QuickNe pre-terminated fiber-optic trunk cable assemblies are designed for faster start-up of high-density permanent links in a single assembly for data center applications, such as main, horizontal and zone distribution areas. Designed to optimize slack storage to ensure efficient use of pathway space for applications that are pushed toward small-form-factor cabling, these factory-terminated and tested trunk cable assemblies are said to exceed TIA/EIA standards. The assemblies are tailored to application-specific designs and lengths, and offered in simplex, duplex, and 12-fiber connector configurations up to 144 fibers.
PANDUIT
www.panduit.com
Video security software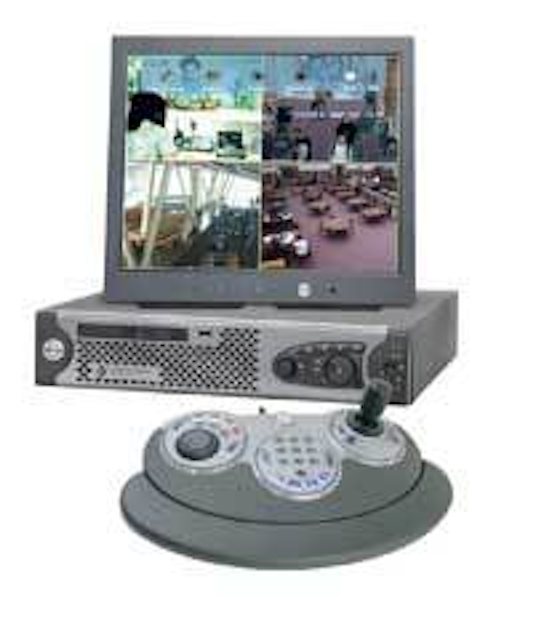 Click here to enlarge image
Endura 1.3, the newest version of an enterprise class IP-based video security software solution, offers expanded frame rate choices (up to four rates and three resolutions on each channel), integrated system diagnostics so that operators and users can monitor system performance from anywhere on the network, a single audio channel that can be assigned to multiple cameras or multiple audio channels that can be assigned to a single channel, additional PTZ control, plus new search options, drag-and-drop of multiple cameras into a workspace, and easier playback of exported video.
PELCO
www.pelco.com
Fiber-optic adapter kit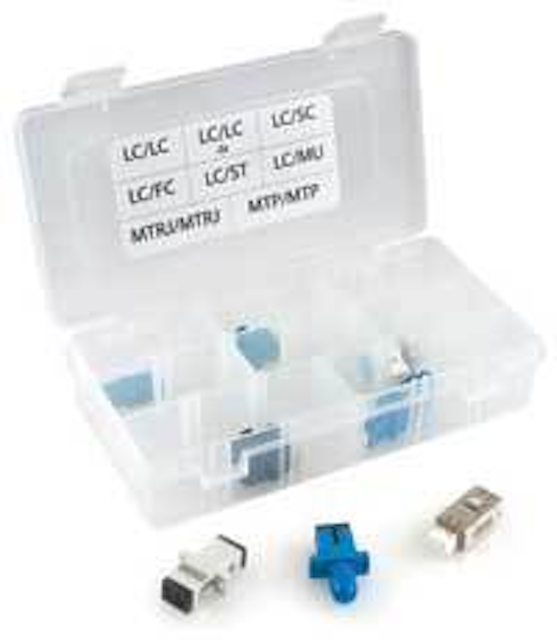 Click here to enlarge image
The company's fiber-optic adapter kits are designed to provide a simple solution to mating multiple connector types, and contain standard and hybrid adapters for the most popular types of singlemode and multimode connectors. Available in standard and custom configurations, the kits include SC, LC, FC, ST, MU, MT, and MTRJ adapters, as well as a compartmentalized storage case and a reference chart for adapter identification. Custom kits are also available.
TIMBERCON
www.timbercon.com
Gigabit Ethernet converter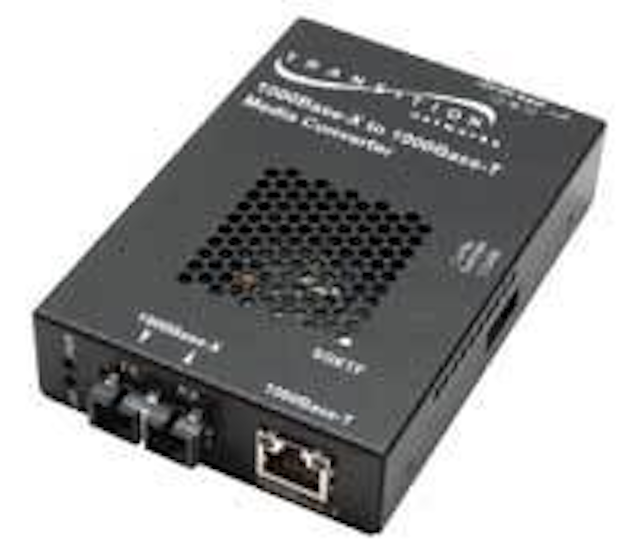 Click here to enlarge image
The GETF-110 series of Gigabit Ethernet copper-to-fiber media converters replaces the company's GETF-105 models. New features include Transparent Link Pass Through and Remote Fault Detect, which prevent the converters from isolating a head-end device from link failures at the remote end by monitoring the status of both the copper and fiber links. Should any link go down, the converters will pass the link status information on to both end devices. Fiber Loopback puts the converter into a mode that lets it loop back the signal from the RX port to the TX port over the fiber, for testing and troubleshooting during the installation. The GETF-11 also supports SFP optics, and is available in stand-alone or Point System chassis card form factors.
TRANSITION NETWORKS
www.transition.com
PoE midspan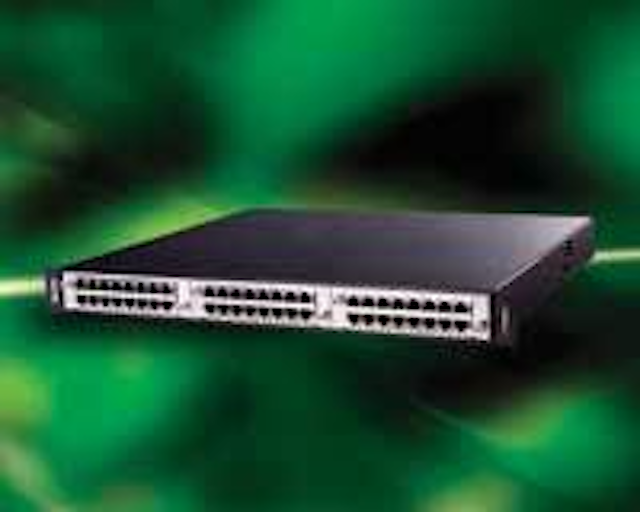 Click here to enlarge image
Modular PowerSense midspan Power over Ethernet (PoE) hubs offer network management capAbilities, and are especially suited for applications powering wireless access points and IP security cameras. According to the company, unlike comparable devices that require software upgrades and rebooting of the access point or camera, the PowerSense lets you turn power on or off throughout the distributed network from a central site.
BELDEN
www.belden.com
WAP ceiling enclosure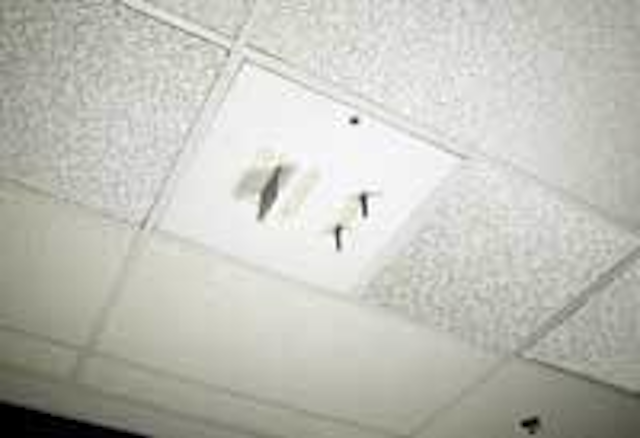 Click here to enlarge image
This 24 x 24 x 4-inch ceiling-mounted enclosure is designed to provide secure housing for wireless access points (WAP). The lightweight aluminum enclosure installs in drop ceilings and is designed for maximum signal coverage and reduced visual impact. A removable, chain-secured, lockable access door simplifies installation of devices within the enclosure. All required mounting hardware is included. Attachments are also offered for suspension wires.
WIREMOLD/LEGRAND
www.wiremold.com
Snagless patch cords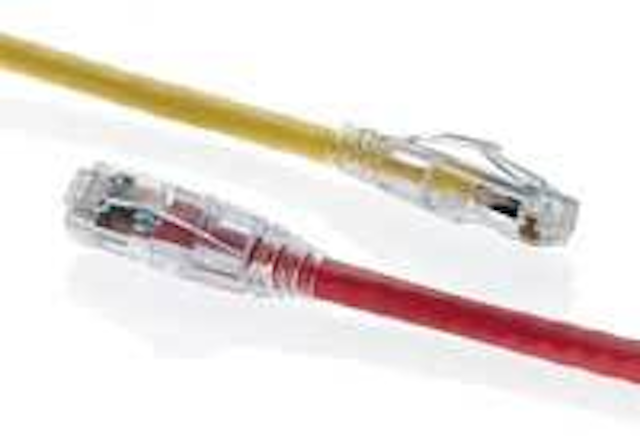 Click here to enlarge image
SlimLine patch cords feature a bootless design and narrow profile for tight installations. Stranded conductors are designed to offer superior flexibility with no significant electrical or mechanical degradation even after many flexures. These snagless cords, according to the manufacturer, are easy to install, and are especially suited for frequent moves, adds, and changes.
LEVITON VOICE & DATA
www.levitonvoicedata.com
Channel-blanket WLAN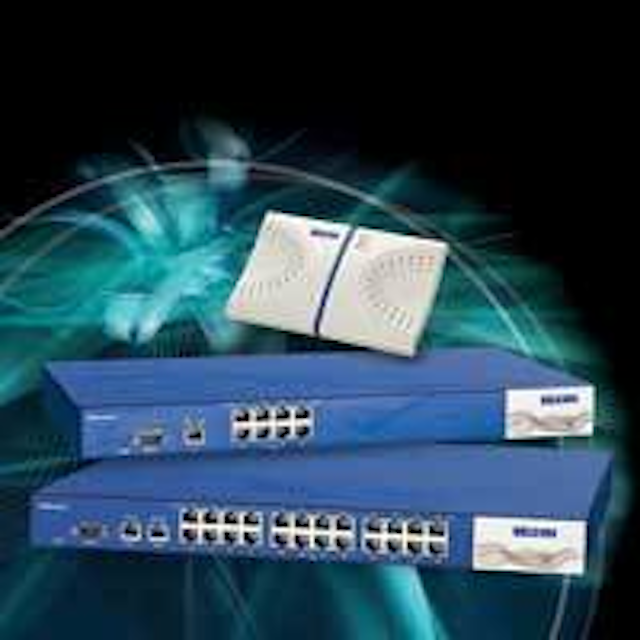 Click here to enlarge image
While standard WLANs use cell-based technologies that require RF cell planning to avoid co-channel interference, the Belden Wireless Solution uses channel-blanket topology designed to allow each radio channel to be used everywhere, at every access point, creating blankets of continuous wireless coverage without roaming latency or co-channel interference. The system consists of PoE-enabled 8-port and 24-port switches that eliminate the need for a midspan or endspan device; thin access points designed for plug-and-play functionality; software that manages switch operation, allowing clients to associate directly with the switch instead of the access point.
BELDEN
www.belden.com
Under floor management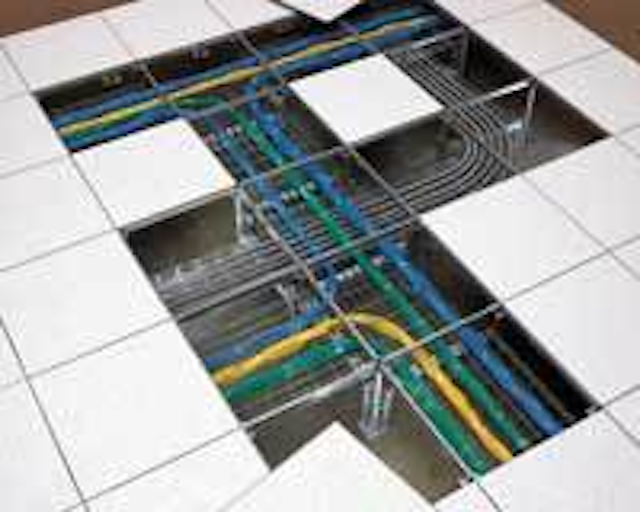 Click here to enlarge image
The Under Floor Cable Management System (UFS) for power and data allows a mix of 2-foot and 10-foot sections, and is designed for installation in either new or existing raised-access flooring. This heavy-gauge system is self-supporting; you drop the components in through the tile opening and snap in place. The proprietary support-and-tray system features patented FAS bend-over tabs so that parts snap together without complex tools or fasteners.
CABLOFIL
www.cablofil.com
Stealth patch cords

Click here to enlarge image
Molded from a patented stealth-type conductive material to enhance performance in high-stress data environments, the Black Cat Category 6 patch cords are tested and certified to TIA/EIA standards, and feature low-profile strain relief for high-density environments as well as snag-free strain relief. The cords are available in 3, 7 and 15-foot lengths, with custom lengths available.
PLATINUM TOOLS
www.platinumtools.com
Electronic punchdown tool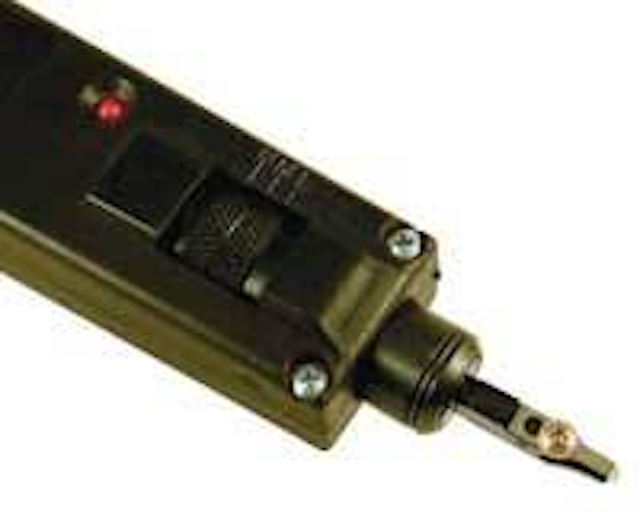 Click here to enlarge image
The EZ-E punchdown tool incorporates electronics that produce audible and visual confirmation of a successful termination. For IDC terminations, the tool features an adjustable force thumb wheel for selecting the optimal punchdown force. The tool is powered by a 9-volt battery, and an industrial-strength housing protects the unit from physical damage and vibration. You can order EZ-E at cableorganizer.com, or visit the company's Web site.
PLATINUM TOOLS
www.platinumtools.com
Strain relief bushing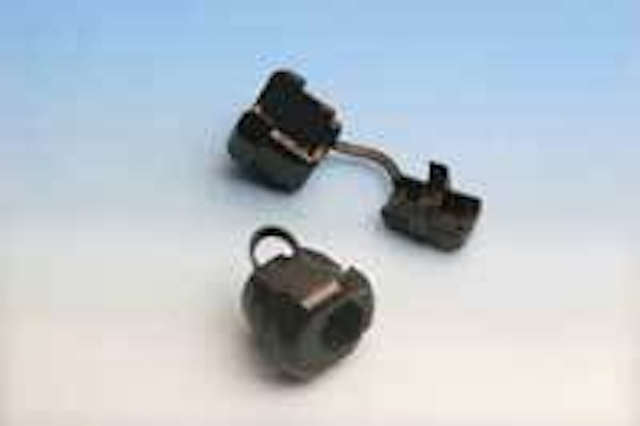 Click here to enlarge image
The UL-listed SRB Series of strain relief bushing is designed to absorb the forces of push and pull that may be exerted on cables. The company's SRPL-2 tool is required for installation, and is sold separately.
RICHO INC.
www.richo-inc.com
Quick cable gland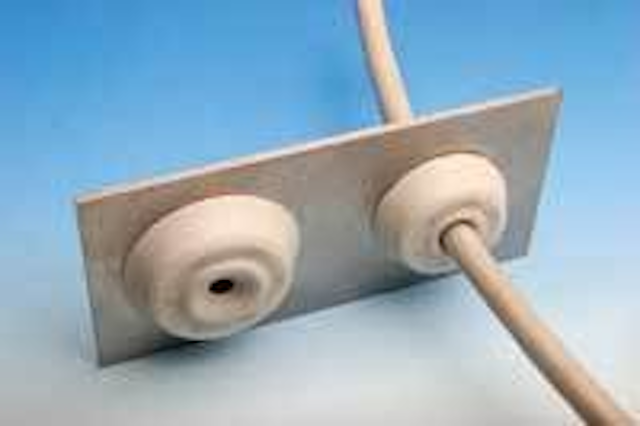 Click here to enlarge image
This waterproof grommet is designed to provide slight strain relief and can be easily installed by pressing it into a panel-according to the company, ten times faster than that of conventional cable gland installations. The KCG Series gland's proprietary design accommodates panel thicknesses from .059 to .197 inches, and remains sealed until punctured by cables passing through it. It is available in two sizes, which accept a wide range of cable bundle diameters.
RICHO INC.
www.richo-inc.com
See-through SOHO cover
Click here to enlarge image
A stylized cover for the company's SOHO Access line of enclosures features a curved, smoked Plexiglass window, and provides an additional 2 to 2.5 inches in depth to accommodate larger devices. Vents at the top and bottom of the cover, combined with numerous holes designed into the enclosure, promote air circulation. According to the company, laboratory testing of the enclosure demonstrates a power load capacity of up to 50 watts, which can be upgraded to 80 watts by adding a fan module (available in December).
SUTTLE
www.suttle.com
Adjustable grip tie tool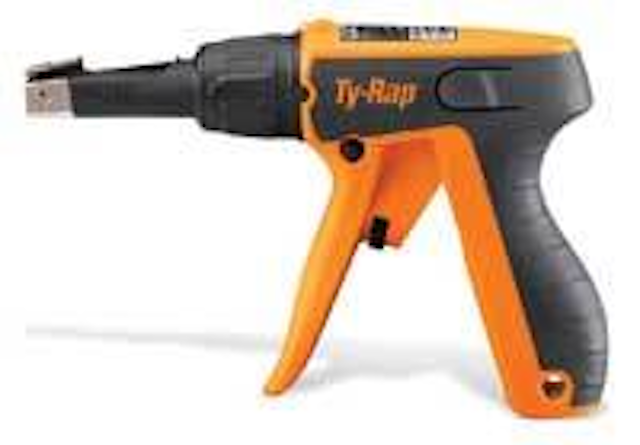 Click here to enlarge image
The Ty-Rap cable tie installation tool is designed to ease user fatigue, with patent-pending features that include an adjustable grip span built to fit any hand, and an anti-recoil cutoff mechanism that reduces vibration when installing cable ties. Other features include a high-low handle force mode, which offers the lowest required handle force to achieve the highest cable tie tension, and interchangeable tool heads so that one tool can cover the 18 to 120-pound range of cable ties. A patented 360º rotating nose is designed to eliminate the need to twist the tool when the cable tie orientation is rotated. Variable tension settings let you install a range of cable ties to the desired application tension.
THOMAS & BETTS
www.tnb.com
Testing connections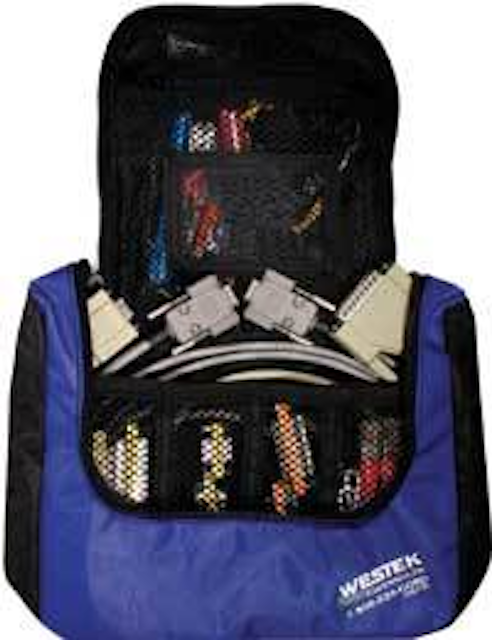 Click here to enlarge image
The Laptop Kit lets technicians quickly interface with multiple types of test equipment while in the field or central office. Configure multiple combinations of 25-pin and 9-pin-style cables to link a laptop with T-1, Ethernet, modems, routers, and D-Slam units and comports. The kit contains the following connectors and tools: 10-ft. 25-pin male to 9-pin female, 10-ft. 9-pin male to 9-pin female, 9-pin and 25-pin female and male gender changers, null modem 24-pin female to 25-pin male L/P adaptor, null modem 9-pin female to 9-pin male L/P adapter, RJ-48 shorting tool, RJ-48 Ethernet looping plug, wrist strap, flashlight, and screwdriver.
WESTEK ELECTRONICS
www.westek.com
802.11n wireless products
Capable of achieving data transfer rates of up to 300 Mbits/sec-25 times the rate of standard 802.11b devices and five times that of 802.11g-these 802.11n draft networking products maintain backward compatibility with 11b/g wireless networks while handling streaming high-definition video and multimedia, VoIP, gaming, and large-scale filesharing. This new family of products includes the SCM7904 WBRA-N ADSL2+ Barricade N modem router with four Ethernet ports and 802.11n draft wireless capability, Barricade N broadband router, and EZ Connect N PCI and CardBus adapters. An integraged SPI firewall provides security.
SMC NETWORKS
www.smc.com