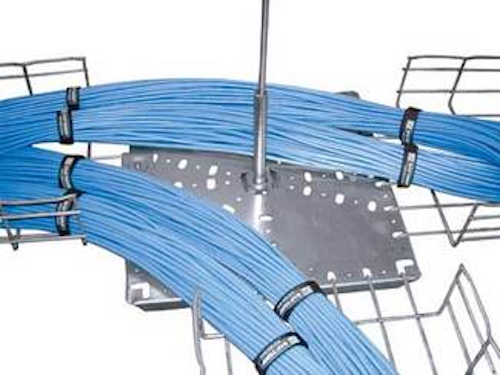 Today's cable tray continues to target easy installation while responding to recent trends and technologies.
Cable tray has long been a popular choice for effectively supporting and routing cable in the commercial environment, and faster installation continues to be the most significant factor influencing the enhancement of cable tray products.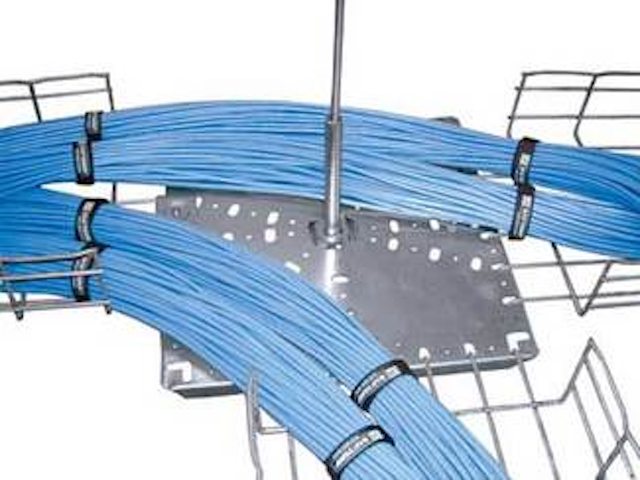 As part of its wire-basket cable tray solution, Chatsworth offers an intersect plate for its FastTrac cable tray, designed to protect cable and provide bend radius control during installation.
Click here to enlarge image
"With cable tray, the trend is always toward labor savings," says Sean Cheatham, product segment manager for Cooper B-Line (www.cooperbline.com). "It's the bottom line and what dictates innovation." For example, Cooper B-Line recently introduced a new Flip Clip for hanging wire basket, with only one nut versus the more labor-intensive two nuts and two washers.
Recent industry trends and evolving technologies are also playing their part in the cable tray industry. Whether it's the larger diameters of Augmented Category 6 cable (Cat 6A), the shift toward underfloor cabling, data center aesthetics and management, or even residential needs, today's variety of cable tray products includes something for every application.
Back to basics
"Application is always the key to selecting the right cable tray," says Cheatham. "The physical construction of a building tells you what type of span and support you need, while the environment tells you what type of finish you need. For instance, aluminum offers better corrosion resistance in outdoor applications."
Popular cable tray styles include two-sided, center-rail, and wire-mesh basket tray systems:
• Most often seen in exposed areas, such as the data center, two-sided ladder rack resembles a ladder with strong members for holding bundles of cables.
• Geared toward communications cabling, center-rail cable tray is hung from the center and features open rungs on either side that enable easy cable installation. "Center rail offers the most accessibility and flexibility for installing and removing cables, which is ideal for datacom applications with many moves, adds, and changes," says Cheatham. "The tray can be simply filled or emptied over the sides, and individual cables can be easily dropped out at any location as needed."
• Wire-basket cable tray is a lightweight, usually two-sided wire basket that can be hung via trapeze-style, center, or wall supports. Chatsworth's FastTrac Cable Tray, for example, is a wire basket tray that the company says is ideal for maneuvering around obstacles.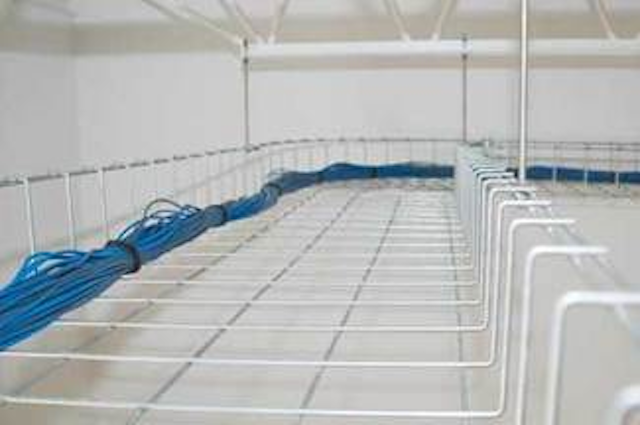 Snake Tray's Mega Snake is a high-capacity cable tray built in response to the industry trend of more cabling and larger cable diameters.
Click here to enlarge image
"Cutting the sides of the FastTrac allows you to transition up or down, and making a turn to the left or right is as simple as cutting a pie wedge out of one side and bringing the edges together to fashion a turn," explains Brian Donowho, senior product manager for Chatsworth Products, Inc. (www.chatsworth.com) Chatsworth also offers an intersect plate that attaches two sections of FastTrac, and features bend radius control for protecting cable at junctions and when dropping down to various locations.
Traditionally, wire-basket tray has been used in hidden areas, such as above drop ceilings or under raised floors, while ladder rack has been the preference in visible applications, such as the data center. But a shift has taken place over the past few years. "The amount of wire basket tray sold is greater than ladder rack today because it's lighter and easier to handle," says Ed Marsh, product manager, for Wiremaid Products Division, Vutec Corp. (www.wiremaidcabletray.com). Marsh points out that one reason why ladder rack has prevailed in the data center is that it's been sold by rack vendors as an accessory that attaches to the top of equipment racks.
Wiremaid's PRO-10 Wire Cable Tray System is available with prefabricated junctions and comes in a variety of protective powder-coated colored finishes, which Marsh says responds to the demand from customers who are looking to color-code their pathways."In the government arena, for example, color coding the cable tray lets the IT managers easily distinguish between various types of cabling, such as secured versus unsecured networks," says Marsh.
"Another trend in the cable tray industry is the need for a proper grounding and bonding of cable tray to reduce EMI interference with high-speed cables," adds Marsh. The PRO-10's patented design automatically offers UL-listed grounding when attaching sections of tray. The system is also available in a lighter duty version, with 2x2-inch wire grid for better support of optical-fiber cables.
Larger cables, and more of them
With the larger diameters of new Category 6A cables, and proliferation of more cables to support wireless access points and other devices, demand for larger capacity cable tray is growing.
"There's really no way to cheat the fact that you need larger capacity for Cat 6A cables," says Chatsworth's Donowho. "Historically, we've used a 40% to 50% fill ratio for future proofing, but we're reevaluating those values to see if we can increase to 60% fill ratio or more, especially for applications that don't anticipate moves, adds, or changes." According to Donowho, larger capacity cable trays have always been available, but larger cable diameters may increase their demand over smaller cable tray.
"People used to say that wireless would have a detrimental effect on our industry, but it has actually increased the amount of cabling," says Roger Jette, president of Snake Tray (www.snaketray.com). "We're now wiring more nodes than ever before." Snake Tray recently introduced Mega Snake, a high-capacity cable tray with pre-manufactured components for overhead applications.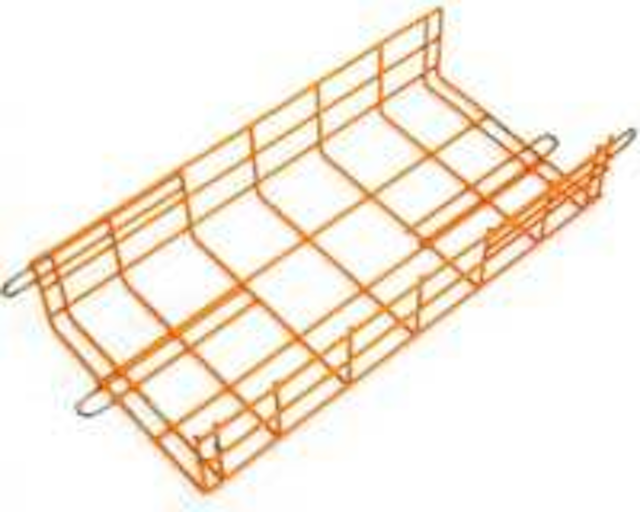 Wiremaid's powder-coated PRO-10 wire Cable Tray System can be put together using a ratchet, and it offers UL-listed grounding and bonding when connected.
Click here to enlarge image
"The thing we discovered about larger overhead cable conveyance was that it was better to have a pre-manufactured direction change than to fabricate corners on the job site," says Jette. "Mega Snake has a built-in suspension system that requires no brackets, as well as a suspension augmentation accessory for spanning greater distances."
Cable down under
In recent years, cable tray has made its way under the floor for raised-floor applications, and this scenario is gaining in popularity. "Raised floor applications are spreading throughout more of the building than the data center space, because studies show that it's more cost effective and efficient to implement air distribution under the floor," says Cooper B-Line's Cheatham. "If this is the case, the use of underfloor cable tray will also increase." Cooper B-Line's, Wiremaid's, and Chatsworth's wire-basket trays all feature support accessories designed for use under the floor in raised floor applications.
Cablofil Inc. (www.cablofil.com) offers a new UFS underfloor system, introduced last September. "Our UFS system lets you drop in a 2x2-foot section of tray into an existing floor square, or longer lengths up to 10 feet long can be used," says Tim Place, president and CEO for Cablofil. "The supporting structure is a patented design with no nuts or bolts that just snaps together." Cablofil's new UFS system is also self-supporting and does not use the raised-floor supports.
Snake Tray also offers several cable trays for use in raised-floor applications. "Snake Canyon is a 2x2 drop in module for raised floors that uses the raised-floor supports," says Jette. "Our 101 and 201 series can also be installed under the floor. It's important to provide a containment path to create rhythm under the floor and prevent cabling from getting out of control."
On the wall
Some cable tray vendors have introduced new systems that hang directly to a vertical or horizontal surface, avoiding the need for separate support brackets. These systems are ideal for smaller counts of cables, cramped spaces, and applications where support brackets are impractical or time consuming.
"There's more of an emphasis today on cable management and better support," says Cablofil's Place. "The industry is moving away from heavier cumbersome products and trending toward lighter products that can be used more as a cable manager versus traditional tray. That's why we see a lot of tray being placed vertically on the wall."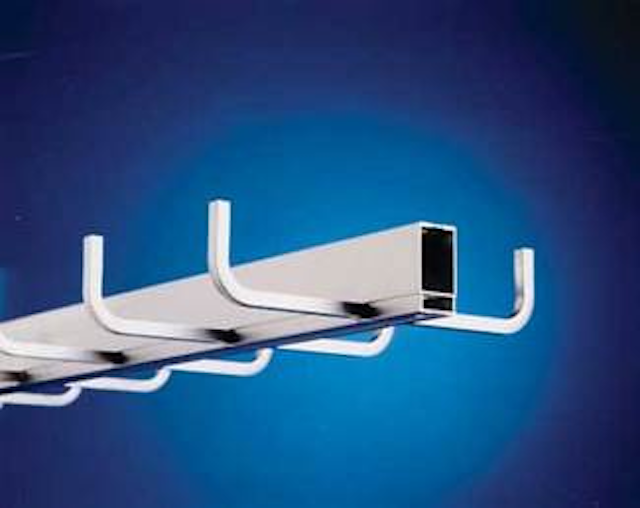 Cooper B-Line's center-rail cable tray is hung from the center with open rungs on either side to enable convenient installation.
Click here to enlarge image
In May, Snake Tray introduced Snake Race, a hand-bendable cable conveyance for tight spaces and small cable runs. "Snake Race was originally designed for high-end home builders who were looking for a low-voltage and Romex path that could be attached directly to any vertical, horizontal, or angled surface, including floor joists," says Jette. "We even make a stainless steel version that is being used aboard luxury yachts and other shipboard applications."
The G Mini tray from Cablofil can be used as a substitute for J-hooks and is intended for small cable counts.
Click here to enlarge image
Snake Race features built-in mounting rings spaced to accommodate common stud spacing, and its small 2x2-inch size is especially suited for mounting under desks and other furniture.
Cablofil's G Tray is so named because it is shaped similar to the letter "G." It can be mounted directly to the floor, ceiling, or wall. "We were looking for a way to hang tray without the need for extra supports, and we've ended up finding many uses for the product," says Place. "The G Tray comes in many widths, and can even be used vertically as a cable manager."
This month, Cablofil is introducing its G Mini, which is a 2x2-inch tray with the same "G" shape. "The G Mini is a very flexible tray for smaller counts of cables," says Place. "It's great for residential or around furniture or equipment. The G Mini can be cut and bent by hand so there are not extra fittings." Place adds the G Mini can also serve as a substitute for J-hooks, and it provides the continuous support needed for higher speed cables.
Pathways and opportunities
Cable tray has been around for decades and products continue to evolve to accommodate ease of installation, trends, and technologies. "All these new cabling technologies need to be supported from point A to B, but the amount of commercial and industrial construction is what has the biggest impact on our business," says Cooper B-Line's Cheatham. "There's more construction today, so our market is doing very well."
Chatsworth's Donowho believes that while cable tray vendors continue to aim innovation at easy installation, proper pathway planning remains key: "There needs to be a certain level of planning, and the more planning, the faster the installation and the fewer the problems, regardless of the cable tray."
BETSY ZIOBRON is a freelance writer and frequent contributor to Cabling Installation & Maintenance. She can be reached at: bziobron@comcast.net