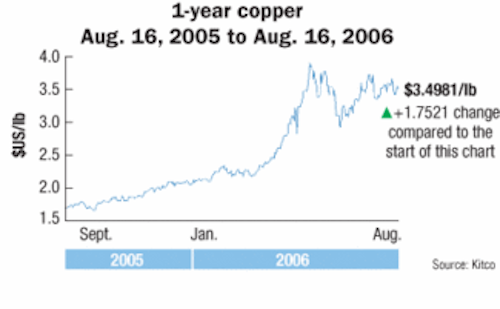 For manufacturers of communications cable and their distributors, seemingly ever-present volatility in the global copper market raises a host of pricing concerns that, needless to say, ultimately affect the buying strategies of their customers-the contractors.
The London Metal Exchange (LME; www.lme.co.uk) reports that the price of copper has tripled in the past four years, skyrocketing more than 59% in the period between January and May alone. Further, according to a May report issued by Communications Supply Corporation (CSC; www.gocsc.com), copper prices at the Commodity Exchange of New York (Comex) have increased by more than $0.92 per pound since the beginning of April, with price increases occasionally approaching $0.20 per day.
For perspective, copper prices increased $0.75 in all of 2005, equating to a 58% increase in copper since January of 2006-and a 138% increase since January of 2005.
Whither the market volatility? In many respects, the matter comes down to supply and demand. Ongoing industrial development in massively populated countries, such as China and India, coupled with the recently robust U.S. residential housing market, have fueled the steady recent demand for copper. But environmental and geopolitical factors also play into the price instability.
In October 2003, a fatal rockslide stalled operations at Indonesia's Grasberg mine, the world's third largest copper operation. In June of this year, a 7.9-magnitude earthquake caused a temporary shutdown in critical mining operations at state-owned Codelco in Chile-the world's largest copper producer, by far. And in August, copper prices surged after a union forestalled discussions to resolve a strike at Chile's Escondida, the world's largest copper mine.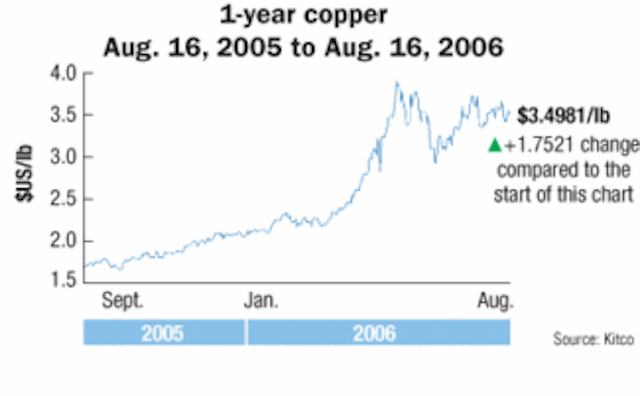 This one-year chart of copper's market price, provided by kitco.com, shows that despite very recent falloff, the overall price of the metal is up significantly from its summer 2005 price.
Click here to enlarge image
All such events tend to stoke market fears of diminished global copper supplies lagging behind demand. According to a commodity price report issued in July from Montreal's BMO Financial Group (www.bmo.com), "With [copper] inventories at critically low levels, demand firming amid healthy global economic growth, and production gains likely limited, the resulting tight market balance should keep prices high, even if volatile, during the rest of the year."
Trickling down
So, how does the maelstrom of concerns surrounding copper pricing affect suppliers of communications cabling? What are the financial and economic implications of this market's volatility for cable manufacturers and distributors? And, most importantly, from an end user's perspective, when is a determination made to raise prices-and by how much?
In dealing with the current scenario, Mike Barnick, senior manager of solutions marketing for Systimax (www.systimax.com) and CommScope (www.commscope.com), explains that "especially in this year" his company has "had to work very closely with copper escalation clauses." Such arrangements follow market fluctuations and apply a formula for adjusting cable prices upward in the event of suddenly spiking raw material costs.
Noting that the insulating and jacketing materials in communications cabling are by-products of the petroleum industry, Barnick adds that "we're also seeing issues of trying to balance out the effect of the increase in oil's cost per barrel, and the translated cost in plastics that we have to acquire in order to produce the billions of feet of cable that we do every year." He concludes, "We've had some frank discussions with customers, that what we're quoting you today…we may need to reevaluate that after 30 days, or whatever."
Subject to the rippling effects of increasing raw materials costs, what adjustments can cable purchasers expect to make? A representative at another provider of copper cable points out that, as a defense against such market uncertainty, many end users opt to "hedge" their purchasing decisions by "locking in" on predetermined pricing for cabling.
According to the representative, who offered comment but asked to remain anonymous, a purchaser committed to a major installation where the price of the cabling material needs to remain constant for a specified period of time may opt to buy at a fixed price, providing their cabling supplier, via distribution, with a firm commitment to buy a pre-determined quantity of material over that span. In turn, the cabling manufacturer can then buy enough raw copper at cost to produce the installer's whole order. The representative allows, however, that one disadvantage for installers in this scenario is that if copper prices should drop, the installer is still obligated to pay for the higher price, as contracted.
In a similar vein, cable manufacturers may choose to hedge on the price they pay for copper from their suppliers, points out Todd Harpel, director of marketing for cable manufacturer Berk-Tek, a Nexans company (www.berktek.com). Communications cabling manufacturers can lock in the price they pay for copper from their suppliers for a year, he says, adding those that have done so anytime in the past three years have been rewarded by locked-in costs while the material's price has climbed sharply.
As part of the Nexans family, Berk-Tek is in the minority among twisted-pair copper cable manufacturers in terms of the resources available to it. In particular, as Harpel points out, Berk-Tek has its own rod mill, affording it the opportunity to process raw copper-presumably at a lower cost than some other twisted-pair cable manufacturers pay for the service to be outsourced.
Concerning the ripple effects of copper pricing through the supply chain, CommScope's Barnick adds, "We've had to work very closely with our distribution, our business partners, our installer community, and with the end customer to recognize that when you quote on a job, you're looking at a three- to four-month time frame between making the decision to upgrade a network and going out, getting a quote, evaluating some vendors, getting a re-quote, finding out availability, finding a logistics partner, staging the products, signing a contract, getting it installed, and then beginning to pay the bills on it. There is this new dynamic that hasn't been around for a while-of working more closely on the quote versus where we are when we're ready to buy-'truing up' the quote and then looking at 'are prices still good?'"
Any discussion of copper pricing with regard to the cost of cabling infrastructure must inevitably touch upon the IEEE's recently ratified 802.3an standard for 10GBase-T for 10-Gigabit Ethernet transmissions over copper. Does the standard's acceptance expand the horizon for the development of copper infrastructure enough to mitigate the present pricing concerns?
Yes, says Barnick, "because now you have a pretty cost-effective solution for 10-gig UTP, compared to what you have to spend on the fiber side to get the equivalent [connectivity]. And you're going to get more port density probably, and you're probably going to get a better price on that NIC [network interface card], which all goes into the decision-making process. Even if there is, say, a 3% to 5% increase on top for the cost of copper content, it's still a better long-term solution to be positioned for 10-gig over UTP when those switches come out."
The previously cited representative from a cable supplier further notes that, while Cat 6A cabling typically uses more expensive 23-gauge copper strand (accounting for about 25% more raw copper than 24-gauge strand), in the case of 10GBase-T, a customer is essentially paying for bandwidth-with the higher cost of the cable accounting for more megabits per dollar, and thus cheaper signal transport.
Broader perspective
Despite the justifiable furor over the perpetually escalating price of copper, it is not the most expensive component in a UTP cable-at least, not in a plenum UTP cable. Fluorinated ethylene propylene (FEP), commonly referred to as Teflon (because that is one of the trade names under which it is sold), represents the single costliest component of a plenum UTP cable. (FEP is available from DuPont under the name Teflon and from Daikin under the name Neoflon.)
So, while the price of plenum cable certainly has risen in correspondence with the price of copper, the percentage increase of plenum cable has not been nearly as significant as that of raw copper. Non-plenum or riser-rated UTP cable, on the other hand, has seen more dramatic percentage increases because it contains far less amounts of FEP.
Relative to some other cable types, particularly high-voltage power cable, UTP communications cable's price increases have come about at a snail's pace. Berk-Tek's Harpel, drawing again on the perspective of Nexans' far-reaching capabilities, points out that it is not uncommon for power-cable manufacturers to have daily fluctuations in their products' pricing-both up and down-because copper makes up such a significant percentage of those products.
By comparison, Harpel notes that Berk-Tek has a 30-day clause with respect to cable sales to its distributors. That is, distributors require a 30-day notice on a price increase. He further points out that for many in OEM situations-in which one manufacturer produces cable to be sold under the name of another company-price-increase notifications can be more like 45 or 60 days. In essence, the manufacturer is absorbing the extra cost of producing cable for anywhere from 30 to 60 days. Naturally, they factor that one- to two-month profitability shortfall into the new pricing schedule.
Matt Soroka, who is in corporate product management at Communications Supply Corp., notes that many of the key commodities that go into the manufacturing of wire and cable, such as copper, oil, derivatives of oil (e.g., PVC resins and plastics), as well as transportation costs, began to rise two years ago. This resulted in significant declines in operating margins for all of the category cable manufacturers and, therefore, required them to significantly raise prices starting in early April of this year.
"Internally, we understood and were sensitive to these types of price changes and the impact they would have on our core customers," says Soroka. "Beginning in 2004, when the first wave of price increases by the wire and cable manufacturers began, CSC was the first national distributor to develop what we called a 'pricing dynamics' letter for our customers."
Sonoka says the benefits of this kind of notification were threefold: "First, it became a great tool for our sales force that helped them to understand the inflationary market dynamics taking place, enabling them to make appropriate pricing decisions at the desk. Second, it kept our key customers abreast of the situation, allowing them to make any necessary adjustments to their project budgets. And third, it also enabled our key customers to have meaningful conversations with their key customers."
Soroka notes that his company continues to provide periodic market updates to its customers through notification letters and e-newsletters, and by posting up-to-date market information on CSC's Website.
In apprising end users of continually volatile raw materials markets and associated price increases for communications cabling, Soroka concludes that "we can either manage the process with excellence, or we can allow it to upset us and our customers. Just setting up that situation, preparing the customers with details and substance, obviously allows you to handle the inevitable price increase with a lot of confidence and finesse."
---
Short runs…
CHICAGO, IL-This city's largest residential high-rise Wi-Fi installation to date, a 43-story building at 1130 S. Michigan Ave., has linked 656 apartments without requiring cabling infrastructure in the individual units. Installer MDI Access (www.mdiaccess.com) used what it calls an "outside in" installation method, in which ten wireless access points were constructed on the exterior of the building and then connected to a Category 5e backbone inside the building. MDI Access President Bob Heiderscheidt says the approach reduced the number and corresponding cost of access points from about 80-typically required for a building of comparable size when access points are located inside-down to 10. Heiderscheidt believes that other vertical LAN Wi-Fi deployments in high rises will remain necessary even if Chicago installs a municipal-area network (MAN). "Municipal networks are horizontal and only cover the first few stories of a building," he explains. "What we've done is taken your typical municipal layout and turned it 90 degrees."
MINNEAPOLIS, MN-ADC's (www.adc.com) TrueNet structured cabling solutions have been installed at China's Olympic softball stadium, as part of the first venue renovation project in preparation for the 2008 Summer Olympic Games. Completed at the end of June, the installation was the site for last month's World Softball Championships. The TrueNet system runs throughout the more than 143,000-square-foot field, and an expanding floor of nearly 95,000 square feet. The renovated areas include the stadium, two playing fields, and two practice fields. The installation serves as the infrastructure for data sharing during softball games that will be viewed across the world.
PALO ALTO, CA-Agilent Technologies' (www.agilent.com) Agilent Network Tester and N2S products were selected for the final phase of the industry's leading IPv6 interoperability event, Moonv6, conducted in late July by the Joint Interoperability Test Command (JITC) and University of New Hampshire's Interoperability Lab (UNH-IOL). The goal was to validate the maturity of network security devices and other service systems that support the government-mandated IPv6 security protocol. The U.S. Department of Defense will use the results to determine a baseline set of standards to which vendors must adhere in anticipation of IPv6 cutover beginning in 2008. Participating vendors used Agilent's application mix test methodology to exercise their equipment's application-aware functionality and defense mechanisms. The transition traffic forwarding test suite delivered a realistic distribution of seven application protocols over native IPv4 and IPv6 while simulating network threats and exploits. Agilent's protocol-emulation software stressed and measured equipment address-allocation capability, critical for future data, voice and video service environments.
PHOENIX, AZ-The city of Phoenix has selected a NetClear GT3 enhanced Category 6 horizontal structured cabling system from Berk-Tek (ww.berktek.com) and Ortronics/Legrand (www.ortronics.com) for data, voice and video applications in the first phase of its new 2-million-square-foot convention center expansion. The project will triple the size of the current facility, and will include a high-speed network for all exhibit floors, lecture halls, meeting rooms, and retail services. The cabling system includes both copper and fiber channels, with the ability to provide up to 10-Gbits/sec to the desk. To deliver multimedia services to each location, Berk-Tek provided a spiral-wrapped cable bundle, which included multiple LANmark-2000 enhanced Category 6 cables. In some locations, up to four strands each of laser-optimized multimode and singlemode fiber were deployed. The LANmark-2000 cable was terminated onto Ortronics' Clarity 6 patch panels in the 14 telecom closets. At the workstation, Ortronics developed a Fib-or-Cop faceplate, which can accommodate up to 12 TracJack outlets, including six copper cables and a combination of 12 fibers with LC connectors.
STONINGTON, CT-Hubbell Premise Wiring (www.hubbell-premise.com) has formed a marketing alliance with Mitel (www.mitel.com) to address the physical infrastructure requirements of enterprise IP communications deployments. Hubbell's PowerTrac Power over Ethernet patch panel has been tested and verified by Mitel as a midspan panel solution for use with the Mitel 3300 IP Communications Platform. Hubbell is installing its infrastructure solutions at select Mitel demonstration centers, including the company's Costa Mesa, CA, Atlanta, and Vancouver, BC offices.
SPICEWOOD, TX-Spicewood Publishing (www.smart-buildings.com) has released Jim Sinopoli's Smart Buildings-A Practical Guide for Architects, Engineers, Developers, Contractors and Design Consultants-a how-to book covering the design and operation of the multitude of cabled systems involved in newly constructed buildings. The book covers the basic design foundations, technology and management systems encompassing a "smart building" framework. The book contends that smart building designs can enable cost savings in construction and operation, and improved functionality via system integration. Sinopoli, RCDD, is a licensed professional engineer and a recipient of BICSI's Harry J. Pfister award.
NEW YORK CITY-The 2007 National Electrical Safety Code (NESC) is now available through the IEEE (www.ieee.org). The updated code offers guidance on safeguarding employees and the public when electrical supply and communication lines are designed, installed, operated, and maintained. The code is updated every five years to reflect industry changes. The IEEE is also offering the NESC Handbook, Sixth Edition, which is a companion product that offers insight into its rules and how to apply them.