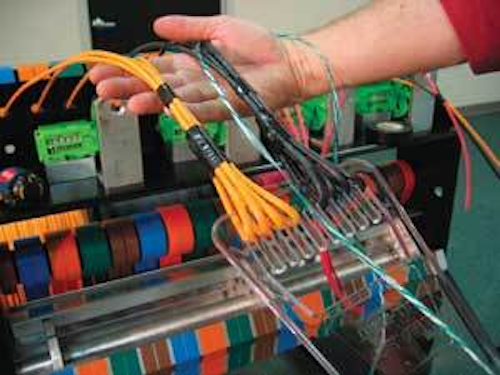 A sampling of everything from complete pulling and labeling systems, to traditional fish poles for hard-to-reach installations, to mini-lubricants for your tool belt.
The more things change, the more they stay the same" is a saying well-suited to cable-pulling and its equipment. But while some tools of the trade have remained as popular and effective now as they were when introduced years ago, advanced cabling technologies are placing renewed importance on the role and effectiveness of cable-pulling products ranging from complex systems that separate cables as they're pulled, to reliable fish poles that can do big things in small places.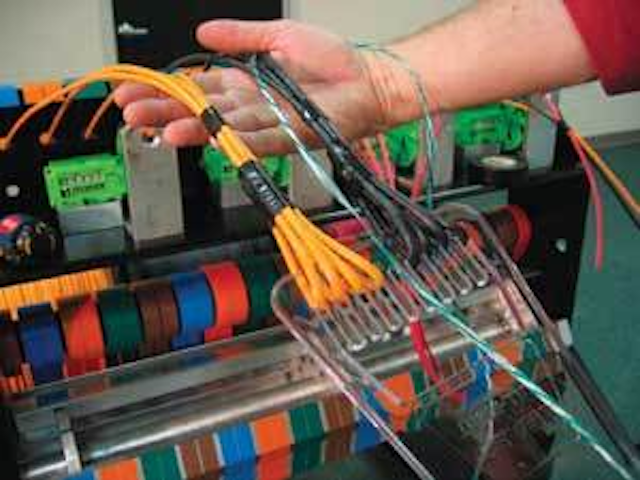 The Claw, an anti-twist and tensile pressure equalizer component to the Beast III cabling system, is designed to pull cables smoothly and with equal tension.
Click here to enlarge image
"With advanced network speeds, proper material handling is more critical than ever to ensure network performance, flexibility, and life span," notes Greg Bramham, vice president of cable-pulling technology innovator Beast Cabling Systems. The company's Beast III is billed as an all-in-one portable system that separates, organizes, meters, and labels cable off the reel or out of the box. The technology is designed for time-saving cable pulling, and is built to ensure uniform installation practices at any premises or outside plant jobsite.
Dealing with points of friction
"In traditional installation methods, makeshift entry points that support cables as they enter the pathway can become points of friction that can stress or even damage the cable," adds Bramham. "Furthermore, while cables are being pulled, most of the tension is placed on the outside cables of the bundle, which can further stress those cables. Consider that the alien near-end-crosstalk (ANEXT) parameter that limits 10-Gigabit Ethernet performance over a 100-meter copper channel is increased by the tendency of cables to absorb signals from neighboring cables in close proximity."
Bramham says the Beast III system, including a Wirewolf pathway guide and patch panel organizer as well as The Claw anti-twist and tensile pressure equalizer, helps maintain a natural separation in the pathway to help reduce ANEXT and provide more headroom in high-speed applications.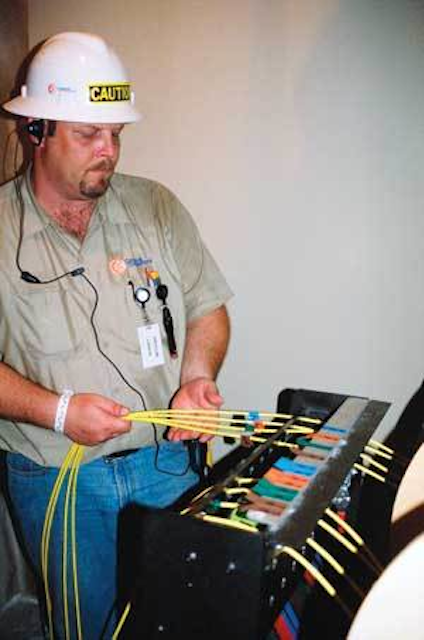 The Beast III cabling system, used to help re-cable the Louisiana Superdome following Hurricane Katrina, provides a natural separation of cables in the pathway for easier identification and helps reduce alien near-end crosstalk (ANEXT).
Click here to enlarge image
"The Beast is not just a set of components-it's a CIS (cabling installation system) for pulling cable that results in better network performance and manageability while reducing labor, improving accuracy, and reducing waste," Bramham says.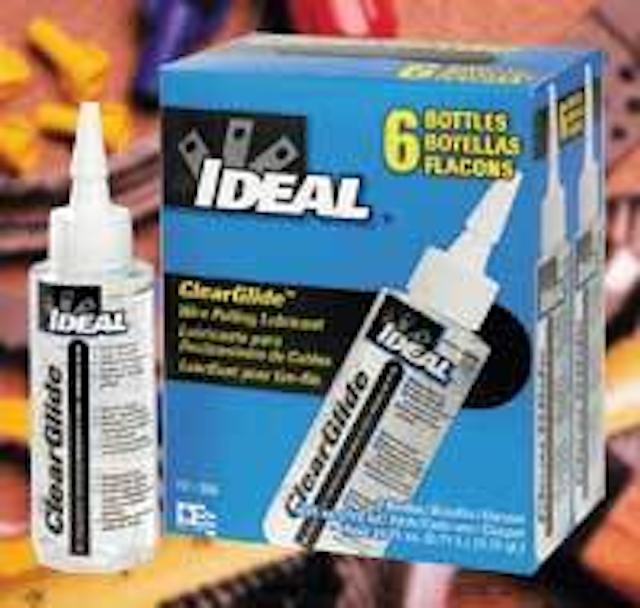 ClearGuide, a polymer-based cable-pulling lubricant, is now available in small bottles that fit in your tool belt.
Click here to enlarge image
"Because CIS maintains natural separation of cables in the pathway, it's easier to identify and remove specific cables, if needed," Bramham adds. "This reduces the tendency to leave possibly hazardous abandoned cables sitting in the pathway."
Gone fishing
While employing a more basic cable-pulling task, ensuring cable separation and reducing friction are also key benefits of Greenlee's new FP12 12-foot fish pole-a traditional cable-pulling tool made especially for maneuvering in cramped spaces, including over suspended ceilings.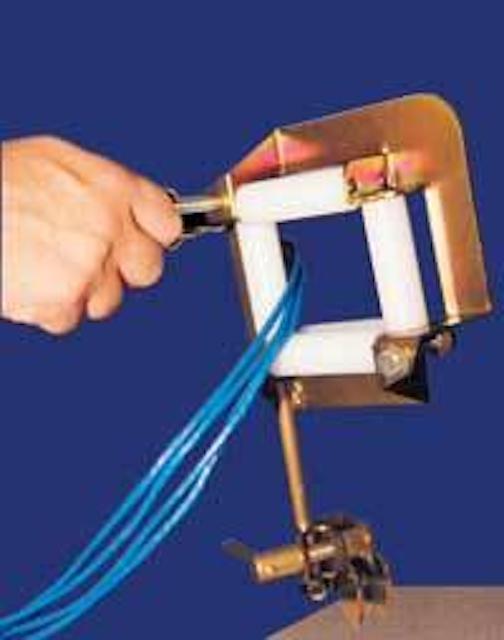 The venerable Cable Joe, which acts as an installer's "third arm," can be suspended and swiveled into any position to support up to 20 cables at once.
Click here to enlarge image
"We developed the new FP12 to complement the current line of 18-foot and 24-foot poles," says Greenlee product manager Jim Eisele, adding that the smaller pole's size and light weight "make it an excellent tool for pushing and pulling wires in residential and light commercial buildings."
Weighing in at less than 1.5 pounds, the fiberglass FP12 also features a proprietary hook that can help maneuver or adjust hanger wires used in suspended ceilings. It collapses to 26 x 1 ¼ inches, and offers added control with its friction locking system.
Greenlee's FP18 and FP24 fish poles, meanwhile, feature an enhanced gripping section, while the FP24 has snap-lock buttons to maintain extended reach capabilities.
Some cable-pulling products' efficiency simply stands the test of time. Cable Joe, introduced eight years ago and now manufactured by Polygon Wire Management, still serves as a popular stand-alone "third hand" for cable pulling.
The unit, which can be attached to a tray or joist, features a steel C-clamp support arm topped by a cable pass-through ring lined with six rollers, and can be suspended and swiveled into any position to support up to 20 cables at once.
"I'll set up four to six Cable Joes along the run and pull the cables through the building on my own," says installer Steve McIvor of the device's one-person operation.
The six-roller system forms a 3-inch square opening for the up to 20 network cables to be safely pulled around corners and over beams, without the need of an installer hand-feeding the cables.
"We have supplied Cable Joe to installation companies around the world," says co-inventor Ian MacDonald. "Installers will have four or five in their trucks ready to go for the next job."
Easing tension, or not?
Meanwhile, cable-pulling lubricants, such as IDEAL's ClearGuide, are now as portable as some of the technologies it supports. ClearGuide four-ounce six-packs are designed especially for installers working on small jobs or retrofits, and are small enough to fit into a tool belt, bag, or pocket.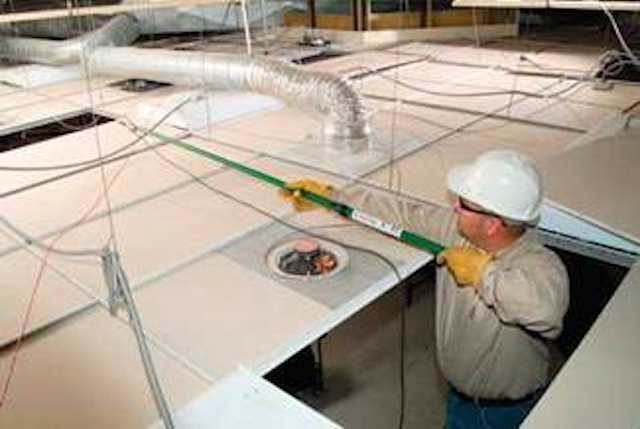 Greenlee's lightweight fiberglass FP12 12-foot fish pole is designed especially for maneuvering in cramped spaces, including over suspended ceilings.
Click here to enlarge image
A polymer-based formula, which the manufacturer claims is safe for all types of cable, gives ClearGuide its consistent cable-pull lubricity. It is designed to remain stable over a temperature range of 30º F to 180º F, and when it dries, the non-toxic, non-flammable lubricant won't clog conduit.
Installers should be aware, however, that all cable-pulling lubricants are currently in the eye of a storm concerning their impact on attenuation, return-loss, and insertion-loss on higher-performance UTP cabling, such as Category 6 and 6A. Signal loss can result from radio-frequency-induced heating of residual water found in a lubricant before it dries. (See "Ask Donna," October 2006, page 10.)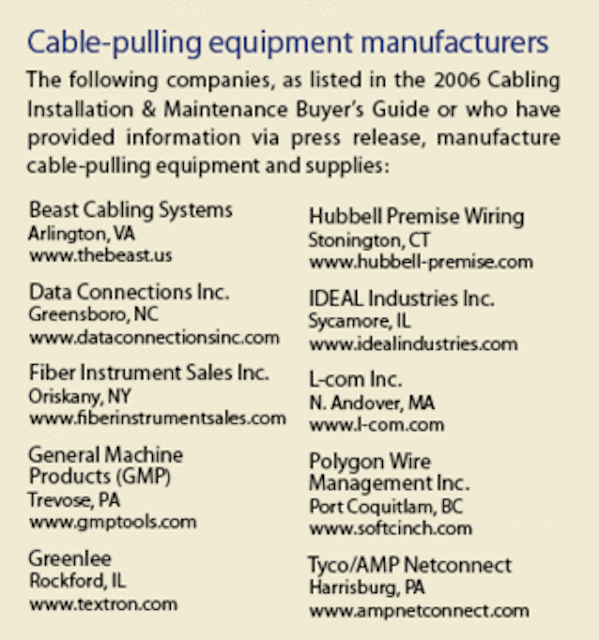 Click here to enlarge image
STEVE SMITH is executive editor for Cabling Installation & Maintenance.