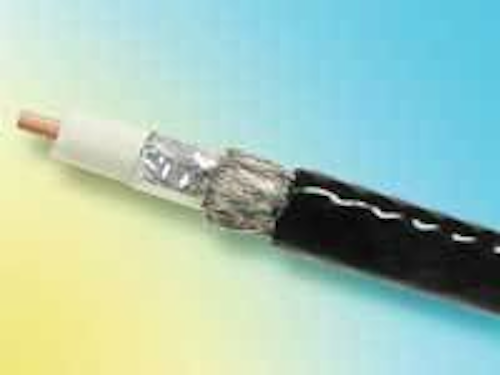 RF-shielded coax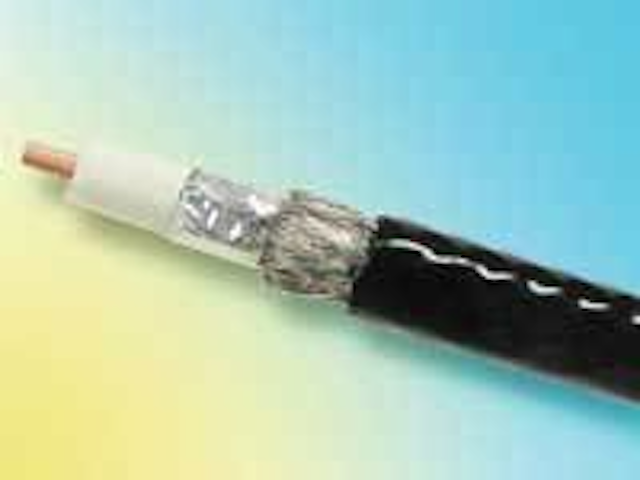 Click here to enlarge image
The CM-HPC series of rugged, low-loss, RF-shielded coax cable is designed for wireless applications, including antenna feeder, wireless communication jumper cables, and mobile antenna applications requiring low-loss RF cable. Suitable for indoor or outdoor use, these cables feature an overall tinned copper braided shield. Available jacket materials include PVC, LSZH, and polyethylene (UV and abrasion resistant). The CM-HPC 195 cable features a bare copper center conductor (19 AWG), gas-injected foam polyolefin insulation, dual shielding, and an 80% nominal velocity of propagation. The company says the 195 coax is a more efficient and cost-effective replacement for RG-58 and RG-142 coaxial cables. The company's CM-HPC 400A cable features a copper-clad aluminum conductor (10 AWG), and the same insulation, shielding, and propagation qualities of the CM-HPC 195. This cable, says the company, is intended as a low-cost replacement for RG-8 and RG-213 coax.
C&M CORPORATION
www.cmcorporation
Multi-dwelling gateway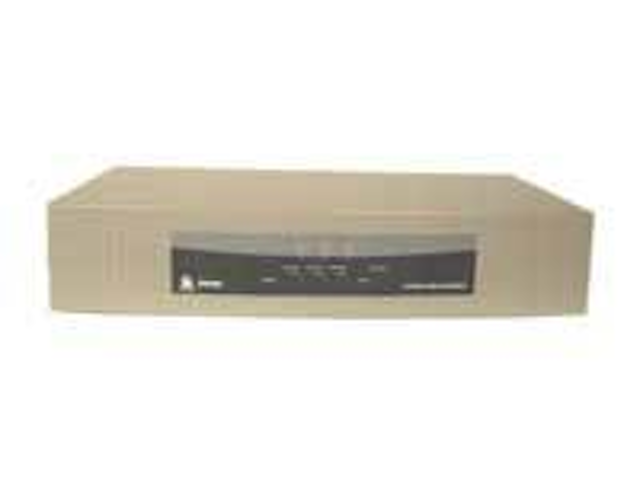 Click here to enlarge image
This MDU (multi dwelling unit) gateway is designed to deploy high-speed networks over existing electrical wiring or coaxial cabling. It supports distribution of multiple channels of video, voice, and data throughout large buildings. Up to 96 of the company's AV200 Powerline and AV200 CableLAN adapters can be connected in rooms or offices for each MDU gateway in the building. Quality of Service, client isolation, VLAN tagging, and 168-bit encryption are supported.
CORINEX COMMUNICATIONS
www.corinex.com
Enclosure protection
Click here to enlarge image
The E-Line system is an electronic swing handle for data enclosures, designed to safeguard sensitive information and equipment. The system is integrated with software that lets you grant or revoke access from a remote location. The access control and monitoring system lets you know "who, what, when and where" with both real-time and historical data. E-Line can be used for single standalone applications, large data centers, or in cabinets that are distributed in several locations.
DIRAK
www.dirak.com
Powerline adapter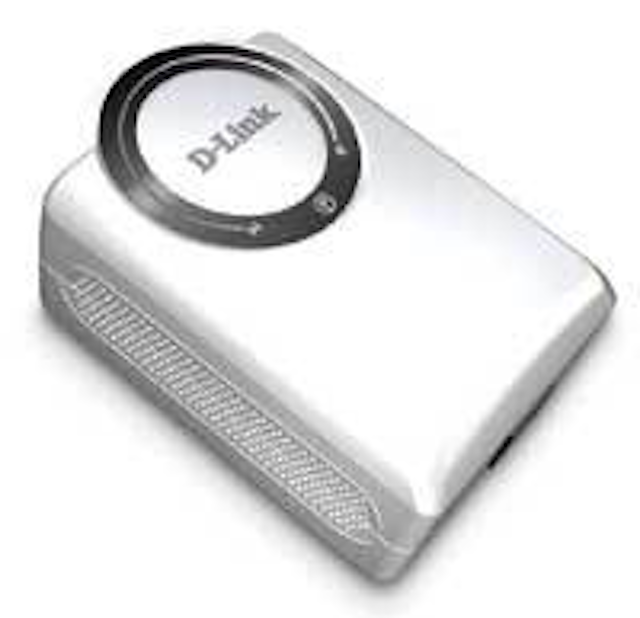 Click here to enlarge image
The Powerline Ethernet Adapter and Kit (DHP-301) lets home users tap into existing electrical wiring to extend a home network. The no-cabling technology is specially suited for high-definition media streaming, music sharing, and online multi-player gaming. Each kit contains two adapters, one Ethernet cable, and an installation CD. Users plug one adapter to a router and the other to an Ethernet-ready device, such as computer, high-definition TV, DVR, or game console.
D-LINK
www.dlink.com
Wi-Fi spectrum analyzer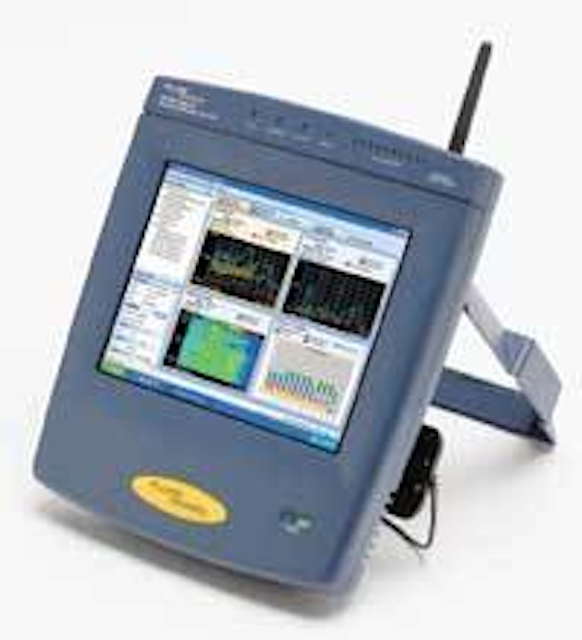 Click here to enlarge image
AnalyzeAir is a hardware and software-based RF spectrum analysis tool for troubleshooting and optimizing wireless LANS (WLAN). The company says AnalyzeAir takes the cost and complexity out of wireless RF analysis by letting you see the physical layer of a wireless network so you can detect, identify, and locate sources of interference in real time. No expertise in RF technology is required. The tool lets you locate spectrum security breaches, including jammers and Bluetooth rogues; solve connectivity and performance problems; locate devices causing RF interference; look for changes against baseline spectrum measurements.
FLUKE NETWORKS
www.flukenetworks.com
UPS rack-to-tower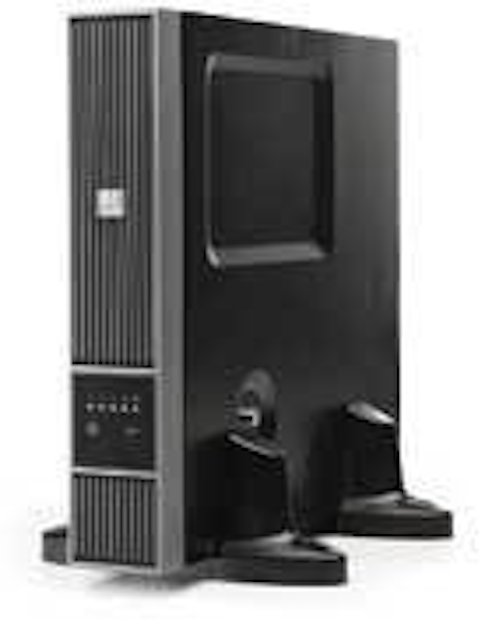 Click here to enlarge image
The HP UPS T1000 G2, T1500 G2 and R/T2200 G2 tower UPSs with USB support are designed to provided advanced power protection with increased uptime for servers, storage, and computer and network equipment. In addition, the R/T2200 G2 can be converted from a tower to rack-mount configuration. According to the company, these UPSs are especially suited for non-rack-based IT equipment in remote offices, and feature enhanced battery management, prioritized shutdown, and hot-swappable batteries. Bundled with the company's Power Manager software, these devices also feature serial and USB ports for data exchange with host computer, and remote shut-down. Power ratings for the T1000 G2 are up to 1,000 VA and 650 watts; T1500 G2, up to 1,500 VA and 900 watts; R/T2200 G2, up to 2,200 VA and 1,600 watts (this unit also supports an extended runtime module battery pack).
HEWLETT-PACKARD
www.hp.com/go/infrastructure
Firestop board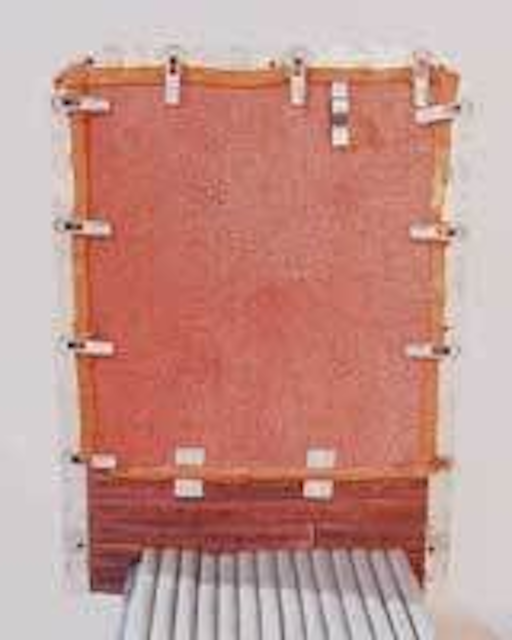 Click here to enlarge image
Based on feedback from electrical and telecommunications professionals, the CP 675T firestop board is designed for temporary or permanent sealing of blank openings or through-penetrations in fire-rated walls. The board is designed to be easy to cut, and can be surface-mounted for low re-penetration applications without the need of power tools. According to the company, this feature provides up to 50% labor savings over comparable firestopping composite sheets. For locations where telecommunications applications are modified regularly, you can frame-mount the CP 675T for quick re-penetration. As a UL-listed means of sealing large openings (3 x 4 feet and smaller), you can frame-mount the firestop board and firestop blocks, then use a t-bar to split large openings into smaller compartments, allowing cables, bundles, and racks to be quickly added or removed.
HILTI INC.
www.us.hilti.com
Digital video coax
Click here to enlarge image
Brilliance RG-6/U Type precision video cable (1694F) is a flexible version of the company's 1694A precision video coax. While designed for patching applications, 1694F has a National Electrical Code CM rating so that it may be routed through walls and conduits, whether in studio settings or other fixed installations. It features a flexible 19 AWG bare copper (compacted) stranded center conductor. Gas-injected foam polyethylene insulation is designed to provide advanced impedance stability, crush resistance, conductor adhesion, and return loss characteristics. Its double-tinned copper braid shield construction is built to provide outstanding flex properties, compared to a foil/braid shield design, while offering 100 dB of shield isolation. An abrasion-resistant PVC jacket is designed to add further flexibility and protection. All cable is 100% sweep tested for return loss to 3 GHz.
BELDEN
www.belden.com
Handle for rack security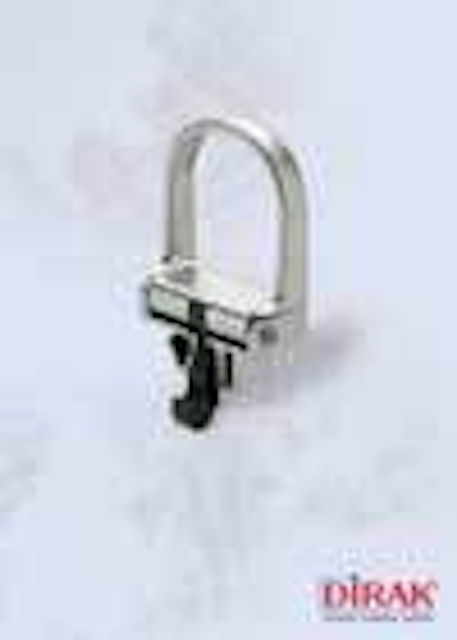 Click here to enlarge image
This pull-latch handle is designed to secure 19-inch racks in the telecommunications room. A spring-loaded pawl allows for a push-to-close motion to secure the racks in place. To remove the rack, a tilt of the handle will disengage the latching mechanism. No hardware is required for installation, and the handles are designed to hold securely even in severe vibration environments.
DIRAK
www.dirak.com
All-in-one toolkit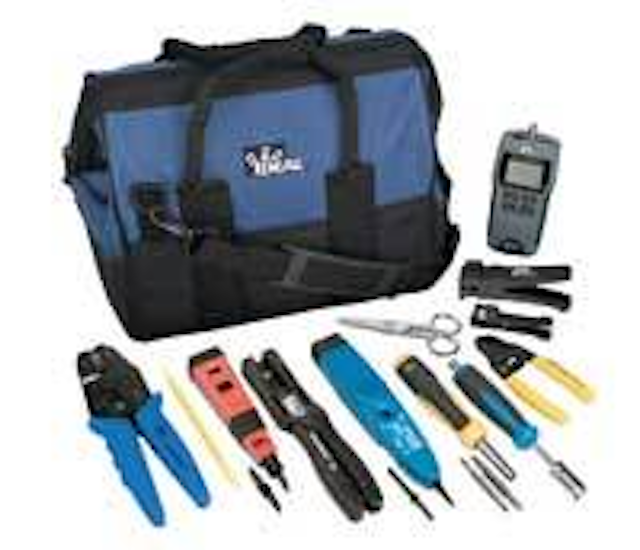 Click here to enlarge image
A 13-piece data/video toolkit is designed to equip users with all the tools needed to terminate and troubleshoot simple to complex voice, data, and video cabling systems. Handpicked by professional installers, the tools include: the Data T-Cutter 7-in-1 screwdriver, UTP stripper, coax cable stripper, Punchmaster II punchdown tool, punchdown blades, Crimpmaster crimping tool for RJ-45 plugs, OmniSeal compression tool, Probe pic and spudger, F/BNC connector tools, VDV MultiMedia cable tester, amplifier probe, and electrician's scissors. The kit comes packaged in the company's Large Mouth carrying bag.
IDEAL INDUSTRIES
www.idealindustries.com
Triple-play tester
Click here to enlarge image
The IVT-600 is a home networking installation meter that handles a wide range of physical wiring tests for delivery of IP-based voice, video and data services. Billed as a "test, talk, and trace" tool, the IVT-600 tests for verification of wiring integrity and wire mapping, outlet identification, and Ethernet verification. It also lets you conduct VoIP installation testing and subscriber line interface circuit emulation. Advanced tone generation and tracing give you the ability to trace coaxial wires through splitters. According to the company, the IVT-600 meets home networking technology standards of the Home Phoneline Network Alliance (HPNA) and Multimedia over Coax Alliance (MoCA).
JDSU
www.jdsu.com
Cross-connect DVD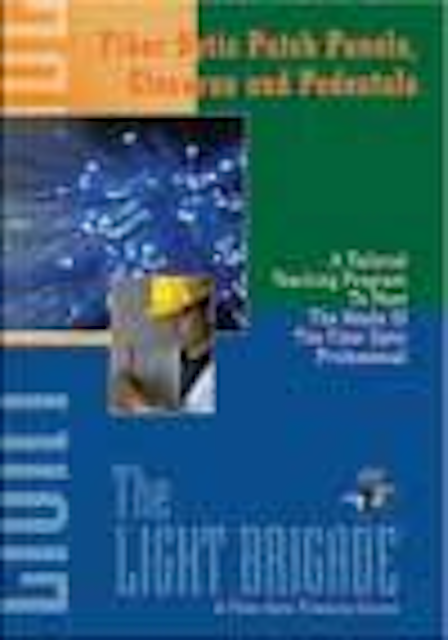 Click here to enlarge image
Fiber Optic Patch Panels, Closures and Pedestals is a menu-based DVD that explains the various needs and roles that cable management products fulfill. Following an introduction of cable and fiber management applications, the DVD examines each category of cross-connect products typically used in the LAN, and how each product is integrated with fiber-optic cable. The training tool's topics include the roles and key points for patch, splice, distribution, and LAN panels, entrance enclosures, OSP splice closures, FTTx splice closures, fiber distribution hubs, and pedestals. Also included is instruction on how to prepare loose- and tight-buffered cables. Each chapter includes content on cable preparation, pigtail slicing, and fiber management, as well as student and instructor quizzes.
THE LIGHT BRIGADE
www.lightbrigade.com
Powerline adapter, kit
Click here to enlarge image
The 200 Mbps Powerline HD Ethernet Adapter (HDX101) and Kit (HDXB101) lets you connect a PC and any Ethernet-ready device to a home network, distributing broadband throughout the home via an AC electrical outlet. The adapters feature built-in Video Quality of Service (VQoS) designed for consistent performance with encrypted security. The company says VQoS ensures that video and gaming traffic is prioritized above all other network traffic so that HD video streams are free of interruption from others using the network. The adapter can also make large file transfers to networked storage devices-according to the company, up to 12 times faster than comparable powerline networking products.
NETGEAR
www.netgear.com
Ties and mounts galore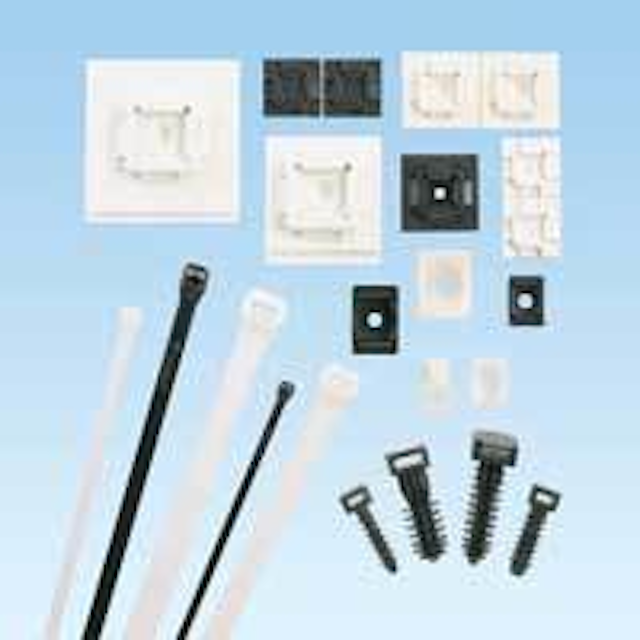 Click here to enlarge image
The Super-Grip line of cable ties and mounts now includes a full range of sizes, from miniature through heavy cross-sections (18 to 175 pounds). All sizes are available in natural and weather-resistant Nylon 6.6. A high-grip strength is designed to prevent lateral tie movement on the bundle, while strap flexibility conforms tightly to irregular bundle shapes. Ties are designed with a flared neck and strong locking wedge to withstand rugged installations in MRO and construction projects. Super-Grip mounts are now available in adhesive-backed, screw-applied tie anchor, masonry push style, and screw-applied tie varieties. The low profile is designed to position the bundle closer to the mounting surface to conserve space and provide a stronger bridge design in rugged installations.
PANDUIT CORP.
www.panduit.com
Single-port IDC baluns

Click here to enlarge image
Ultra miniature Model 430 single-port E1/E2 IDC Krone baluns are designed to cut costs in telecom environments by providing conversion from coaxial cable to copper twisted pairs. According to the company, the baluns' ultra-miniature size conserves space in the central office by allowing high-density installation with a digital distribution frame (DDF). These RoHS-compliant baluns feature 3-pole Krone-type insulation displacement connectors (IDC). No special tools are required to strip, screw, or solder the copper wire. The baluns provide electrical impedance matching between 75-Ω coaxial and 120-Ω copper conducts, with transparent bi-directional signal conversion at speeds ranging from 2 to 8 Mbits/sec. No AC or DC power is required. Up to 32 baluns can be mounted in the company's Model 430R panel, which is designed for installation in a standard 19-inch telecom equipment rack.
PATTON ELECTRONICS
www.patton.com
Fiber continuity tester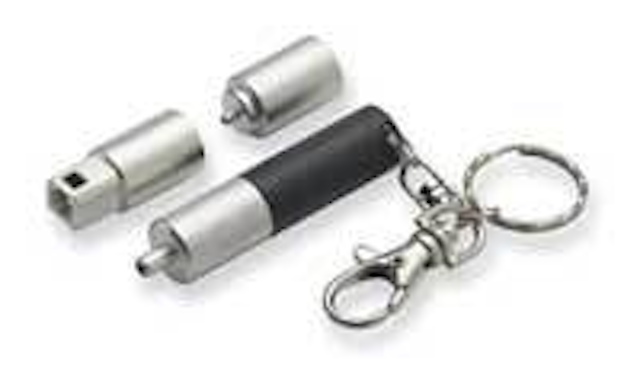 Click here to enlarge image
The CCT-2001 fiber continuity tester works with singlemode and multimode fiber, and is compatible with most types of connectors, including ST, FC, SC, LC, and MT-RJ. Powered by three LR44 or PX76A batteries (included), the continuity tester includes 1.25-mm and 2.5-mm universal as well as MJ-RJ style interchangeable adapters. A high-intensity, long lasting LED light source helps you easily check fiber continuity in the field.
RIPLEY COMPANY/MILLER DIVISION
www.ripley-tools.com
Multi-functional test set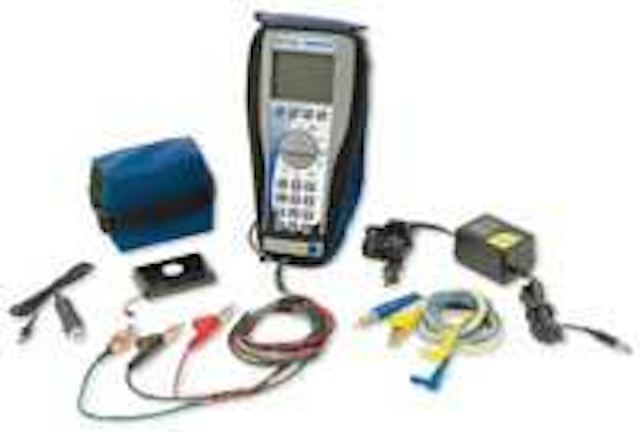 Click here to enlarge image
Sidekick Plus is a multi-functional cable maintenance set designed to provide advanced twisted-pair cable diagnosis and troubleshooting capabilities. A digital handheld meter combines VOM and loop current tests, longitudinal balance or stress test, transmission and noise, open locator, load coil detection, RFL and a TDR into one test set designed to uncover intermittent troubles that can go undetected in other test sets. Test functions can be used individually or run automatically via the auto-test mode feature with pass/fail. Other features include a multimode wire tracing tone, caller ID display that includes call waiting and caller ID, a built-in loudspeaker dialing capacity with phone book memory, and selectable analog meter or digital display.
TEMPO
www.tempo.textron.com
Label enhancements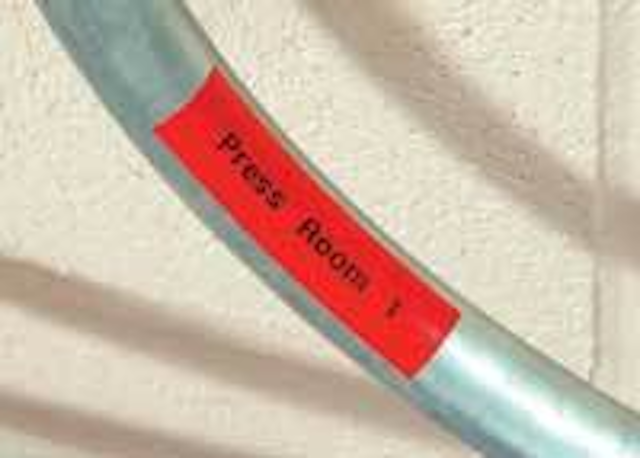 Click here to enlarge image
Red flexible vinyl and clear permanent polyester tapes have been added to the E-Z-Code EZL-100 thermal label printer. Both offer an EZ-Peel split backing, industrial strength adhesive, and smear-free printing. Available in ¾-inch width, the red vinyl tape is designed for indoor or outdoor installations, and is especially appropriate for safety/security identification. The clear polyester tape is available in ½-inch and ¾-inch widths, and adheres to smooth or textured flat surfaces, including switch plates, terminal blocks, shelving, and patch panels.
THOMAS & BETTS
www.tnb.com
Round cable connector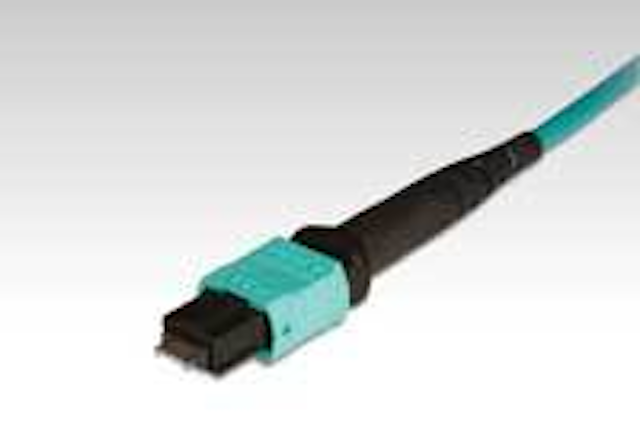 Click here to enlarge image
The company's MTP connector line is now compatible with round, stranded cables. According to the manufacturer, using the MPO-style connector with round cable eliminates preferential bends, and provides better aramid yarn distribution during assembly, easier routing during long cable length installation, and lower cost when compared to rectangular ribbon cable terminations. The company says the design has been fully qualified for multimode and singlemode applications according to standard industry requirements.
US CONEC LTD.
www.usconec.com
System design tool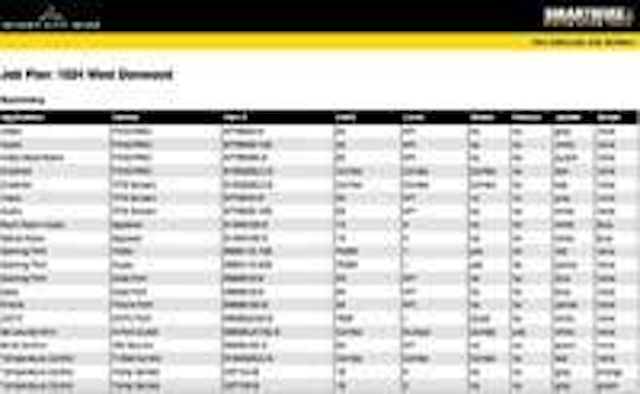 Click here to enlarge image
The patent-pending Web-based SmartWire System Design tool lets you quickly design and create a low-voltage installation online. You can identify applications, apply devices, choose cables, identify locations, and create a marking and labeling scheme. The company's sales professionals and staff create the job plans, and when an order is made using the System Design Tool, all cable boxes and spools arrive with a scheme to identify the applications, devices, locations and addresses needed to complete each task.
WINDY CITY WIRE
www.smartwire.com
Fiber ribbonizing tool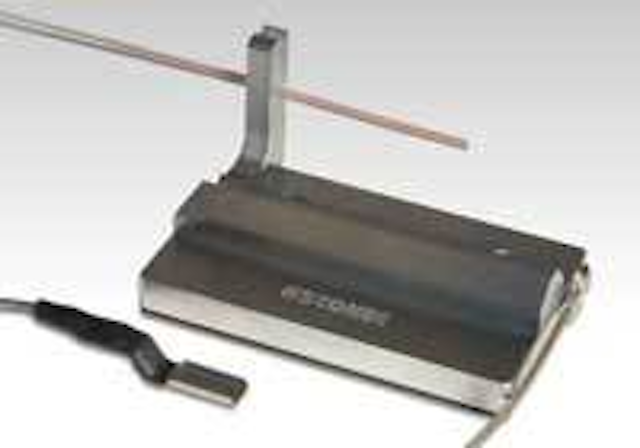 Click here to enlarge image
This enhanced ribbonizing tool is designed to reduce the time needed to terminate round fiber cable in connector styles with MT ferrules. According to the company, the tool is smaller, less expensive, and easier to use than comparable products on the market. The termination process uses a table instead of UV or heat-curable liquid adhesives. A free training DVD is provided.
US CONEC
www.usconec.com
PoE power patch panel

Click here to enlarge image
The 12-port DPoE power patch panel for Power over Ethernet applications, a 10/100Base-T compatible device, features a slim 1U design. According to the company, it injects power onto the horizontal data cabling, eliminating the need to replace anything but the current patch panel when deploying PoE at an existing site. Engineered to operate from DC power, the patch panels are capable of supplying all ports with full, specified power that eliminates the need for load balancing. Port prioritization capabilities ensure that critical applications, such as IP telephony and security, receive higher attention in the event of power disruption. The company's Element Manager program enables control and management of the power characteristics on each port, as well as location identification for connected devices.
PANDUIT CORP.
www.panduit.com
Fiber inspection microscope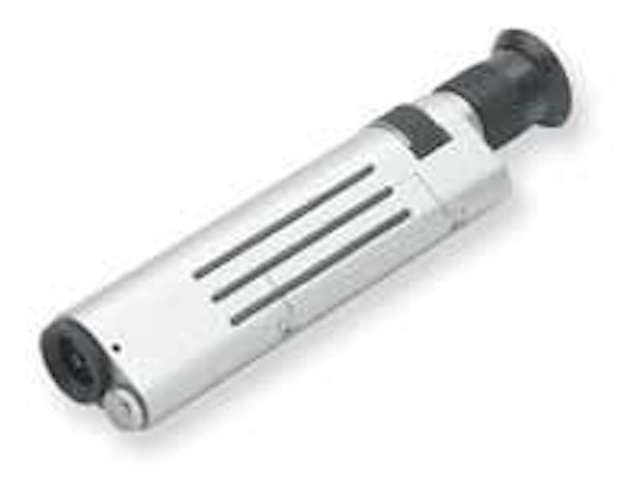 Click here to enlarge image
This fiber-optic inspection microscope is available in either 200x or 400x magnification strengths. Its achromatic glass objective is designed to provide outstanding image quality. The tool comes with a universal adapter that accommodates nearly all ST, SC, and FC connector ferrules. (Adapters for other connector types are available upon request.) An LED provides up to 100,000 hours of lamp hour life, and a side illumination port allows backlit inspection of jumpers or can be used as a fault finder. The microscope features coaxial illumination where light travels along the same axis as the fiber inserted into the microscope, allowing for a more detailed image that can reveal fine scratches and contaminants. Batteries and storage case are included.
RIPLEY COMPANY/MILLER DIVISION
www.ripley-tools.com
Fiber-In-A-Box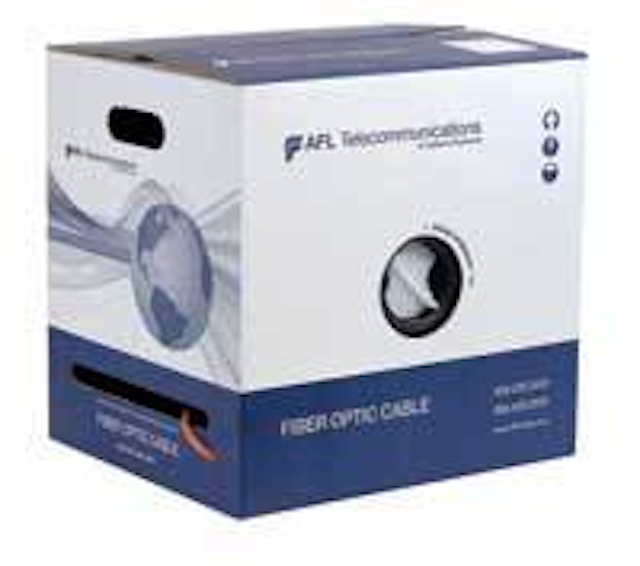 Click here to enlarge image
The Fiber-In-A-Box solution offers lightweight cable packaging with "out of the box" disbursement of fiber cable. Simply set the box down, unlock the built-in braking mechanism, and begin pulling. You can adjust the braking mechanism to apply the amount of pulling tension required, and stack and configure boxes together to disburse cable from several reels at the same time. Available in 1,000, 2,000, and 3,000-foot lengths, this packaging solution is designed to save time and cost.
AFL TELECOMMUNICATIONS
www.aflfiber.com
One-step conduit sealant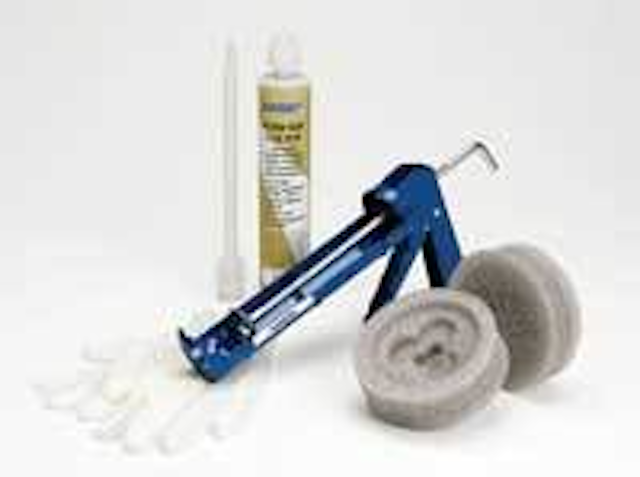 Click here to enlarge image
The "one-step tube version" is now included in the two-part Hydra-Seal S-60 Wide Temp Foam conduit foam sealant. The sealant is designed to prevent intrusion of water and gases through conduits in manholes, cable vaults, and hand-holes. It's also suitable for sealing cracks in walls and for filling large voids. According to the company, the sealant can be applied using either the updated single-cartridge tube with standard caulking gun, or using a heavy-duty dispensing gun that accommodates the two cartridges. This two-part polyurethane material is designed to rapidly expand to approximately 25 times in volume to form a strong, durable foam. The S-60 kit includes a tube of sealant, static mixing nozzle, foam donuts, and disposable gloves.
ARNCO CORP.
www.arnco.com
High fiber-count ribbon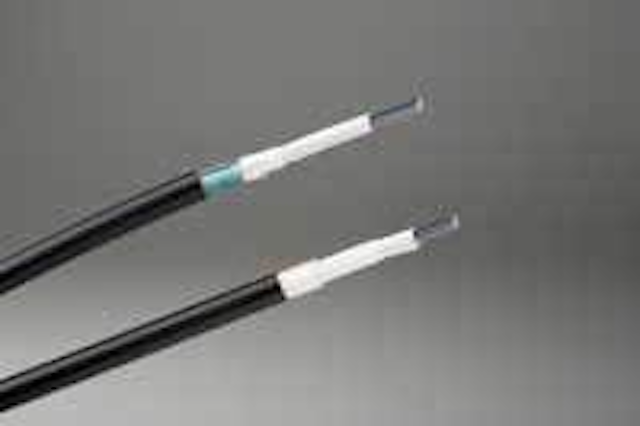 Click here to enlarge image
The SST-UltraRibbon gel-free cable is a high fiber-count outdoor ribbon media featuring polymer-based dry water-blocking materials. The gel-free cable, available in fiber counts of 288, 360 and 432, is compliant with the ICEA outside plant cable standard and Telcordia GR-20-CORE Issue 2 requirements. According to the company, the cable has been subjected to a battery of additional testing beyond industry requirements to ensure that the gel-free design is fit for use in outside plant extremes. It can fit in 1.25-inch inner diameter or larger inner ducts. Dielectric and armored jacket options are available.
CORNING CABLE SYSTEMS
www.corningcablesystems.com
Indoor/outdoor enhancement
Adventum indoor/outdoor optical-fiber cables now feature a 19% reduction in overall diameter and up to a 38% reduction in weight. The company says its patent-pending Dual-Unlite constructions provide a 50% smaller cross-sectional area than comparable cables, making it especially suitable for data center installations. According to the company, the enhanced cables offer 50% or better performance in bend radius over traditional high-fiber ribbon cable constructions. The media is available with riser and plenum ratings, and in multimode or singlemode fiber constructions up to 216 fibers, as well as in pre-terminated cable assemblies with multifiber MTP/MPT connectors or single-fiber type connectors, such as SC, ST, or LC.
BERK-TEK
www.berktek.com
Hybrid video cable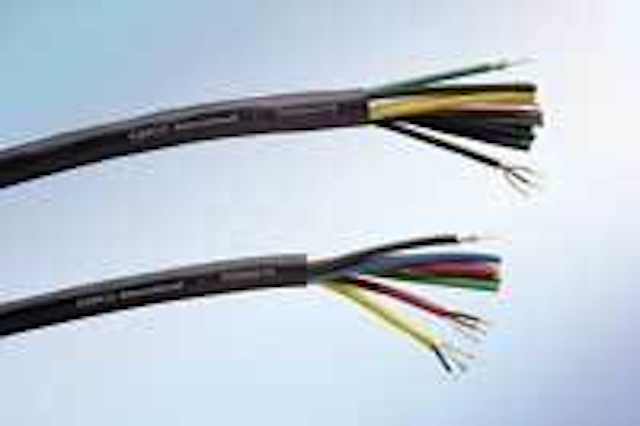 Click here to enlarge image
The RGB62 and RGB644 series of hybrid component video cables, constructed with audio pairs and/or power conductors, are designed for commercial audio-visual applications that require distribution of high-resolution component video. The RGB62 series contains six miniature coaxial elements with two balanced pairs, while the RGB644 series contains six miniature coaxial elements with four balanced audio pairs and four power conductors. Both series are available in plenum and non-plenum versions. Coaxial elements feature a precision diameter conductor, low-loss gas-injected dielectric, and dual-foil and braid shield. Audio elements feature a shielded and balanced design intended for improved RF/EMI and CMNR noise rejection, while the power conductors are constructed from low-loss 20-gauge copper.
GEPCO INTERNATIONAL
www.gepco.com
Non-adhesive markers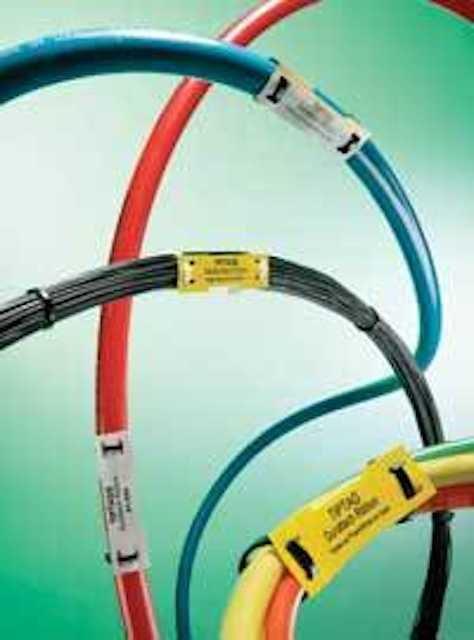 Click here to enlarge image
TipTags are non-adhesive, cross-laminated polyolefin tags with die-cut cable tie slots for mechanical fastening. These cable markers are designed for wire bundles or large cables, and can be used with the company's T18-T30 series cable ties. They are especially suited for applications where exceptional print quality and long-term service are critical. A thin profile lets you print the cable markers (printable on both sides) in thermal transfer printers. TipTags are halogen-free for low smoke and low fire hazard applications, and are RoHS compliant.
HELLERMANN TYTON
www.hellermann.tyton.com
Virtual media manager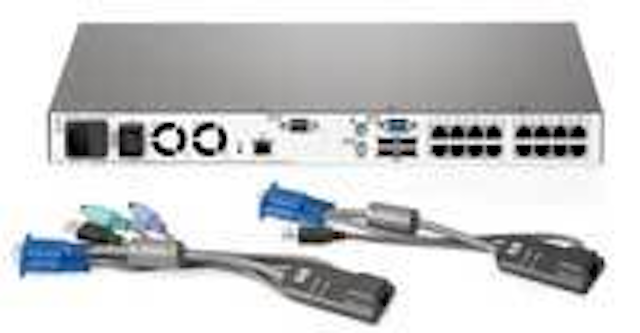 Click here to enlarge image
For managing the data center, the IP Console Switches with Virtual Media are designed to provide local and remote access to a variety of devices, and require no software installed on the target servers. Remotely access KVM (keyboard, video monitor, mouse) functions for day-to-day management, as well as map a drive on a workstation to target servers to perform application and OS upgrades, firmware upgrades, or installations. Multiple levels of encryption and authentication are designed to ensure enterprise-wide security. Increased distances between the console switches and interface adapters allow for more flexible configurations, including three-level tiering. Intuitive and customizable client software allows all KVM functions to be handled remotely from anywhere on the LAN or WAN.
HEWLETT PACKARD
www.hp.com/go/infrastructure
Multimedia panels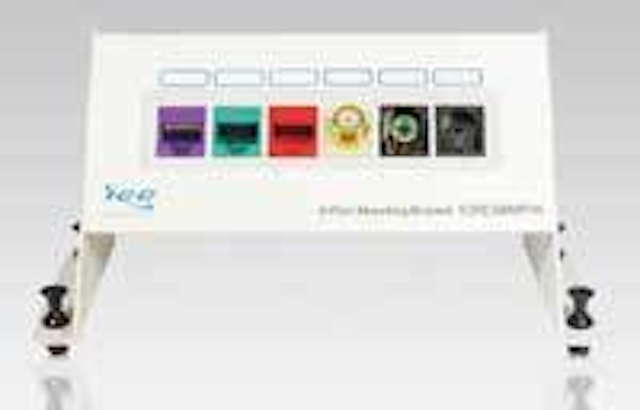 Click here to enlarge image
Four-port and six-port multimedia patch panels are now available for the company's residential enclosures. Both panels feature all-steel construction and glossy white finish, and an open bottom is designed for efficient cable management. The panels are designed to accept Category 6 connectivity, as well as all of the company's HD-style connectors that allow fiber-to-the-home.
ICC
www.icc.com
Push-mount clip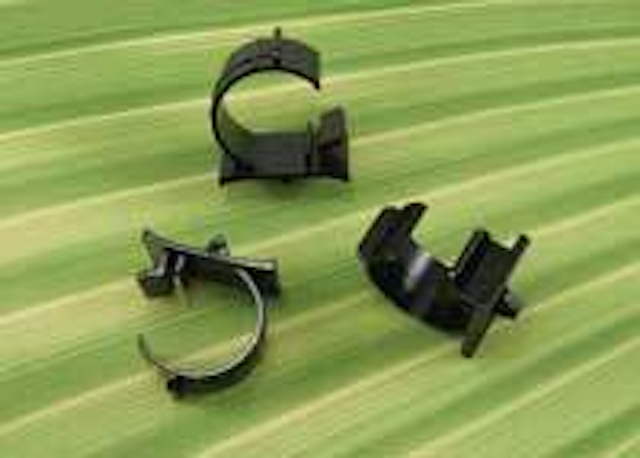 Click here to enlarge image
The releasable Push Mount Wire Clip is designed to mount in a .250-inch diameter hole, and will fit a panel thickness of .020 through .070-inches. The Nylon 6/6 clips can be opened and closed multiple times for adding or removing cable. Maximum bundle diameter size is ¾-inch.
MICRO PLASTICS INC.
www.microplastics.com
S-Video, audio via Cat 5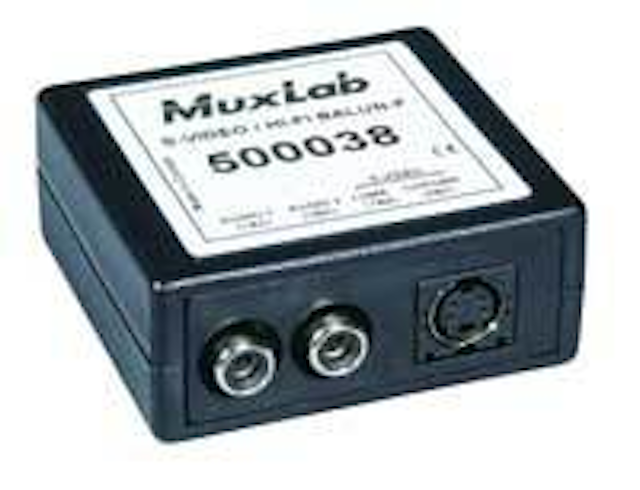 Click here to enlarge image
Replacing up to four coaxial AV (audio-visual) cables, the S-Video/Hi-Fi balun (500038) allows one S-video and one stereo audio channel to be transmitted via four Category 5 twisted pair in a point-to-point configuration. Its frequency response of 20 Hz to 20 KHz makes the balun especially suitable for high-fidelity systems. The balun features AV jacks for flexibility in head-end applications where equipment and baluns need to be installed in different locations, such as in a local telecom room. Its one-piece design permits direct connectivity to AV equipment and then patched to the nearest Category 5 modular outlet. When used in pairs, the balun supports S-video and stereo hi-fi audio up to 1,000 feet and 3,250 feet respectively via Category 5.
MUXLAB
www.muxlab.com
Optical power meter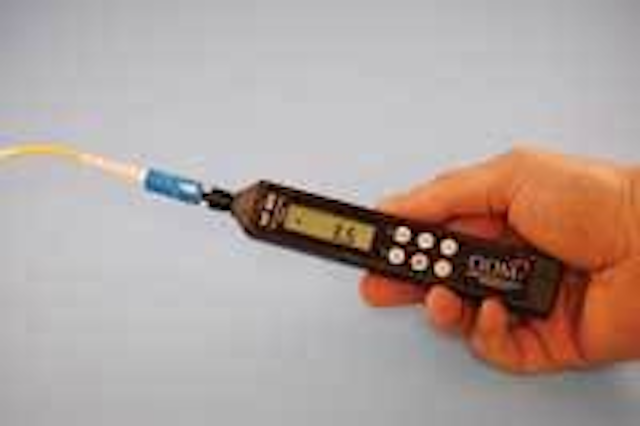 Click here to enlarge image
The newest entry in the company's "Contractor Series" of fiber-optic testers, the RP 460 Optical Power Meter is said to be the industry's smallest optical power meter to offer 1,000 data storage measurements and USB download to a laptop. The NIST-traceable tester includes a 2.5-mm universal connector input for all popular connector styles. The company also provides a range of compatible LED and laser light sources for complete end-to-end loss testing.
OPTICAL DESIGN MANUFACTURING
www.odm-inc.com