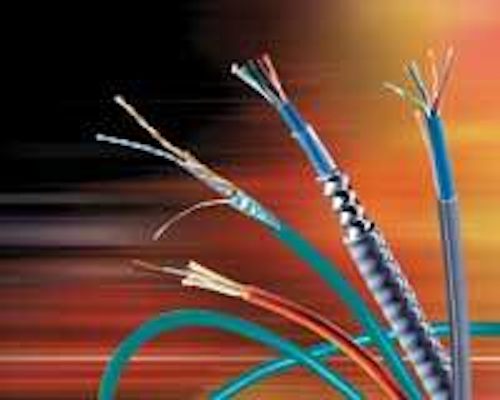 Industrial Ethernet cabling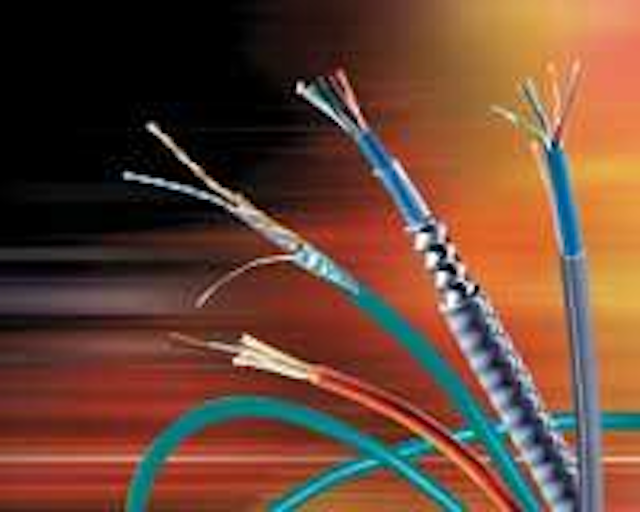 Click here to enlarge image
New additions to the line of DataTuff Industrial Ethernet cables include: a LSZH unshielded Category 5e featuring 24 AWG solid bare copper conductors with rip cord, polyolefin insulation, and a .030-inch industrial-grade, sunlight-resistant jacket; a LSZH shielded Category 5e with 24 AWG stranded TC drain wire and the company's proprietary Beldfoil shield; a waterblocked/burial shielded Category 5e with PE inner jacket, overall Beldfoil shield, and sunlight- and oil-resistant black PE jacket. All cables feature the company's Bonded-Pair technology, designed to ensure excellent electrical performance before and after installation.
BELDEN
www.belden.com
Foiled twisted-pair solution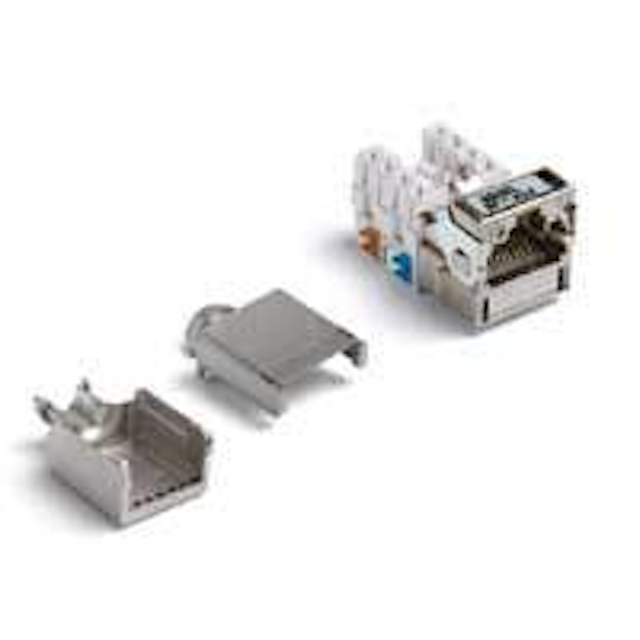 Click here to enlarge image
The Uniprise foiled twisted-pair (FTP) solution is designed to address cabling needs for automotive, industrial and government installations. It includes Category 6 and 5e cabling, patch cords, modular patch panels, and information outlets. Each component is designed to meet TIA/EIA, IEC 60603, and ISO/IEC 11801 specifications. Uniprise products have been built for use in high-noise environments where electromagnetic devices could impair the network. The solution provides a plug-and-play design to facilitate fast interconnection without specialty tools. The 1U modular patch panel accommodates 24 FTP information outlets, which the company says simplifies termination of 4-pair FTP cables.
COMMSCOPE
www.commscope.com
IP audio amplifier
Click here to enlarge image
The ii3-ESS IP audio amplifier module is designed to transform LANs and WANs into IP-based public address systems. It creates zoned paging to drive a single 8-Ω speaker, or multiple speakers in an array. With a maximum output of 20 watts, the ii3-ESS is capable of driving paging horns with sound pressure levels in excess of 12 dB SPL. For low-output applications, the unit can use Power over Ethernet; for application output greater than 8 watts, an external power supply is required.
DIGITAL ACOUSTICS
www.digitalacoustics.com
Coax cable stripper
Click here to enlarge image
The Model 824 portable coax cable stripper can process material from .030 to .430-inch OD, including RGU, semi-rigid, plenum, and heliax. Featuring an all-metal cutter head, the tool is built to strip up to four levels in less than five seconds with a one-step stripping action. The ergonomic stripper can be used in remote or field installations.
ERASER COMPANY
www.eraser.com
10-Gig cable certifier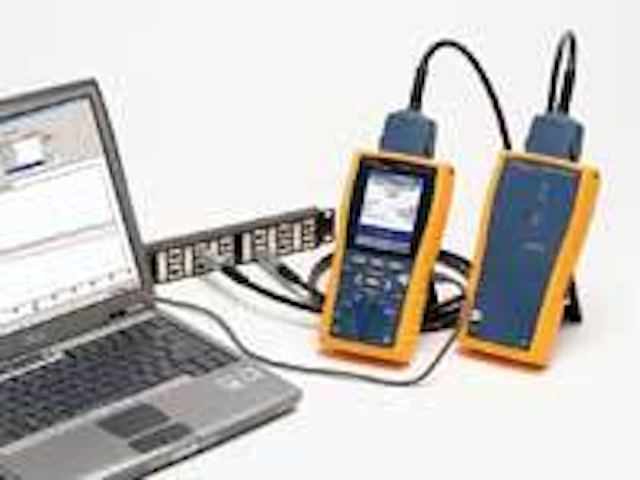 Click here to enlarge image
Built to provide standards-compliant 10-Gbit/sec certification supporting cabling from 10 Mbits/sec to 10-GbE, the DTX CableAnalyzer 10-Gig Certification Kit consists of a set of communications modules that snap in to the company's DTX-1800 CableAnalyzer main and remote cable certification units. A Windows-based software program calculates alien crosstalk power sum test parameters, and enables tests in a channel as well as permanent link configuration. According to the company, the solution makes it possible to measure and evaluate alien crosstalk, between all possible wire pair combinations of two links, in approximately 30 seconds.
FLUKE NETWORKS
www.flukenetworks.com
Low-profile fusion splicer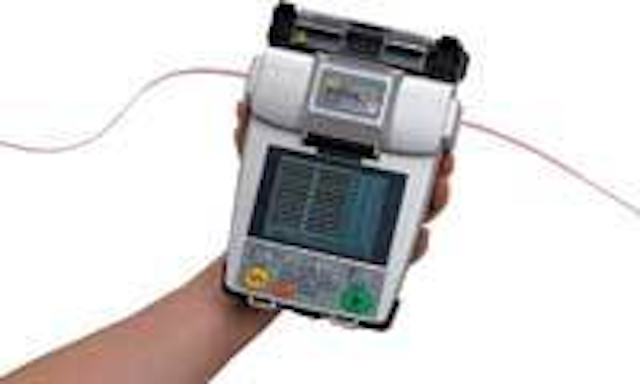 Click here to enlarge image
The Fitel S122M12 is a portable mass fusion splicer for single fibers up to 12-fiber ribbon, and designed to deliver a 15-second splice and 45-second heat time for 12-fiber ribbon. According to the company, the splicer incorporates patent-pending technologies for real-time arc control and automatic fiber position correction, increasing splicing speed while virtually eliminating fiber axis offset. The splicer, said to be 50% smaller and 70% lighter than previous conventional ribbon splicer models, uses a dual-axis monitor system-3.5-inch LCD display and GUI interface.
FURUKAWA AMERICA
www.furukawaamerica.com
Multi-length cable ties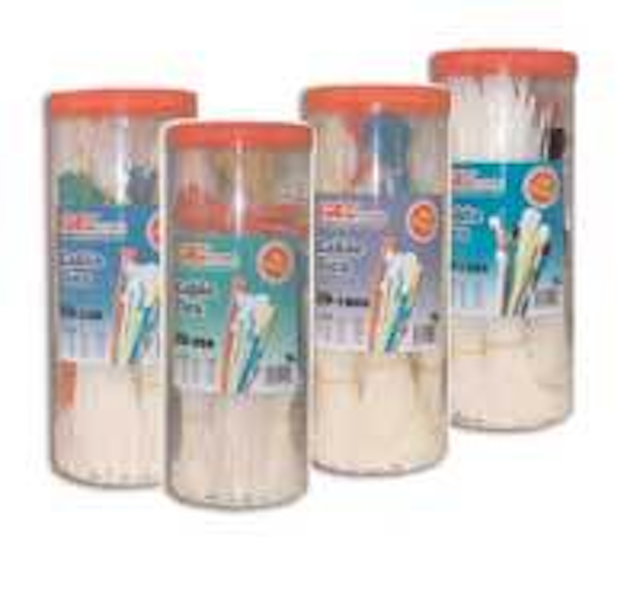 Click here to enlarge image
Available in lengths of 4 to 11 inches, these cable ties feature tensile strength ranging from 18 to 50 pounds. They are especially suited for temporary securing needs, and come in multiple packaging options that include polybag, reusable canister, and tackle box.
GC ELECTRONICS
www.gcelectronics.com
Hybrid fiber breakout box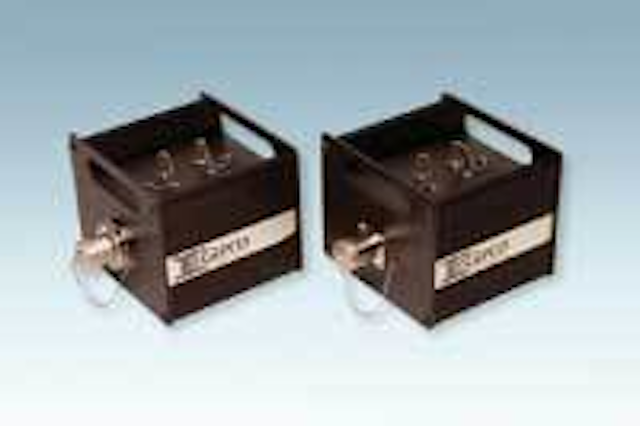 Click here to enlarge image
Designed to allow distribution of high-definition (HD) cameras over existing fiber tie-lines, the portable SMPTE 304M is a 4.5-inch single-channel hybrid fiber breakout box. Each hybrid connector breaks out to two ST female connectors on a recessed, protective metal top plate with optional electrical connectors. According to the company, the breakout of the hybrid connector to discrete, industry-standard optical and electrical components allows for HD camera interconnection over existing fiber tie-lines in facilities where hybrid fiber interconnects may not be present. All optical components feature machine-polished ceramic ferules and ceramic sleeves designed for superior optical alignment and low loss. The chassis is constructed from heavy-gauge anodized aluminum, suitable for use in remote installations.
GEPCO INTERNATIONAL
www.gepco.com
Horizontal managers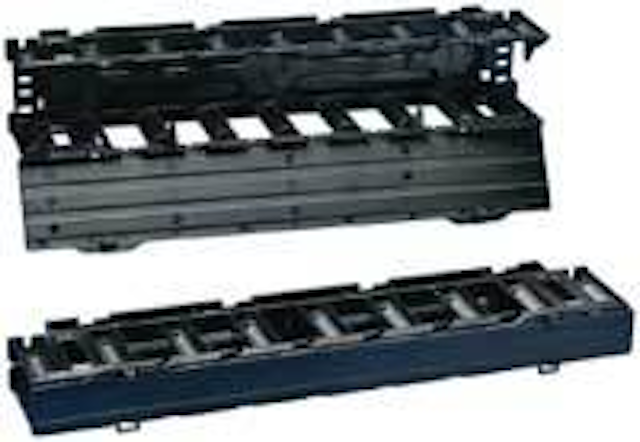 Click here to enlarge image
Injection-molded E Series horizontal wire managers are designed to smooth the installation and rework of cables on a standard 19-inch rack. Extra wide spacing between fingers and smooth edges are designed for easy routing of cable bundles, while built-in bend radius control maintains a 1-inch minimum bend radius that increases transmission reliability. Multiple mounting slots on the sides are designed to permit easier alignment on the rack, while increased depth on the rear is designed to provide more clearance between the rack and manager when working with large cable bundles.
HELLERMANNTYTON
www.hellermann.tyton.com
Handheld RF power meter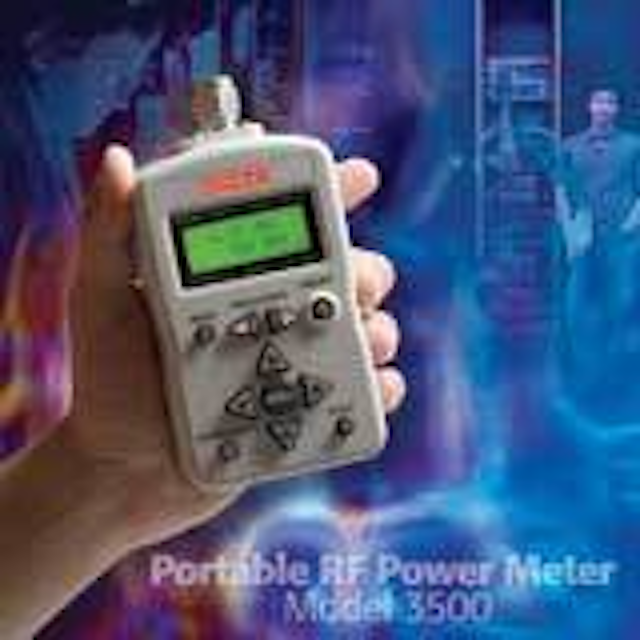 Click here to enlarge image
The Model 3500 portable RF power meter is designed to provide the accuracy of a benchtop RF power meter while in the field. With a frequency range of 10 MHz to 6 GHz, the Model 3500 is built for such applications as WLAN and WiMax devices, and wireless sensors. Its dynamic range of -63 dBM to 20 dBM lets you measure signals either directly from the device under test or through layers of cabling and fixtures. In the field, the Model 3500's +/- 0.21 dB accuracy enables precise characterization of devices, tighter test limits, and more accurate fixture calibration. Using normal or high-speed mode, the unit also can capture and transfer data to a PC through its USB interface, allowing for trend or drift analysis.
KEITHLEY INSTRUMENTS
www.keithley.com
Wireless device server
Click here to enlarge image
The XPress DR+ Wireless is a DIN-rail mounted WiFi 802.11 device server capable of connecting industrial equipment to the LAN or Internet. The server can connect directly to equipment on the factory floor, or out in the field, and present a status view of the equipment on the network to any standard Web browser or application software. It includes two serial ports and features 9-30 volts DC or 9-24 volts AC power input options. Designed to tolerate high levels of electrical interference, shock, and vibration, the XPress DR+ is built for a temperature range of -40º to 70º C.
LANTRONIX
www.lantronix.com/industrial
Data center power manager

Click here to enlarge image
The 5250 Series of enterprise AC power control devices is designed to provide remote power management for intelligent power distribution in the data center or remote equipment closet. Available in both horizontal and vertical designs, the 5250 Series features eight, 16, 24, and 32-port models. Units accept 20 or 30-amp input, feature several inlet and outlet connector options, provide input current monitoring and power-up sequencing, and offers the ability to control and group outlets by name within a unit or across multiple units.
MRV COMMUNICATIONS
www.mrv.com
Audio, data fiber links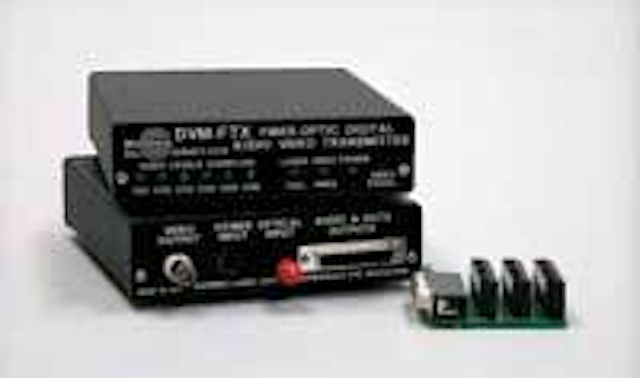 Click here to enlarge image
DVM-1000 Series devices provide fiber-optic links for video, audio, and data. The basic 9-bit video/24-bit audio unit supports one video, two audio, and three data channels. The DVM-1500 bi-directional device supports one video, four audio, and four data channels over one fiber. Video signal-to-noise ratio is greater than 62 dB. The DVM-2700 supports two video, up to four video, and four simplex data channels, and can support S-Video. Applications include professional audio/visual, multimedia, distance learning, back-haul feeds, security, and teleconferencing.
MULTIDYNE
www.multidyne.com
CAD labeling software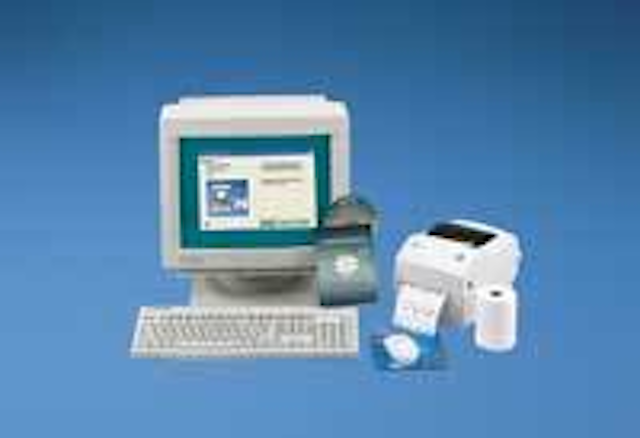 Click here to enlarge image
CAD-Connect labeling software is designed to generate labels quickly within programs such as AutoCAD and Visio. It combines a proprietary wizard interview process with the company's Easy-Mark labeling software to capture and organize identifiers from electronic CAD files, automatically creating and printing labels. According to the company, CAD-Connect eliminates the steps and time typically spent manually copying identifiers into labeling software.
PANDUIT
www.panduit.com
LCD monitor mounts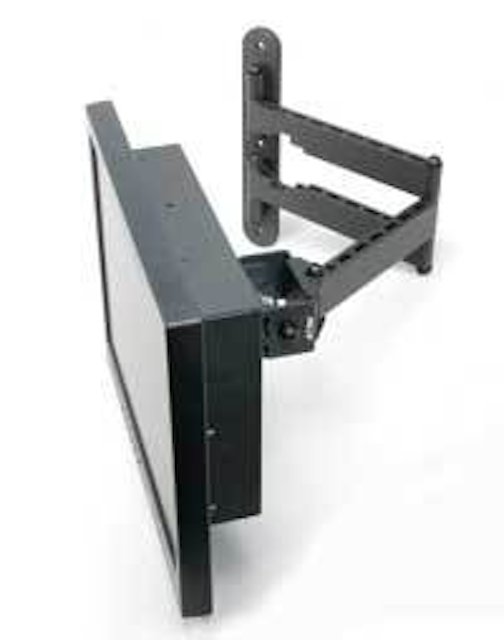 Click here to enlarge image
This new line of LCD monitor mounts is designed to deliver excellent viewing angles for security and control room applications. The tilt-mount, single-arm wall-mount, and dual-arm articulating wall-mount devices are UL-listed, rated up to 90 pounds, and are VESA-compatible. Offering full tilt-and-swivel capabilities, the mounts let you install monitors in either portrait or landscape orientations, and provide up to 35º of tilt that ensure optimum viewing angles in any application. The ceiling-mount version is available with an optional 15 to 30-inch telescoping pole, features a 90º tilt capability, and compatible with 1.5-inch NVT pipe for high-ceiling installations.
PELCO
www.pelco.com
MDU multi-provider module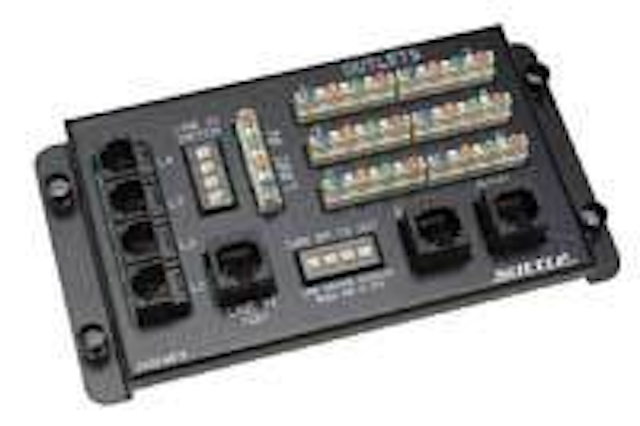 Click here to enlarge image
Based on designs from InfiniSys, these Multi-Provider voice modules for the company's SOHO Access line of enclosures provide a centralized distribution of phone services in multi-dwelling unit (MDU) installations. Each module is designed to support a basic offering from a single service provider, or a more comprehensive offering of multiple lines or multiple providers. According to the company, MDU property staff can easily manage the phone service in each resident's unit, with no rewiring required when residents decide to change service provider.
SUTTLE
www.suttle.com
MoCA diplexers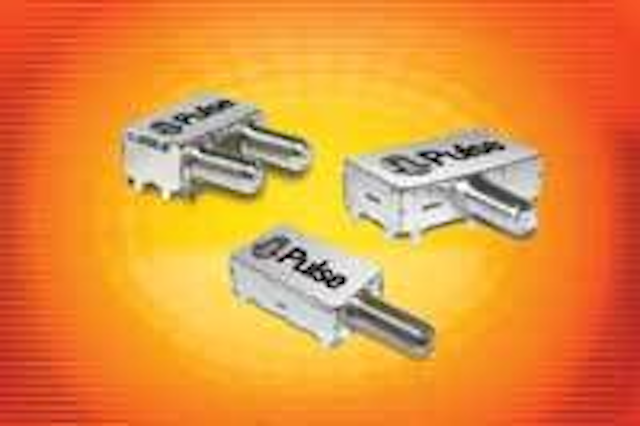 Click here to enlarge image
C60349, C6-58, and CX6077 diplexers for Multimedia over Coax Alliance (MoCA) applications are designed to enable RF distribution of enhanced triple play (voice, data, and video) services. Used in network interface devices, video over telephone, and IP TV, these diplexers contain both low- and high-pass filters to selectively transmit low- and high-frequency signals. The devices, according to the company, are highly resistant to EMI and are fully shielded and grounded.
PULSE
www.pulseeng.com