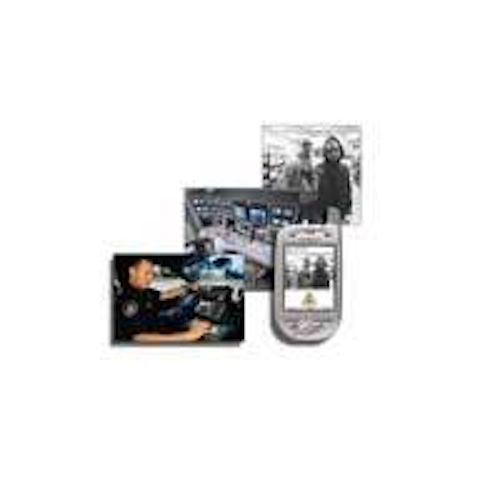 Wireless video system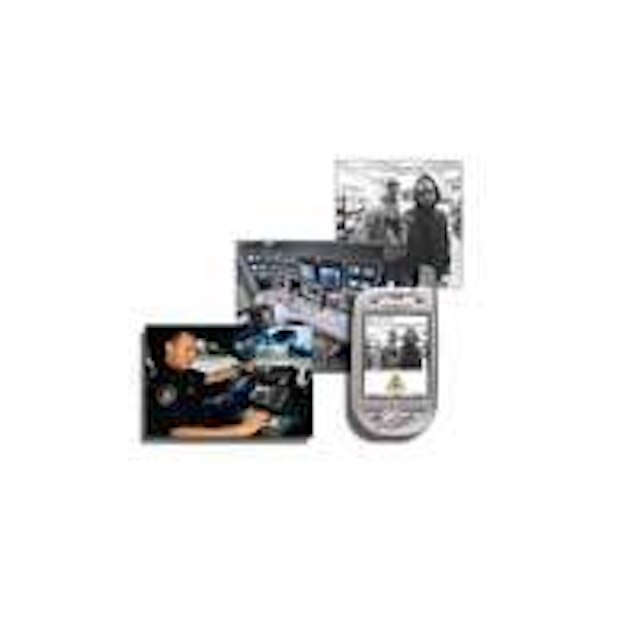 Click here to enlarge image
The IntelliViewer wireless video monitoring platform, driven by the manufacturer's proprietary software, lets your security customers remotely access, monitor and control security systems from virtually any manufacturer, using any off-the-shelf networked or mobile device (computer, cell phone, PDA, etc.). The system provides real-time views and archived video playback from surveillance cameras, GPS-tracking, and alarm monitoring, using a map-and-floor plan interface.
AIRVISUAL
www.airvisual.com
Fixed dome network camera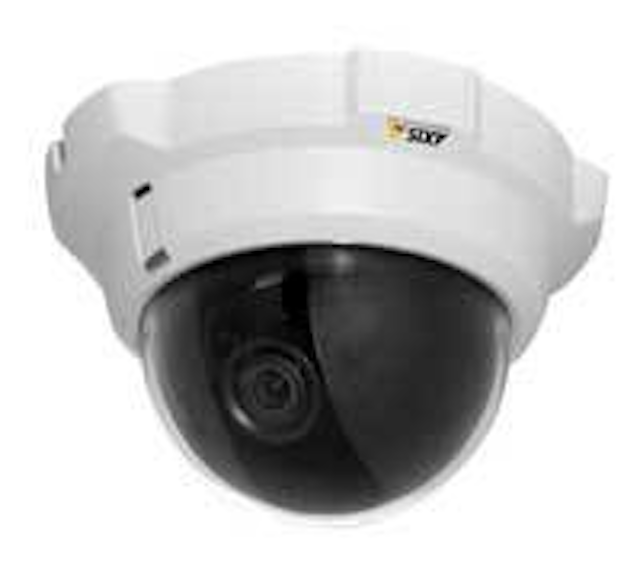 Click here to enlarge image
The AXIS 216FD fixed dome network camera is especially suited for retail and education security installations. Featuring simultaneous Motion JPEG and MPEG-4 video streams to optimize image quality and bandwidth efficiency, the network camera contains a built-in microphone and can be connected to external speakers. Built-in support for Power over Ethernet (PoE) lets you deliver power through existing data/video/audio network cabling.
AXIS COMMUNICATIONS
www.axis.com
Hybrid IP suite
Virtual Allegiant Satellite Application (VASA), part of the manufacturer's hybrid IP software suite, gives security managers a comprehensive view of hybrid systems by integrating existing analog components with new IP-based components. Especially suited for companies looking to migrate their security installations to the latest in digital technology while protecting their analog investment, VASA is a transparent system that lets users continue to work with their analog system structure (such as CCTV keyboard) while gradually migrating to a digital IP-based system. The integration software is designed to help users replace their dedicated analog video lines with digital technology; a single cable in an IP system can carry hundreds of video, audio, and relay output lines, as well as pan/tilt/zoom controls and alarm inputs.
BOSCH SECURITY SYSTEMS
www.boschsecurity.us
Portable labeling tool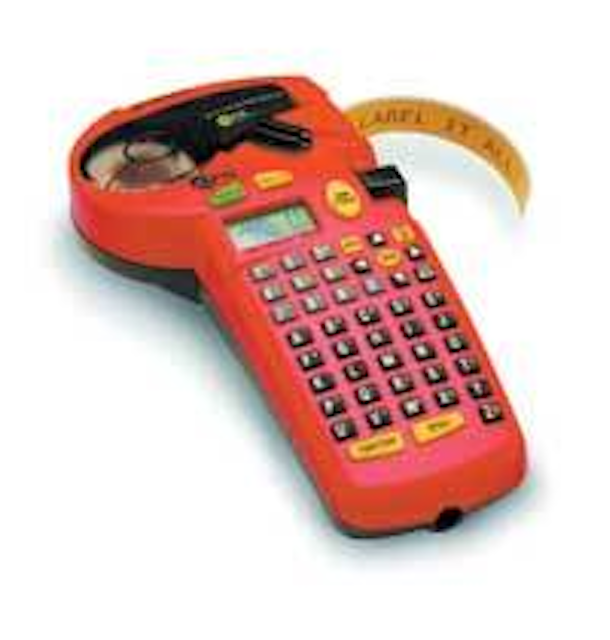 Click here to enlarge image
Recently reduced to $99, the ID PAL labeling tool is a handheld label printer designed for industrial labeling applications, including cable marking, patch panels, control panel and component marking, workstation labels, and field service and installations. It features non-smearing thermal transfer printing, drop-in cartridge loading, multiple line printing, 10 present lengths for cable marking, five font sizes, and built-in industrial strength cutter. A one-year warranty is included.
BRADY CORP.
www.bradycorp.com
Video/data fiber link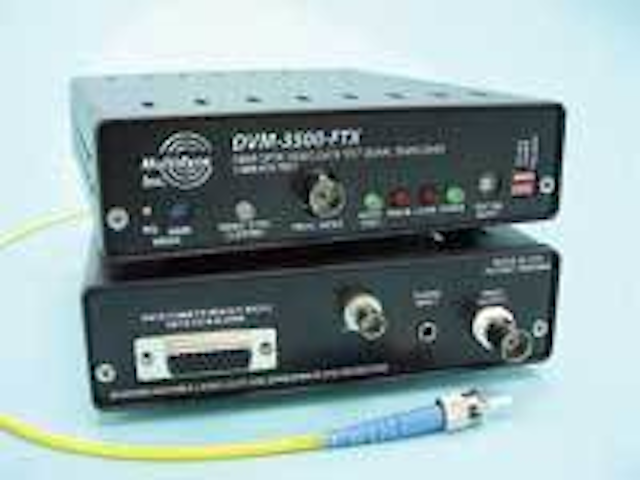 Click here to enlarge image
Designed for surveillance, intelligent transportation systems and traffic monitoring, the DVM-3500 12-bit video and 4-channel data fiber-optic transport system provides point-to-point fiber transport capability and will soon be fully compatible with the company's patent-pending Fiber Head to Hub Fiber Network. The system integrates a video test signal generator to test either remotely or locally for camera or video-signal failure. It includes internal remote diagnostics designed to save deployment and maintenance costs. The system supports up to four bi-directional data channels of RS-232C, RS-422, RS-485, CMOS or TTL at up to 100 Kbits/sec. Video signal-to-noise ratio is greater than 75 dB, signal-to-quantizing noise ratio is greater than 71 dB, video bandwidth is 7 MHz, and differential gain and phase is less than 0.3% and 0.3° respectively.
MULTIDYNE
www.multidyne.com
Back-lit label display
Designed for installations in dark and poorly lit areas, the PT-2700 labeling system features a back-lit display for clear viewing in virtually any environment, an angled keytop designed for more accurate typing, automatic tape cutter, and top-loading/drop-in supplies. With prices beginning at under $100, the PT-2700 ships with "crack and peel" tape, and a time/date print feature for samples, visitor management, quality control, and time-sensitive labeling requirements. The labeler includes several pre-set label formats and layouts, or you can make personalized labels by choosing from eight text fonts and sizes. The unit can also be connected to a PC or Mac so you can import logos and other graphics.
BROTHER
www.brother.com
Wet environment boxes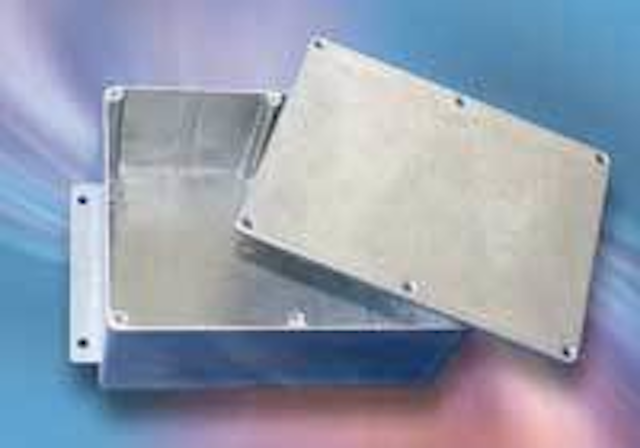 Click here to enlarge image
CN Series NEMA-rated, die-cast aluminum junction box enclosures are designed especially for wet and dirty industrial installations, and in wash-down environments. Optional mounting flanges are molded to the base of the enclosure rather than to the lid, which lets you open the unit without having to detach it from the wall. A one-piece molded construction eliminates the need for welded-on plates that can trap fluids. Flanged versions comes in 10 sizes ranging from 3.52 x1.38 x 1.22 inches to 8.75 x 5.74 x 2.25 inches. Unflanged units are available in 15 sizes, ranging from 2.36 x 2.16 x 1.22 inches to 10.81 x 6.89 x 2.64 inches. A self-adhesive gasket adheres to the cover, attaching securely with four or six screws.
BUD INDUSTRIES INC.
www.budind.com
Pick-a-size thermal cabinet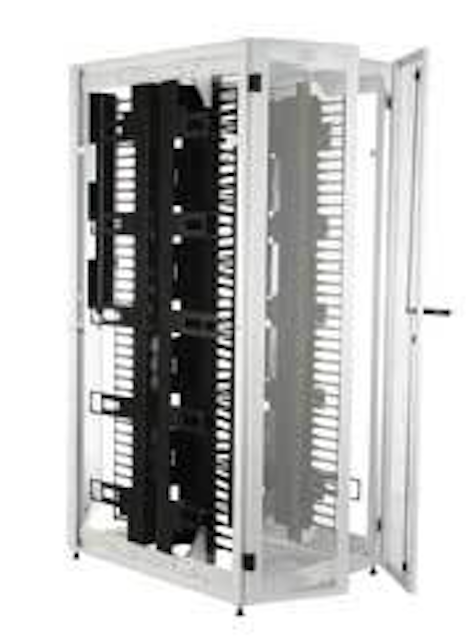 Click here to enlarge image
The TeraFrame cabinet system can be personalized to meet specific data center needs, and is designed to solve thermal issues while lessening the need for cooling equipment. The system is available in three different widths (600, 700 and 800-mm), 12 heights and 17 depths. Airflow and cooling accessories include snap-in filler panels that block airflow through open rack-mount space, air dam kit, raised floor grommet, vertical exhaust duct system, airflow director, and internal air duct. Cable management options include vertical cable manager, front-to-back cable managers, rack-mount cable shelf, and vertical power manager.
CHATSWORTH PRODUCTS INC.
www.chatsworth.com
Plug-and-play OSP system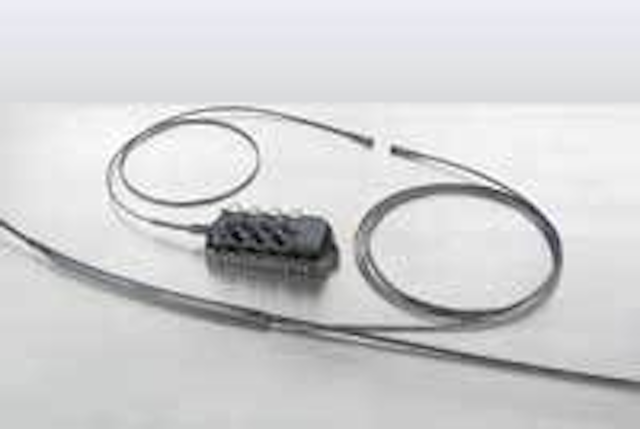 Click here to enlarge image
Built for fast outside plant (OSP) LAN deployment, the Plug & Play OSP System consists of an optical cable pre-installed with network access points at customer-specified intervals, and a tethered, environmentally-hardened MT connector. The MT network access points consist of a patented pre-installed overmold closure. A flat drop tether cable is attached to the network access point, and terminated with a factory-tested MT connector. When network connection is required at the drop location, customer options include a 12-fiber proprietary MTP connector, standard connector (LC, SC, etc.), or the company's OptiSheath Advantage MultiPort Terminal that can be configured with four, six, eight or 12 drop cable ports. The system is compatible with below-ground and aerial applications, and the manufacturer claims that network installation can be completed up to 50% faster than traditional field installation and at a 20% total deployment cost savings.
CORNING CABLE SYSTEMS
www.corningcablesystems.com
Quicky field cleaver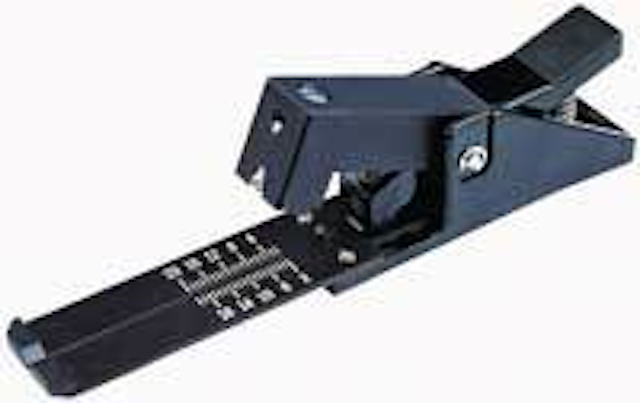 Click here to enlarge image
Performing thousands of cleaves for about two cents per cleave, according to the manufacturer, this field tool is designed especially for quick mechanical splices and connector termination. A ceramic blade performs more than 6,000 cleaves (replacement blades available). The tool includes a cleave length guide, measuring from 5 to 20-mm.
FIBER INSTRUMENT SALES
www.fiberinstrumentsales.com
Ethernet analyzer
Click here to enlarge image
The updated EtherScope network assistant is a wired/wireless LAN analyzer tool for Gigabit Ethernet-speed networks that now can "see" into all wireless networks (802.11/a/b/g). The portable device helps you quickly isolate urgent problems, as well as identify issues that may be keeping the network from performing at optimum level. EtherScope can analyze network traffic, measure internetwork performance, and discover devices, networks, VLANs, access points, and mobile clients.
FLUKE NETWORKS
www.flukenetworks.com
Powered panel system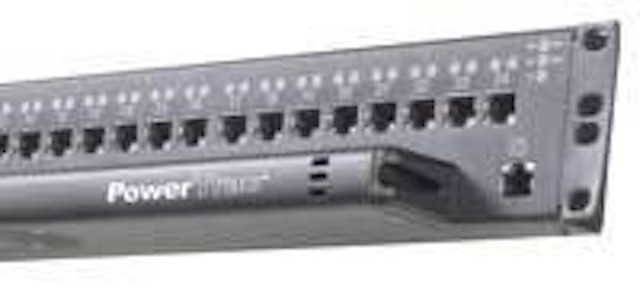 Click here to enlarge image
The PowerTrac powered infrastructure panel system is a 24-port, 802.3af midspan designed to support maximum, sustained, and simultaneous Power over Ethernet (PoE) power on all ports. The system, which integrates PoE and asset management in a 10-GbE Category 6 patch panel, can be installed with standard tools. According to the manufacturer, power is assured by redundant, load-sharing, hot-swappable modules.
HUBBELL PREMISE WIRING
www.hubbell-premise.com
Insulated cable cutter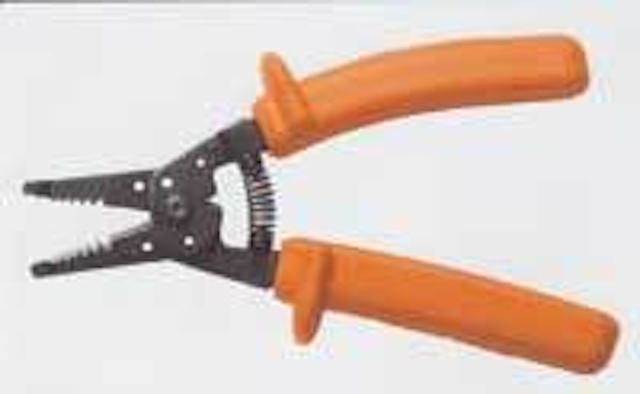 Click here to enlarge image
The insulated Klein-Kurve is a multiple function stripper/cutter with curved handles, designed to cut, strip, loop and gauge both solid and stranded wire while providing double-layer protection against shock from energized sources up to 1,000 volts. The eight-inch long tool features gauge markings on both sides, and integral guards to prevent hand contact with conductive parts.
KLEIN TOOLS
www.kleintools.com
Bend-friendly fiber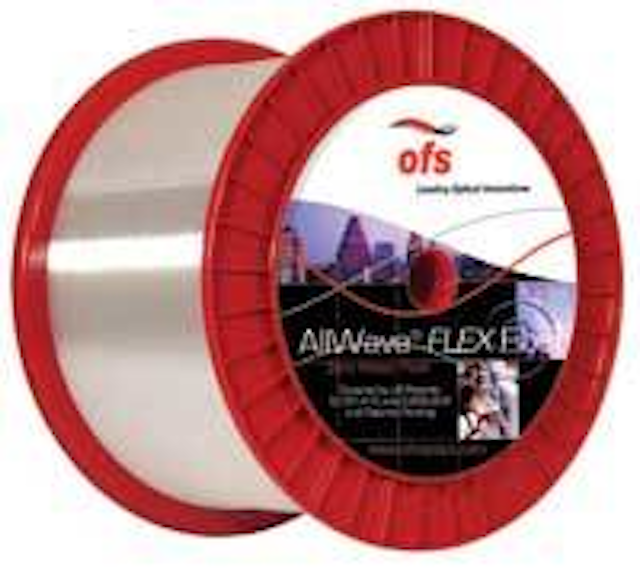 Click here to enlarge image
AllWave FLEX ZWP singlemode fiber is a Zero Water Peak G.652D media designed to offer superior bend performance for fiber-to-the-home (FTTH), enterprise networks, or other installations where small bend diameters may be encountered. The fiber is designed to maintain very low bending loss across the full usable spectrum of wavelengths, from 1260 to 1625 nanometers (nm). According to the manufacturer, the fiber can be coiled into a 20-mm loop with less than 0.5-db incurred loss at 1625 nm, and less than 0.2 dB incurred loss at 1550 nm-five times better bending performance than conventional singlemode fibers. The company also says its fiber helps improve cable performance in harsh environments by providing double the microbending performance of other singlemode fibers. The fiber can protect a network against excessive loss resulting from inadvertent fiber bends, and is less susceptible to physical disturbances from cable flexing, pulling, crushing, and bending due to routing within enclosures and cabinets.
OFS
www.ofsoptics.com
Steady tool holster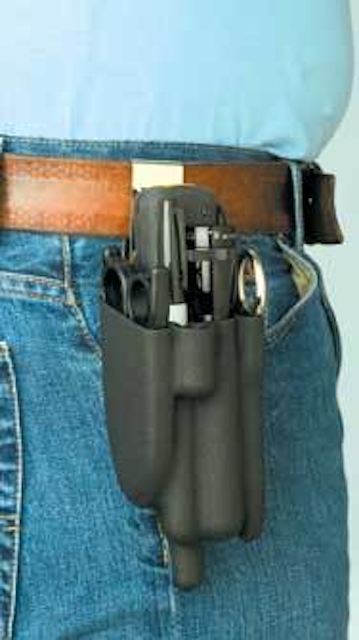 Click here to enlarge image
The GripPack tool holster is designed to firmly hold your essential tools used to install or maintain data networks and for cabling installations. A form-fitted PVC material ensures that tools won't fall out, even if upside down. The belt clip is constructed so as not to separate from the PVC, and swivels so the holster moves with you-yet the tools stay out of the way.
PALADIN TOOLS
www.paladin-tools.com
Four-post rack system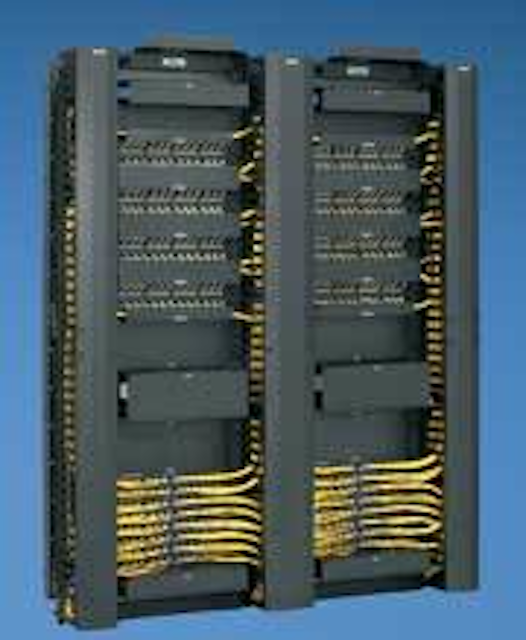 Click here to enlarge image
This four-post rack system is built to support data center network equipment, combining the stability of a cabinet with the accessibility of an open rack to provide flexibility of network layout design and installation. The company's PatchRunner and NetRunner vertical cable managers can mount directly to the rack at any of the four corners, providing an end-to-end cable management solution. Front and back mounting rails move independently of structural members, letting you make adjustments after the rack is installed. Rear rail construction is designed to provide a clear ventilation path for side-ventilated switches, while silk-screened rack spacing allows for easy location of rack-mounted equipment.
PANDUIT
www.panduit.com
Cable restraint system
Click here to enlarge image
For high-density data center and telecom installations, the KIT-CABLERES-01 universal cable restraint system is designed to secure interconnections and organize cables. The system provides two functions in one device, replacing plug/connector restraint devices and cable management trays. Plugs and cables are supported by the KIT-CABLRES-01 tray, and secured with a permanent locking nylon tie wrap. The system is compatible with power distribution units (PDU) that have detachable universal mounting brackets. It can also be used to restrain and route data, fiber, or network cables. The tray design increases the maximum number of connectors that can be restrained on one side of a PDU; for example, it can restrain up to 12 IEC 60320, C13 receptacles on one side of a 1U-high PDU. This high-density solution, says the manufacturer, is especially suited for limited area rack space.
PULIZZI ENGINEERING
www.pulizzi.com
Integrated access point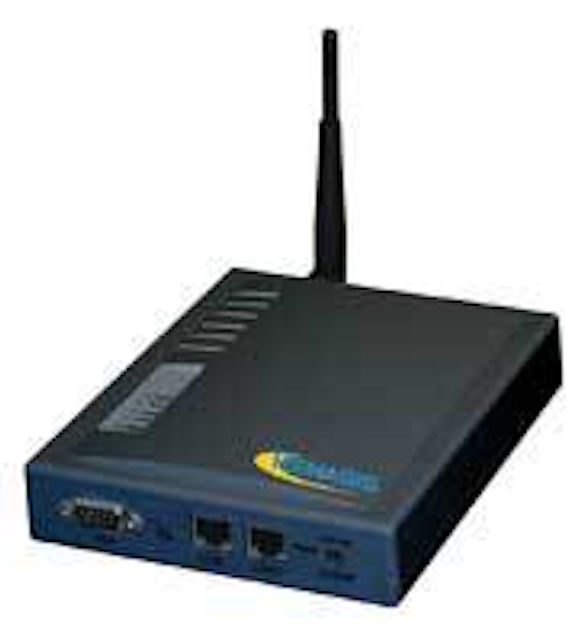 Click here to enlarge image
The DDC36g integrated high-powered wireless access point (WAP) incorporates access point, amplifier, network switch, and antenna into a single component. The WAP features two Power over Ethernet-enabled data ports, designed to allow devices to be daisy-chained together. It utilizes the IEEE 802.11g standard, which ensures compatibility with all 802.11b and 802.11g equipment. A built-in 10/100 switch is designed to create a super-wide data backbone, which the company says allows for unimpeded backhaul between devices. According to the manufacturer, the DDC36g's Web-based network manager provides network administrators flexible configuration and monitoring of devices.
RENASIS, LLC
www.renasis.com
Wireless IP camera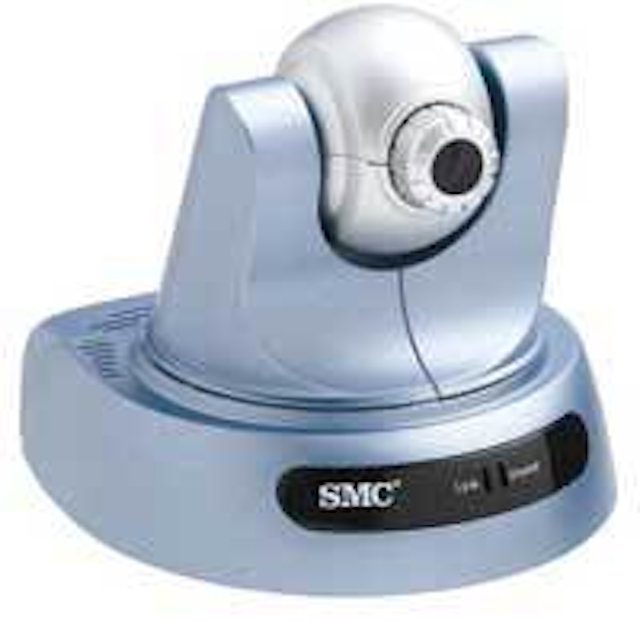 Click here to enlarge image
The EZ Connect g Wireless IP camera (SMCWIPCAM-G) is designed to turn a wireless network into a Web-accessible wireless security system. With wireless coverage reaching up to 300 meters indoors, the camera has built-in motion-detection features that allow three different surveillance areas on the viewable screen. It responds to movement, capturing changes in any of the areas. Pan/tilt features with operational angles of 90° and 270° allow for wide recording areas, and captured images can be viewed in real-time online, or e-mailed to a user. The IP camera includes a 54-Mbits/sec wireless client that can be connected to any IEEE wireless network, and supports security with WEP, WPA, and advanced WPA2. The camera can also be connected to the network via an RJ-45 Fast Ethernet port.
SMC NETWORKS
www.smc.com
Zero-downtime UPS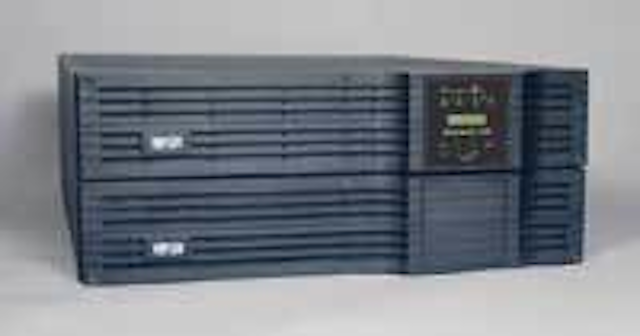 Click here to enlarge image
The 5000 VA and 6000 VA SmartOnline hot-swappable modular UPS systems are designed for server networking racks where space is limited. According to the company, the UPS promises zero downtime for connected server, storage and networking equipment. All maintenance, from battery replacement to power module exchange, can be done without powering down connected equipment. The systems also include such features as scalable runtime via optional battery packs, and the ability to configure multiple systems to deliver N+1 availability. Key to the design is a proprietary power distribution (PDU) unit that manages all input and output power connections. Combined with an internal bypass feature that keeps power flowing to connected equipment in the event of a component problem, a manual bypass switch on the PDU enables maintenance and replacement without downtime. Other features include true online operation for complete isolation of sensitive equipment from power problems, output flexibility, simultaneously addressable communication ports, SNMP communications slot, EP interface, and PowerAlert software for remote IP-based system management.
TRIPP LITE
www.tripplite.com
Shielded cable assemblies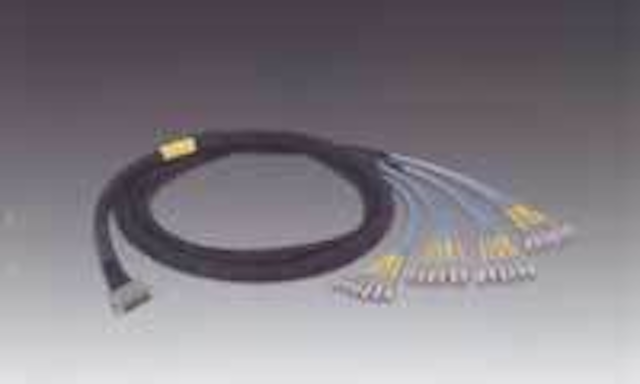 Click here to enlarge image
Designed for military/aerospace communications systems, the MDM Octopus is a multi-interconnect shielded cable assembly that features the manufacturer's twinax or triax RF connectors terminated on one end, and a single MDM (microminiature D metal) multi-pin connector terminated on the opposite end. According to the company, the MDM Octopus was built in response to user requests for a densely packaged multi-pin interconnect that is also a lightweight shielded assembly for secure communications, aircraft installation, and box-to-box networking. The MDM connector is on 50-mil centers, and available in various pin counts.
TROMPETER
www.trompeter.com
Fiber-optic design guide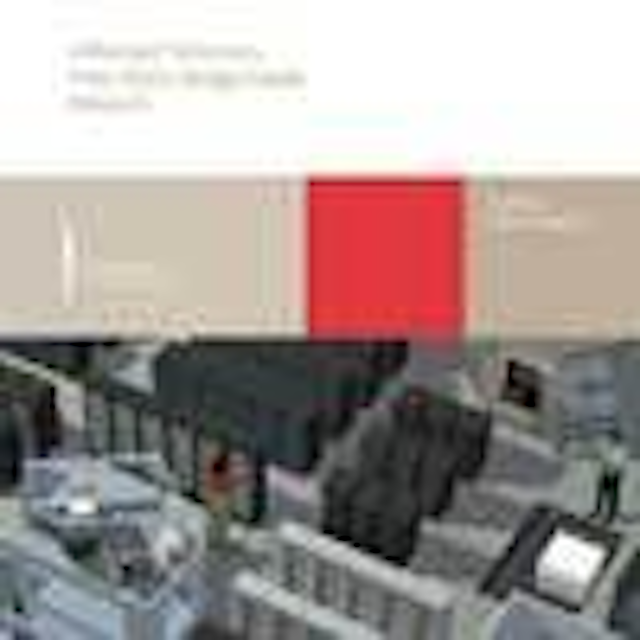 Click here to enlarge image
The sixth edition of the LANscape Solutions Fiber Optic Design Guide features information on emerging technologies and standards development, and emphasizes data center design, planning, and implementation. Updated in concert with the TIA/EIA-568-B Commercial Building Telecommunication Cabling Standard, the guide includes recommendations on designing and testing LANs and data centers, guidance on deployment of high data rate Ethernet applications, and optical fiber and hardware recommendations for a variety of premises network applications.
CORNING CABLE SYSTEMS
www.corningcablesystems.com
Data center products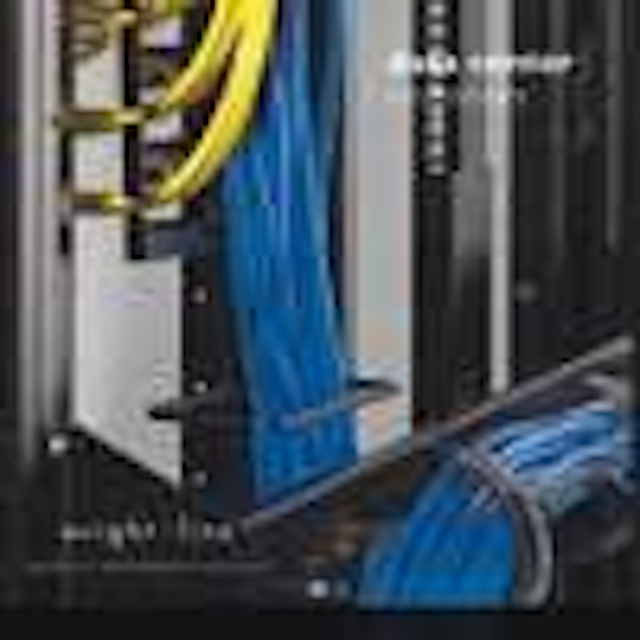 Click here to enlarge image
Wright Line has introduced a free data center accessories catalog that features its full line of products that work in concert with the company's Paramount and Vantage S2 enclosure platforms. With more than 100 pages of full color information, the catalog includes products ranging from shelving and storage systems to cable management accessories, KVM switches, and full-room data center cages.
WRIGHT LINE
www.wrightline.com
Fiber-optic cameras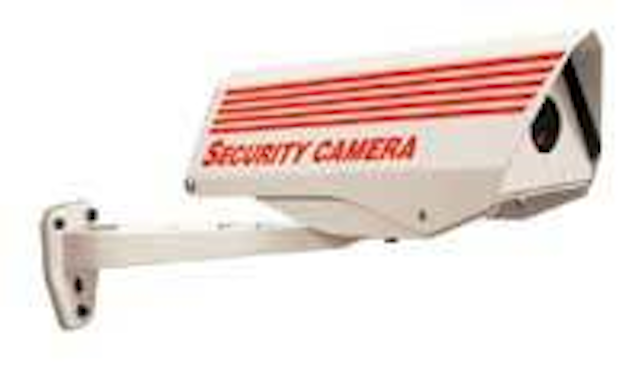 Click here to enlarge image
Available in multiple fiber modes, these vandal-resistant security video cameras are designed to transmit up to 8 km without re-amplification. They feature built-in transmitter, camera mount, receiver, 3.5 to 8-mm vari-focal auto-iris lens, sun shroud, and voltage regulator (24 to 60 V DC). A heater is optional. Coax versions of the camera are also available.
FIBER INSTRUMENT SALES
www.fiberinstrumentsales.com
Network service module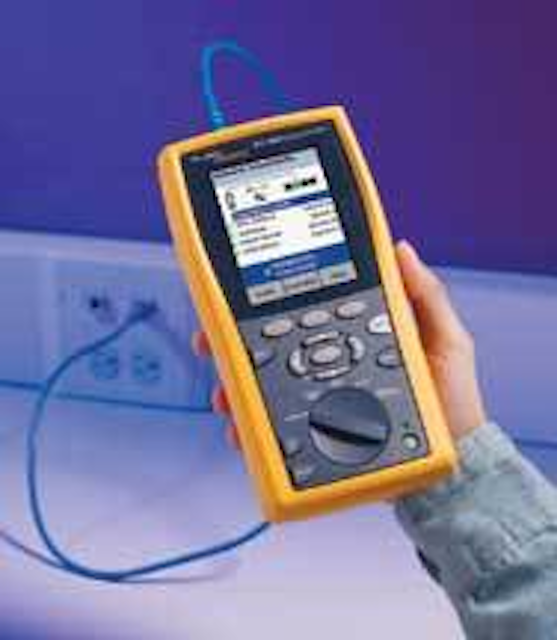 Click here to enlarge image
A new network service module for the company's DTX CableAnalyzer series is designed for cable certification as well as to verify and document link connectivity. The module lets you follow industry best practices, which recommend verifying the link connectivity after certifying each cabling link, and then documenting all test results in one report. This feature is designed to help technicians eliminate callbacks, reduce network downtime, and expand services to users. The module determines the data rate and network technology, as well as the Ethernet utilization of the link under test as a percentage of available bandwidth. It also verifies proper connectivity as well as the presence of Power Supply Equipment on a link, testing the delivery of proper voltage levels for powered devices for Power over Ethernet applications.
FLUKE NETWORKS
www.flukenetworks.com
Pre-polished time savers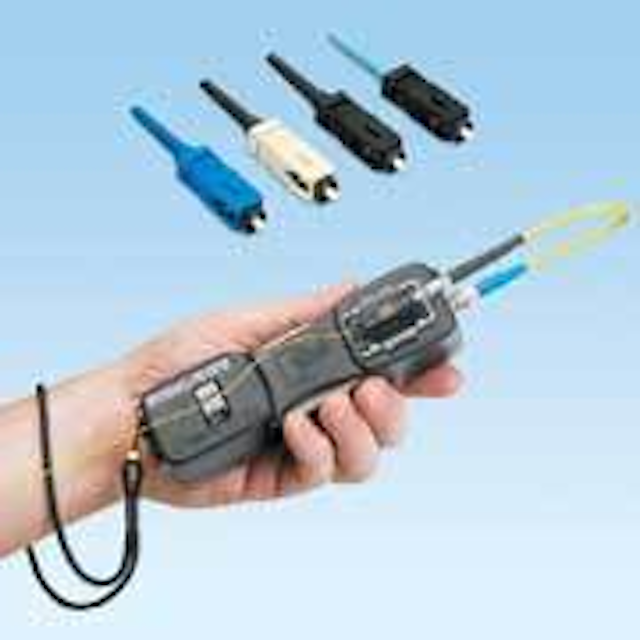 Click here to enlarge image
The OptiCam termination tool is designed to provide easy terminations of OptiCam pre-polished connectors. The tool features an integrated visual fault locator for visual indication of proper termination after the cam step has been completed. According to the company, the tool, along with its pre-polished connectors (with dual-cam design that secures both the fiber and buffer in one action to ensure consistent termination) are designed to eliminate operator error and deliver yield rates approaching 100%.
PANDUIT
www.panduit.com
Industrial label system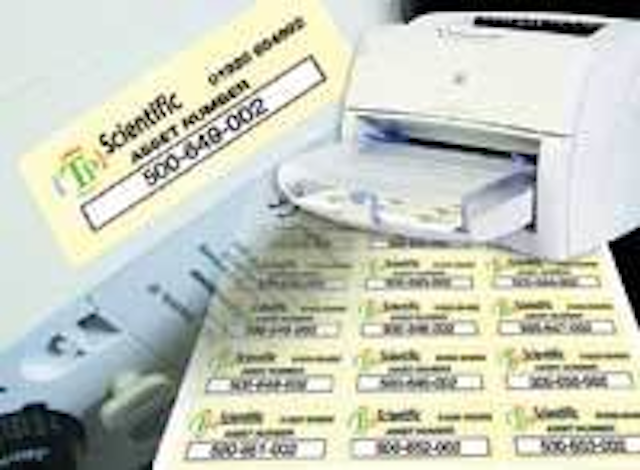 Click here to enlarge image
A range of full-color asset identification labels designed for industrial use, such as identifying data center and network equipment, are manufactured to any size or format in a wide range of material and adhesive combinations-including tamper-evident, hi-tack for difficult surfaces, and heavy duty for textured surfaces. According to the company, the labels offer outstanding tolerance against oil, water, abrasion, and weathering. Labels are supplied on rolls or sheets, can be pre-printed or printed on your standard office laser or thermal-transfer printer.
CILS INTERNATIONAL
www.cils-international.com
Four-port outlet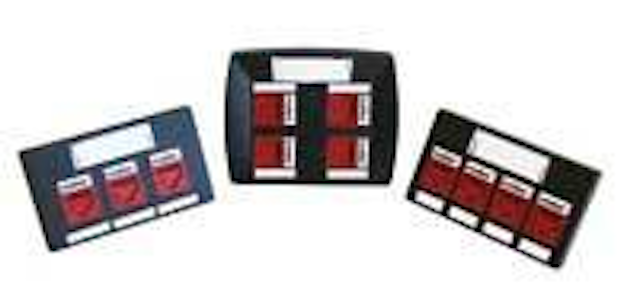 Click here to enlarge image
This four-port modular furniture outlet is designed to accept any single-position module, including DataGate jacks. The module fits into any cut-out size measuring 1.345 to 1.405 inches x 2.93 to 2.99 inches. A labeling area with clean-hinged cover is provided.
MOLEX
www.molex.com
OSP splitter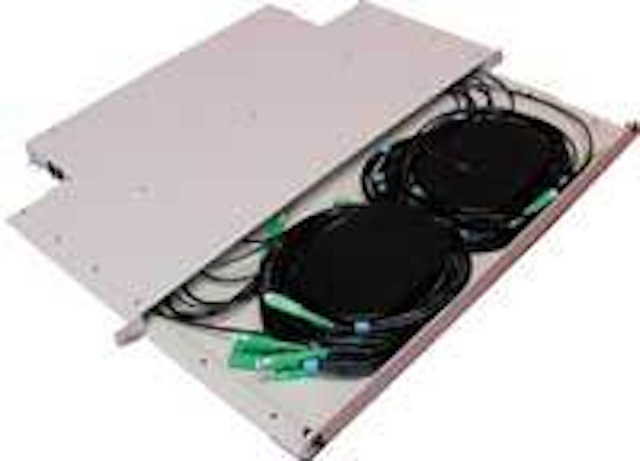 Click here to enlarge image
Designed especially for fiber protection, management and maintenance in outside plant (OSP) Fiber-to-the-x (FTTx) applications, this ruggedized splitter features a "one-touch turn-up" design, allowing output legs to be handled only during customer turn-up instead of output legs having to be moved to a parking lot after the splitter is installed and then returned at customer turn-up. The one-touch feature requires less human handling, reducing the chance of fiber damage and network downtime. Built for environments ranging from -55° C to 85° C, the ruggedized optical cable is available as patch cords or pigtails for the OSP as well as for pre-connectorized solutions.
APA CABLES & NETWORKS
www.apacn.com
Fiber-optic (and copper) tools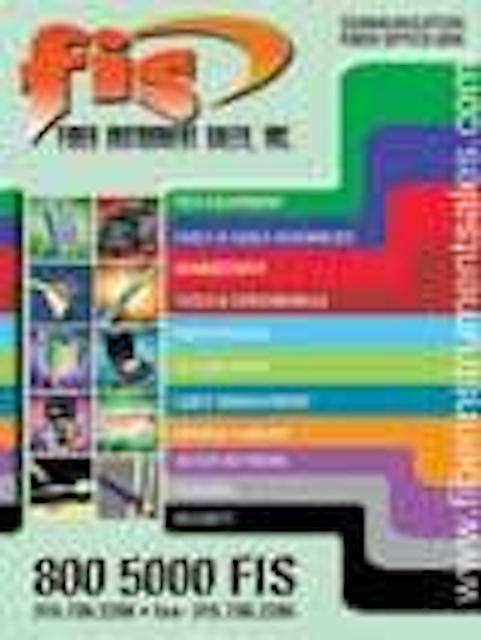 Click here to enlarge image
The 119-page 2006 Product Catalog from Fiber Instrument Sales includes an expanded copper cabling section as well as color photos and descriptions of fiber-optic tools and equipment, such as connectors, test equipment, fusion splicers, outside plant installation items, and security systems.
FIBER INSTRUMENT SALES
www.fiberinstrumentsales.com