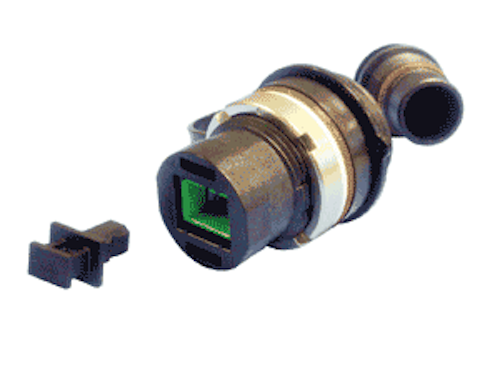 In fiber-to-the-building networks, connectors should exhibit three traits: ruggedness, ruggedness, and ruggedness.
Fiber-optic connector designs available just a few years ago were qualified under light-duty loading typically found in an indoor environment, and often were restricted from use under harsh outdoor conditions because of instability at temperature and humidity extremes.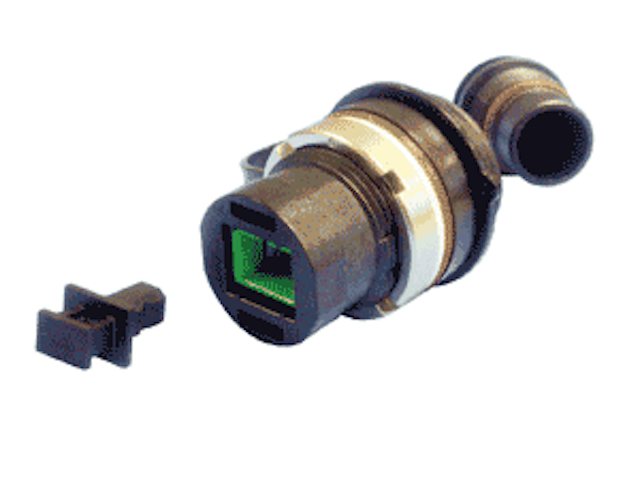 The rugged adapter used in outside-plant (OSP) environments comes with a protective plug that remains in place until the adapter is ready for use.
Click here to enlarge image
Improvements in newer designs, however, have allowed optical connectors to keep pace with the high-performance needs in high-speed backbone networks, and for bandwidth requirements in the enterprise and consumer markets.
In particular, improvements in precision plastic and ceramic components have boosted performance and repeatability of optical connectors. In addition, improvements in epoxy and polish processing have resulted in highly accurate ceramic endface geometries and highly stable structures under temperature and humidity variation. Furthermore, a wide range of process improvements has improved the overall quality of connector products, essentially allowing the use of optical connectors in the outside plant (OSP) environment.
Today, for example, such connectors as the SC ultrapolished connector (UPC) or angled-polish connector (APC) are designed and tested to maintain reliable performance in the extreme conditions found in the OSP environment.
But even standard connectors have limitations regarding their ability to stand up under rugged mechanical stresses and continuous water immersion. These devices require housings and closures to seal out moisture and isolate them from rugged handling in the outside plant. But enclosures forming a secondary layer of protection are often costly and make access difficult, especially in applications like aerial and below-ground, where access is typically difficult to begin with.
Fortunately, further innovations have been made to rugged fiber-optic connectors so that they can stand up to the rigors of the OSP environment. Reliability is paramount when fiber cable assemblies are placed in OSP (uncontrolled) environments closer to customers. While fiber-optic connectors and cable assemblies may represent a small fraction of the overall network cost, they continue to be a vital link in connecting the entire network together.
Rugged connector system
Since Passive Optical Network (PON) architecture provides service via a single fiber path to the residence, the rugged connector system is primarily designed in a simplex configuration containing a single fiber. The rugged connector system consists of connectors and adapters that are hardened to protect against OSP environmental factors, including extreme temperature, moisture, ultraviolet radiation, chemical exposure, and other harsh conditions. The rugged connector system is also watertight and can be installed on an enclosure's external surface to provide easy access points in underground as well as above-grade or aerial installations.
The rugged adapter is usually installed in an opening in the enclosure and is sealed to the enclosure bulkhead using O-rings and washers to prevent moisture intrusion. The device is also normally supplied with a protective plug that seals it until it is ready for use. Once the adapter port is to be connected for service, you remove the protective plug so that a rugged drop cable can be connected. The protective plug is tethered to the adapter so you can reuse it to protect the adapter in the event the rugged drop cable is removed.
Based on standard SC connector and adapter technology, the rugged adapter uses high-performance ceramic ferrules and sleeves as the basis for mating fiber terminations. It contains an SC adapter for coupling inside the adapter, thereby conforming to industry standards, including Telcordia's GR-326 requirements for singlemode optical connectors and the Telecommunications Industry Association's (TIA) Fiber Optic Connector Intermateability Standards (FOCIS) specifications defining intermateability and connector geometry.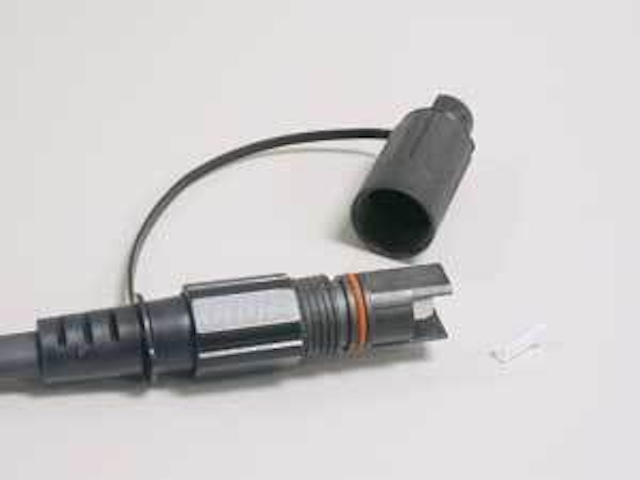 This rugged male connector comes with a protective cap that keeps the endface clean until the connector will be used.
Click here to enlarge image
The rugged adapter ensures reliability and compatibility with a wide range of SC connectors on the market. Devices are typically used in multi-port fiber terminals or fiber terminal closures strategically located at the street outside the residence. Rugged adapters are also used as an interface at the optical network terminal (ONT) located at the premises. Typically, you install it on the enclosure's external surface or at the ONT so that drop connections can be completed without opening the enclosure.
The system also includes a male rugged connector and associated rugged drop cable assemblies. The rugged connector is based on standard SC connector technology and contains a ferrule-based SC inner connector for coupling inside the connector. The rugged connector is also hardened to protect against the harsh OSP environment, and is typically provided as part of a factory-connectorized drop cable assembly that is pretested and certified to meet performance requirements. It is sealed to the adapter using O-rings as it is installed, and is supplied with a protective cap that seals the connector and keeps the endface clean until it is ready to use.
Cables dropping in
Rugged drop cable assemblies are typically provided from the factory with rugged connectors on one or both ends. The preconnectorized and pretested drop cable assembly facilitates rapid connection of drop cables between the street and the residence. Several different style drop cables have been developed for use in this environment; configurations include flat dielectric cable, figure-8 cable with steel messenger, and flat dielectric cable with 24-AWG toneable wire.
The flat all-dielectric cable eliminates potential electrical hazards from being carried from the network to the residence. The dielectric is particularly attractive in an aerial plant application where lightning hazards are common.
The figure-8 cable with steel messenger is also attractive in an aerial environment because of the added structural strength provided by the steel messenger. This figure-8 cable requires proper field grounding of the metallic member in either aerial or below-ground drop applications.
The flat dielectric cable with 24-AWG toneable wire may be attractive in buried applications where the cable is directly buried between the terminal at the street and the side of the residence. The 24-AWG wire is used to provide a means for locating the buried drop cable prior to digging in future construction activities.
All cables used with the rugged connector are tested and qualified to Telcordia GR-20 for water-blocking, and all assemblies are tested and qualified to Telcordia GR-3120 requirements. Rugged cable assemblies are available in standard lengths from 60 to 2,500 feet, or even longer if needed. Cable assemblies are available with one or both ends connectorized and packaged in spools for easy payout.
Double-ended rugged drop cables can be quickly installed by connecting at the street and then again at the premises. Excess slack associated with the drop cable can be easily stored out of sight on the ONT mounting bracket at the residence. You can also connect single-ended connectorized cables to the terminal at the street and then splice at the premises end to eliminate slack entirely.
Rugged connector terminals are located at the street outside the residence and used to connect the PON distribution cable and rugged drop cable. A single multi-fiber distribution cable counting 4, 6, 8, or 12 fibers is typically used as the input to the rugged terminal.
The multifiber cable is separated inside the terminal into individual fibers, each of which is terminated on an SC connector inside the enclosure. You insert SC connectors into rugged outdoor adapter ports inside the enclosure, with the connector accessible via openings on the enclosure's exterior surface. Input stub cables can be configured in the factory with various lengths providing flexibility and efficiency for field installation of the rugged terminal, or you can configure fiber terminal closures in the field by splicing preterminated pigtails or fanouts to the multifiber input cable and terminating connectors on SC connectors and associated rugged adapters.
All rugged fiber terminals are sealed to protect the breakout transition from multi-fiber cable to individual rugged adapters. The seal may be a permanent bond or designed with fasteners that allow easy re-entry for repair and maintenance. The terminal seal is typically rated to withstand direct submersion in the field, such as a 10-foot water head. As such, the rugged terminal and associated connectors and adapters can function just as well underwater as in a dry environment.
The rugged terminal has a versatile mounting scheme so that you can mount it in a variety of different configurations. For instance, you can mount the rugged terminal below grade in handholes so that it is completely out of sight. The below-grade installation is the most severe, because the rugged terminal can be exposed to continuous flooding and freezing conditions. You can also install the rugged terminal above grade in a pedestal and in an aerial configuration on a pole or a stand.
All mounting options allow for efficient craft access to connections so rugged drop cables can be connected quickly.
Multi-fiber connectors
One of the rugged connector system's major advantages is that technicians who are not necessarily expert in fiber splicing and handling can quickly install the connectors and route the drop cable to the customer premises. This quick connection saves time and installation cost when the drop cable is installed.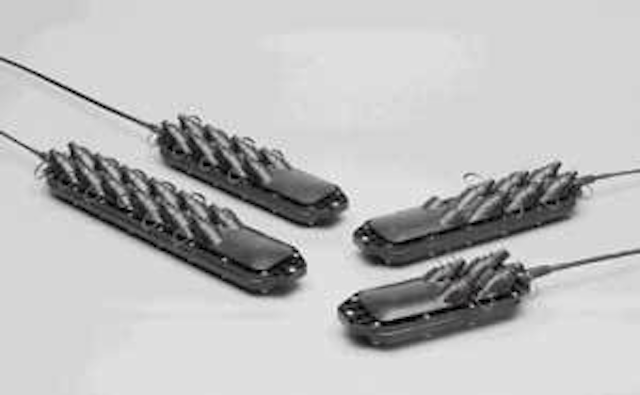 Rugged multi-fiber connectors like these quicken the process of fiber-to-the-home termination, especially for technicians who are not expert splicers.
Click here to enlarge image
Because of the ease of mating, the rugged drop cable can be deferred until service is requested and then installed to the residence within hours of service-order completion. So, the rugged connector system allows part of the cabling network to be deferred and quickly installed when needed. This quick-connect approach and associated deferral of cabling links is attractive to service providers keen on reducing network construction cost-so attractive, in fact, that service providers are reviewing network construction plans to identify other parts of the cabling network that can be deferred by deploying rugged connection solutions.
Elsewhere in the distribution network, fibers are managed in multi-fiber cables. Main distribution cables are typically large-fiber-count cables containing as many as 144, 216, 432, or even 864 fibers.
The distribution network is designed in a tree-and-branch topology in which smaller fiber-count cables branch off of the larger main distribution cables and are routed to terminal points in the network. This topology is used, for example, when rugged connector terminals are placed on a street or in a neighborhood in 4-, 6-, 8-, and 12-fiber units that correspond to the number of nearby residences targeted for connection. This application is a logical place to find a rugged multi-fiber connection, where terminals can be connected into distribution cables using the quick-connect approach.
To serve such an application, rugged connector technology has been expanded to include multiple fibers within a single connector. The technology employs the MT ferrule that aligns multiple fibers simultaneously, usually arranged as a linear array.
The industry has also seen the recent development of ultra-precise MT ferrules manufactured from thermally stable plastic materials. These improved ferrules, along with numerous advances in multi-fiber connection designs and processing techniques, have resulted in MT products that are stable under temperature variations found in the outdoor environment. Furthermore, the ultra-high-precision ferrules have resulted in performance improvements that make them attractive for OSP network applications, even with the variations of extreme temperature swings.
New rugged connectors have been developed based on the MT connector technology to allow multiple fibers to be reliably connected in the OSP environment. The MT ferrule is used as the basis for the connector, and is placed in a watertight outer connector shell that seals out moisture. As in the simplex connector, the rugged multi-fiber connector protects against all the hazards in the outside plant environment. The early vintage connector designs provide 4, 6, 8, or 12 fibers to be connected using a single mated connector.
Rugged multi-fiber connectors let you quickly connect distribution network terminals by preconditioning the cable with multi-fiber outlet ports. Because of the ease of mating the rugged multi-fiber connectors to the outlet ports, the adjoining cable and associated rugged terminal can be deferred until service is requested, then can be installed to the residence within hours of service-order completion.
A rugged multi-fiber connector system allows additional parts of the distribution cabling network to be deferred and quickly installed when needed. Moreover, by placing rugged multi-fiber connectors in the OSP, the service provider can decide later if all the fibers will be used.
RANDY REAGAN is FTTx program manager, global connectivity solutions, with ADC (www.adc.com)