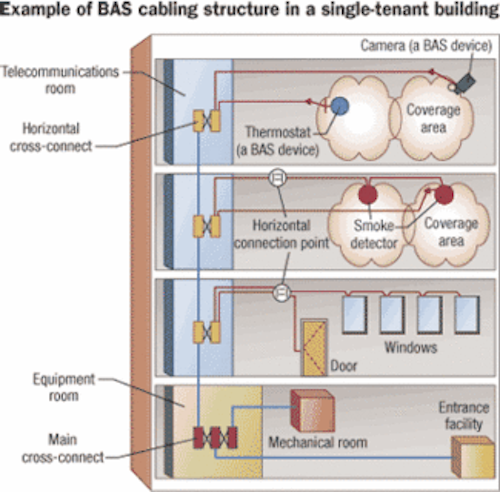 No longer proprietary devices, systems that control HVAC, power and security are friendlier than ever to LAN convergence. The challenge is to plan for it in the design stage.
When the 2002 National Electrical Code (NEC) allowed for power-limited building automation systems (BAS) to share pathways and spaces with telecommunications infrastructures, many in the cabling industry saw the opportunity for converging application with LAN cabling. In April 2002, the Telecommunications Industry Association (TIA; www.tiaonline.org) published the ANSI/TIA/EIA-862 BAS Cabling Standard for Commercial Buildings, the objective of which was to provide guidelines for the planning and installation of a generic structured cabling infrastructure for accessing and connecting BAS equipment and devices.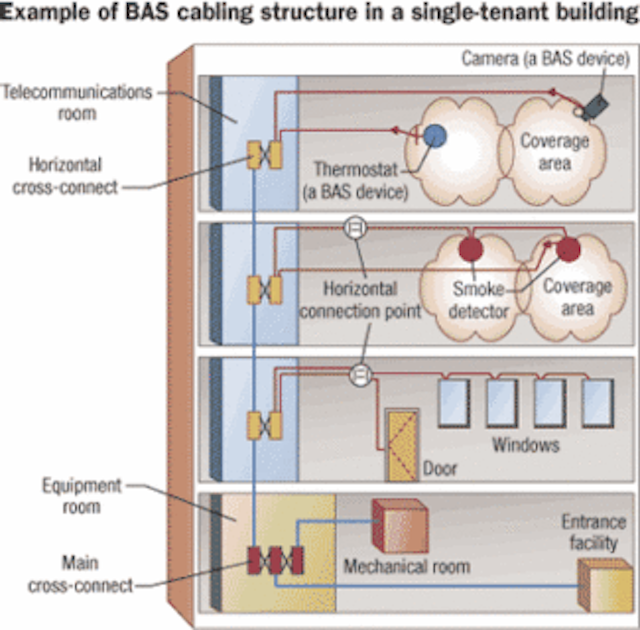 This illustration, which is included in the ANSI/TIA/EIA-862 BAS Cabling Standard for Commercial Buildings, depicts a typical building automation system. Since the standard's publication in 2002, implementation of its specifications has been slow.
Click here to enlarge image
Since then, however, the TIA's BAS standard has received little attention in the cabling industry, and convergence of BAS and LAN cabling is still rare throughout much of North America. But recent efforts by industry organizations and vendors, the introduction of new BAS technologies, and a concern for rising energy costs may trigger a shift away from conventional BAS cabling.
BASic elements
BAS systems typically are used for controlling building operation systems, such as fire and life safety, heating/ventilation/air-conditioning, lighting and power control, paging, and security (e.g., access control and video surveillance). The TIA-862 BAS standard establishes the performance, topology, and technical criteria for BAS cabling configurations in compliance with existing TIA/EIA-568 and 569 standards.
"Because 862 follows existing standards, including the TIA-606-A administration standard, those that already know how to install and properly label voice and data networks in a commercial environment can easily install cabling for BAS," says Julie Roy of C2 Consulting (www.csquaredconsulting.biz), editor of the TIA-862 standard . "When BAS is installed per these standards, building owners end up with consistency for better overall management."
Roy also points out that using one cabling installer to implement both BAS and LAN cabling in common pathways saves on installation and space costs, and opens the door for converging BAS with IP-based voice and data networks. Converging BAS and data networks enables building owners and operators to receive, share, and distribute data from various systems for control, monitoring, and analysis. The use of the Ethernet protocol for BAS also provides the benefit of deploying such technologies as Power over Ethernet.
The basic elements of BAS structured cabling described in TIA-862 include the coverage area, horizontal cabling, backbone cabling, telecommunications room (TR), equipment room (ER), entrance facility (EF), and administration. The recognized media for BAS horizontal and backbone cabling include 100-Ω unshielded twisted-pair, as well as multimode and singlemode optical fiber, which must meet the performance and installation requirements of the 568-B standard. Specifications for the TR, ER, and administration are also in accordance with existing TIA-568 and 569 standards.
To accommodate specific BAS applications, the 862 standard allows for the implantation of different topologies in the coverage area from the horizontal connection point (HCP). The HCP is a connection point in the horizontal cabling link, but unlike a consolidation point (CP) found in LAN cabling, the HCP can be a cross-connect.
"Daisy-chaining and other topologies are required for installing some BAS devices, and we had to come up with a way to support those systems," explains Roy. "A star topology is utilized up to the HCP, and then other topologies can be deployed from that cross-connect point, depending on the type of building devices and systems being installed."
BAS outlet
Another fundamental difference between BAS and LAN cabling standards is the use of an optional outlet. In voice and data applications, the horizontal cabling permanent link ends at the workstation outlet. In BAS, the outlet is optional. "When you consider systems like fire and life safety, you don't want anyone tampering with or unplugging a device," says Roy. "Many BAS devices still use screw terminals and must be directly connected to the horizontal cabling."
Annexes to TIA-862 include information on providing power over twisted-pair cabling, determining channel lengths based on voltage drop calculations, and other BAS cabling standards like RS-485 and RS-422 daisy-chained networks.
Despite the publication of the TIA-862 standard, the convergence of BAS and LAN cabling is still rare throughout much of North America. "Most telecommunications installers are not involved with BAS cabling," says Paul Kish, director of systems and standards for Belden CDT (www.belden.com). "Typically, the contract to do the BAS installation is given to a separate BAS installer who may or may not install the system per TIA standards."
To accommodate the convergence of BAS and LAN cabling, both systems should be integrated together during the very early stages of the design process. "Unfortunately, the early design process doesn't happen as much as we'd like, and developers and building owners tend to have the viewpoint that tenants will have different needs and should, therefore, take care of those systems themselves," says Ron Zimmer, president and chief executive officer of the Continental Automated Buildings Association (CABA; www.caba.org). CABA describes itself as North America's only industry association dedicated to providing information, education, and networking opportunities relating to home and building automation.
Design rethinking needed
"Developers have been very successful building this way for many years, and it's a real challenge to change their mindset and demonstrate the value proposition of designing systems up front," Zimmer adds. He points out that collaboration between designer and developer during the design process is imperative for convergence to take place.
Another impediment to converging BAS and LAN cabling comes down to initial financing, which is often a challenge for justifying the installation of premium LAN infrastructure. "Most construction projects have a number to work with, and they have to build within that number," Zimmer says. "When costs have to be cut, higher-end BAS that cost more up front are, unfortunately, often pared down to basic conventional systems despite the lifecycle savings and higher value they provide."
Fire/life safety systems received much attention following 9/11. These systems, which once were hard-wired but now are addressable and intelligent, can communicate with HVAC and other BAS. For example, if a detector senses smoke or a chemical agent, it can communicate with the HVAC system to shut down air ventilation.
Most industry professionals believe that fire/life safety systems should use their own cabling and be installed by installers trained specifically in fire/life safety systems. "Fire alarm systems have their own special set of codes, and these are systems that absolutely cannot fail," says Belden CDT's Kish. "Furthermore, many of these systems require a special fire-rated cable that can maintain communication for a certain period of time during a fire." When the fire/life safety installer is responsible for other BAS installation, convergence of BAS and telecommunications cabling is less likely to occur.
In the past, most BAS devices and equipment were proprietary and could only communicate with systems from the same vendor. Today, most BAS are interoperable and rely on open protocols for communication, which will help lead to convergence.
"Interoperability among various building systems has removed one of the biggest impediments to convergence," says CABA's Zimmer. "There is now much more of an effort to move to more open standards, and BAS vendors are starting to see the value in interoperability. When systems compete on brand name, service, pricing, and features instead of their proprietary nature, the market becomes much greater, and building owners can more easily choose systems."
Following the publication of TIA-862, some cable and connectivity vendors formed partnerships with BAS vendors and had minor success running BAS over four-pair UTP cabling. BAS vendors, however, offered most of these systems only as an alternative to conventional methods that used special cabling. Other cabling and connectivity vendors are marketing products directly to integration designers and contractors.
"Often, the BAS vendor is only providing the equipment, and much of this equipment is open architecture and can be deployed using our cabling," says Edward Guo, technical support project leader with The Siemon Company (www.siemon.com). "We're, therefore, focusing our efforts on the BAS integrators. BAS systems have various control levels-field control, system control, and management control. When these systems are networked via Internet Protocol at higher levels, that's where they can easily converge with LAN cabling.
Energy-saving incentives
Organizations like CABA are working to educate building owners and operators about the value of converging BAS during the early stages of design. "We try to educate the industry on the benefits of having risers in the right location and enough pathways, which ultimately reduces costs both during construction and in the future," says Zimmer. "The industry is now becoming extremely aware of rising energy costs, which will help drive systems like energy management, HVAC and lighting controls. Over the long term, implementing advanced BAS provides lower energy costs and better air quality, which can improve employee retention, productivity, and improve the bottom line."
CABA recently launched its Building Intelligence Quotient (BIQ) program, a Web-based ranking tool to help building owners evaluate and measure the value of intelligent building performance and to provide a design guide for integration of building intelligence in new building projects. "BIQ can show building owners the lifecycle savings of having an integrated system," says Zimmer. "The goal is to increase market penetrability of intelligent building technology with building owners, operators, managers, and designers by demonstrating value and providing guidance."
New technologies in BAS are just starting to enter the marketplace. Wireless BAS devices for systems like lighting control and HVAC are already a reality, and the use of the Ethernet protocol is increasing.
Distech Controls (www.distech-controls.com), a building automation solutions provider, recently developed controllers capable of communicating with a wide array of wireless sensors and peripherals, allowing a fully integrated wireless HVAC and lighting system. "The capacity for our controllers to communicate with wireless peripherals has important implications on cost of setup and retrofit as well as optimum comfort with multiple applications," says Etienne Veilleux, chief executive officer and president of Distech Controls. "The possibilities of this technology are endless."
"Today's BAS is moving from analog to digital technology, such as DVR and IP camera digital CCTV," says Siemon's Guo. "Microprocessor-based intelligent/addressable devices and sensors are also evolving and being implemented into BAS. Power over Ethernet technology is starting to emerge into BAS, and telecommunications cabling's plug-and-play concept allows easy upgrades to accept new BAS technologies in the future."
While the TIA-862 standard is available, and a few buildings include converged BAS and LAN cabling, it remains the norm for BAS to be separately installed on its own cabling and in its own pathways. Many challenges still must be overcome for the shift to occur, but efforts by vendors and by organizations like CABA, as well as new BAS technologies, are a start. Additionally, if energy costs continue to rise, building developers and owners may have no choice but to consider integrated BAS systems.
"As frustrating as it is, rising energy costs may end up being a means to an end, and systems like lighting control can provide significant cost savings that can't be ignored," says CABA's Zimmer.
"Efforts are underway for building automation systems to communicate with each other, and the TIA-862 standard provides the channel that enables the communication," says Belden CDT's Kish. "We know how to install LAN cabling, and we know its performance and characteristics. It can support at least 1 Gigabit and provide a lot of potential for future IP-based systems, and there's no reason why BAS devices can't be made to work on it. If you put in a proprietary system, it may not be adequate for Ethernet and future use. Education is truly the key to converging BAS and LAN cabling."
PATRICK McLAUGHLIN is chief editor of Cabling Installation & Maintenance. Freelance writer BETSY ZIOBRON also contributed to this article.