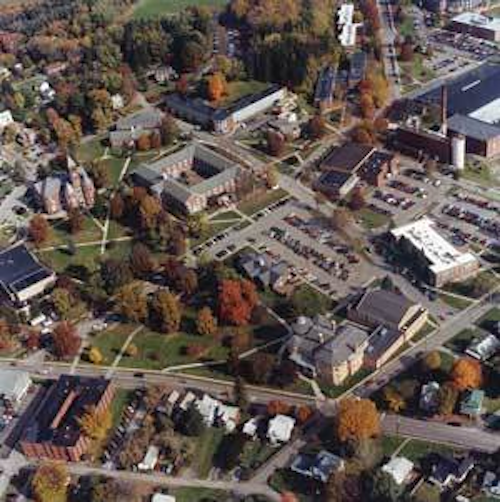 A massive network upgrade is enhancing student and faculty life at Slippery Rock University in Pennsylvania.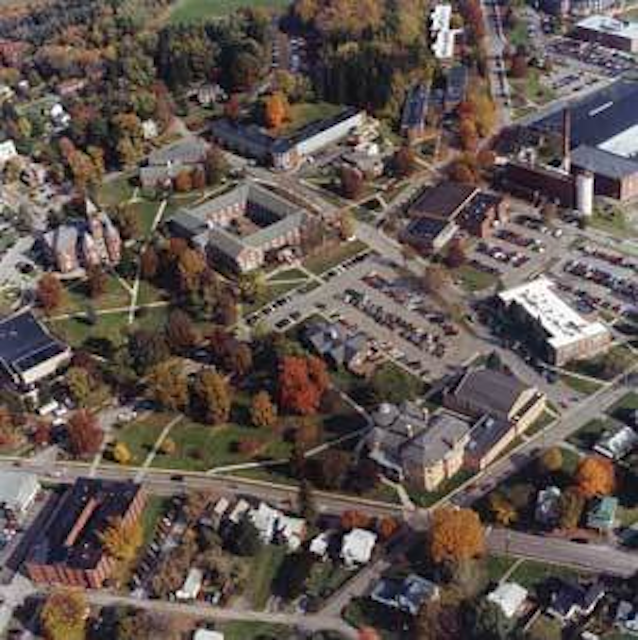 Slippery Rock University's 600-acre campus is undergoing a complete network evolution.
Click here to enlarge image
If you've ever heard of Slippery Rock University of Pennsylvania, its unique name is pretty hard to forget. But what you might not know is that this 600-acre campus, located just 50 minutes north of Pittsburgh, has undergone a complete technological evolution to provide its nearly 8,000 students and 400 faculty members with one of the best campuswide networks around.
It's no easy task to upgrade a campus network consisting of 52 buildings with more than 10,000 connections, but in just one year, the university's network staff and selected contractor came together to complete a successful design-build installation. Now, those same crews are again joining forces to implement another 1,500 connections and relocate a network core to accommodate four new residence halls.
A time for change
Slippery Rock University (SRU) opened its doors in 1880 as Slippery Rock State Normal School for teacher education. In 1926, the school became a four-year teachers' college with a reputation for excellence in health and physical education. Between 1960 and 1970, Slippery Rock State College expanded its curriculum and its enrollment rose from 1,300 students to well over 5,000. Today, SRU's students hail from 40 states and 71 countries, and are enrolled in more than 100 degree programs.
Just as SRU has come a long way since its inception, so has the campuswide network. Before 2001, the university's fiber distribution data interface (FDDI) network connected just 32 of the campus' 52 buildings. Within each building, plain old telephone service (POTS) provided students and faculty with a shared 10-Mbit/sec connection to the network with only one connection per room. As more students and faculty members began using PCs to access the Internet, however, the existing network became crippled. Recurring crashes and disconnects became common, and the number of complaints among students and faculty climbed to an all-time high. The need for a campuswide network upgrade became evident.
As a Pennsylvania state-run institution, SRU was required to implement a competitive bidding process that specified three brands of cabling and connectivity components: Tyco Electronics' AMP Netconnect (www.ampnetconnect.com), ADC (www.adc.com), and Systimax (www.systimax.com). The university's IT staff worked with engineers from Burt Hill Kosar Rittelman and Associates (www.burthill.com) to draft a comprehensive request for proposal (RFP).
Because the project called for a design-build installation, understanding the scope of the project was imperative, and each bidding contractor was required to participate in a walkthrough of the university. Pennsylvania-based Westmoreland Electric, Inc.(www.westmorelandelectric.com) submitted the lowest bid for the project; the university's IT staff and engineers were equally impressed with Westmoreland's presentation and amount of work the company put into its bid.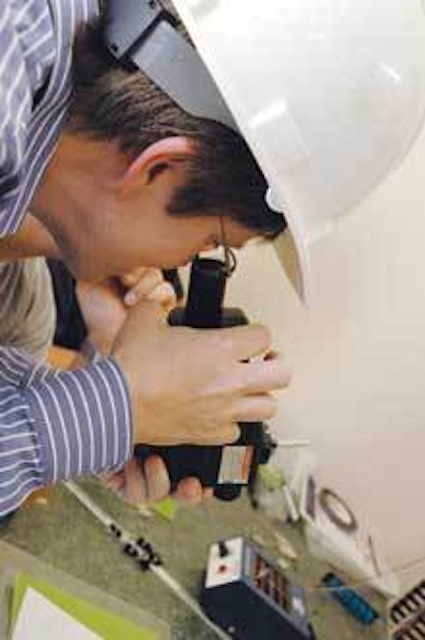 Linda Passauer, network manager for Slippery Rock University, inspects polished fiber.
Click here to enlarge image
"To prepare a responsible, comprehensive bid, we needed answers to many questions," says Keith Impink, RCDD, president of Westmoreland Electric. "We were concerned about congested, inadequate underground pathways, and we had to survey the entire underground infrastructure to determine which raceways could be reused and where we needed to include concrete-encased conduits in our bid. The timeframe was also very aggressive, requiring 60% of the building drops and most of the underground infrastructure completed within the first 120 days. We, therefore, needed to include additional trained technicians."
A long way from POTS
To upgrade the university's network, the four network core locations were completely revamped, using Enterasys (www.enterasys.com) core routers and switches. The four network cores, which each serve a specific group of buildings, were upgraded with a Gigabit Ethernet backbone ring and a partially meshed 6-Gigabit backbone using 24 strands of singlemode fiber-optic cable and 12 strands of 62.5-µm multimode fiber-optic cable. In this partially meshed topology, the core routers are directly connected to each other to provide a high level of redundancy.
The SRU installation included Tyco's AMP Netconnect fiber and Category 6 components, including racks, copper and fiber patch panels, and patch cords. "The company is based here in Pennsylvania, which enabled the timely supply of product to meet our demanding schedule," says Impink.
Each SRU core location contains three AMP Netconnect racks-one for the core building's fiber backbone terminations, one for fiber backbone terminations to adjoining buildings, and one for housing core routers and active network equipment. The core upgrade also included the implementation of firewalls and authentication for better network security and control.
Where the original infrastructure failed to reach certain outlying buildings, including maintenance and sports facilities, the upgrade has connected every campus building to the network, and fiber is now used to connect parking lot security cameras, building controls, and phone switches. Each building is connected to its core via 12 strands of singlemode fiber and six or 12 strands of multimode fiber, depending on the building's overall size.
Every campus building includes one main distribution frame (MDF) and one or more telecommunications rooms (TR), for a total of 83 TRs spread out over the 52 buildings. The MDFs and TRs are connected with a premise backbone consisting of six strands each of singlemode and multimode fiber. Category 6 UTP copper cabling is used in the horizontal pathways to provide more than 10,800 voice and data connections campuswide.
The new network provides one connection per student bed, as opposed to the previous POTS network that provided just one connection per room, regardless of the number of students sharing the room.
A challenging endeavor
A design-build project can be a challenging endeavor for everyone involved, requiring physical assessment of every connection location across a campus; however, this type of installation also offers the benefit of working with one entity under one contract, as well as the ability to easily implement changes during installation.
"If we ran into a situation where the original plan would not work, we solved the problem as a team," maintains Impink. "Westmoreland Electric would investigate the problem and present a solution to the entire team. The team would then come to a unanimous agreement within a few days, or sometimes within hours." Impink notes that with traditional fixed design, hard-bid projects, the process of making changes can take several weeks, which would not have been feasible with the SRU project schedule.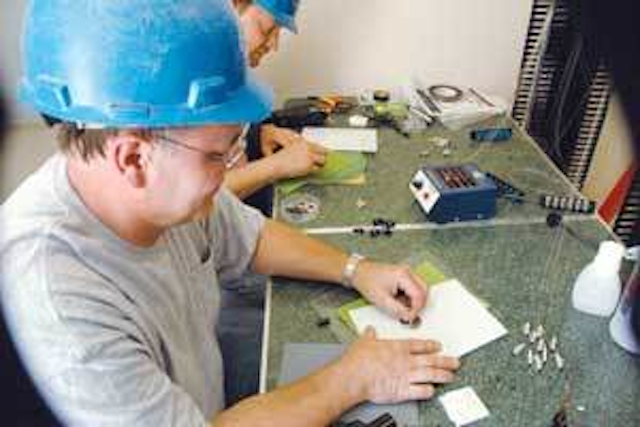 Bruce Campbell and Rich Weirs of Westmoreland Electric Co. polish singlemode and multimode fibers after termination.
Click here to enlarge image
In addition to drafting the RFP, Burt Hill was hired by SRU to conduct project management that included weekly meetings as well as daily quality control assessments to document issues for quick resolution. "Being the lead contractor on the project also gave us the advantage of driving the momentum and scheduling of the project, without being impacted by other contractors," adds Westmoreland's Bruce Campbell, superintendent of telecommunications technicians for the upgrade. "This enabled us to stay on schedule."
Many of the SRU buildings are quite old, which presented a host of challenges for cabling crews. All cabling was installed in conduit; finding adequate pathways often required cutting into walls and strategic maneuvering within ceilings and attics. In some buildings, crews were required to run cabling up through attic spaces and then drop down to the various connection locations. Most of these challenges fell to Campbell's discretion.
"Because each building was uniquely different, Bruce needed to survey every building to locate drops and pathways," explains Impink. "The proposed location then had to be documented and approved by the team before installation could begin, making it a constant challenge to keep the design ahead of the installation." At completion of the SRU network upgrade, Westmoreland Electric had installed 1.5 million feet of Category 6 cable and 90,000 feet of fiber-optic cable.
A momentous move ahead
To provide modern housing to meet student demands, SRU recently began construction of four new residence halls. Buildings A and B will open in time for the 2006-2007 academic year, with Building C to follow six months later and Building D scheduled to open in the fall of 2007. All units will include air conditioning, food preparation areas, and individual network connections for both voice and data. Within each residence hall, group meeting spaces and lounges will also include 802.11a/b/g wireless network service with outdoor coverage in courtyard areas. Also, each new residence hall's MDF will be updated with policy-enabled equipment offering switched 10/100Base-T service.
Because the residence hall project is supported through the SRU Foundation, Inc. (the organization that generates and manages private support for the university), a competitive bidding process was not required. This easily enabled the university to again join forces with Westmoreland Electric, which provided the benefit of working with crews already familiar with the SRU network and environment. In addition to low-voltage voice and data installation, Westmoreland is also responsible for implementing all electrical wiring, fire alarm, and security systems for the new residence halls.
Slippery Rock University's Todd Simmers knows how important lightning protection is for a large-scale campus network.
Click here to enlarge image
The new halls add 1,500 Category 6 connections to the campuswide network, incorporating AMP Netconnect's SL Series jacks and faceplates. AMP Netconnect's SL Series jack termination tool was used to simultaneously terminate and cut all eight conductors of the jacks. The tool incorporates a lacing fixture designed to maintain pair-twist for consistent terminations and better network performance.
"Change always brings a little grief, and at first no one wanted to try the tool," offers Westmoreland's Shawn Smith, superintendent of telecommunications technicians for the residence hall project. "But once we started using the tool, we realized how it helps improve terminations, and we've had virtually no attenuation fails since we started using [it]."
Construction of the halls, however, has not been without obstacle. Founders Hall, a network core location located in the campus' northeast corner, is slated for demolition to accommodate the project. The network core, which currently serves 13 buildings on the network and 19 buildings on the phone system, will be relocated to one of the new halls. The move requires the splicing of approximately 4,000 copper and 300 fiber pairs in a manhole located just outside the new core location.
Westmoreland is responsible for coordinating the move, which is scheduled to occur during a weekend outage before the start of the university's summer semester. Moving the network's Alcatel (www.alcatel.com) phone switch has been subcontracted to the Pittsburgh-based Dagostino Electronic Services, Inc. (www.descomm.com).
"Ten fiber technicians will work to relocate the core in just one weekend, with three fusion splicers running concurrently to splice 300 pairs of fiber," explains Westmoreland's Impink. "Other crew members will terminate the LC-type connectors onto fiber cables being re-routed into the new network hub. As we complete a cable, technicians will test each fiber with an OTDR and power meter while others work to re-route concrete-encased duct banks and pull cables in place for the fiber crews."
Splicing and testing of the 4,000 pairs of telephone cable, as well as relocating the telephone switch, will occur simultaneously in the same manholes and equipment room. "It will certainly be a very interesting weekend," concludes Impink.
No place like home
The availability of faster network connections has led to a dramatic increase in students' desire to reside on campus instead of in competitive off-campus housing. (This effect was one of the driving forces behind the construction of the new residence halls.)
The upgrade has also allowed faculty and students to reap the benefit of collaborative, online teaching/learning applications, such as the Blackboard program, as well as classroom use of advanced audio-visual equipment, including PC data projectors. Also, students can access library resources from on or off campus, and can safely store work in their own network folders that are are regularly backed up.
Creative management
Nevertheless, managing a network of such considerable size requires unusual strategies. For example, following the upgrade, the university's IT staff implemented a Resident Network Advisor (RNA) program, whereby a student technician in each residence hall serves as an RNA, acting as the first line of defense for students experiencing computer or network problems. The program has saved the IT staff from the enormous task of responding to every student's request for help, and was especially helpful during a computer virus outbreak. In exchange for fulfilling the role, RNAs are exempted from housing costs. The program has been so successful that other Pennsylvania state colleges are now working to adopt similar programs.
SRU's network upgrade is a major undertaking that continues to this day, including an equipment upgrade to offer switched 10/100/1000Base-T service in academic and wireless areas. While the technological evolution of Slippery Rock University remains an ongoing challenge, strategic project management skills and creative approaches are helping to create a positive impact on student life, teaching, and learning.
Linda Passauer is a network engineer with Slippery Rock University of Pennsylvania (www.sru.edu).